Blogely helps online creators research, craft, SEO boost, and publish original content on multiple platforms.
Blogely is the secret weapon to conquering all your blogging adventures, helping you create quality content faster and easier.
This all-in-one platform perfectly simulates the writing experience* by having research materials to one side and your notepad on the other. (*Empty coffee cups not included.)
And best of all? You'll stay in the app for your entire workflow.
Manage your content material, organize, edit, write, and even publish (and republish) it on your website from the app itself.
See the list of all your current articles with their statuses, SEO scores, publishing dates, and more!
Thanks to the Research docs feature, you can say goodbye to hours of time-consuming Google searches (and the nightmare of never-ending Chrome tabs).
You can collect the top 100 SERP results in seconds and compile documents quickly, delivering answers, statistics, and suggestions.
Blogely also lets you analyze your competition and build an SEO heatmap of carefully selected keywords.
With this, you'll be able to optimize your content's success while visualizing your blog post's competitiveness.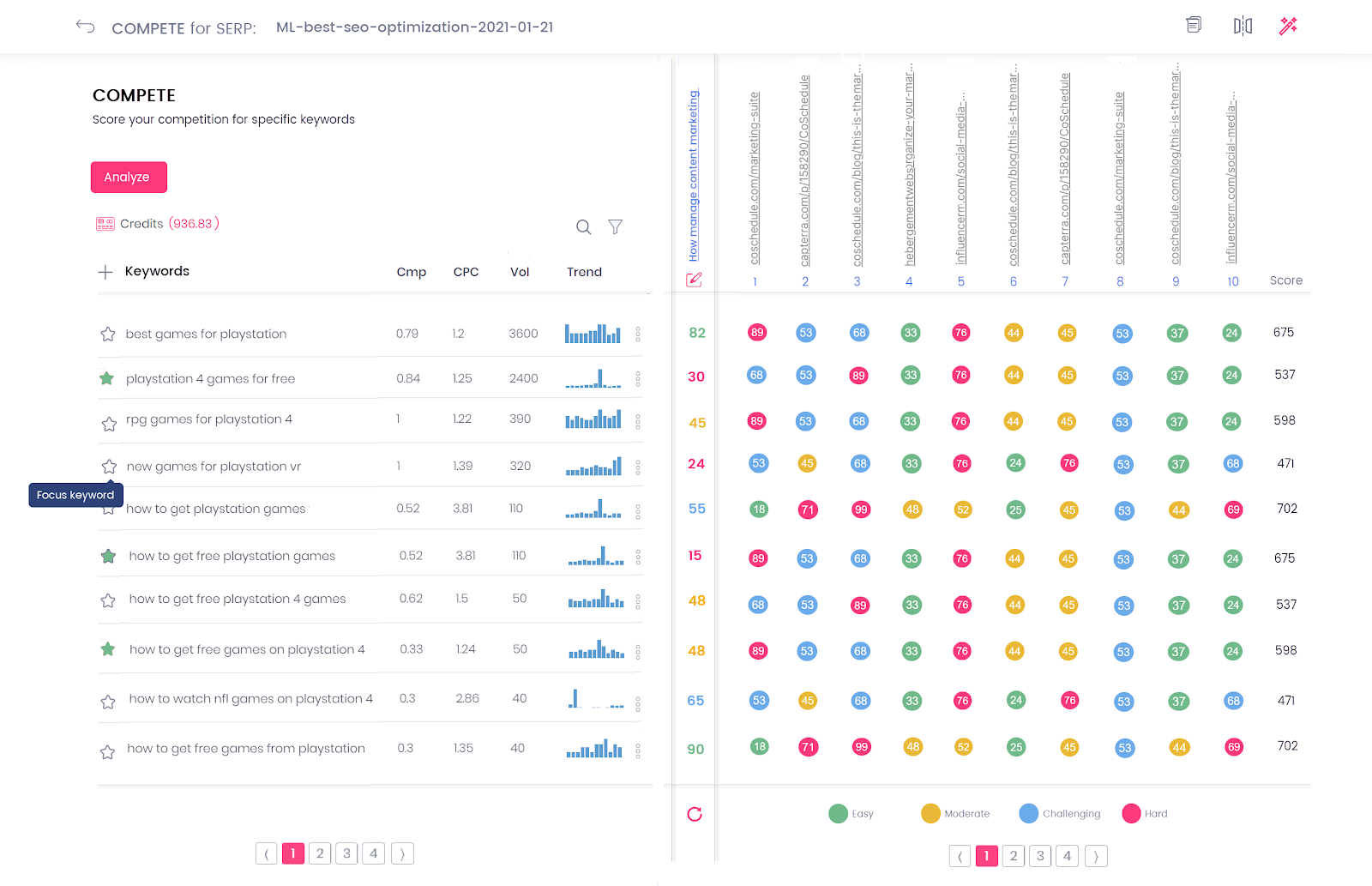 Blogely makes it easy to build research docs, select keywords, and analyze your competition!
With just a few clicks, your content is placed, formatted, and highlighted in your research to eliminate duplication.
Blogely's unique approach to organization, documentation, and asset management virtually eliminates lost resources and wasted time searching through your notes.
The AI-driven writing assistant helps you write faster, better, and clearer by expanding your vocabulary and touching up your content to form sentences with your writing style.
Because Blogely understands how important originality is for creators, all content sold on Blogely's marketplace is scanned for plagiarism.
The CopyLeaks feature helps you document your originality with a PDF report of the results.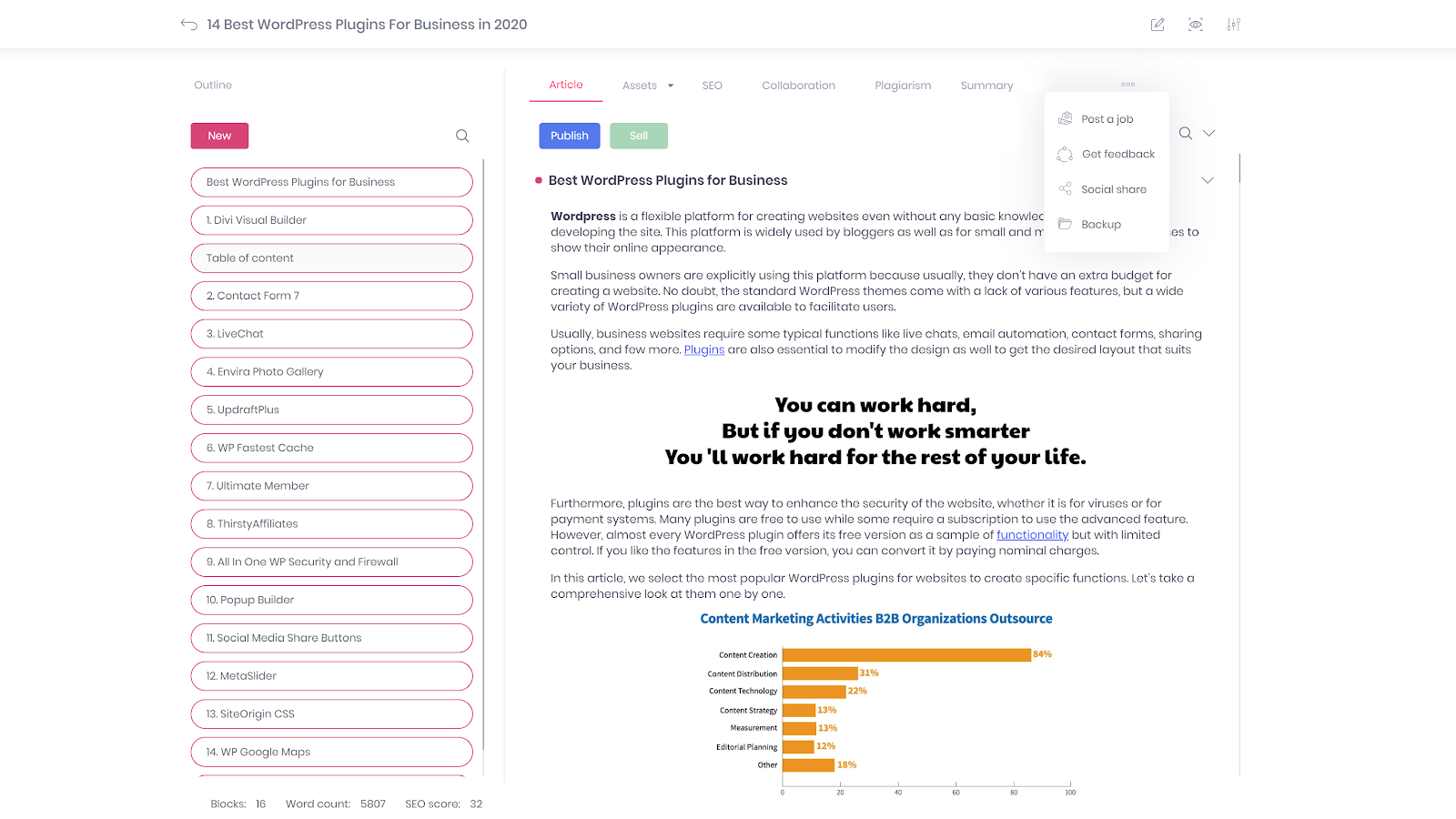 Fast-track content from start to finish using research notes, a built-in SEO tool, and an AI-powered plagiarism checker.
With Blogely, you'll be able to optimize your content in just minutes—no coding, no prior knowledge, or technical skills required!
An easy three-step process guides you all the way, so you can sit back and relax (or at least stop frantically Googling tutorials).
Blogely integrates with Yoast SEO and RankMath, giving you a detailed analysis of your content's SEO performance.
Plus, your dashboard displays your SEO results with one simple SEO score. You can even conduct tests with different keyword combinations for optimal results!
Scan your content for SEO in seconds and fix issues that arise with assigned technical scores.
Blogging isn't always the most glamorous task, but with a stunning portfolio, you'll wow your clients every time.
Using Blogely's Content Portfolio, you can display all your published content to a wide pool of prospective clients.
Think of it as a digital business card that you can email, text, and share on social media. (Except it won't weigh down anyone's wallet, à la George Costanza).
You can use Blogely's Portfolio feature to showcase your work, engage with prospective clients, and sell articles.
Despite what you learned in college, you can't just use Red Bull and the sheer force of will to write great content. (That 15-page research paper you wrote overnight was a painful exception.)

Blogely guides you through every step of the writing process, from organizing your research notes to sharing your published content across platforms.

Unlike "fetch," you can finally make content happen and never sweat a deadline again!

Get lifetime access to Blogely today!

P.S. Learn how to use Blogely like a pro by catching our training webinar replay here: Webinar Replay!