EZBILLING360 is a tool that automates the entire billing process, including time tracking, creating invoices, and monitoring sales.
Invoices are one problem you don't have to worry about anymore. (Woohoo, back down to 99!).
You can send an invoice instantly, modeled from one of 8 templates, or you can set up monthly invoices to be billed automatically.
Plus, EZBILLING360's notification system even tells you when clients have opened the invoice to keep everyone in the loop. (Seen ✓✓)
Instantly send invoices or set them up monthly for pain-free billing!
The dashboard contains insights into your business as a whole, letting you spot sales opportunities like never before.
There are modules for sales, accounts receivable, expenses, and revenue streams, all with handy charts and graphs to get an easy-to-understand visual representation.
Plus, the dashboard is fully customizable, and you'll be able to see where you are, where you're headed, and where you need to focus your energies to be the most successful.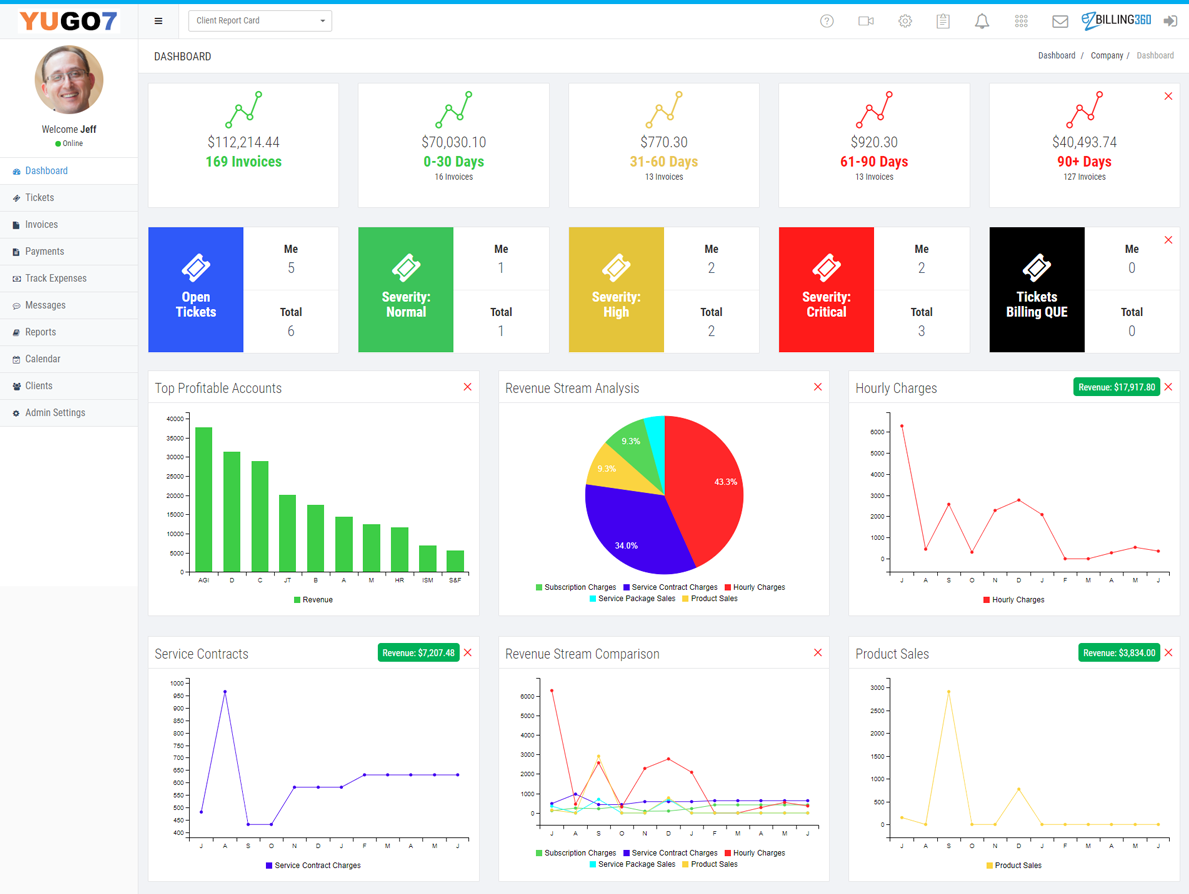 The customizable dashboard shows you revenue streams, accounts receivable, sales, and more!
EZBILLING360 also makes it easy to track and tally your hours.
Either input the hours you'd like to bill for, or let the time tracker keep tabs for you.
The integrated ticketing system will monitor your client communications and issues, including how much time each task took.
When you're ready to bill, simply close out a ticket and the tool will automatically send along the bill for you! (Show me the money!)
An integrated ticketing system tracks client communications, then sends the bill automatically!
The client report cards offer a snapshot of your complete client histories, from monthly subscriptions to recent invoices and rates.
With this much information, you can easily gauge your client relationships to find your most successful partners. (Maybe even do something nice for them like treat them to a to-go order of Chili's?)
Plus, client portals let people manage and pay their account themselves, including options for viewing and downloading invoices.
Use client report cards to evaluate revenue, rates, and invoices across your entire history!
Ironically, sending out bills can slow you down from getting paid, especially when the more "professional" clients don't want to Venmo you (something about "taxes" and "liabilities").

If you're scraping by doing it all manually now, know that things will only get worse once you start scaling your business and tracking partnerships.

Automate billing workflows with automatic invoicing, time tracking, and client report cards to reclaim your time, plus a dashboard for big-picture views to spot sales opportunities.

Get lifetime access to EZBILLING360 today!

P.S. Learn how to use EZBILLING360 like a pro by catching our training webinar replay here: Webinar Replay!