There's an old saying that goes: "You can't save those who don't want to be saved."
But, gosh darnit, that won't stop us from trying.
That's why we're letting you know that codes are running low for Keyword Hero—a supertool bringing your organic keywords back to Google Analytics where they belong.
These Sumo-lings are ecstatic to be reunited with their keywords:
The Keyword Hero shows you the exact keywords that drive customers to your site and their behavior based on those keywords directly in your Google Analytics dashboard.
While we still have codes, you can grab access to the Giant Hero Plan, which includes:
1,000 most frequented URLs


Customers' queries and all future keywords saved in your Google Analytics account


Up to 95% provided keywords


CTR, position, and impressions for every single keyword your users used


Queries matched with all relevant metrics from your Google Analytics


Filtered searches by country, landing page, and more


Right now, you can get lifetime access to this plan for just $49!
But, don't say we didn't warn you: once we run out of codes, the Giant Hero Plan will return to its usual price of $348 a year.
See which words drive your customers now!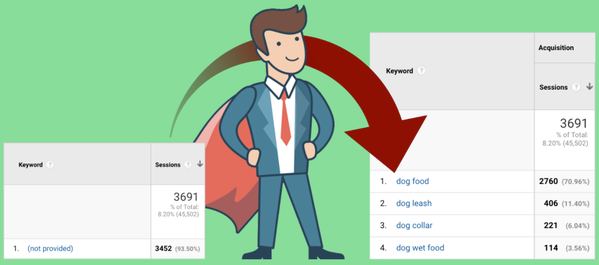 The Keyword Hero uses nine different sources of data to give you valuable information on keywords such as cost-per-clicks, search volumes, and semantic clusters — all within your Google Analytics dashboard.
You'll also know which keywords triggered conversions and how much money each keyword earns you.
Using this info, you can create strategies on how to improve bounce rates and keyword rankings.
You and I both know that understanding which keywords drive traffic and increase conversion rates is worth way more than $49 — just think of this deal as buying yourself more conversions.
Grab lifetime access before it's too late or forever be doomed with the curse of (not provided).