When I first started my blog, I naively thought that as soon as I hit 'Publish,' I'd need to clear my schedule to make room for all the podcast interviews.
Let's just say, I'm still waiting to hear from Rogan.
When it comes to blogging, it's not just about publishing quality content - it's also about effectively marketing it.
And while your mom is doing her best sharing your posts on FB, you need to do more to get eyes on your content.
That's where Missinglettr comes in.
Missinglettr creates a year's worth of social media campaigns designed to drive traffic and engagement for you and your clients.
Getting started is a walk in the park (not a Tuesday 4 AM walk; a Sunday 12 PM walk).
Every time a new blog post is published, Missinglettr will instantly formulate a series of social media posts that are pre-filled with quotes, hashtags, and images!
They even show you how "lit" each hashtag is.
All you have to do is edit, tweak, and approve and get the engagement train rollin'!
If you wanted to use Missinglettr to put your social media on autopilot, you'd be looking to pay $780 for one year for their Small Team plan.
This plan lets you:
But right now, Sumo-lings, you can get lifetime access to the Missinglettr Small Team Plan for just $49! (That's less than a Kanye t-shirt!)
You read right. Pay $49 once and get social media magic for life!
Click here to schedule your first campaign now!
Missinglettr will create structured and strategically scheduled campaigns for as many of those 25 social profiles as you want. (It could literally be thousands of posts a year!)
You can stay consistent on social media by focusing on producing awesome content while Missinglettr has your back with the marketing.
And, recently, Missinglettr really stepped its game up by rolling out speech bubble branding customizations.
With this feature, you can choose and edit a range of themes so knock yourself out personalizing the background, border, text, and layout of each post!
The last time we dropped this deal, it sold out early.
However, these Sumo-lings were lucky enough to get access:
What makes Missinglettr different from other tools is that it doesn't just post content for you, it curates branded content, and its smart algorithm comes up with posts so you don't have to.
And with branded content, Missinglettr makes you stand out so you can maximize engagement on Facebook, Twitter, LinkedIn, and Google+.
Missinglettr doesn't help you generate buzz just on social media; you can also make waves on Medium.
Missinglettr will repost your entire blog post to your Medium profile. (Don't worry, your SEO reputation won't take any hits.)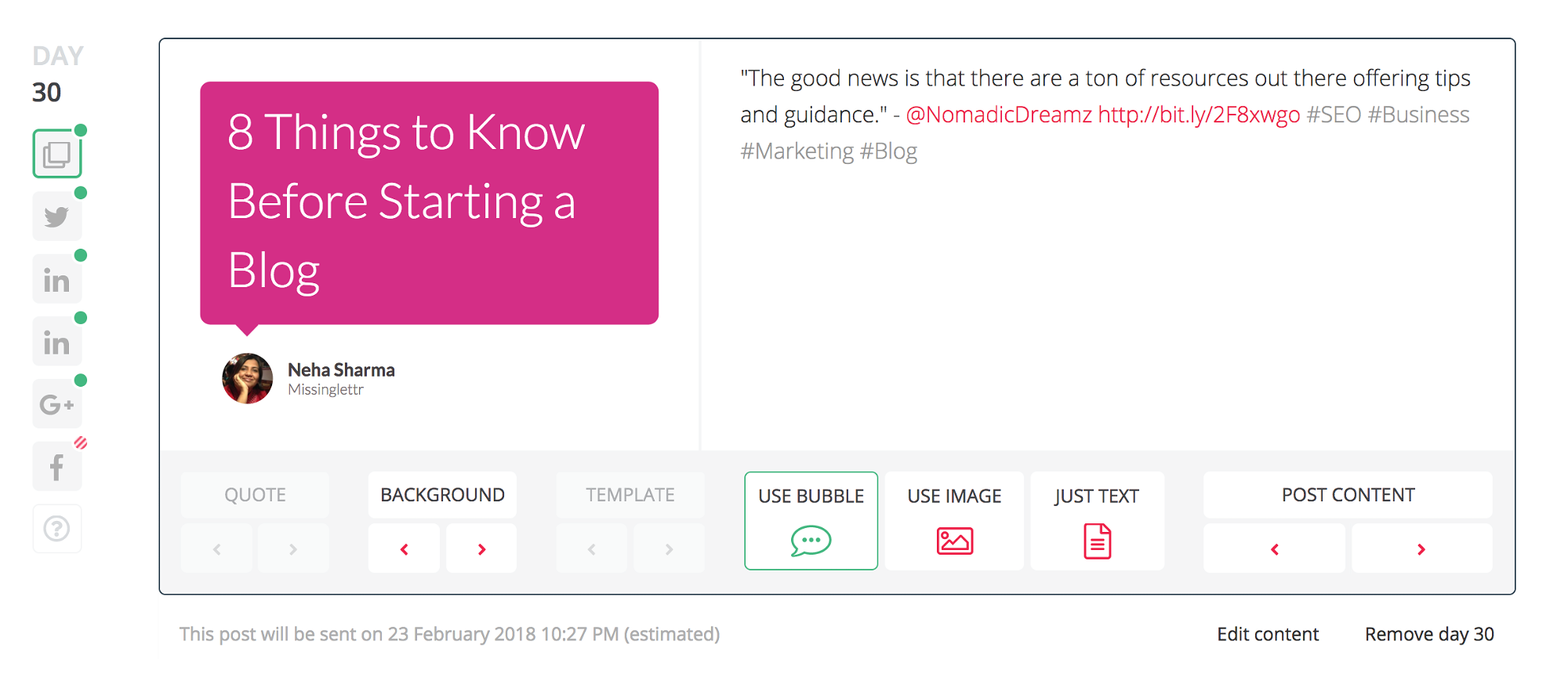 If you're a writer, you want to focus on writing.
And if you're an agency, you want to spend more time getting new clients - not picking hashtags. #FreeTheTacos
Missinglettr lets you do just that by handling your repetitive social media marketing efforts.
Start dripping your way to more readers now for just $49!
P.S. Missinglettr will be hosting a webinar to show you how to use the tool like a pro on Wed, Jan 31st @ 2:30 PM EST. Register here!
Related Blog Posts