In case you didn't know, there is such a thing as a perfect time to post content on social media.
The whole, "I'll schedule posts at random times and pray for the best" is not the way to go. (Trust me, I've tried this tactic.)
"But, AppSumo, how will I ever know when that perfect time is?"
Enter Amplifr.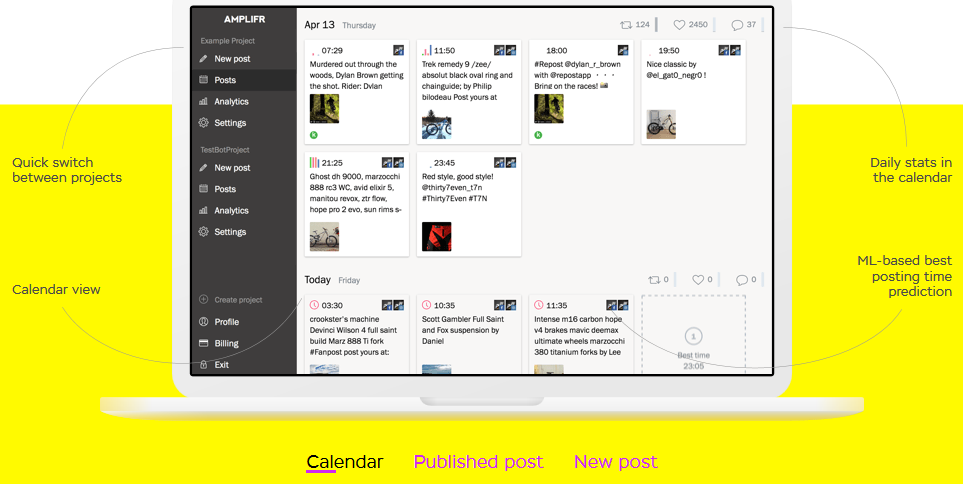 Amplifr is a powerful social media scheduling and analytics service for companies, digital agencies and media projects.
The three core areas of social media posting are scheduling, analytics, and collaboration.
Guess which areas Amplifr specializes in?
Spoiler alert: All three!
Here's what Amplifr brings to the table for each:
Scheduling. No more going to each and every site or using tools that will only post on some of your accounts. Just pick a day and time and Amplifr will post on all of your accounts. The ML-based best posting time prediction will make sure your posts see optimal engagement and conversions (so you can make money!).


Analytics. See daily stats, single post stats, how many conversions you're getting on each post, and compare and plan for the future with an analytics dashboard. Email weekly digests, create automated Excel reports and send reports to customers. Yes, it can track newsletter signups, purchases or anything you want on your website!


Collaboration. Amplifr streamlines content management and workflow. New team members instantly have access to data, projects, clients, and social media accounts. Collaborators can plan content, post, and analyze the metrics. (You can control what team members have access to.)


Preview. Ever wonder how your post will look when you post it? Well now you can say bye-bye to wondering and hello to seeing!


And for those of you tech geeks that really love analytics, Amplifr has a machine learning crew working on algorithms that do predictive analytics!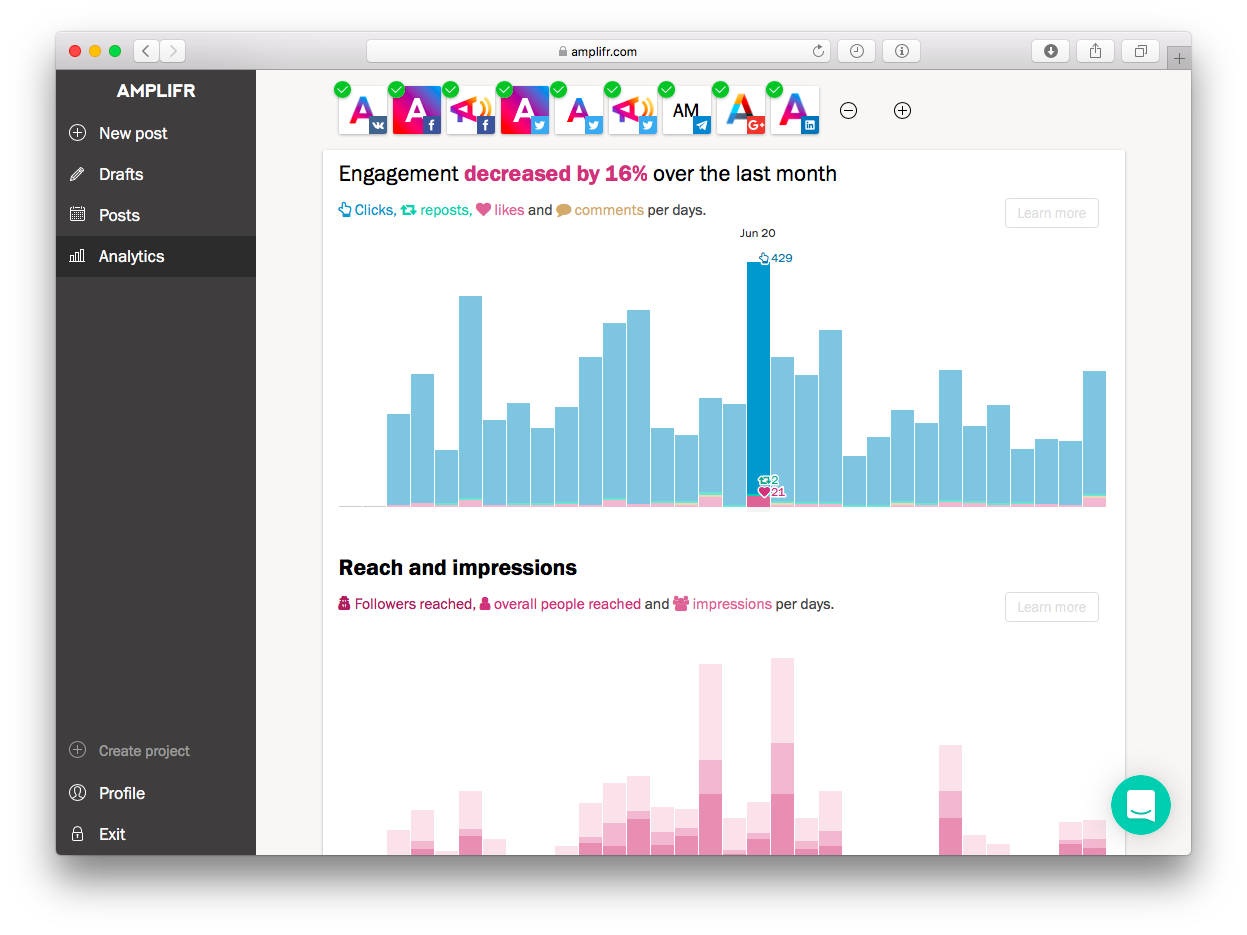 Daily stats let you know what went well for the day and what didn't.
Ok, so we've got TWO outstanding deals to offer you today.
The first deal, which is valued at $2,880, comes with:
Up to 30 social media accounts


Unlimited scheduled posts


Up to 3 projects for all projects


Up to 3 collaborators


Up to 3 post sources (RSS or Instagram)


Up to 3 conversion events analyzed


Sound great?
Then, grab lifetime access to this deal for only $49!
Click here now to get lifetime access to this Amplifr deal for just $49!
And for those of you that need a little more, the Agency deal, which is valued at $4,800, comes with:
Up to 50 social media accounts


Up to 5 projects


Up to 10 collaborators/clients for all projects


Up to 10 repost sources


Unlimited scheduled posts


Content collaboration, preview, and pipeline


Unlimited Project KPIs and dashboard
This one a better fit for your team?
You can have lifetime access to this deal for just $99!
Click here to get lifetime access to Amplifr Agency for just $99!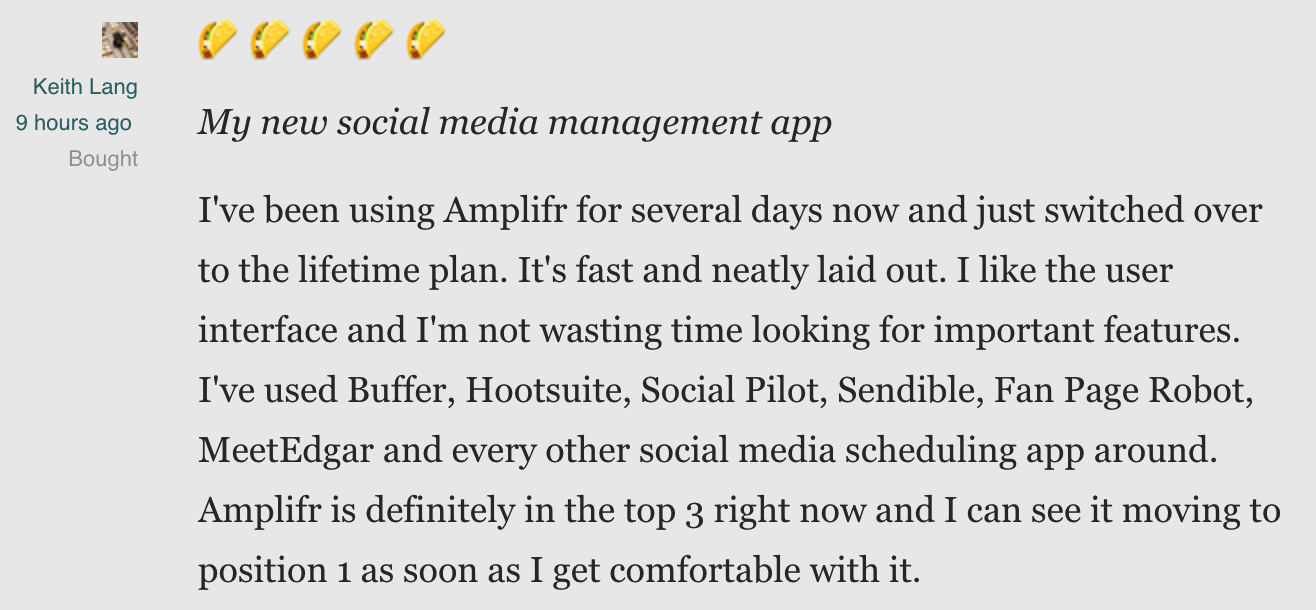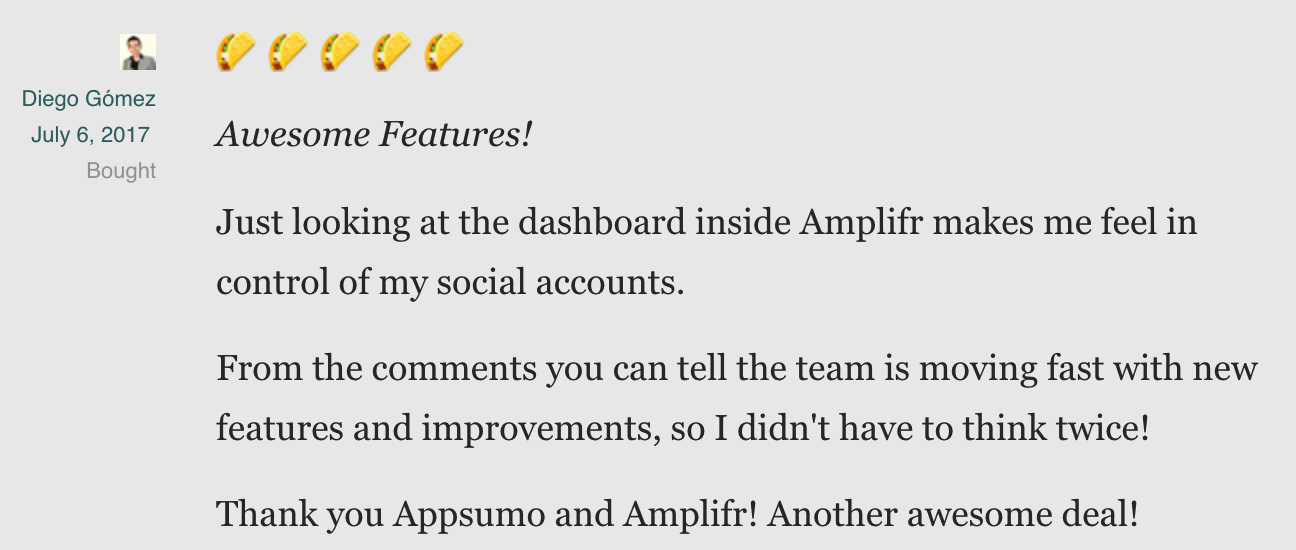 So, you may be wondering who would benefit most from Amplifr and how it compares to other tools.
Well, this tool is best suited for agencies who run their fair share amount of social media accounts and who want to do that efficiently.
Amplifr comes with more in-depth analytics than the cheaper alternatives and doesn't charge you more for features you'll never use like the more expensive options.
When it comes to the organic side of social media (content, activity analytics, scheduling, etc.), Amplifr is your best option.
In regards to social media posts, you can:
Preview all posts


Delete a post simultaneously from all social accounts (every second is valuable when you're doing damage control)


See which team member published the post and when


Drag and drop images, GIFs, and videos, or paste a link
Plus: Amplifr works on any device! (So when you're out of the office pretending to have a life, you can work from the iOS app.)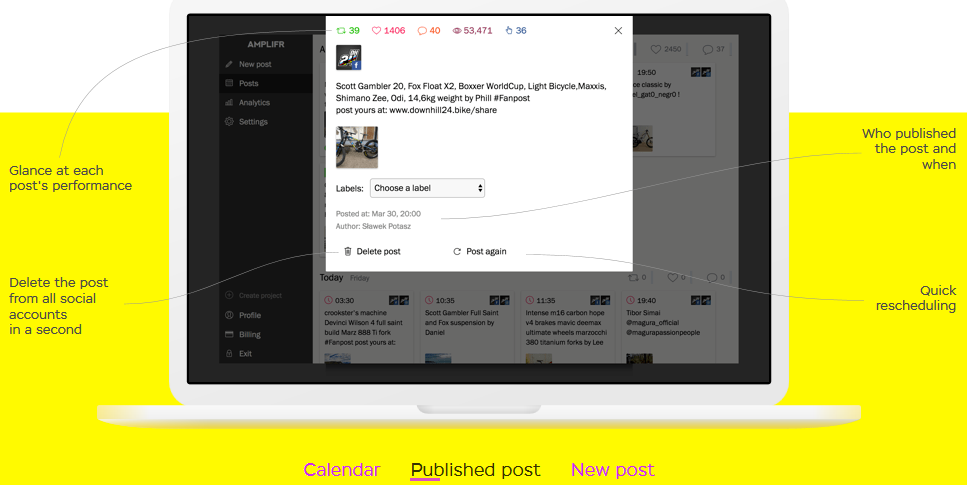 While Amplifr helps with lots of different aspects when it comes to posting on social media, it has one goal in mind--making you money.
(Something tells me you appreciate this.)
But, you won't be making any money if you let these Amplifr deals get away.
The only thing you should be debating right now is which one of these two awesome deals you're going to grab.
If you have less than 30 social accounts and three collaborators, get deal number one.
Click here for lifetime access to Amplifr for only $49!
But, if you have a bigger wolfpack, run an agency and/or work in collaboration with your clients, and want a powerful dashboard, then deal number two is right for you.
Click here for lifetime access to Amplifr's Agency Pack for just $99!
You can't go wrong with either.
P.S. Feature updates are included in this deal. Here is a roadmap of features to expect: