Anywhere
Lifetime Deal
Stay productive without breaking a sweat using this collaborative project management tool
Anywhere
Stay productive without breaking a sweat using this collaborative project management tool
This deal is unavailable (a bummer, we know). Don't miss a great deal again — drop your email to get all our latest tools!
60 day money-back guarantee. Try it out for 2 months to make sure it's right for you!
Balancing everything in your business can feel a lot like building a house of cards on a cliff ledge. ("This Instagram post is absolutely not worth it.")

Not only do you have to track all your projects, but you also have to toggle between different software tools and find ways to keep your remote teams in the loop.
What you need is one place that lets you store and manage all your work, so you can focus on the important stuff.
Get it done with Anywhere.
Manage and track projects on a customizable and collaborative platform
Alternate to: Monday, Clickup, and Asana
Automate workflows and monitor project health at micro and macro levels
Best for: Fast-growing and remote teams looking to save time collaborating across projects
Overview
Anywhere is an agile project management tool that keeps your teams on task and your projects healthy.
Anywhere lets you plan, manage, and track your work on one platform, on your terms.
Get started with the predefined templates and create project boards to match your team's specific needs, whether that's marketing, sales, HR, media production, or product development.
You can use Anywhere's boards to assign tasks, set goals, and keep on top of deadlines. Depending on who you want to grant access to, the boards can be public or private.
Visualize your progress with Kanban, Gantt, Table, or Calendar views, which can be synced with your Google and Outlook calendars.
Plan, manage, and track your projects with Kanban, Gantt, Table, or Calendar views.
Anywhere helps you keep your teams in the loop on projects to boost morale and productivity.
Track how long certain tasks are taking, and share live feedback with public and private comments that can be marked as decisions or blockers to keep projects moving forward.
Anywhere also lets you upload project files from Google Drive, One Drive, and Dropbox, so you can store, manage, and share your work all in one place.
And with multiple languages and time zone options, Anywhere works for your teams wherever they are in the world.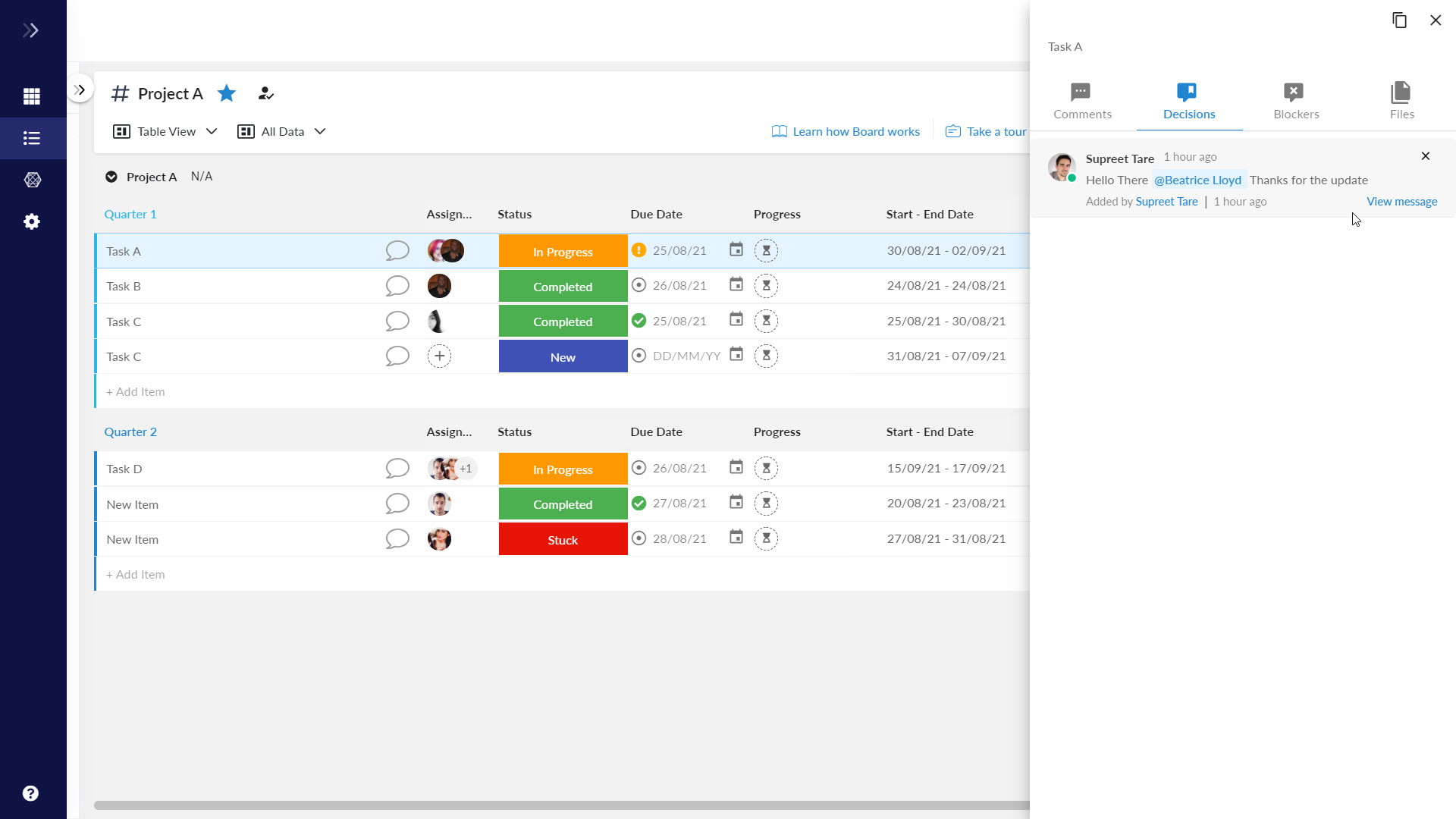 Keep your team on task and share live feedback that can be flagged as decisions or blockers.
Let's face it. You'd get a lot more done if busy work wasn't keeping you, well, busy.
By creating custom automated workflows, you can focus on more important tasks while supporting your team where they need it most.
Save time by automating repetitive tasks, like sending status report emails and meeting reminders. Just configure them once, and staying on top of deadlines becomes second nature.
Plus, white-labeling makes hopping on Anywhere even more convenient and keeps your branding on point with custom domains.
Automate your workflows to keep your project boards up-to-date while you focus on the important tasks.
Anywhere's fully customizable dashboard shows you what you want to see, when you need to see it.
Monitor the health of your tasks, projects, and organization at a glance, and keep everyone's eyes on key performance indicators that matter most with user-specific dashboards.
Anywhere has everything you need for agile project management on one platform, but you can also integrate with your favorite apps like Google, Outlook, Slack, and Zapier.
You'll be able to secure your account with two-factor authentication, along with custom permissions that keep your data in the right hands.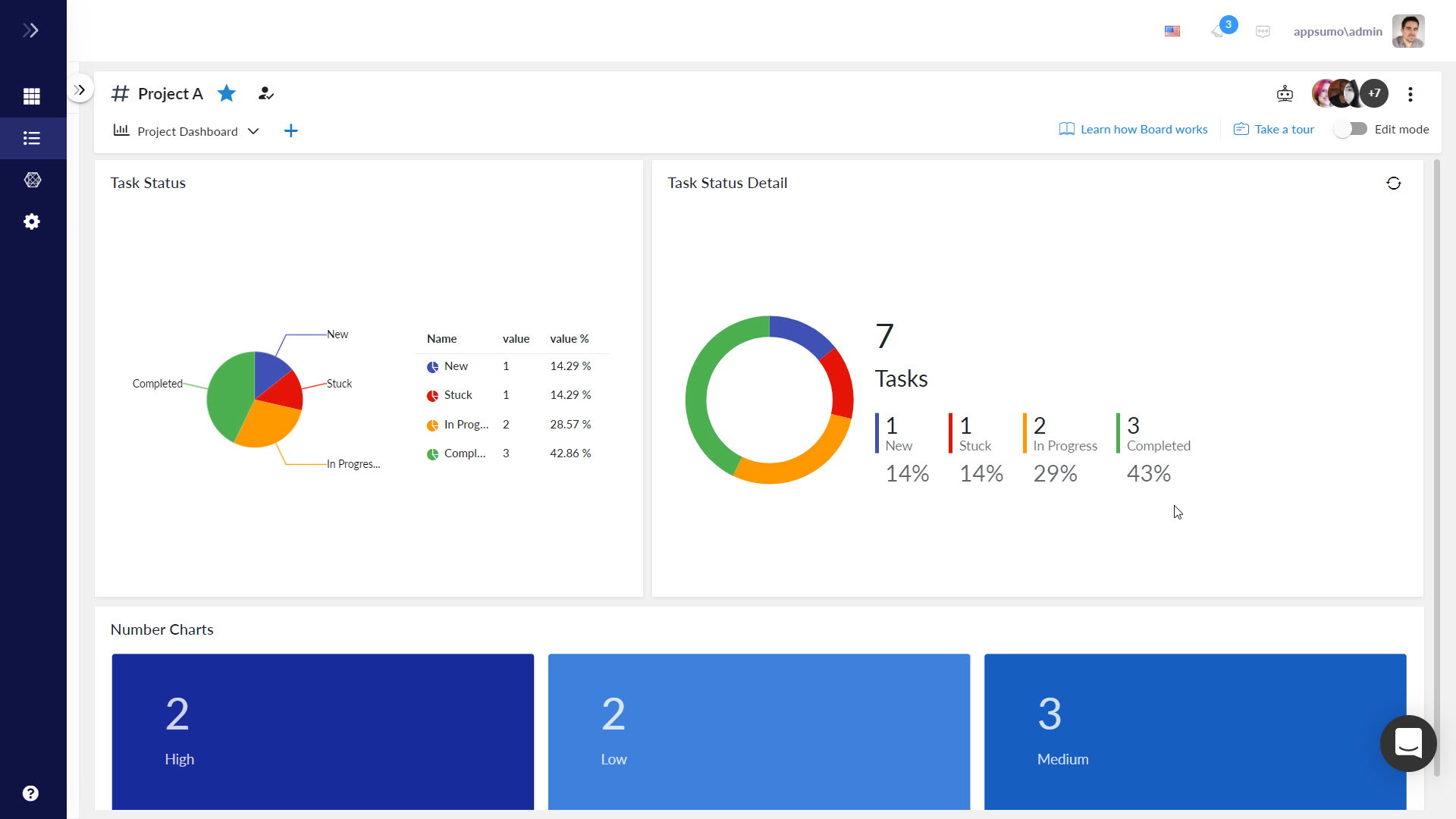 Monitor project health at the micro or macro level, and track the KPIs that matter to you most.
Just because your workflow is complicated doesn't mean it's working. ("It took us three years to realize that submitting Form 9b does absolutely nothing.")
Anywhere helps you see your projects in 20/20 vision, so you can stop sweating the small stuff and actually get things done.
It's time to start working smarter.
Get lifetime access to Anywhere today!
Anywhere
Stay productive without breaking a sweat using this collaborative project management tool
This deal is unavailable (a bummer, we know). Don't miss a great deal again — drop your email to get all our latest tools!
60 day money-back guarantee. Try it out for 2 months to make sure it's right for you!
BasicOps
Lifetime Deal
Collaborate with your team using real-time project management tools
FlowShare Express
Lifetime Deal
Whenever you have to document a process and create a detailed step-by-step guide, it takes hours, if not days. Until now! FlowShare gives you the superpower to document hundreds of processes at scale and never having to manually document (ever) again! FlowShare is a smart and time-saving Windows app
Plans & features
Deal terms & conditions
Lifetime access to Anywhere

All future Standard Plan updates

You must redeem your code(s) within 60 days of purchase

Stack up to 8 codes

GDPR compliant

Note: All past AppSumo customers are automatically upgraded to the new 1 code offering and can stack codes for higher limits
60 day money-back guarantee. Try it out for 2 months to make sure it's right for you!
Features included in all plans
Unlimited guests

Unlimited project folders and boards

Unlimited board automation

Unlimited customizable dashboards

Unlimited shared boards

Unlimited search

Custom filter views

Task management

File management

40+ project templates

20+ automation templates

Multiple languages

Two-factor authentication
Sign Up
All our deals are time-sensitive! Make sure you don't miss any of our awesome limited-time offers.