Gig Mindset
Lifetime Deal
Save time and positively transform your work with this complete guide to the gig economy
Gig Mindset
Save time and positively transform your work with this complete guide to the gig economy
Get lifetime access. Just download and save within 60 days.
In today's world, most people are either too busy working to start their passion project or juggling too many gigs to focus on what's important.
You're looking for a way to use the gig economy to your benefit and bring work-life balance back to your future.
No, we're not tossing you the keys to Doc Brown's DeLorean – but we do have a system that'll free up your time while preparing you for what's ahead.
Introducing Gig Mindset: Reclaim Your Time, Reinvent Your Career, and Ride the Next Wave of Disruption.
Learn how to use on-demand workers to remain competitive and increase productivity
Engage with freelancers using the TIDE Framework: taskify, identify, delegate, and evolve
Access strategies for employees and business owners alike to free up time and future-proof your career
At-a-glance
Overview
Gig Mindset is an ebook that details how companies, leaders, and employees can use the on-demand economy to future-proof themselves and save time.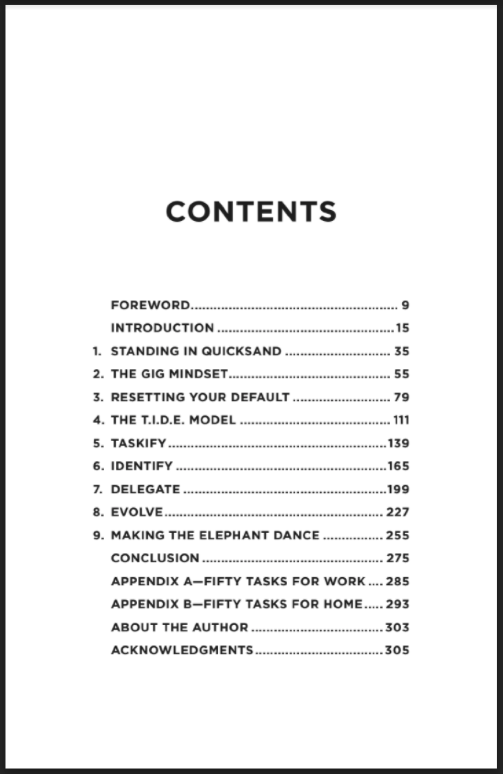 Use the gig economy to your advantage by learning from major industry veterans!
Gig Mindset gives you insights into how industry leaders and executives have transformed their lives using this system.
You'll hear from leaders with experience working at Dell, Amazon, Microsoft, NASA, and GE, to name a few.
They all have one thing in common: they're reinventing their careers and organizations using gig economy strategies, and the results are amazing.
Time to learn how the big boys are restructuring the game.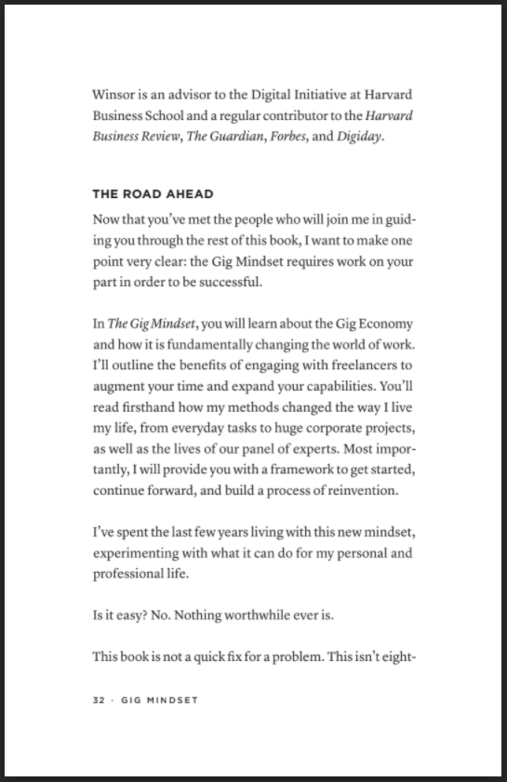 The Gig Mindset doesn't just show you the benefits of working with freelancers – it shows you how to work with them effectively.
Understand the easy 4-step model for getting the best work done, including how to taskify, identify, delegate, and evolve.
The 4 pillars are broken down into actionable insights that are thoroughly explored, ensuring that you have the tools for success.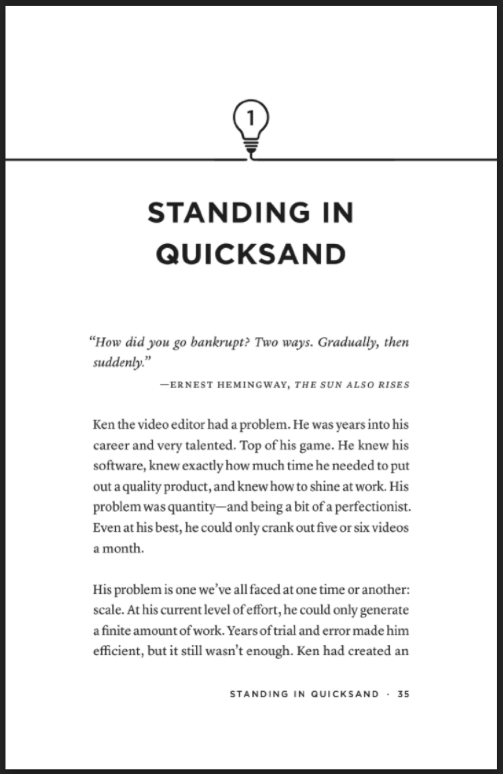 You'll learn how to use on-demand services to help you in your personal life, too.
With all the time you'll save incorporating the Gig Mindset into your workflow, you'll find out how to use that time effectively to start another passion project or side hustle.
The ebook also busts the biggest myths surrounding work with freelancers and covers strategies for freelancer diversity and inclusion.
Just like your favorite digital device, you can change your default work settings to optimize your results.
The gig economy is here, and that means every company needs a strategy for this new style of work, or risk going the way of the forgotten Zune (...the what?).
That's why the ebook lists the reasons for reinventing strategies and provides a history of the freelancer revolution to put things in perspective.
Whether you're an industry veteran, a hot new startup, or just wondering how to get that cool business idea off the ground, Gig Mindset makes sure you're prepared for the future.
Because, for better or worse, stockpiling Beanie Babies is no longer an option.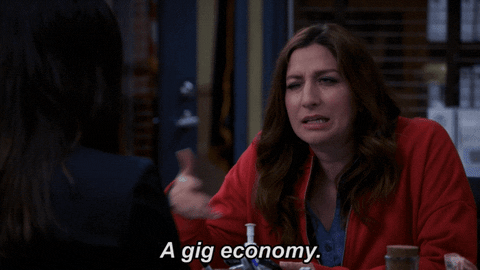 Standing still means falling behind, even if you're already overworked at your current job (the ol' Catch-22).
Reclaim your free time and develop the skills to get ahead by gaming the gig economy – it's all laid out neatly for you in this accessible, info-packed ebook.
And because Sumo-lings are already hustling hard, we're giving this one away for free.
Get access to Gig Mindset: Reclaim Your Time, Reinvent Your Career, and Ride the Next Wave of Disruption now!
Related Blog Posts
Plans & features
Deal terms & conditions
FREE lifetime access to Gig Mindset Ebook
Get lifetime access. Just download and save within 60 days.
Gig Mindset
Save time and positively transform your work with this complete guide to the gig economy
Get lifetime access. Just download and save within 60 days.
Downloadable PDF of the entire Gig Mindset book by Will Leach

How Microsoft's gig economy freelance program was created

Why it's crucial for every company to have a gig economy strategy

A 4-step model for how to best work with freelancers

How a freelancer strategy will help reskill for the future

What diversity and inclusion have to do with a freelancer program

How to use on-demand services

Clarity on the biggest myths surrounding working with freelancers

A history of the freelancer revolution

What it means to reset your default approach to work

How to free up hours of your day
Sign Up
All our deals are time-sensitive! Make sure you don't miss any of our awesome limited-time offers.