Gleap
Lifetime Deal
Fix bugs faster with visual reports and customer feedback
Gleap
Fix bugs faster with visual reports and customer feedback
This deal is unavailable (a bummer, we know). Don't miss a great deal again — drop your email to get all our latest tools!
60 day money-back guarantee. Try it out for 2 months to make sure it's right for you!
Trying to fix all the bugs on your mobile app feels impossible when you're sorting through vague customer reports. ("Telling me you hate this UX isn't the helpful feedback you think it is.")

You're trying to get by with bugs submitted by users and testers, but without formal mobile reporting, a bunch of bigger issues will go unnoticed—and unsolved.
If only you could fix bugs faster across platforms and connect with customers using surveys and feature requests that improve your products.
Meet Gleap.
Let users pinpoint issues with screenshots and replay videos, and get a visual bug report packed with technical data
Alternative to: Instabug, Marker.io, and Usersnap
Create better products with user feedback and communicate directly with customers via surveys and feature requests
Best for: Software teams, project managers, and developers that want to squash bugs faster and boost user satisfaction
Overview
Gleap is a developer tool that helps you fix bugs faster with visual reports, plus lets you solicit feedback to create better product features.
Gleap is a game-changing tool that works on web and mobile platforms—and it integrates directly into your software with just a few lines of code.
Using the feedback widget, you can allow end-users and testers to report bugs right from the page they're having trouble with.
They can screen record to demonstrate the precise issue, and even capture and annotate screenshots for greater clarity.
You'll be able to automatically generate a visual bug report with the video replay and images, so you can squash the bug and move on to crushing the rest of your to-do list.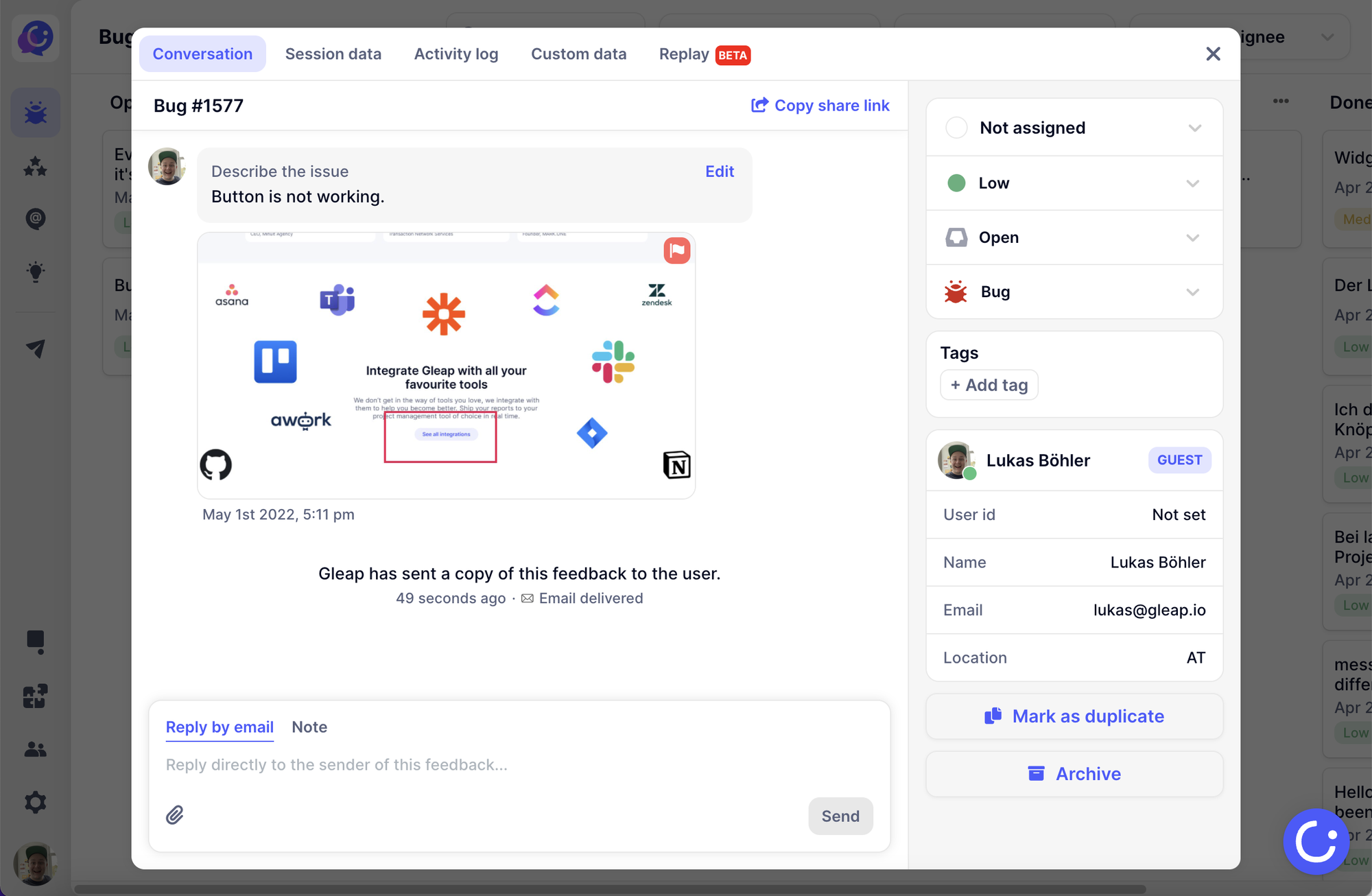 An easy-to-install widget turns user feedback into visual bug reports, so you can fix them faster.
Gleap captures all the technical data, like which browser, device, and operating system were in use, as well as console and network logs for each issue.
And in addition to all the bug catching, this tool is also packed with integrations for popular tools like Slack, Jira, Zapier, and HubSpot, streamlining your entire workflow.
You'll be able to ship bug reports to your project management software in real time, so you can save hours on manual data entry and iterate faster.
Plus, you can assign team members to address issues and respond to direct messages, ensuring that nothing falls through the cracks.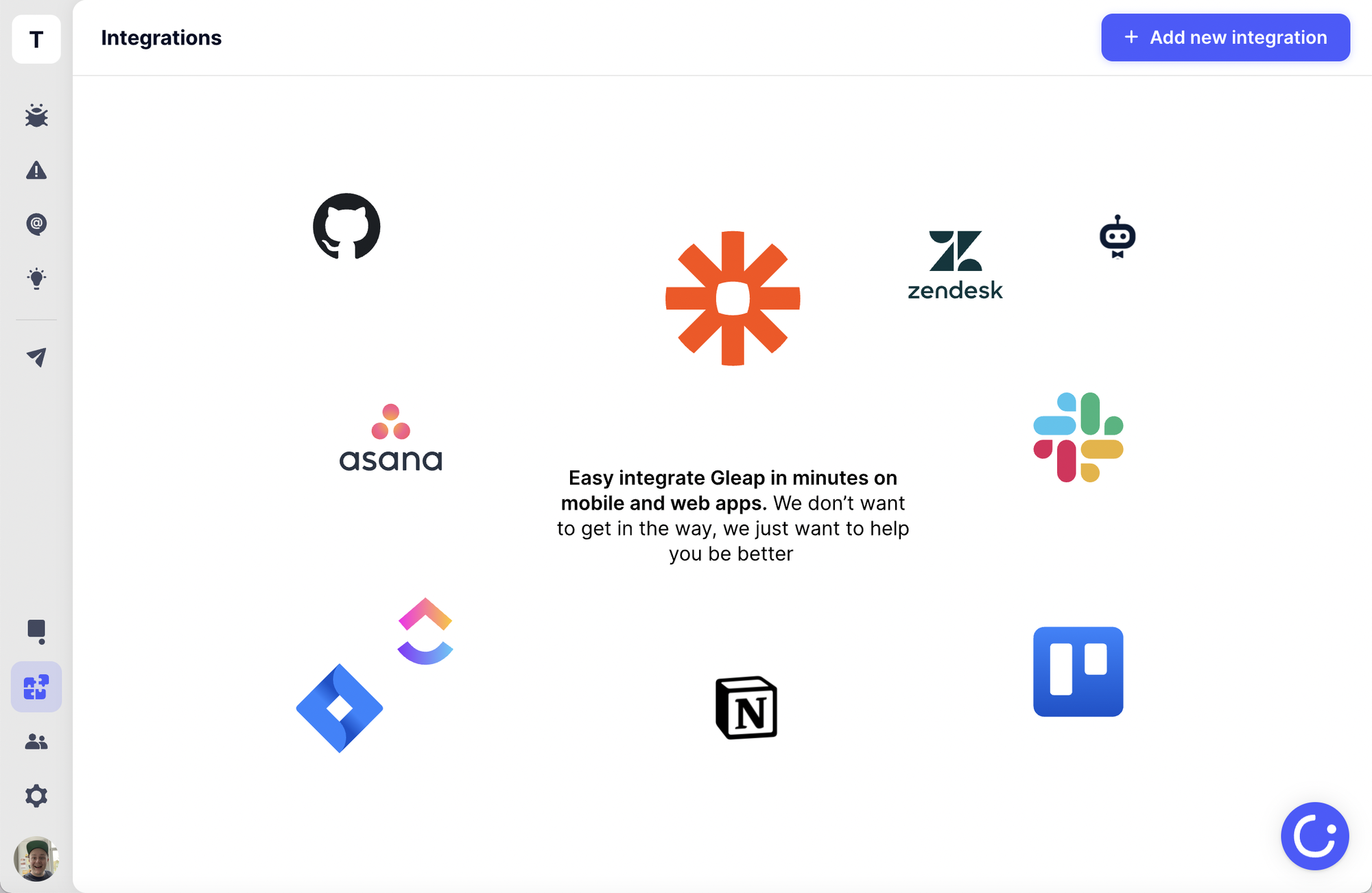 Gleap connects seamlessly with existing tools so you can build a fully integrated development process.
Customize the feedback widget design to create a fully branded experience that feels like a natural extension of your site.
Use Gleap's pre-set menu options, or add your own commands and tailor feedback flows to your users' unique needs.
Thanks to the dynamic mobile capabilities, you can allow users to trigger the feedback flow by shaking their phone, taking a screenshot, or clicking a button.
Plus, your dev team can opt to receive automatic bug reports when crashes or rage clicks are detected.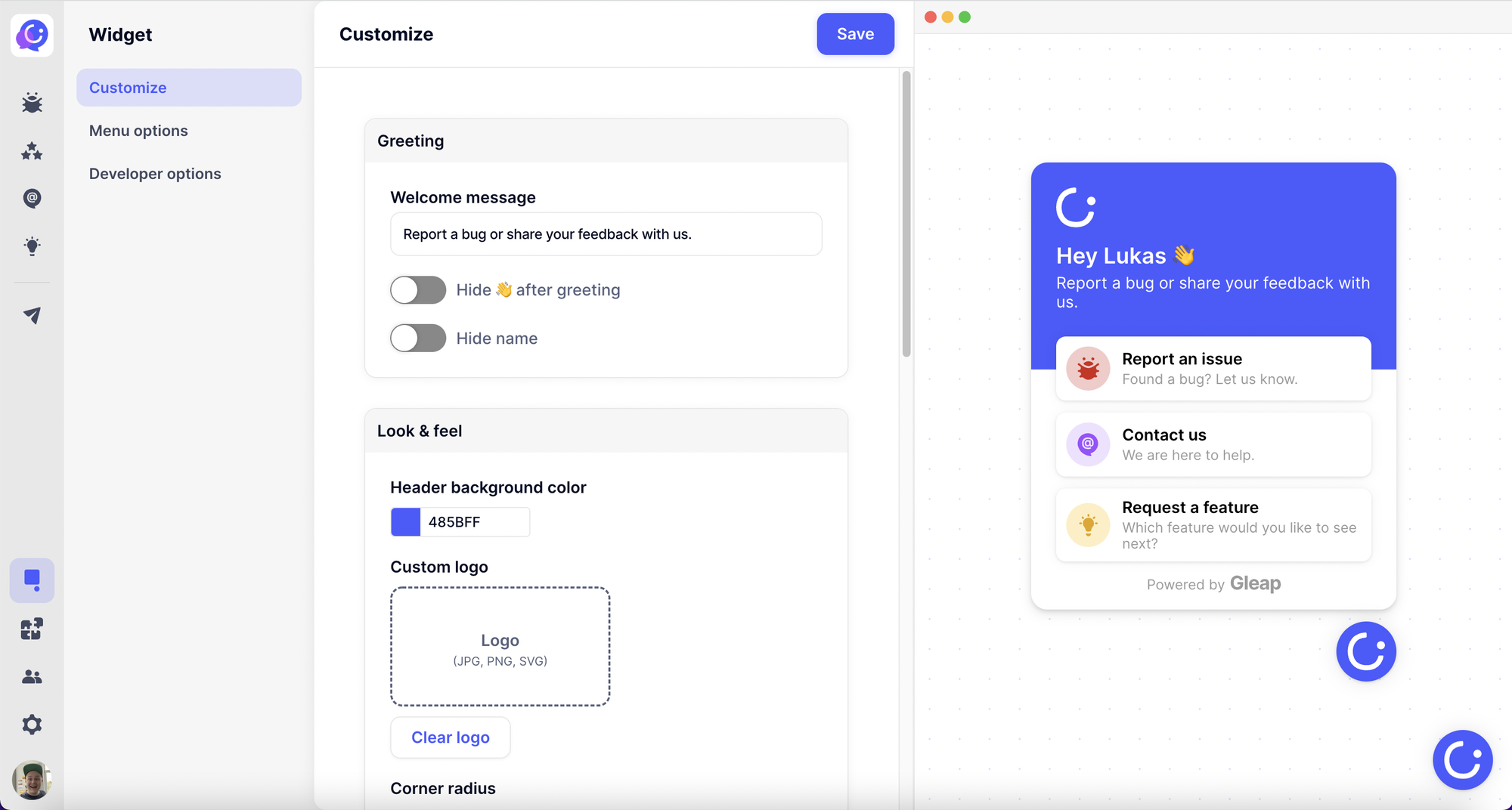 From visual style to feedback functionality, your widget is customizable from the inside out.
Best of all, Gleap makes it easy for your users to submit feature requests directly from the feedback widget.
Respond to users privately to let them know you're working on it, and share your feature request board publicly to let customers vote for updates they want most.
You'll also be able to launch surveys to solicit specific insights with custom questions or Gleap's pre-made templates.
Monitor responses on a concise dashboard, and use the results to make customer-driven development decisions.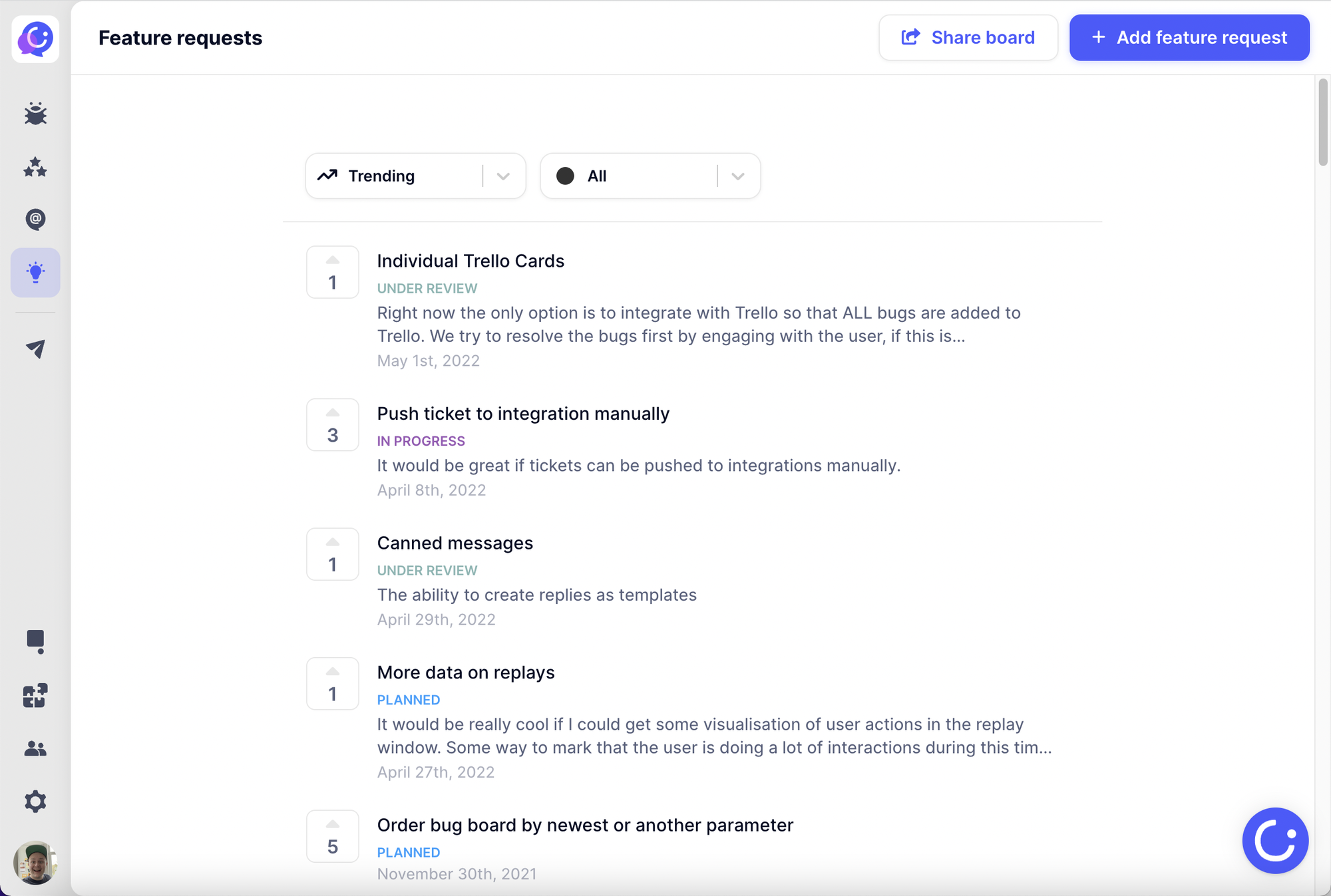 Public feature request boards and surveys reveal exactly what your users want—so you make can keep them happy.
Nobody's perfect, but you want your app to come pretty darn close. ("What do I have to do to get y'all to like me—I mean, my app?")
With Gleap, you'll get visual reports that take the guesswork out of finding and fixing bugs, so you can build products your customers actually want.
Give people the best app possible.
Get lifetime access to Gleap today!
Gleap
Fix bugs faster with visual reports and customer feedback
This deal is unavailable (a bummer, we know). Don't miss a great deal again — drop your email to get all our latest tools!
60 day money-back guarantee. Try it out for 2 months to make sure it's right for you!
Plans & features
Deal terms & conditions
Lifetime access to Gleap

All future Growth Plan updates

No codes, no stacking—just choose the plan that's right for you

You must activate your license within 60 days of purchase

Ability to upgrade or downgrade between 4 license tiers

GDPR compliant

Only for new Gleap users who do not have existing accounts
60 day money-back guarantee. Try it out for 2 months to make sure it's right for you!
Features included in all plans
Unlimited bug reports

Unlimited team members

Up to 1,000,000 users

All integrations

Fully customizable widget

Custom feedback type

Direct user communication

Custom domain

User experience rating

Bug reporting

Feature request board
License Tier 1

All features above included

5 projects
3 months data retention
Remove Gleap branding

License Tier 2

All features above included

30 projects
6 months data retention
Remove Gleap branding

License Tier 3

All features above included

100 projects
12 months data retention
Remove Gleap branding
From the founders
Caro_AppSumo
Partner Community Moderator
Sign Up
All our deals are time-sensitive! Make sure you don't miss any of our awesome limited-time offers.