Meetquo
Lifetime Deal
Boost remote meeting efficiency and track team decisions faster with a platform that transcends time zones
Meetquo
Boost remote meeting efficiency and track team decisions faster with a platform that transcends time zones
This deal is unavailable (a bummer, we know). Don't miss a great deal again — drop your email to get all our latest tools!
60 day money-back guarantee. Try it out for 2 months to make sure it's right for you!
We all know that meetings are necessary for sharing ideas and focusing on your strategy.

But finding a time that works with everyone's schedule—especially across time zones—is about as easy as naming 10 things you love about the live-action Mulan. ("Where's Mushu?!")
So how can remote team members come together more efficiently and effectively?
Introducing Meetquo.
Create asynchronous meetings with team members and reduce the hassle of coordinating calendars
Alternative to: Signaturit
Make proposals and give or receive feedback in one-minute video messages that each teammate can engage with on their own time
Best for: Remote teams, project managers, and SMEs looking to make meetings more productive, no matter where their team is
Overview
Meetquo is a remote meeting and brainstorming platform that allows teammates to participate on their own schedule.
Meetquo's clean and simple meeting and brainstorming workspace makes it effortless to unify your team (unless you're picking a lunch spot).
You'll get a bird's-eye view of meetings happening across your team and be able to keep track of attendees, outputs and decisions in one place.
Just set up a meeting, create teams, invite participants. Then sit back and watch as ideas collect and decisions get made the smart way.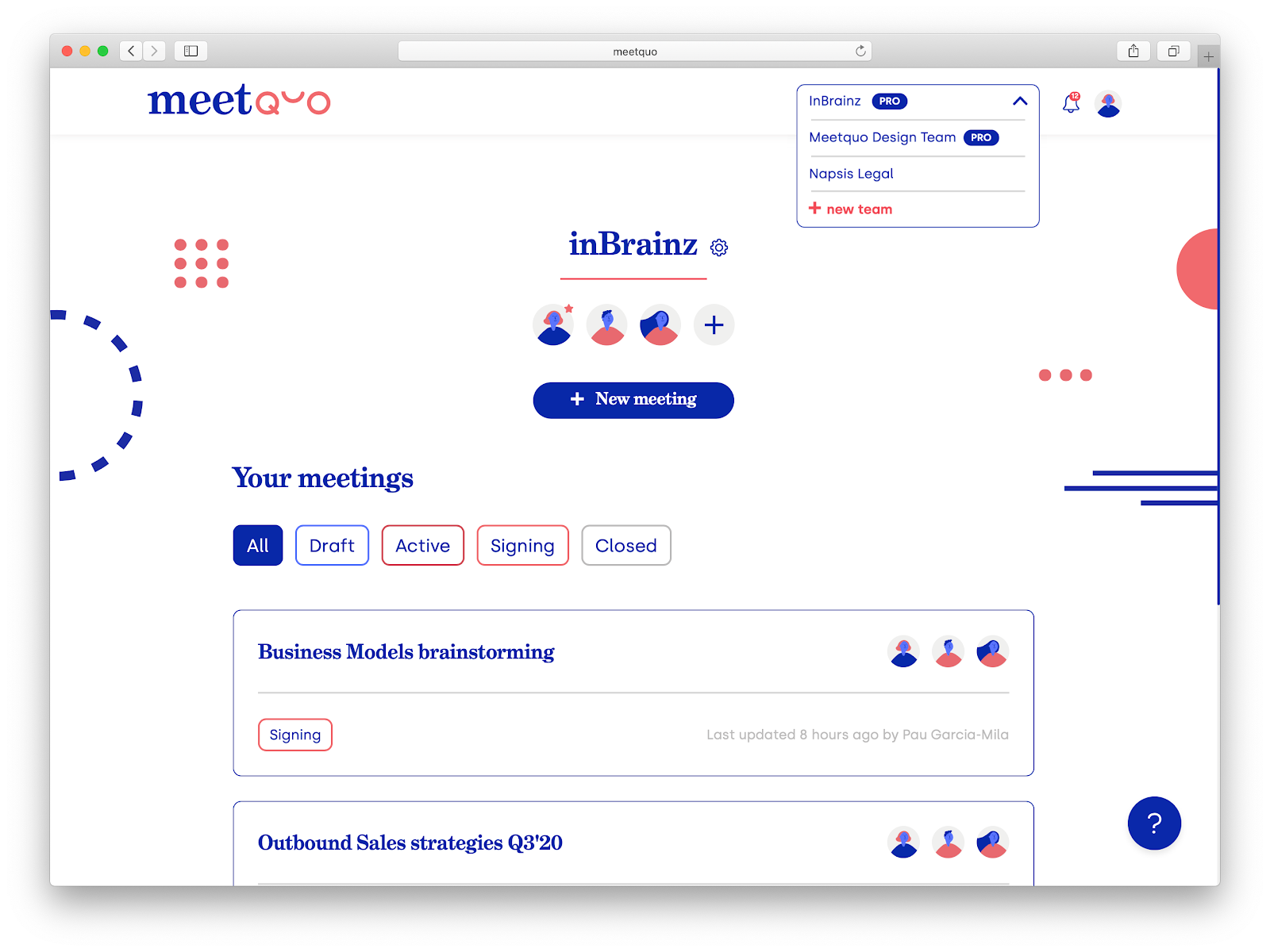 Get real-time insights into key team decisions and instantly view the status of all your meetings.
Meetquo eliminates wasting time finding a slot that works for everyone's schedule.
Instead, you can work with your team members asynchronously.
This allows everyone to share their ideas at different moments, time zones, and locations.
With Meetquo, it's easy to collect valuable input from your team, so participants can comment, ask questions, and submit their own ideas anytime.

Easily create meetings and simplify collaboration, while collecting valuable insights from your team.
The Meeting Document is like a virtual room you can share in real-time with your team.
No more miscommunication, coffee-stained meeting notes, or jumbled ideas spread across different places.
With Meetquo, you'll have a single source of truth—one co-created document with everyone's insights and key decisions.
More importantly, you can always check previous versions of the Meeting Document in the cloud. That way no one, (*cough* Jerry) can delete critical information.
Transform your meeting content into co-created knowledge assets that keep everyone in the loop.
Replace time-consuming calls and endless emails with the Discussion Section feature.
You can share one-minute video messages or submit written proposals and request feedback from your team.
From there, participants can easily rate proposals to see which one is the most valued, to add the best content to the Meeting document.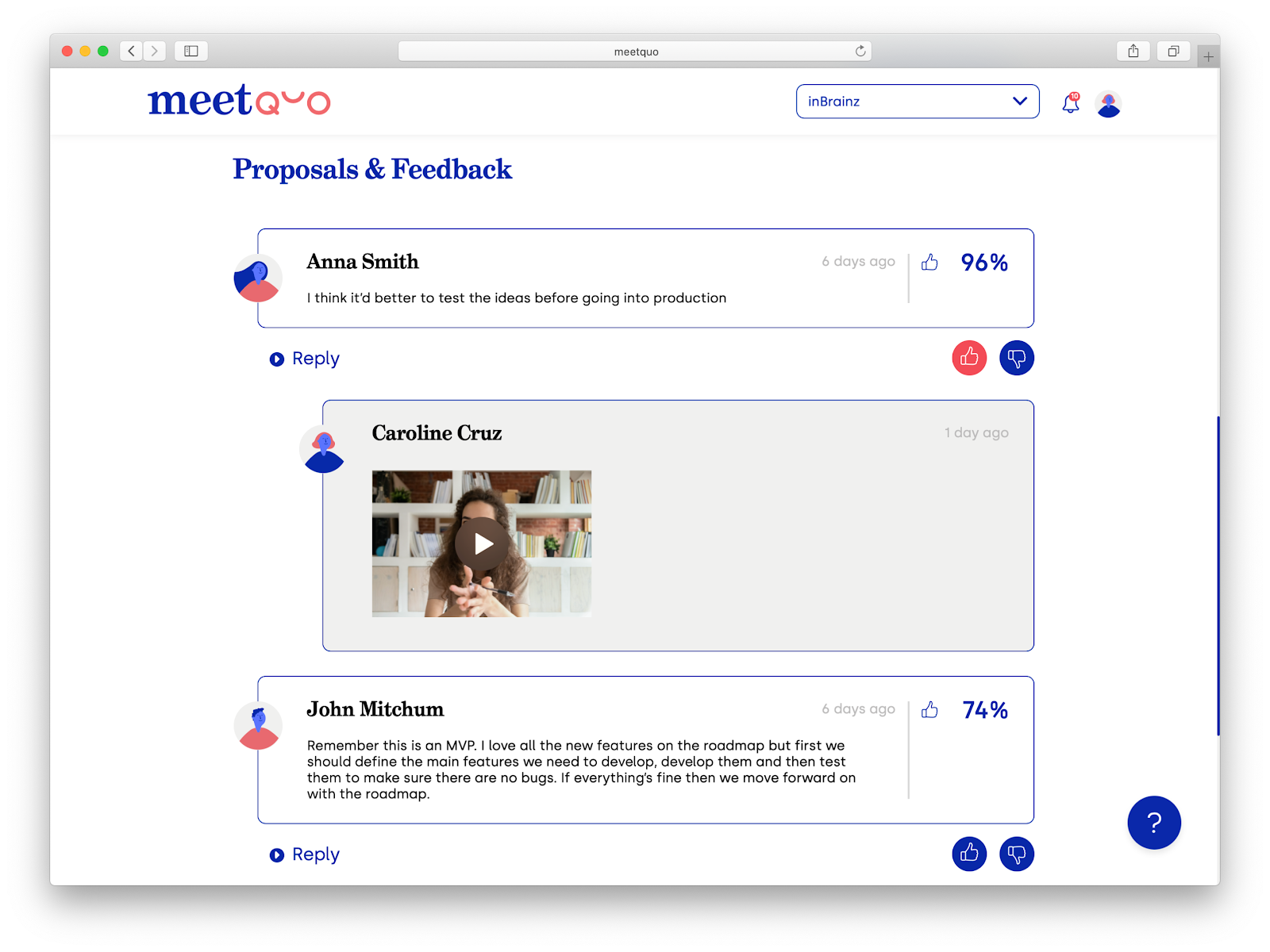 Share your thoughts and feedback with the asynchronous video chat and vote for the best proposals.
Once the team is aligned with final decisions, it's time to close out the meeting.
Meetquo gives you the option to ask each participant to sign the outcome to make sure everyone's in sync.
Keep the final document stored safely in the cloud and retrieve it at any time.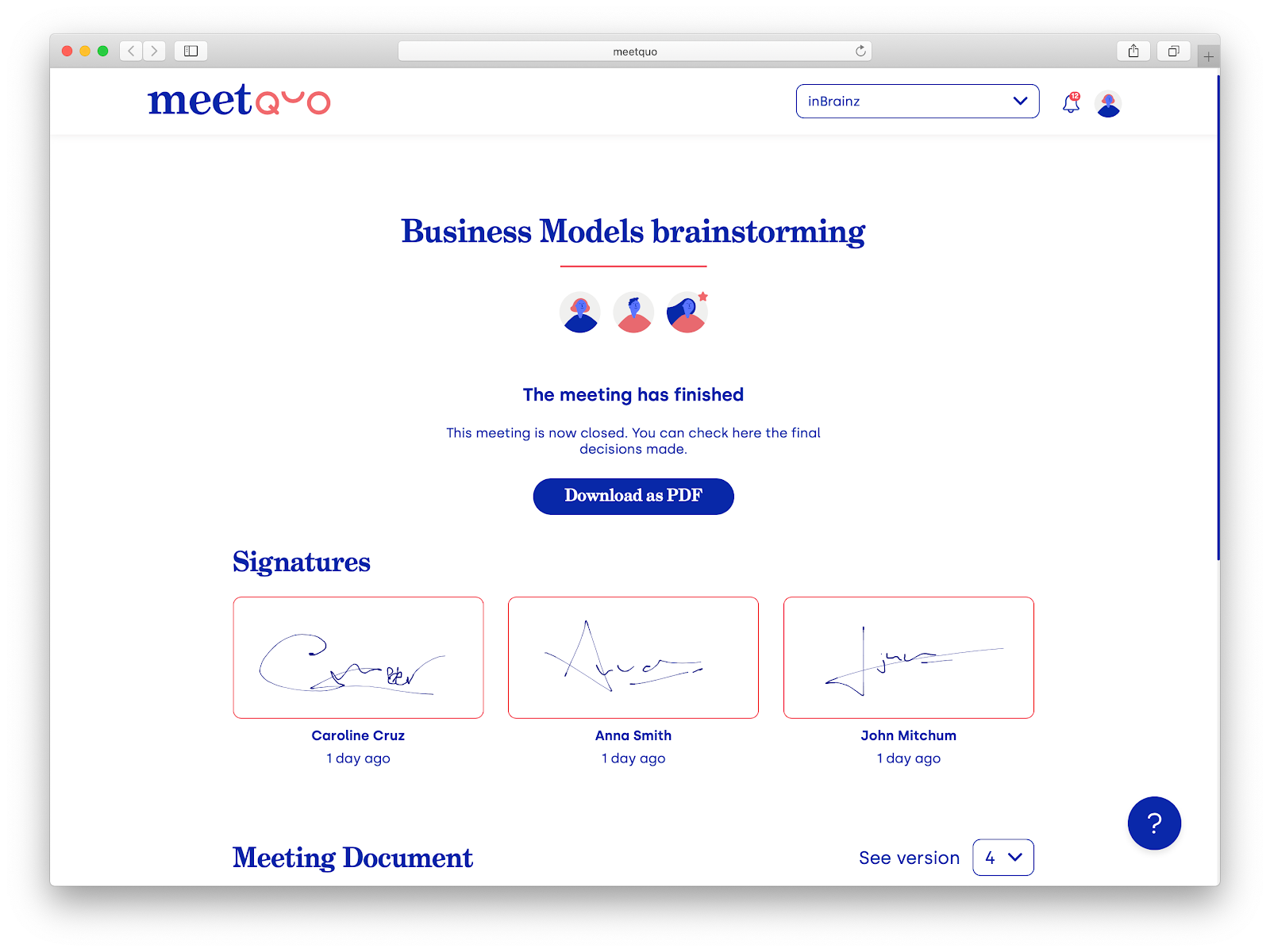 Meetquo helps you keep your team aligned on one common goal no matter where they are!
Meetings can quickly cause burnout and take over your life, especially with team members scattered across the world like Carmen Sandiego.
The key to a successful remote team is asynchronous work.
With Meetquo, you can improve the efficiency of your meetings, track important project decisions, and make the most of everyone's time—anytime.
Get lifetime access now!
P.S.
Learn how to use Meetquo like a pro by catching our training webinar replay here:
Webinar Replay
!
Meetquo
Boost remote meeting efficiency and track team decisions faster with a platform that transcends time zones
This deal is unavailable (a bummer, we know). Don't miss a great deal again — drop your email to get all our latest tools!
60 day money-back guarantee. Try it out for 2 months to make sure it's right for you!
Plans & features
Deal terms & conditions
Lifetime access to Meetquo Pro Plan

You must redeem your code(s) within 60 days of purchase

All future Pro Plan updates

Stack up to 10 codes
60 day money-back guarantee. Try it out for 2 months to make sure it's right for you!
Features included in all plans
Unlimited signatures

Unlimited meetings
Single

All features above included

25 Users
5 Teams

Double

All features above included

50 Users
10 Teams

Multiple

All features above included

100 Users
20 Teams
White-labeling (exclusive to AppSumo customers)
Sign Up
All our deals are time-sensitive! Make sure you don't miss any of our awesome limited-time offers.