Metricool
1 year DEAL
Analyze, manage, and grow your digital presence from one place
Metricool
Analyze, manage, and grow your digital presence from one place
60 day money-back guarantee. Try it out for 2 months to make sure it's right for you!
Marketing for your brand involves a lot more than making a clever Baby Yoda meme. (So...two Baby Yoda memes?)

You've got to post on all of your social media channels at optimal times, run ad campaigns, and analyze a flood of data to inform your online strategies.
What if you could combine all those tasks into one platform and get back to living your best life?
Introducing Metricool.
Schedule optimized social media content, analyze metrics, and automatically generate custom reports
Alternative to: Hootsuite, Buffer
Create, manage, and analyze Google and Facebook ad campaigns
Overview
Metricool is a complete online platform that lets you analyze, manage, and grow your digital presence, as well as generate custom reports.
Metricool streamlines your social media metrics to give you easy-to-understand analytics for things like growth and follower balances for each channel.
It also unifies all the data from social media, website, and online advertising platforms into one dashboard for effective monitoring — plus, you can analyze your competitors, too.
Now you can make informed decisions about your marketing strategy without dumping hours into compiling the data yourself.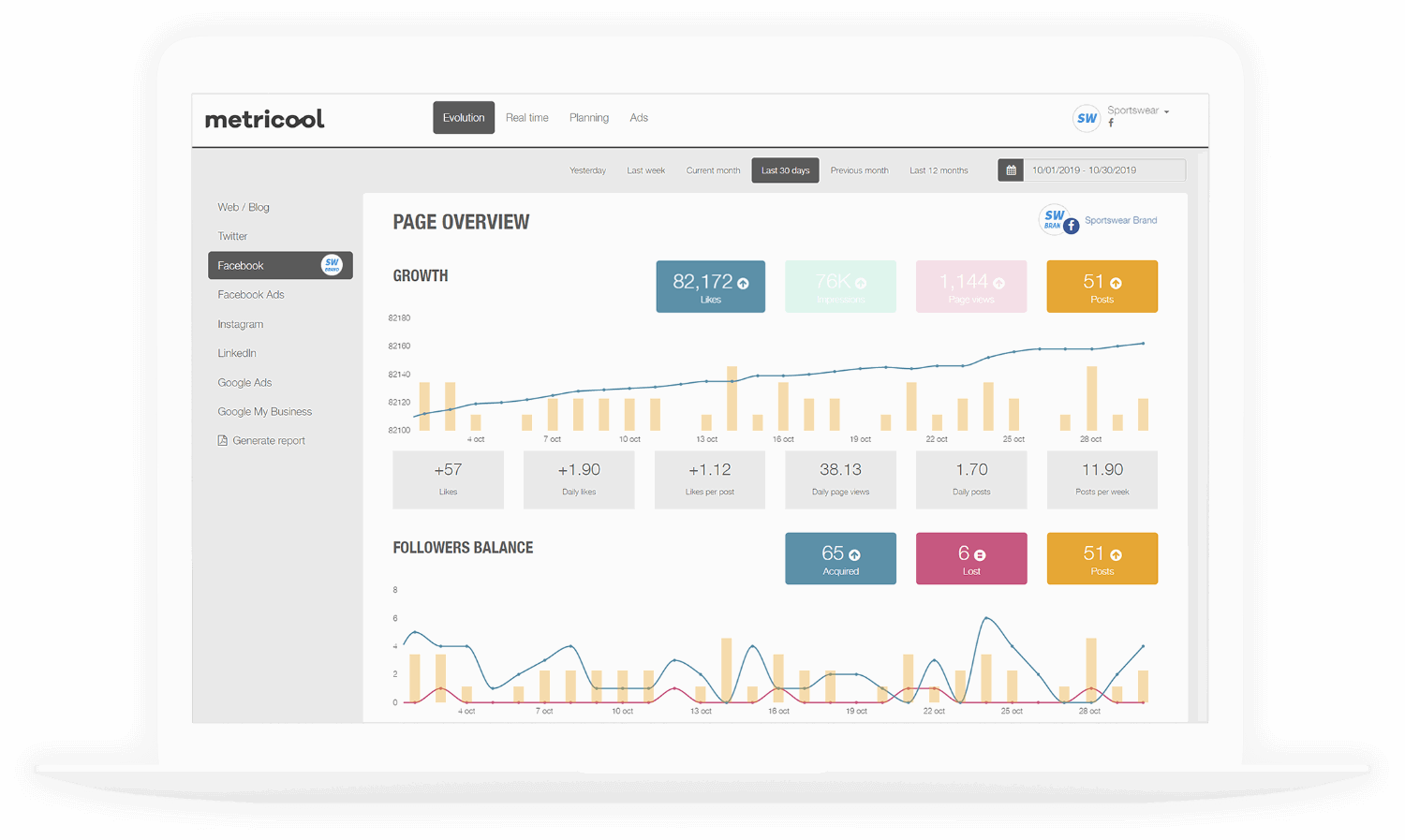 Unify all your metrics in one dashboard for relevant and useful analytics.
Posting to social media is like getting discounted candy or capturing a photo seconds before disaster — timing is everything.
That's why Metricool breaks down the best times for you to post based on user engagement with your content.
From there, you can create a new post across your social media channels, including Twitter, Facebook, Instagram, and LinkedIn, then schedule your content for the golden window.
You'll see exactly what you're planning to post, and when, with the calendar and preview function.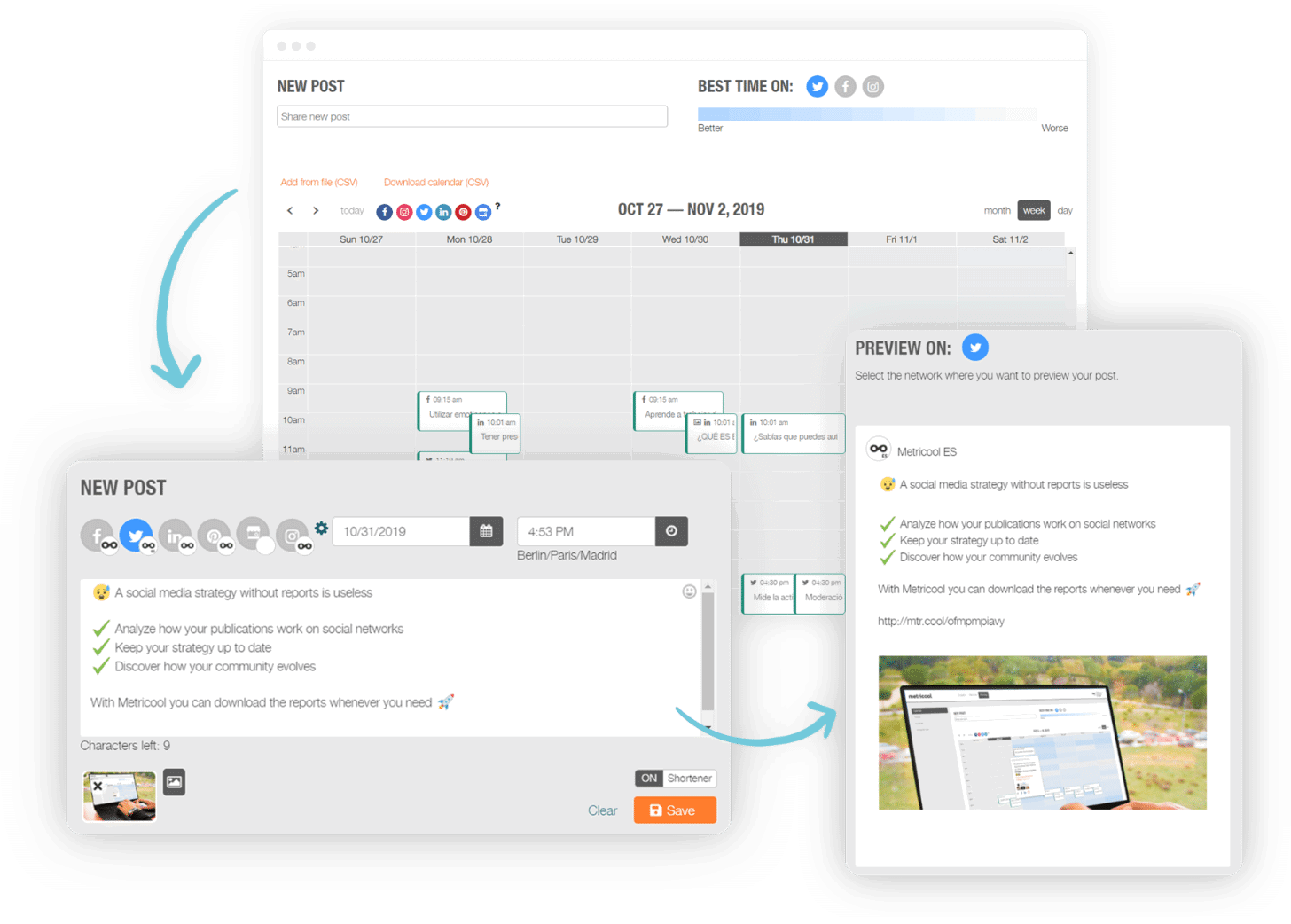 Schedule your content to post across social media channels at the best time for peak engagement!
Metricool gives you control over your Facebook and Google ad campaigns, too.
You can create your custom campaigns in only a few steps, then manage campaign metrics right in Metricool.
Compare the performance of both platforms based on key factors like impressions, clicks, and conversions, then decide how to improve your campaigns in the future.
You'll also be able to see daily budgets and dollars spent to get a baseline for how that cash is contributing to business.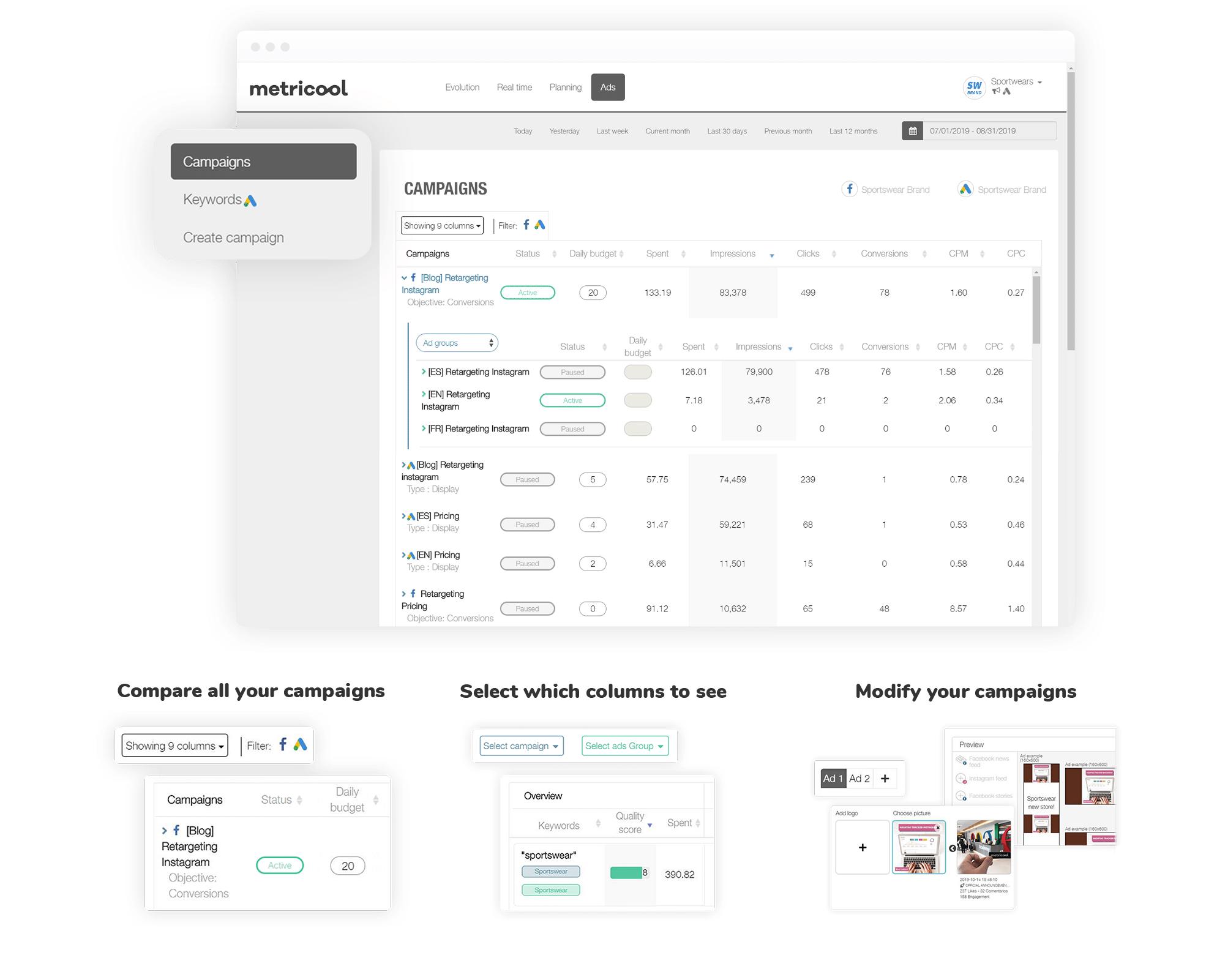 Create, manage, and optimize Facebook and Google ad campaigns!
If report deadlines haunt your nightmares (or your day job), Metricool will let you rest easy (Yeah...I'm gonna need those TPS reports by EOD).
You can automatically generate professional reports complete with colorful graphs and visualizations — all fully customizable.
Once you've got the report to your specifications, you can download it anytime, as well as automatically deliver a monthly report to your inbox.
Clients, team members, and managers will be stunned by your efficiency. (Don't worry — we won't tell.)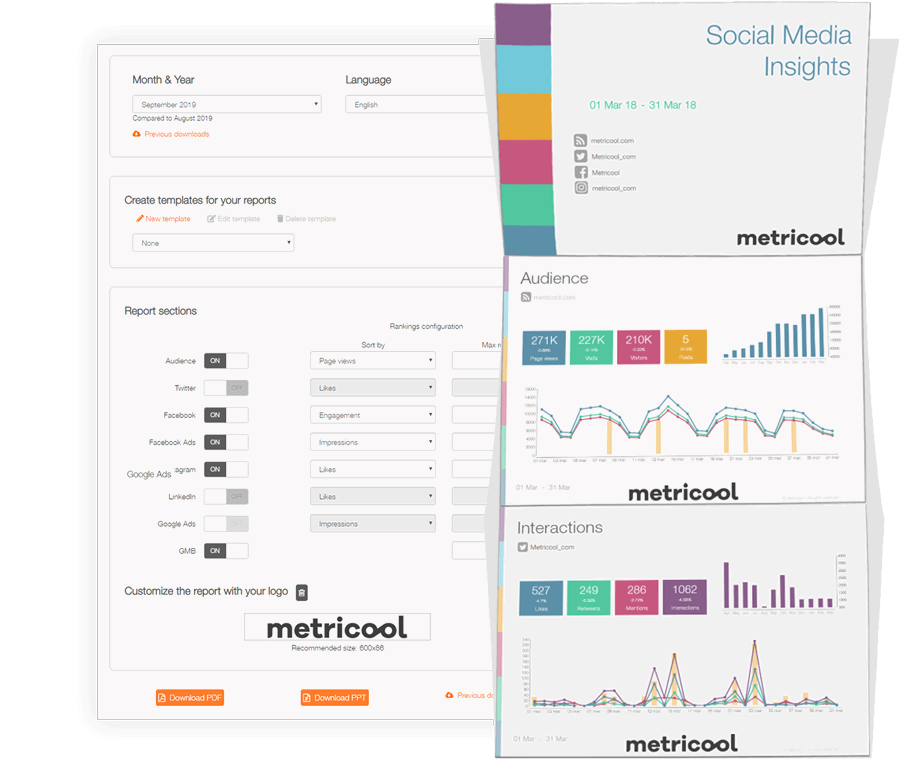 Automatically generate customizable reports for clients and team members.
When it comes to your business, time is money.
Don't go broke switching platforms just to deal with excessive metrics, duplicate social media posts, and flat ad campaigns.
Keep your cool by combining all the tools for a powerful digital presence in one user-friendly platform.
Get one year of access to the Metricool Pro 5 plan today!
P.S. Learn how to use Metricool like a pro by catching our training webinar replay here: Webinar Replay!
P.P.S. Metricool is part of our social media toolkit to level up your organic content. Check out the full post here!
Plans & features
Deal terms & conditions
1 Year of access to Metricool Pro 5

You must redeem your code(s) within 60 days of purchase

1 Year of plan updates

GDPR compliant (partner verified)

Please note: This deal is not stackable
60 day money-back guarantee. Try it out for 2 months to make sure it's right for you!
Metricool
Analyze, manage, and grow your digital presence from one place
60 day money-back guarantee. Try it out for 2 months to make sure it's right for you!
5 Brands

5 Instagram accounts

5 Facebook pages/groups

5 Twitter accounts

5 LinkedIn accounts

5 Web/blogs

5 Facebook Ads accounts

5 Google Ads accounts

5 Google My Business accounts

Reports

CSV download

Instagram link

Unlimited metrics storage

Historical data: 2 months

Planner

Posts limit: 2,000 posts

Best hours

Autolists

Unlimited RSS feeds

One user

Comparison of competitors (FB, IG, Twitter): 100

Twitter benchmark

Messages management

Facebook posts promotion

Real-time web/blog

IG stories analytics

Your Instagram hashtags
Showing 10 of 18 questions
Sign Up
All our deals are time-sensitive! Make sure you don't miss any of our awesome limited-time offers.