SocialBook Builder
Lifetime Deal
Grow your YouTube channel with easy-to-use tools
SocialBook Builder
Grow your YouTube channel with easy-to-use tools
60 day money-back guarantee. Try it out for 2 months to make sure it's right for you!
Going viral on YouTube isn't as easy as it looks. (We know, we know… Justin Bieber did it at 13.)
In a perfect world, you'd just make a great video, upload it to your channel, and watch your view count soar.
But the truth is, there's a lot of work that you've got to do on the backend to make sure people can find your video content in the sea of makeup tutorials and cat videos.
That's where SocialBook Builder comes in.
Create enticing video thumbnails and get helpful recommendations for relevant and popular video tags
Gain unparalleled insights into your channel, including competitor tracking
Overview
SocialBook Builder is a browser extension that helps you optimize your YouTube videos and grow your channel.
First impressions matter.
That's why SocialBook Builder makes it easy for you to make the best first impression with your YouTube videos with its easy-to-use thumbnail creator.
If you can point, click, and type, then you can create beautiful and unique video thumbnails that set you apart from your competitors.
SocialBook Builder offers numerous fonts, free stock images, and customizable templates to help you create powerful thumbnail images quickly.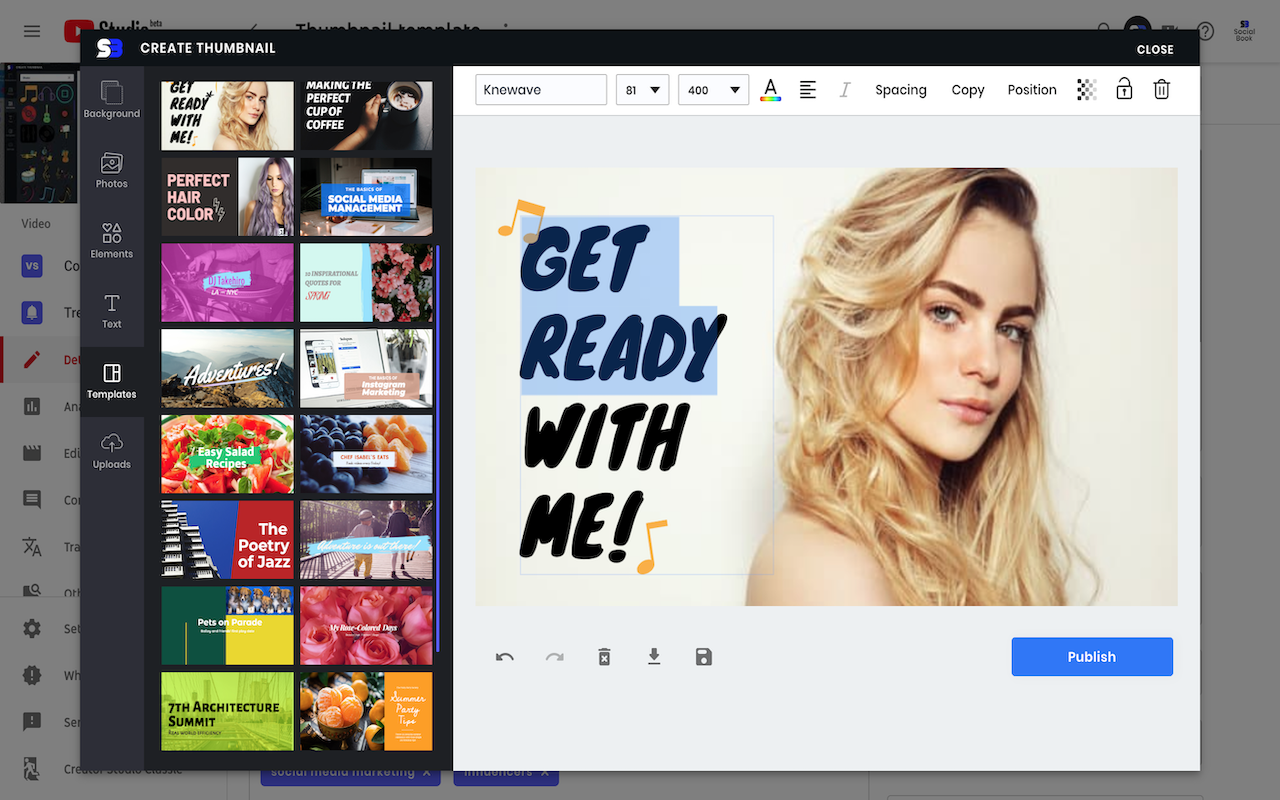 In just a few steps, you'll be on your way to making personalized video thumbnails.
While Justin Bieber may not have had to use tags to get found on YouTube, you are not Justin Bieber. :(
Relevant tags help you connect with users who are searching for content like yours.
SocialBook Builder makes tag management easy, allowing you to generate different keyword tag lists with the click of a button.
The tag manager also helps you discover content opportunities you're missing out on by auto-recommending additional tags that may help boost your video's organic search performance.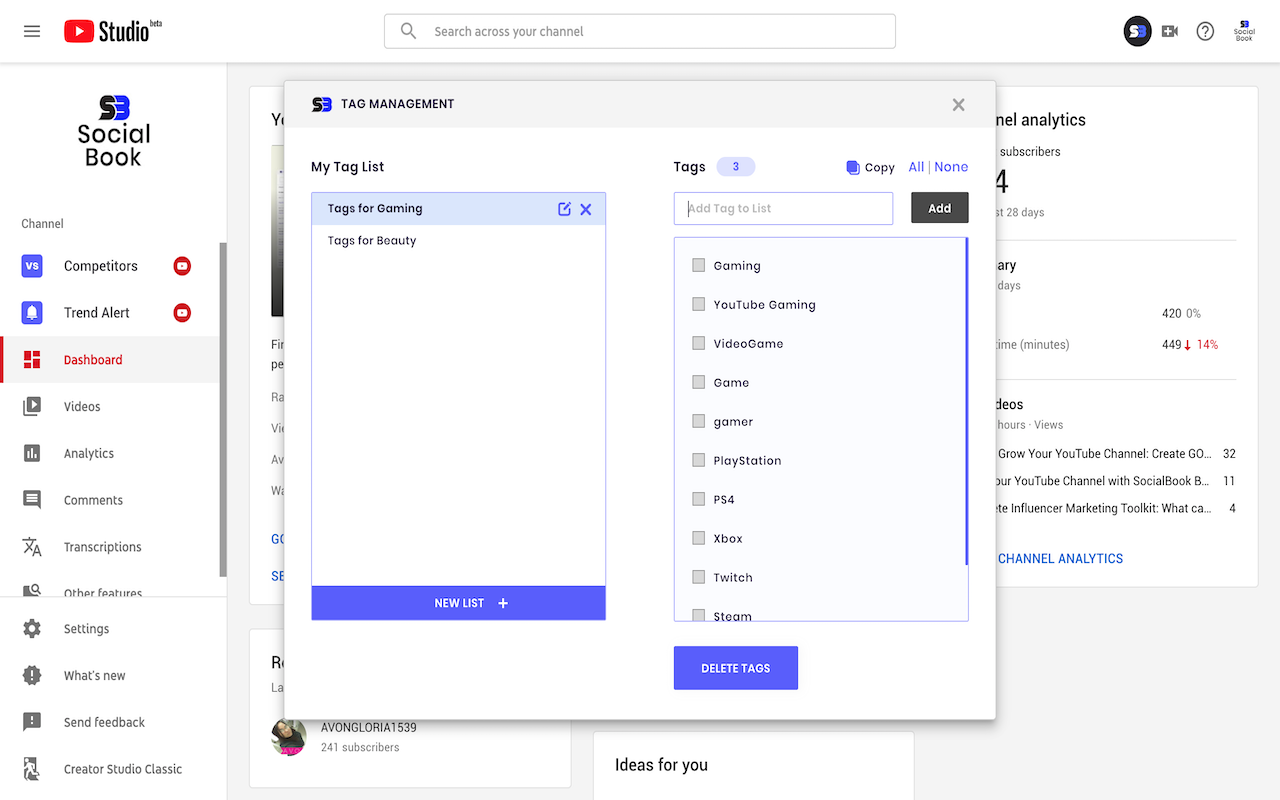 Quickly identify and add relevant tags, so you can become YouTube famous.
Researching keywords can be so tough and tedious.
But SocialBook Builder makes finding keywords a breeze with its Keyword Explorer.
Simply type in a keyword and see its search volume and competition score, along with other relevant tags and relevant trending videos.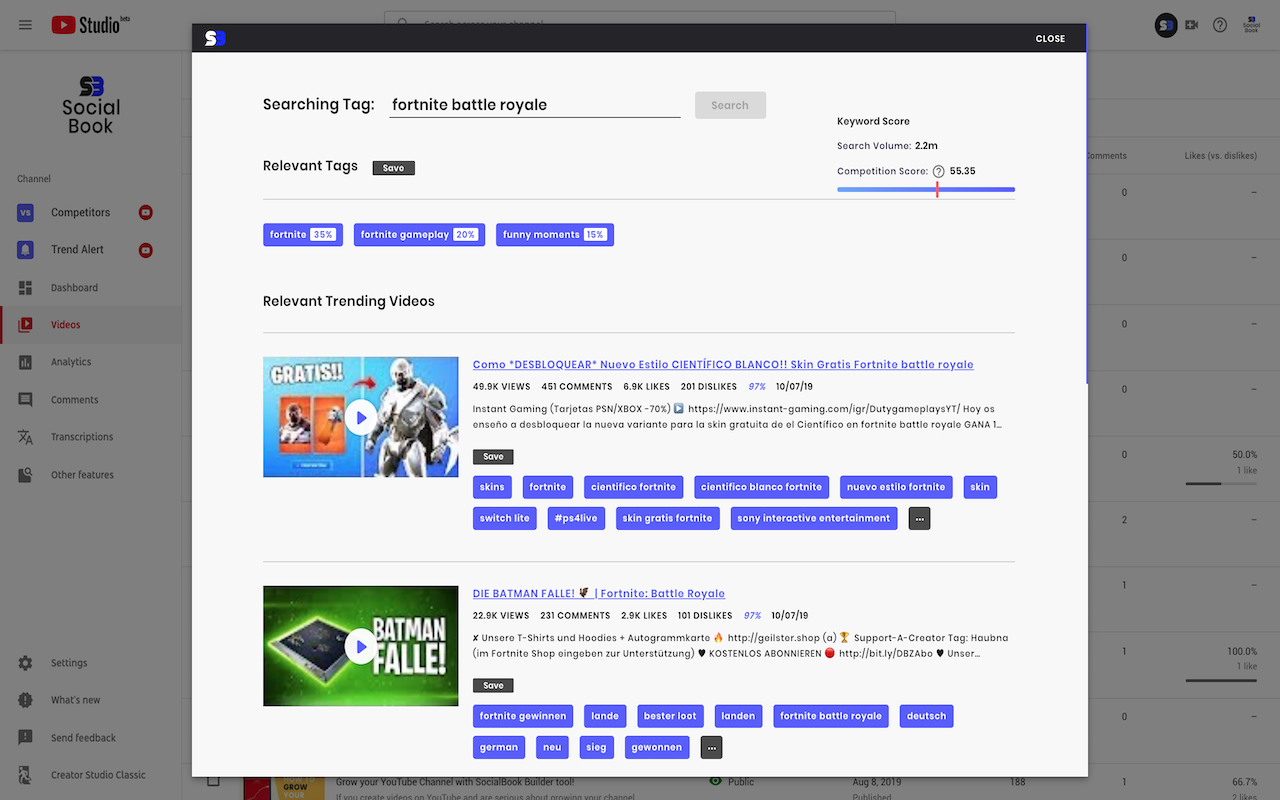 Keyword Explorer takes the hassle out of researching relevant video keywords.
SocialBook Builder also helps you track your top competitors' channels, providing a variety of metrics to let you see how you stack up against the competition.
The Competitor Analysis tool allows you to find channels that are similar to yours while the compare feature dives into different per-channel and per-video statistics.
With Trend Alert, you'll get notified about trending competitor videos and keywords so you can take advantage of some of the buzz in your industry.
And best of all, SocialBook Builder also provides inline tracking links to provide real-time performance tracking of your own videos.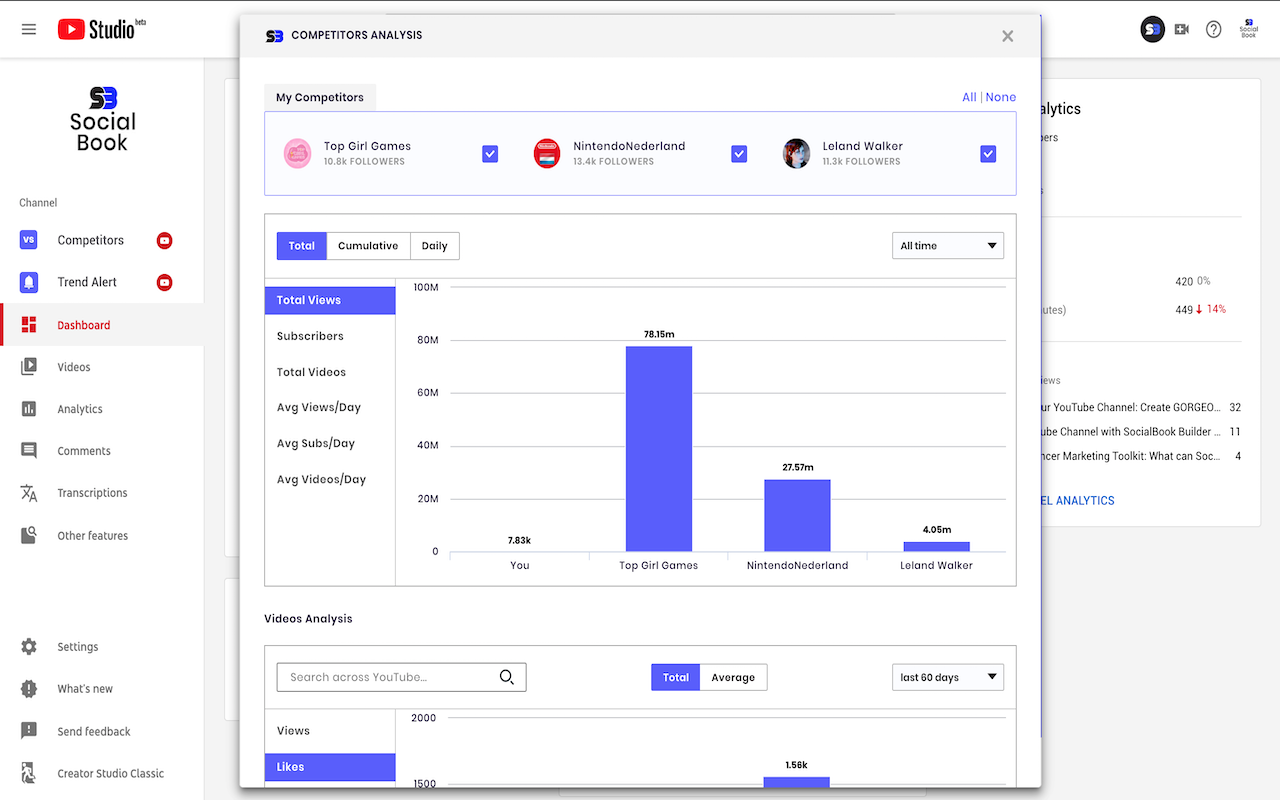 Stay ahead of the competition by tracking their activity as well as trending topics.
If you're not getting the reach you hoped for on YouTube, then SocialBook Builder is here to help.
Create stunning thumbnail images, generate tracking links, and generate channel insights without giving intrusive permission to third-party apps.
Don't put your dreams of being YouTube famous (or at least reaching your target customers) on hold.
Get lifetime access to SocialBook Builder today!
P.S.
Learn how to use SocialBook Builder like a pro by catching our training webinar replay here:
Webinar Replay
!
Plans & features
Deal terms & conditions
Lifetime access to SocialBook Builder

All future Pro Plan updates

You must redeem your code(s) within 60 days of purchase

Stack up to 4 codes

GDPR compliant

Previous AppSumo customers who purchased SocialBook Builder can buy more codes to increase their feature limits

Previous AppSumo customers will be grandfathered into the new feature limits

20% off Socialbook.io Influencer Marketing Software

Bonus: Link your social media bio page to LinkOne for 1 free year of LinkOne Pro
60 day money-back guarantee. Try it out for 2 months to make sure it's right for you!
Features included in all plans
Unlimited inline tracking links

Unlimited tag recommendations

Unlimited keyword research

Unlimited photo uploads

Unlimited thumbnail downloads

Channel highlights

Channel valuation

Video category

Historical trends

Brand mentions

Audience demographics

Audience interest

Most loyal fans

Top engaged creators
SocialBook Builder
Grow your YouTube channel with easy-to-use tools
60 day money-back guarantee. Try it out for 2 months to make sure it's right for you!
All features above included

1 YouTube channel(s)
Tracking on 6 competitors
3 trending alerts
10 tag lists
20 keyword ideas
0 subaccounts

All features above included

5 YouTube channel(s)
Tracking on 12 competitors
6 trending alerts
20 tag lists
50 keyword ideas
3 subaccounts

All features above included

15 YouTube channel(s)
Tracking on 18 competitors
9 trending alerts
30 tag lists
100 keyword ideas
10 subaccounts
From the founders
Caro_AppSumo
Partner Community Moderator
Showing 10 of 127 questions
Sign Up
All our deals are time-sensitive! Make sure you don't miss any of our awesome limited-time offers.