Two things you never thought you'd still be doing after graduation:
Eating Taco Bell at 2 AM


Struggling to create good presentations


While you've mastered the art of inhaling late-night tacos, you're still spending hours creating presentations that are — let's be real — lame.
But, here to take care of all your presentation needs is Slidebean.
Slidebean is presentation software that helps you and your team build and share highly engaging presentations in minutes, not hours.
With a library of professionally curated templates, you never have to start your slides from scratch again.
On top of saving you tons of time, these templates will captivate and impress your audience. ("Oh, wow. This presenter has their ish together.")
Slidebean let's you explore and experiment with hundreds of pre-loaded design combinations.
There are a bunch of templates for things like client proposals, investor updates, remote team meetings, and "Why I Should Have More Than One Guys' Night Per Year, Honey."
But Slidebean ain't just templates.
Inside their magical library, you'll also find professional photos, icons, gifs, and charts — all of which can be dragged and dropped until your slides look world-class.
With every presentation, Slidebean will automatically unleash its smart design to ensure slides look unified and flawless.
Slidebean allows you to focus on the content while it focuses on the design.
And after you've crafted the perfect presentation, you can share it directly in Slidebean or export it to HTML5 or PDF.
Your Slidebean presentation will look terrific on any device!
Now, some of you might remember our Slidebean deal from last year. (You know, the one with lifetime access to the Slidebean Premium Plan for $39 that sold out.)
And you probably think there's no way we could do it again.
Well, that's where you're wrong.
Not only did we bring it back, but we also made it better!
This Slidebean Premium Plan includes:
Unlimited presentations


3 team members (Added specifically for Sumo-lings!)


Watermark-free slides


Custom palettes and fonts


Custom branding


HTML5/PDF export (Note: slide animations will not be available if exported)


This amped up version of their premium plan is valued at over $250 per year.
However, you can have lifetime access to the SlideBean Premium Plan for just $39!
Start creating presentations like a pro!
These Sumo-lings were fortunate enough to grab this deal before it sold out last year: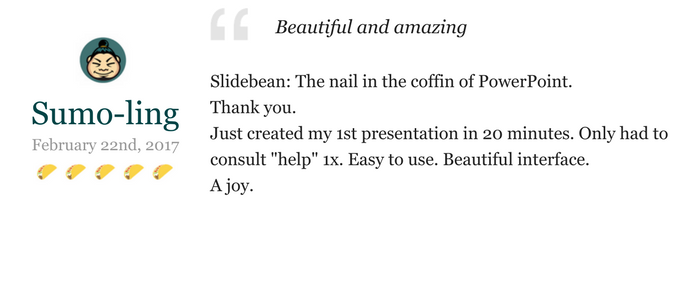 Adding to Slidebean's awesomeness is its ability to track presentation activity.
You'll have valuable info like who viewed your presentation, how many many times they viewed it, and how much time they spent on a specific slide.
This actionable data will allow you to better engage with your audience.
With templates, photos, icons, charts, and gifs, Slidebean is giving you everything you need to rock a presentation.
So quit spending hours creating lackluster presentations.
Get lifetime access to Slidebean for just $39 now!
P.S. If you bought our Slidebean deal last year, email caya@slidebean.com to get your account upgraded to this deal!