VideoPeel is a user-friendly platform for collecting, managing, and sharing video testimonials from one centralized location.
With VideoPeel, you'll be able to skip past all the technical barriers of filming testimonials by letting customers record and upload content themselves.
You can customize your VideoPeel campaign landing pages with profiles, pictures, or video messages, then create multiple prompts for customers to respond to.
After that, you just send them a link where they can record right on their smartphone or computer — no login or downloads necessary!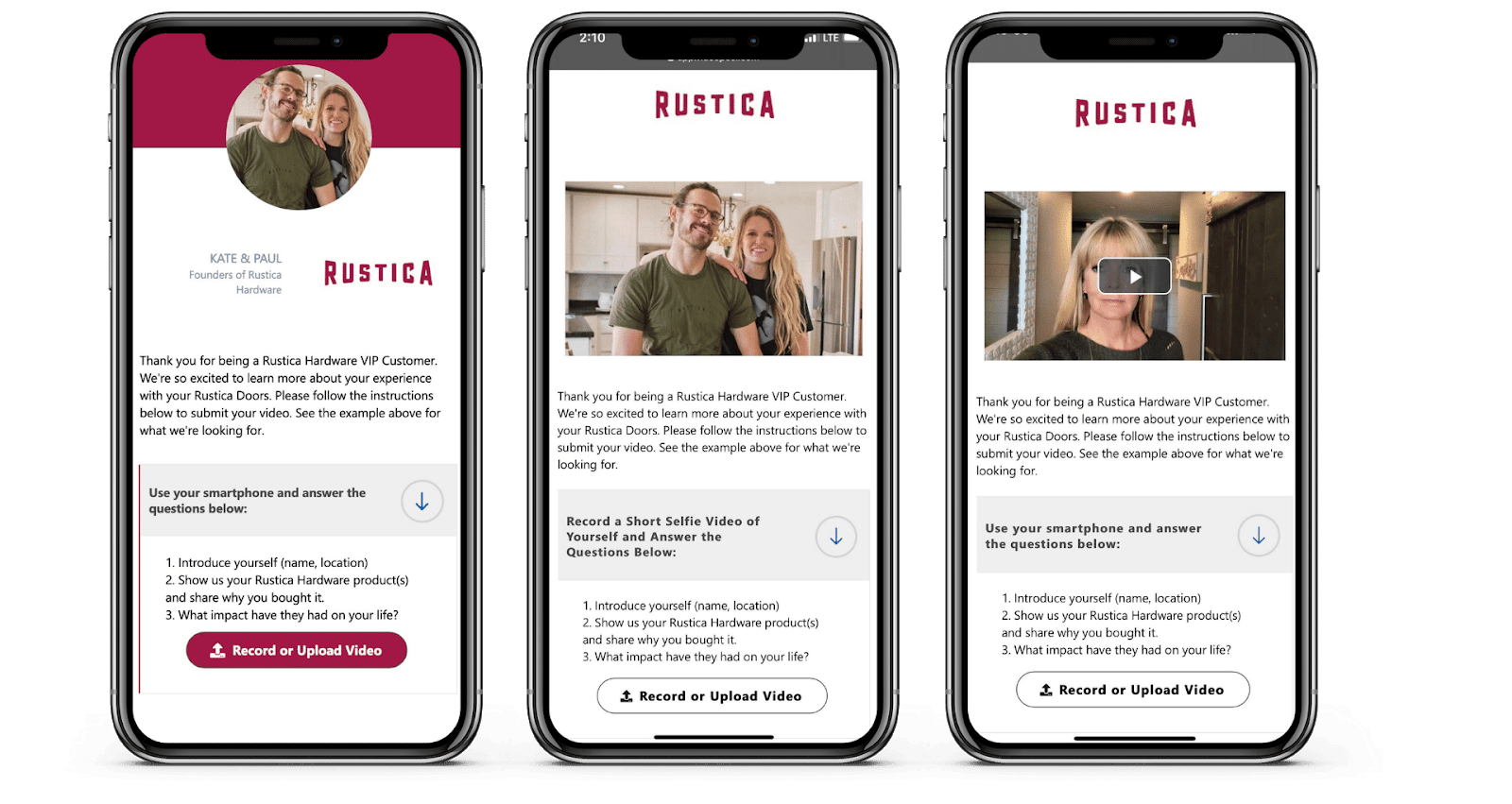 Customize your VideoPeel campaign landing page with profiles, pictures, or video messages.
All the information can be customized to include your own branding.
Plus, you can choose whether to send prompts via email, SMS, messenger, mobile and more to further tailor the experience to your customers.
VideoPeel also gives you the option to collect photos, names, and email addresses to continue building customer relationships.
Send customers a link to record their own video testimonials–no logins or downloads required!
Privacy and data collection concerns are major hangups for both customers and businesses.
That's why VideoPeel lets you control the privacy policy and terms and conditions for each campaign, so customers know exactly how their videos will be used.
There's even a signature option in case you (or the armchair "lawyers") deem it necessary.
Looking to streamline the process? VideoPeel's standard policies and agreements have got your back.
Customers can review your custom privacy policy and terms and conditions before signing right from their phones!
With automated thank-you messages built right into your campaign, VideoPeel makes showing your appreciation fast and easy (thank u, next).
You can even link to a special gift to show that you really care and incentivize future testimonials.
The message can also include a call-to-action for customers to share their video on Facebook, Google, or Amazon.
Include calls to action to get people sharing their testimonials on Facebook, YouTube, Amazon, and more!
VideoPeel excels at keeping all your testimonials in one place.
Use tags to organize videos by categories, products, or audience segments, then quickly filter through them.
You'll also be able to search through automated video transcripts to find relevant information without having to sit through hours of glowing reviews (*hair flip*).
The videos detail customer information, too, so you can follow up for more content requests later.
Quickly tag videos, search through transcripts, and follow-up with customers!
Now it's time to share those amazing testimonials with the world.
Display the videos directly on your website with the VideoPeel carousel or picture-in-picture player, which both work on any web platform. Or, you can customize your own video library.
Installation is painless and your videos will be ready to go in minutes!
VideoPeel also integrates with YouTube, Facebook, Amazon, and more so you can easily broadcast to the largest audiences.
Share the testimonials right on your website with the VideoPeel carousel, picture-in-picture player, or video library!
Some things you've got to see to believe (except Cats — we already know it's terrifying).
When it comes to your business, seeing what your customers already love about you is what drives future customers to action.
Use VideoPeel to painlessly collect and share video testimonials, all from one platform.
Get VideoPeel today.
P.S. Learn how to use VideoPeel like a pro by catching our training webinar replay here: Webinar Replay!

Related Blog Posts: