Tell me if this sounds familiar: every time you open your inbox, you're instantly flooded with a ton of emails asking you to do a million different things.
And while you should be focusing your energy on the important emails, you wind up focusing on the latest email.
This is how tasks slip through the cracks.
Wouldn't it be awesome if you could turn your inbox into a project management tool?
Well, now you can with Yanado.
Yanado is a task and project management tool that lives inside of Gmail, so you can spend more time focusing on getting things done.
Creating a list is the first step in your productivity voyage. Lists will help you organize tasks, plans, and projects.
Once your list is created (just click the "Add New List" button), you can add individual tasks.
Individual tasks can be a business meeting, strategic plan, taco appointment, or anything that needs to get done.
There is no limit to the number of tasks you can add to each list.
Any email can be turned into a task by using the Yanado drop-down menu.
This is a terrific feature for things like customer support, sales pipeline, etc.
From directly inside of Yanado, you can assign tasks, set due dates and reminders (reminders will be automatically synced with your Google calendar), drag and drop between statuses, and reply to emails.
Here's Yanado making a sales pipeline look easy:
Yanado lets you name and color your task statuses. Because sometimes there's than just "to do," "doing," and "done."
You can also tag tasks by using hashtags in comments, task descriptions, tasks or list names.
You'll have two ways to view all of your productivity: list view or card view.
Toggle between views with one click.
Right now, we've got the Yanado Premium Plan in our store.
The Premium Plan usually goes for $180 a year and includes:
G-drive integration (upload and share documents into tasks)


Real-time notifications on project tasks or task comments


Slack integration (add and manage tasks in Slack)


Zapier integration


Custom fields


Task & List templates


No branding


Sumo-lings, you can get lifetime access to all of this for just $39!
You stack this deal up to 5x!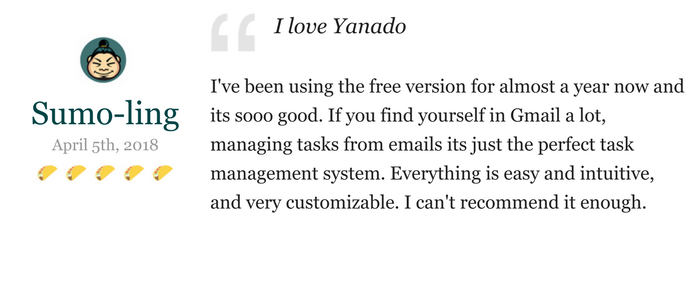 While Yanado helps you manage project progress and track guest users through notifications, you can also see performance with Yanado's reports.
And you can even export entire lists into CSVs for custom reporting.
Unlike other tools that are forcing you to adjust your workflow to them, Yanado adjusts to you.
To make sure you're always productive, Yanado has a mobile app for Android and is working on one for iOS.
Yanado feels like it's supposed to be in your Gmail.
You're desperately trying to be productive, which is why you have — or are looking for — a project and task management tool.
So why not get yourself a productivity tool that thrives where you live — in Gmail?
Because Yanado is simple to use and efficient, it's an ideal solution for agencies, freelancers, small/medium businesses, startups, and anyone looking to get productive.
Get lifetime access to Yanado for just $39.