bCast is a podcast hosting, distribution, and analytics platform designed to transform listeners into leads.
It's time to get straight to business with bCast's Auto Opt-In.
bCast generates an email address for you to read on-air, allowing listeners to message that address and opt in to your offer directly.
The lead is then sent through bCast into your CRM, or you can use the Zapier Webhook integration to interface with tools like ConvertKit and Mailchimp to easily add them into your sales funnel. (If ya can't beat 'em…)
If you've got a YouTube channel, you can even connect to bCast to get your podcast content auto-transformed to video and posted to a playlist on your channel.
Use Auto Opt-In to quickly get email leads from on-air offers!
bCast gives you an easy way to get all those sponsors and calls-to-action (CTAs) in your podcast, too. (@ us, MeUndies!)
Dynamic Content Insertions let you plug audio clips straight into your recording with only a few clicks.
While you're plugging in content to previous episodes, you can pay to get your podcast professionally edited right from the bCast dashboard, instead of looking for editors yourself.
bCast also lets you choose season numbers for episodes and tag whether the content is a bonus episode or trailer for easy distinction.
Quickly add sponsor clips and CTAs to any episode with Dynamic Content Insertions!
You can host your podcast website on your own domain to avoid site names that distract from your brand.
Your site visitors will also have the option to subscribe to the podcast and get on your email list right from your page for even more leads.
The automated transcription feature also lets you maximize the SEO value of your content by loading the text onto your site, plus boosts accessibility.
Give your guests the heads-up when their episode goes live with notification emails for one or more guests, which come complete with easy-to-share links auto-generated in the email copy.
Now you're in position to quickly leverage guests' platforms without fumbling with long URLs (or accidentally sending the wrong one). Oops.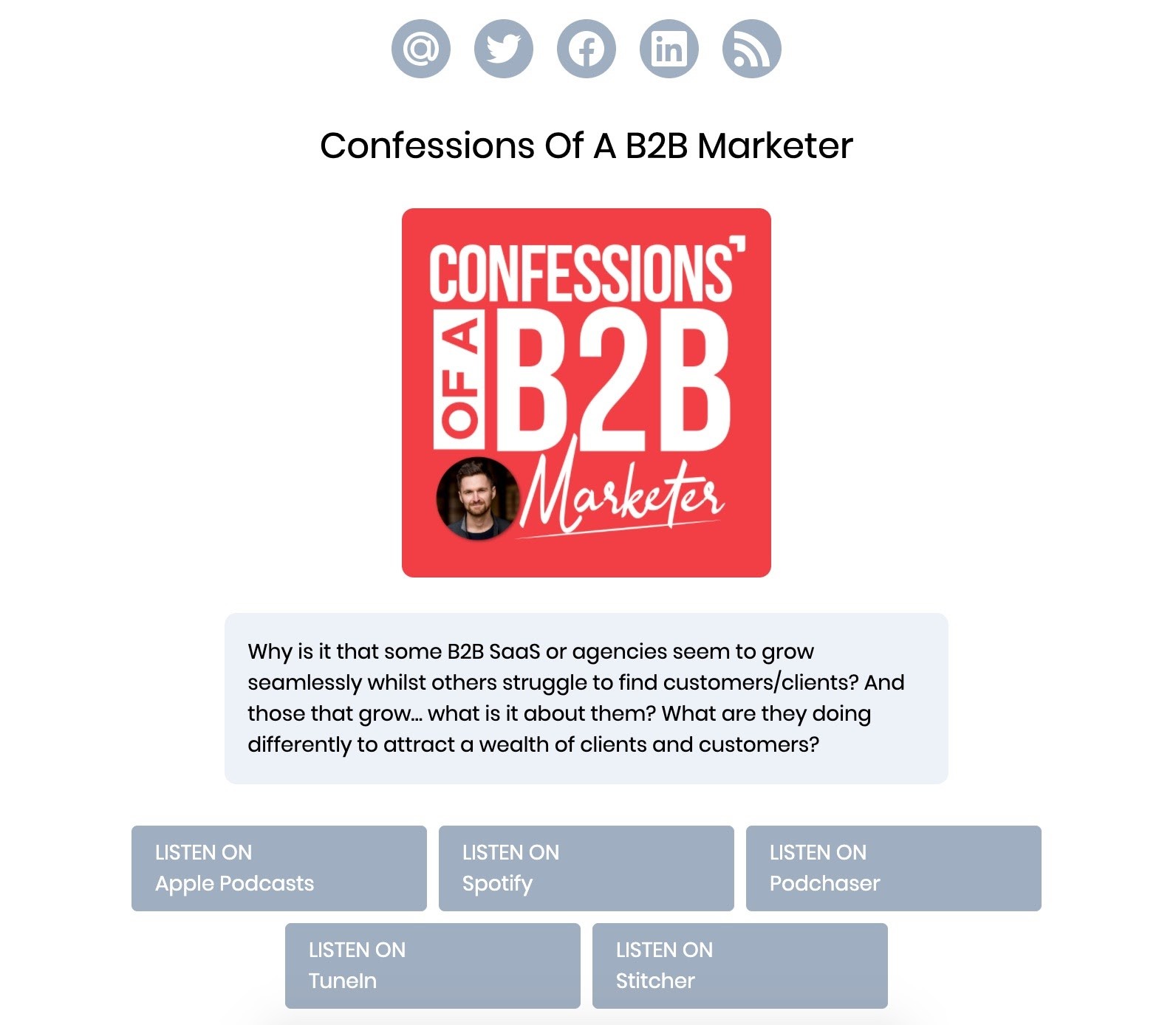 Host your podcast on your own domain for that professional feel!
bCast even gives you another opportunity to boost your bottom line with integrated affiliate links.
Add your affiliate links to the bCast podcast player and website to grab 30% commission on all the customers you send back their way.
The embeddable player even has an email opt-in form to collect subscribers while they're listening.
Plus, detailed analytics with IAB download compliance give you increased accuracy to see how well your podcast is doing.
So not only will your podcast grow, but you'll create a feedback loop that boosts the platform, which will likely increase your listeners.
The analytics give you insight into how your podcast is performing and converting!
Much like that summer "internship" at your uncle's restaurant, your podcast shouldn't take up all your energy if it doesn't pay.

For the best chance at growing your business through podcasting, you want a platform that pulls its weight and works for you.

bCast offers easy listener conversion paired with quick sponsor and CTA plugs for maximum returns.

Get lifetime access to bCast now!

P.S. Learn how to use bCast like a pro by catching our training webinar replay here: Webinar Replay!