Insignal is an analytics tool designed to help you quickly visualize how users interact with your website, so you can optimize the browsing experience.
Insignal's session recordings allow you to watch exactly what your users did on your website with video playback of the entire journey.
You may be thinking: Who has the time? That's why Insignal automatically skips the parts with no activity and cuts right to the action—no muss, no fuss.
Plus, Insignal technology scans sensitive fields beforehand to remove any confidential or sensitive information.
Passwords, addresses, social security numbers, and credit card information? All completely secure.
Access playback sessions of real site visitors with videos that cut straight to the action!
Ever wonder what your users do on your website—what they click, what they ignore, and how far they scroll?
Now you don't have to. Insignal records every action and generates a beautiful heatmap of all the user activity!
Through eye-tracking technology, the tool collects and analyzes data to instantly determine which sections your users spend the most time browsing.
That way, you can get an idea of what's hot (get it?) and what's not on your page.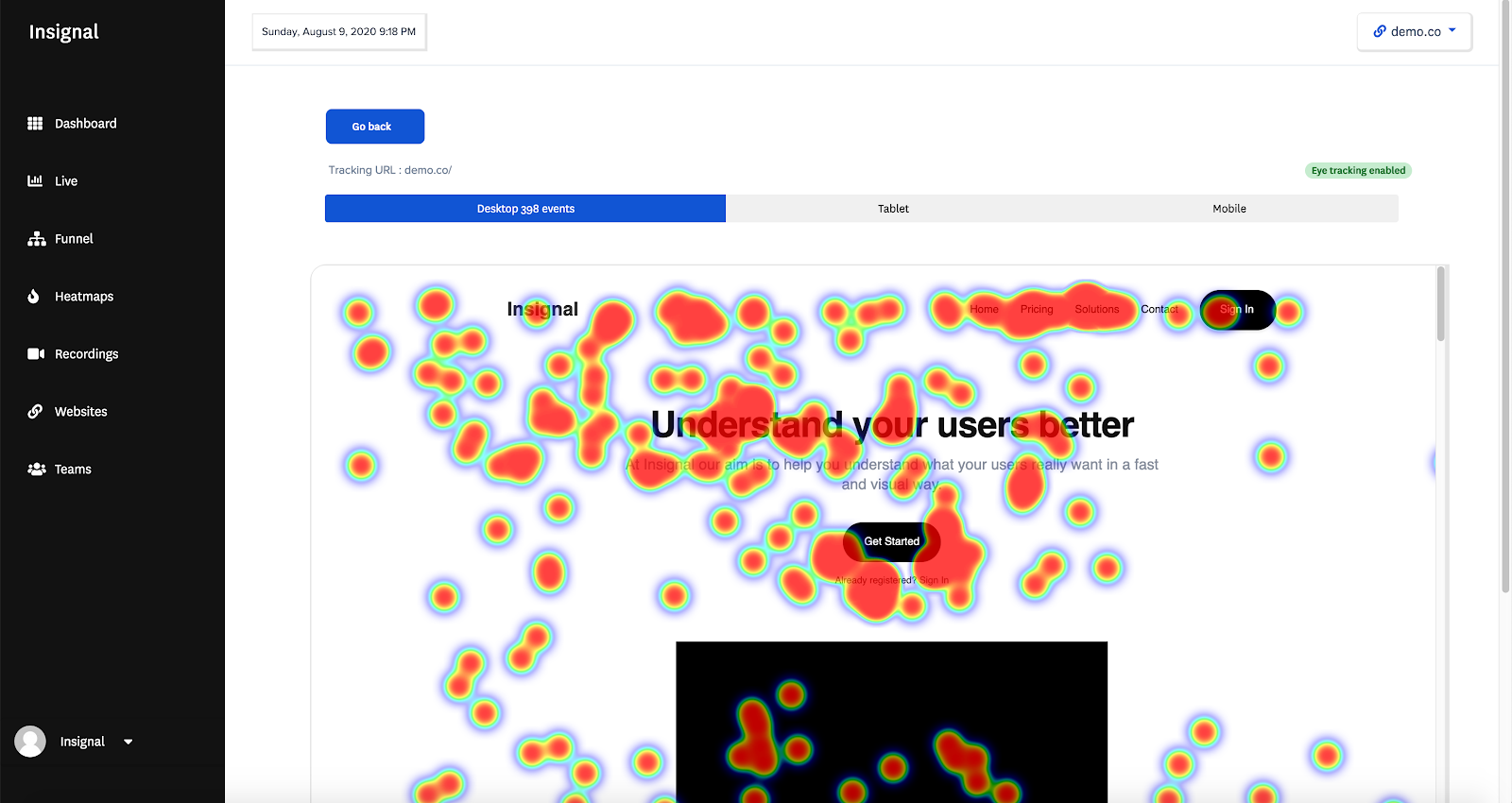 See what users do on your site and what they care about, with heatmaps that display their click and scroll behavior.
Users dropping off and you don't know why?
Insignal's funnel feature helps you understand what works and what doesn't, giving you insights into how you can maximize conversions.
You'll get the full user history, from the second someone lands on your page to when they exit the site—and everything in between.
Discover where you lost prospects and gain actionable insights to improve the overall user experience and drive results. After all, when you know better, you do better.
Find out where visitors are landing and why users click out of your site, with actionable insights to improve the browsing experience.
Analytics can be confusing, but Insignal makes it simple—no frills, only the info you need.
For example, Insignal provides real-time visitor tracking that tells you who's browsing your site right now, plus details into their location and device.
You'll also receive in-depth reports about the user's source, country, OS, language, browser, screen size, pages, and even track customer UTM links.
Insignal integrates with WordPress, Shopify, Wix, Joomla, Squarespace, and more to blend seamlessly into your workflow.
Get real-time, powerful analytics about the user's source, country, OS, language, browser, and more in the dashboard.
If you were a mindreader, you'd have a better idea of why your dog brings his food to a different room to eat it.
Stop guessing and start seeing everything your visitors do on your website.
Insignal gives you the power to tap directly into your user base, improve your page, and turn more prospects into lifelong customers.
Get lifetime access today!