Inventory Source
Lifetime Deal
Automatically create products, sync inventory, and route orders for your online store
Inventory Source
Automatically create products, sync inventory, and route orders for your online store
This deal is unavailable (a bummer, we know). Don't miss a great deal again — drop your email to get all our latest tools!
60 day money-back guarantee. Try it out for 2 months to make sure it's right for you!
Getting all your ecommerce tools aligned can feel like you're teaching a team of misfits how to work together. ("Despite what you saw in The Sandlot, the reality is we have no chance of success.")
Even when you've got the technology down, the process of manually creating products, updating inventory, and routing orders can take tons of time.
Luckily, there's a software solution that automates your product creation and order management process.
Introducing Inventory Source.
Automate product creation, inventory, and price updates for your online store throughout the day
Alternative to: Spark Shipping
Manage the order routing and shipment tracking connection with your suppliers
Best for: Small businesses and solopreneurs that want to automate dropship fulfillment for their online sales channels
Overview
Inventory Source is a supplier directory and dropship automation software that uploads products, syncs inventory, and routes orders.
Inventory Source lets you create product listings on your website automatically based on your supplier's data.
You'll be able to find your dropship supplier in the program's directory of over 230 integrated suppliers.
Plus, it's easy to bring images, titles, descriptions, and more into your existing online store or marketplace platform, like Shopify, WooCommerce, BigCommerce, Amazon, and Walmart.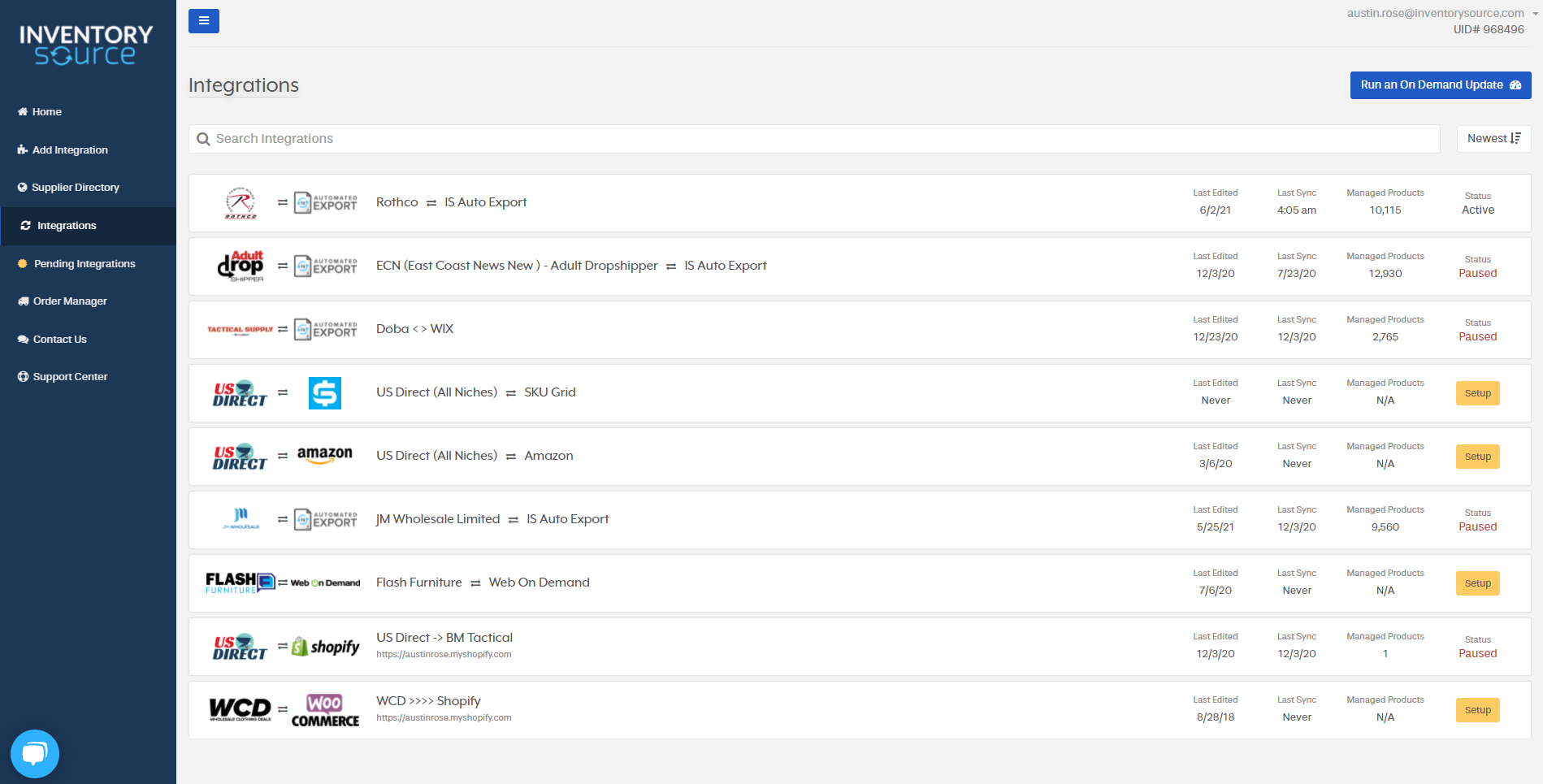 Inventory Source integrates with over 230 dropship suppliers, including niche suppliers.
Instead of manually updating products yourself, let Inventory Source handle the tedious work of automating inventory and prices throughout the day.
Your online store or sales channels will be up to date with the latest information, so you can ensure your inventory and pricing are always accurate.
Set a minimum quantity filter to avoid accidentally selling out-of-stock products, and control how you want to view these inactive products in the Catalog Manager.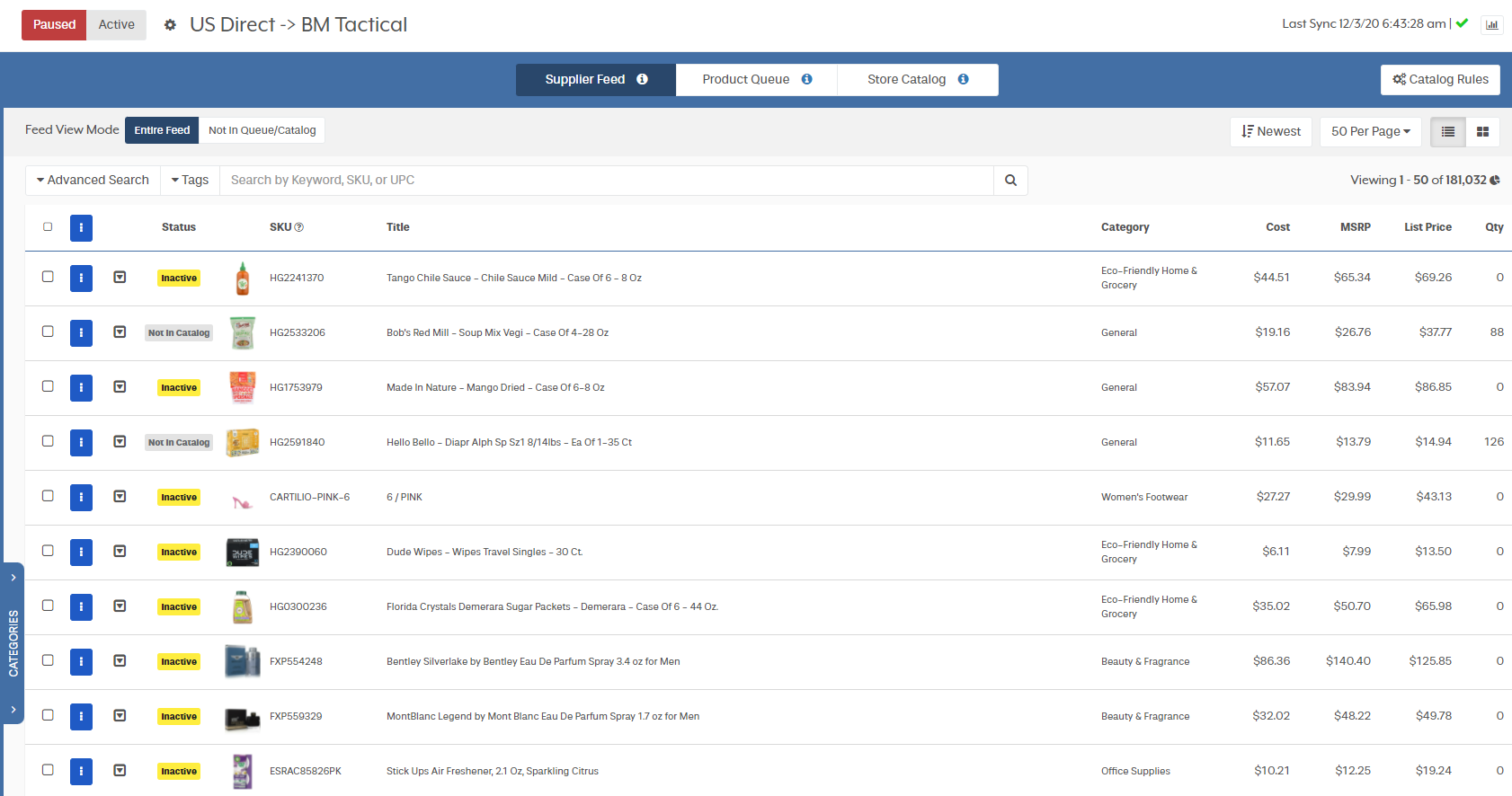 The Catalog Manager dashboard lets you search for products, customize product data, and make bulk changes.
With Inventory Source, you can curate and customize your product catalog, product details, and pricing in bulk right from the app.
Create catalog rules to automatically adjust the prices to best fit your business model and pricing strategy.
You'll even be able to use catalog rules to automatically map your products to the categories that align with your store's category structure.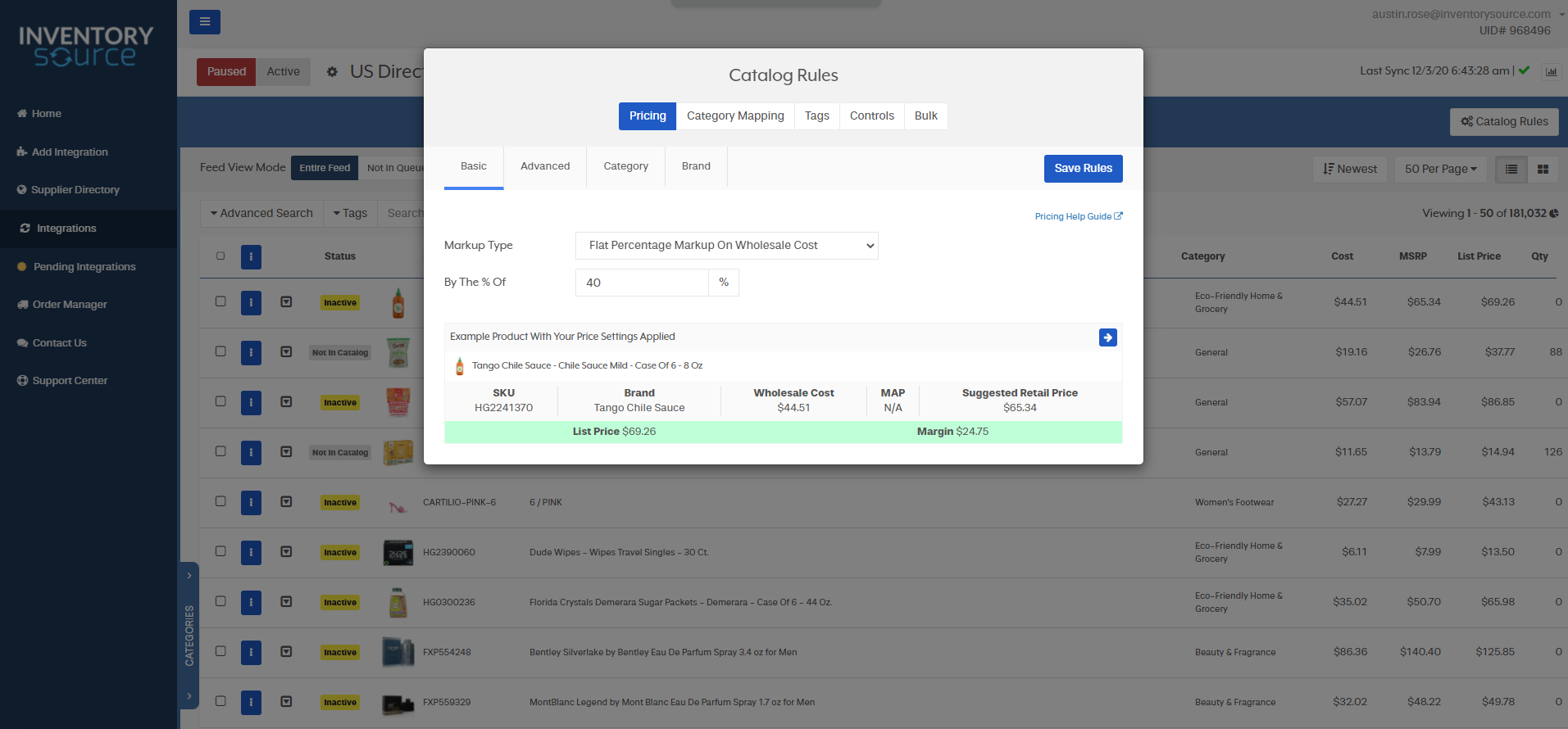 Make bulk updates and pricing overrides to your products using catalog rules.
You can also automate the order management process with your integrated distributor.
This type of automation is designed to directly place orders inside your dropship supplier's order management system and then auto-pull shipment tracking information.
Best of all, Inventory Source will send the shipment tracking information back to your sales channels to keep your customers updated on their orders.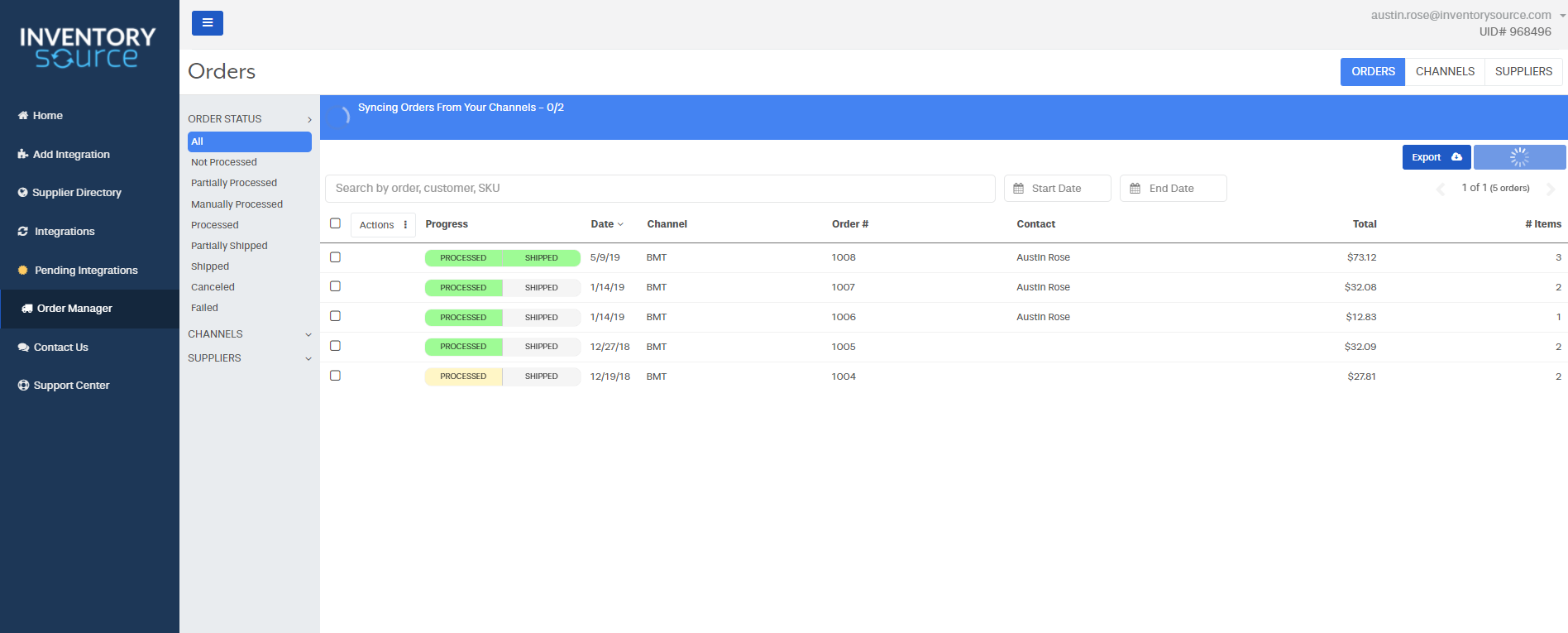 Track the order status of every processed order right from the Order Management dashboard.
Unlike the Mom-and-Pop stores of yesteryear, you don't have time to manually update your inventory as your supply changes. ("We have 12 eg-…okay, we have 11 eggs and one mess.")
Inventory Source helps you automate product creation, inventory updates, and order management directly with your dropship supplier.
Save time and avoid human error in your order management.
Get lifetime access to Inventory Source today!
Inventory Source
Automatically create products, sync inventory, and route orders for your online store
This deal is unavailable (a bummer, we know). Don't miss a great deal again — drop your email to get all our latest tools!
60 day money-back guarantee. Try it out for 2 months to make sure it's right for you!
Plans & features
Deal terms & conditions
Lifetime access to Inventory Source

All future Inventory Automation Basic Plan updates

You must redeem your code(s) within 60 days of purchase

Please note: This deal is not stackable

GDPR compliant

Only for new Inventory Source users who do not have existing accounts
60 day money-back guarantee. Try it out for 2 months to make sure it's right for you!
Single

50,000 SKU limit
2 daily syncs
1 Integration (i.e., 1 supplier to 1 sales channel connect)
Integrations: Shopify, Amazon, BigCommerce, WooCommerce, Walmart
Integrations (cont.): Shift4Shop, GunBroker, OpenCart, PrestaShop, eBay, Informed.co, and xSellco
Sign Up
All our deals are time-sensitive! Make sure you don't miss any of our awesome limited-time offers.