Rake is a centralized messaging web platform that simplifies omnichannel and workplace messaging with efficient and easy-to-use tools.
With Rake, you get a multipurpose solution with critical team collaboration tools like channel conversations and direct messages.
So unlike your weekly book club, everyone on your team will be on the same page. ("You guys, The Girl on the Train and The Girl from the Train are two different novels.")
And Rake's omnichannel chat even connects you to site visitors, social media fans, customers, and prospective clients, so you can easily grow your sales and improve customer service.
Direct messaging and channel conversations help your team collaborate, close deals, get results, and resolve problems faster.
Rake is your dream messaging platform: it incorporates familiar features from other popular collaboration and chat tools.
Everything you need is in one place, too, so you can share your messages, ideas, announcements, links, files, documents, images, calendar appointments and more!
And don't worry—with the genius Rake mobile app, you can stay connected even when you're on the go.
Thanks to the Knowledge Base feature, your team can keep track of key information and FAQs without the hassle.
And because knowledge is power, you can even extend the Knowledge Base to your website, which integrates perfectly into active chat conversations for your customers.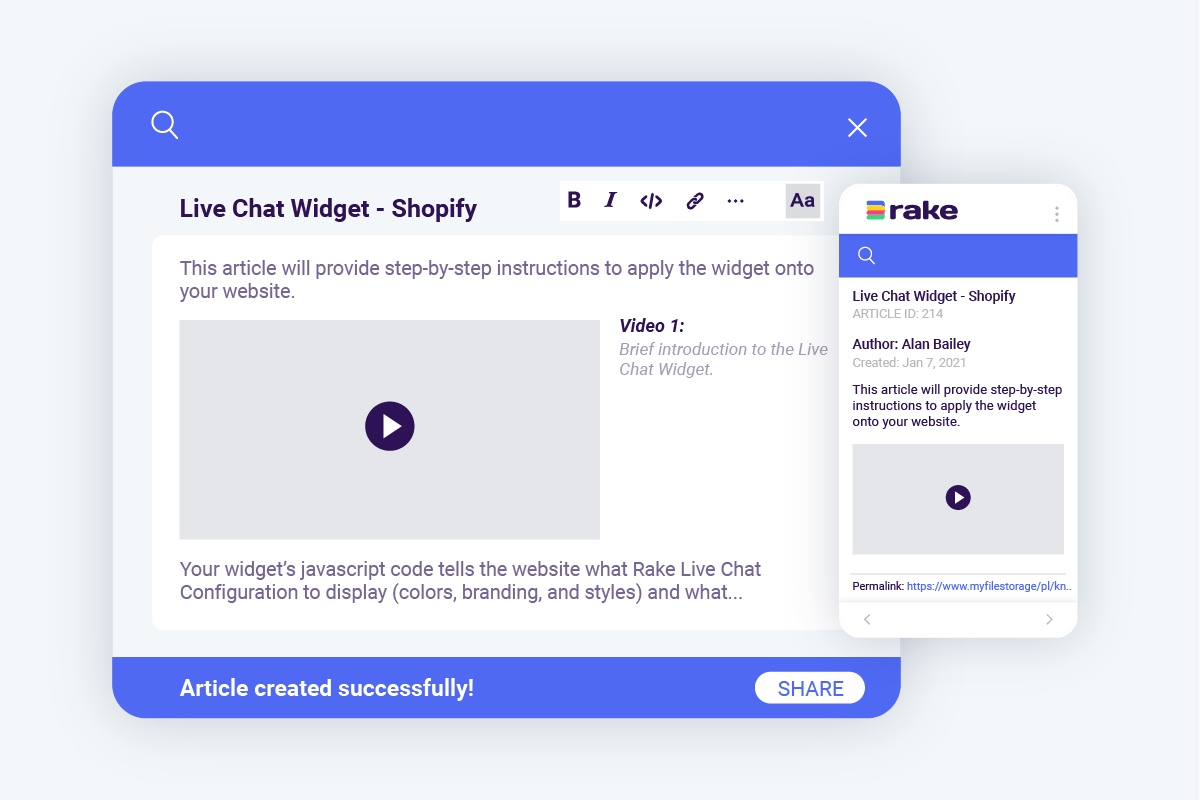 Improve overall response consistency across your team, both internally and on your website with the Knowledge Base function.
Best of all? Chat conversations are searchable, so you can quickly circle back to your colleague's latest epiphany. ("Hear me out—what if we had Summer Fridays in the winter?")
Rake lets you perform searches across conversations with filters by channel, customer, date, platform, channel, and user—the options are endless!
Of course, all messages are also encrypted in transit and at rest natively, so you never have to worry about security.
And with Rake's 2-way omnichannel chat, you can connect with your customers on the most popular messaging platforms and digitally meet them wherever they are.
You'll seamlessly establish a consistent customer experience, boosting convenience and maximizing business opportunities.
The 2-way omnichannel chat lets you connect with your customers on all the most popular messaging platforms.
You can instantly activate Rake's highly-customizable live chat just by adding a single line of javascript.
And because all the settings are managed server-side, you can install it and forget it. Talk about low maintenance!
Plus, with Rake's Website Visitor Monitoring feature, you get real-time notifications about new site visitors with a rundown of their location and which site brought them to you.
So unlike the pitfalls of online dating, you'll know exactly what your site visitors are looking for and how to close those deals.
Get real-time notifications about site visitors and send out targeted chat messages that help you close deals.
We all know how hard task management is. (RIP to the Moleskine planner you bought on a whim and never used.)
Rake's Task Management feature steps into the 21st century, with a simple and organized interface that keeps your team accountable.
Use Task types to define workflows, due dates, assignees, and webhooks, so your team can always be responsive and on track for success.
The Task Management feature offers chat integration, custom types, assignments, and reports to help your team exceed goals.
Just because you can get in touch with your team on dozens of platforms doesn't mean you should. ("What do you mean, you don't want to follow me on Spotify? My playlists are fire.")

You can't afford to waste your workday hoping everyone will magically be in sync.

That's why Rake takes care of centralizing communication for you, so your team can get back to doing what it does best.

Get lifetime access to Rake today!

P.S. Learn how to use Rake like a pro by catching our training webinar replay here: Webinar Replay!

NEW: No codes, no stacking—just choose the plan that's right for you!