1Brand empowers marketers, agencies, and entrepreneurs to create beautiful, customized brand guidelines in just a few minutes.
Getting started with 1Brand is easier than accidentally eating an entire box of Cheez-Its.
Just enter your client's URL and automatically pull in colors, logos, and fonts in minutes.
Use the editor to add, adjust, label, and organize these three core features with the option to go back at any point to make further adjustments.
When you're done, select from pre-populated and customized cover images before you publish your brand guidelines.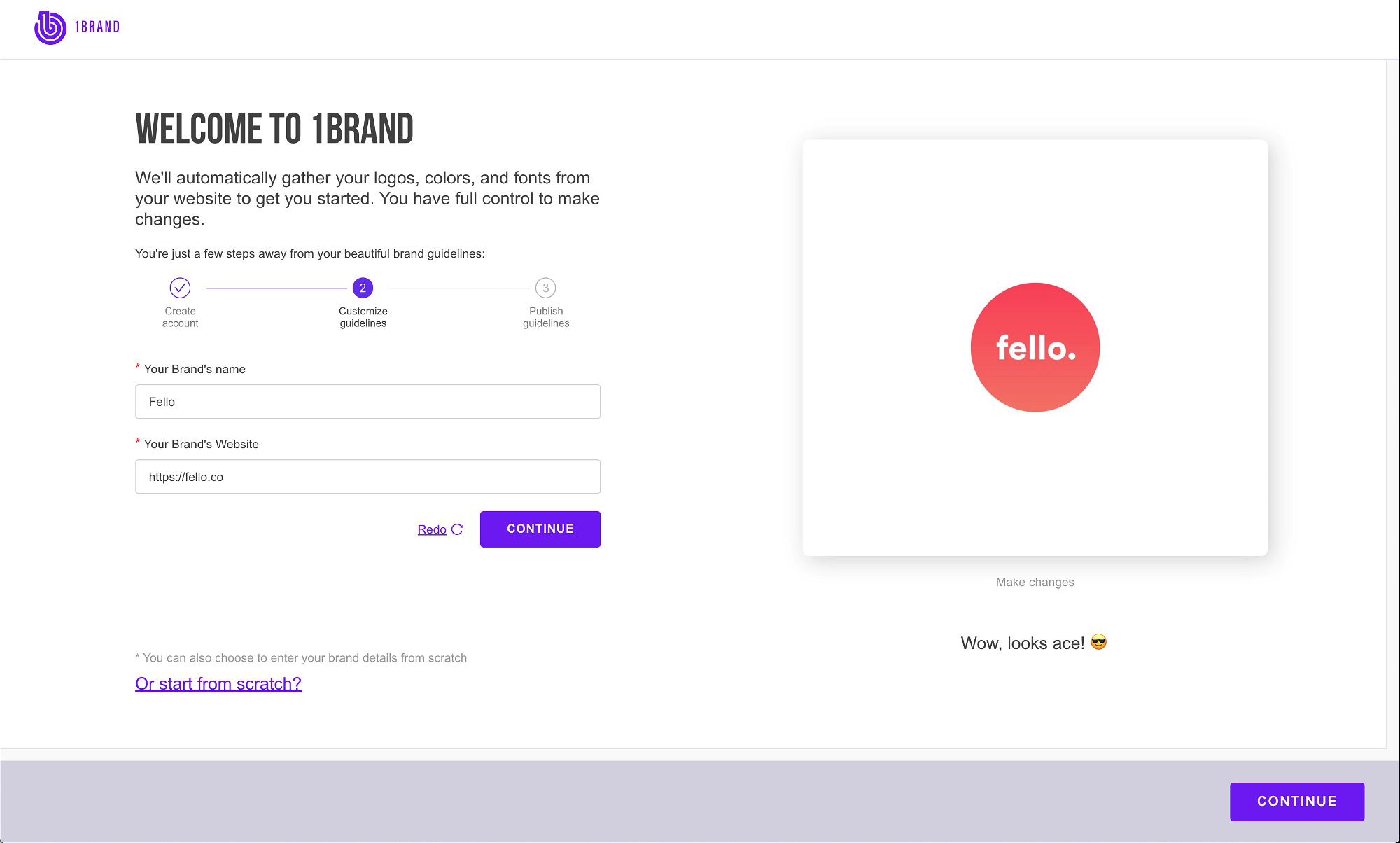 Creating your brand guideline is as easy as entering in a domain!
Customization isn't just for sick denim jackets—you can change any of the brand details collected from the website.
The Colors editor lets you label, adjust, rename, and add new colors, using tags to keep things organized.
In the Logos editor, save hours of tedious production as you upload a high-resolution logo and let the system change file formats into JPGs, PNGs, and more.
You can upload all logo versions, like Wordmark or Brandmark, and then label and tag them to specify how they're used.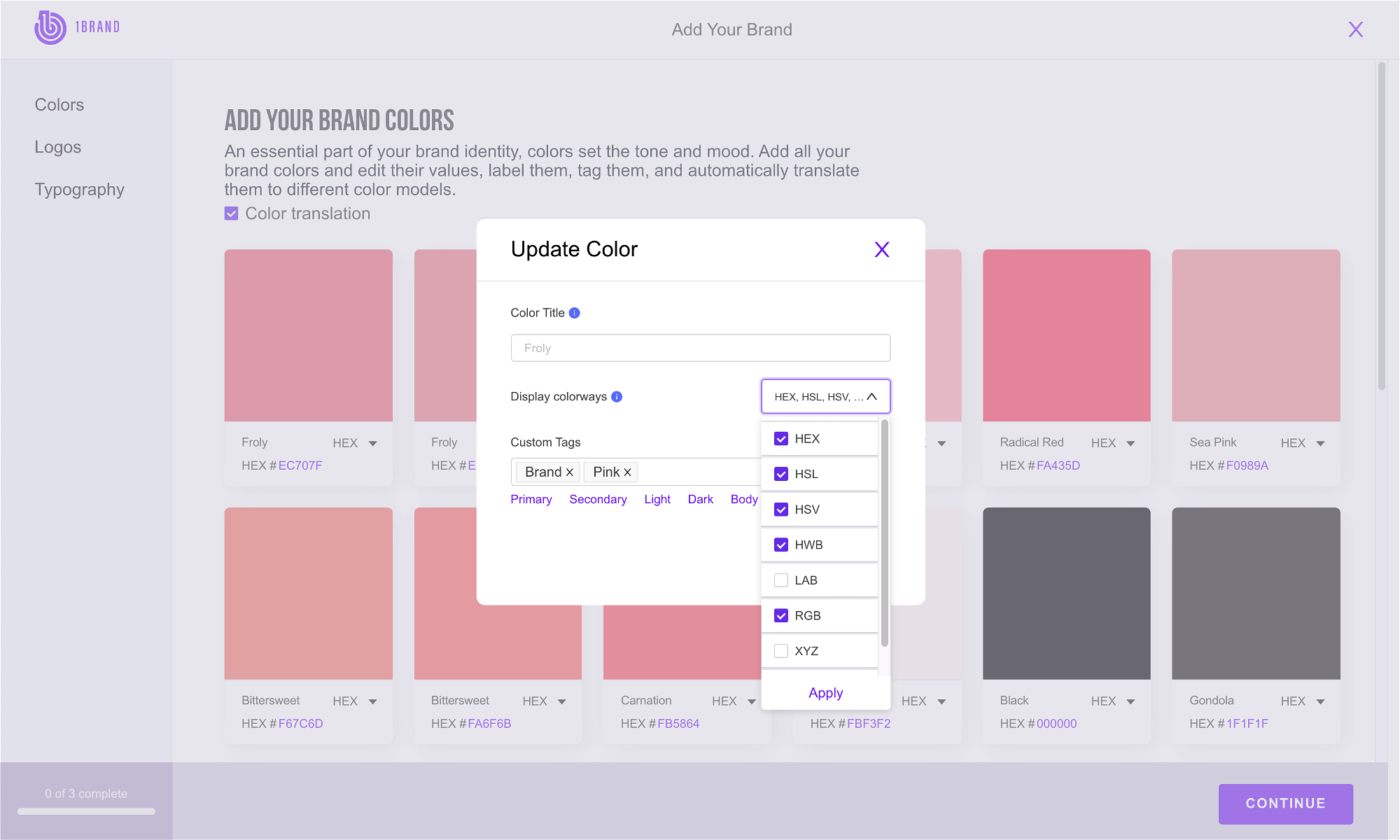 Customize your colors with a new name, color models, and tags to keep things organized.
With 1Brand, you'll be able to manage all of your brand assets from a single location, making it easy to access assets when you need them.
You can also keep brand assets organized by type.
That means you'll never have to spend another lunch break trying to find that alternate logo you remember making. ("How did it end up in my March Madness spreadsheet?")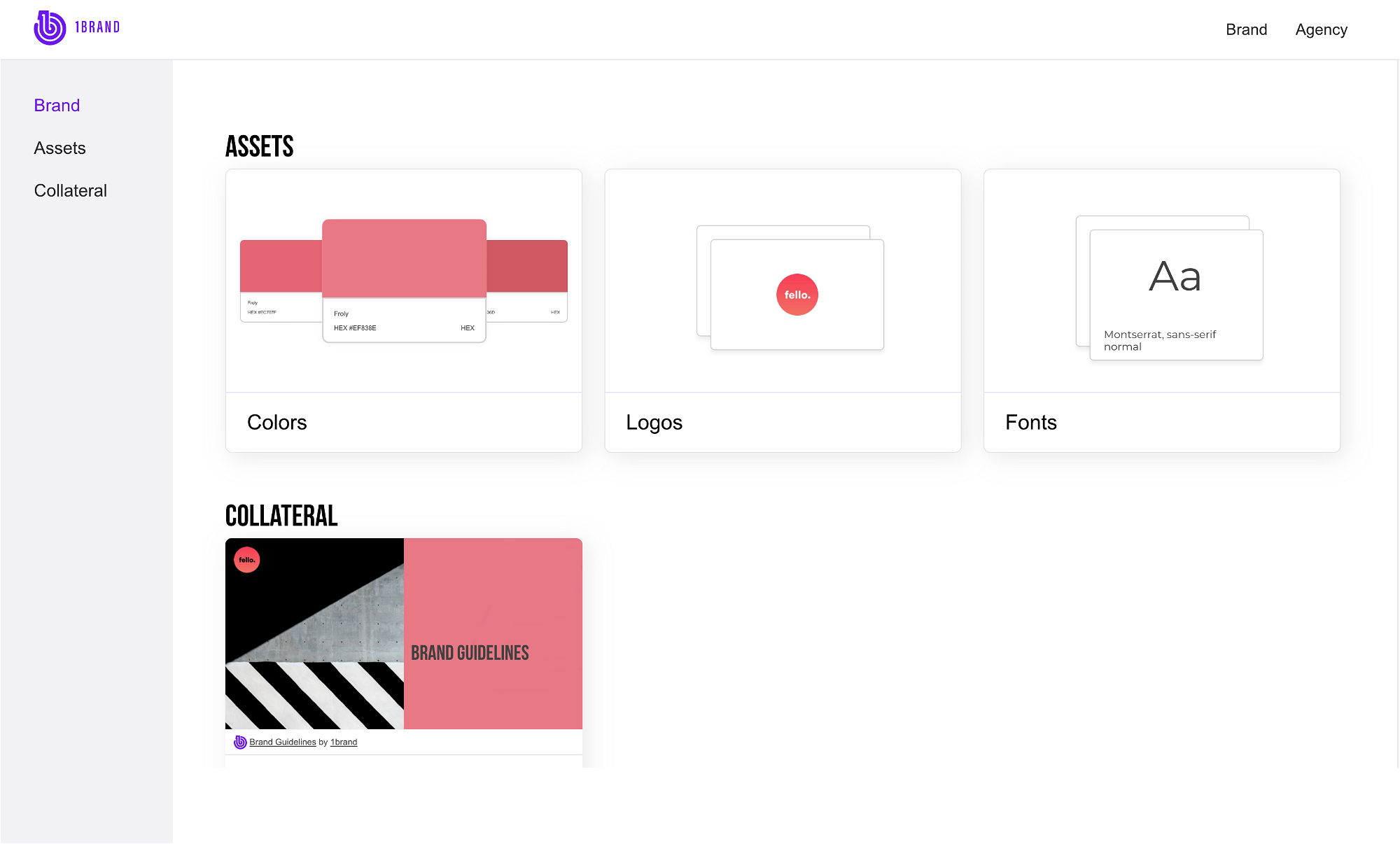 Manage all of your brand assets from a single place for optimum organization!
The Agency plan allows you to create brand guidelines for an unlimited number of clients.
Because not every client needs the same functionality, Agency clients have two tiers: Basic and Pro.
You can easily track your Pro and Basic Clients with the ability to upgrade clients as the business grows, giving you maximum flexibility for current and future partnerships.
Get maximum flexibility by adding, removing, or upgrading your clients whenever you need to!
With 1Brand, you'll harness your brand's full power by collaborating, viewing, and sharing guidelines.
You can add, review, and remove members while setting roles for your team to control their level of access to the guidelines. ("You need top-level clearance to see the embarrassing failed mockups.")
Once the guidelines are published, share them with a URL, embed them on a website, or download them in a PDF format for easy hand-off to your clients and team.
Add and set roles for your team—including admin, editor, and user—to control access.
Gone are the days of tediously assembling brand guidelines, only to have to update them again sooner rather than later. (It's like Jenga, but not fun at all!)
1Brand automates brand guideline creation, letting you scale your processes, save time, and add client value with guidelines that are a cinch to share.
Handle all your brand guidelines with one tool.
Get lifetime access to 1Brand today!
P.S. Check out our walkthrough webinar with the 1Brand team here.