ARGear is an AR development platform that includes an SDK, content library, and CMS console for simple implementation of AR features.
Your days of scouring the web for developer tools and sample code to get augmented reality features online are officially over.
All you need to do is port ARGear and you can add the AR features you like right away.
Plus, you'll have access to the robust content library and CMS console for easy implementation and management.
Dive into an all-in-one platform for AR app developers featuring a rich library, software development kits, and a smooth CMS console.
ARGear offers software development kits (SDKs) for various platforms like iOS, Android, and Unity.
It also has detailed documentation for all three platforms to make integration a cinch, not to mention that it's compatible with ARCore (Google) and ARKit (Apple).
That means you can access the features of these SDKs to use in tandem with ARGear's rich content and CMS console for easy management.
Enjoy essential AR features, like a face tracker, filters, and segmentation in a lightweight SDK.
The content library is a huge plus to using ARGear.
Users will have access to a library of handmade AR filters, stickers, backgrounds, and effects.
Plus, the ARGear team is constantly cranking out new content to fit AR's biggest trends, making it easier to keep your users engaged.
Oh, and it's all free. (mic drop)
Get access to a library of popular AR content, with consistent new content updates!
The content management system (CMS) console makes your new AR awesomeness easy to manage.
You'll be able to choose which features and content go into which apps, all through an intuitive interface.
With the included dashboard, you'll have insight into what content is most popular, as well as tons more handy analytics.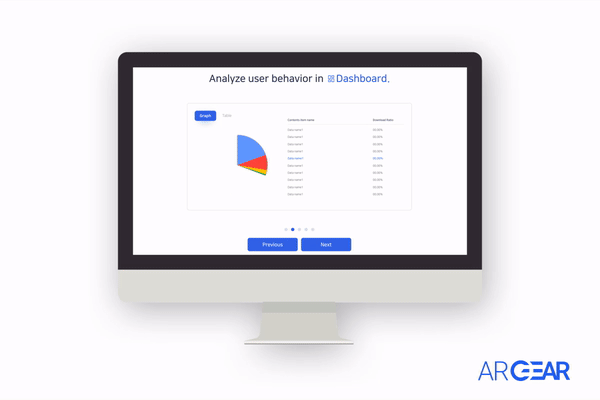 Decide which features and content will go into your apps with the sleek CMS console.
The futuristic AR features of tomorrow have always been a part of your app blueprint.

But just like your plans to buy a Peloton, you immediately reconsider after researching the costs.

ARGear gives you a comprehensive SDK with a full content library and CMS console to revolutionize your apps without the hassle or strain on your budget.

Get lifetime access to ARGear today!

P.S. Learn how to use ARGear like a pro by catching our training webinar replay here: Webinar Replay!