These Sumo-lings are doing their part to make sure they don't land on any "Most Wanted" lists: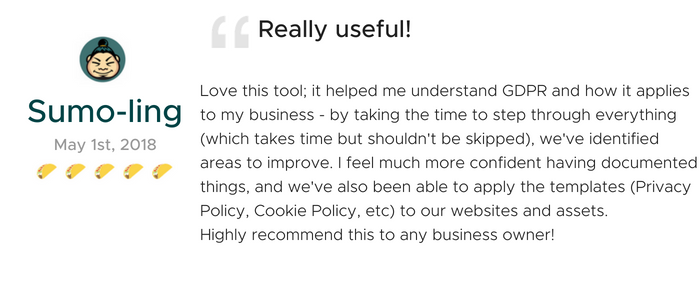 The GDPR Tracker takes you step by step, showing you how to document your internal and external data flows so that you are closer to being GDPR compliant.
Until codes are gone, you can get this GDPR Tracker deal which means you'll have access to:
GDPR Tracker use for 1 business (stack codes to manage multiple businesses)


Up to 3 Users


Support from GDPR consultants via Closed Facebook Group


Comprehensive list of actions to complete


Policies and Templates


Downloadable PDF report


Future features


Using the GDPR Tracker usually costs $429/£299 a year.
However, Sumo-lings, you can get lifetime access for just $49!
Lifetime access to the GDPR Tracker is essential because the GDPR is not going anywhere. So every time policies change, or you start a new business, you won't miss a step.
Manage multiple businesses from one GDPR dashboard by stacking codes at checkout.
You better be quick, though. Codes will be gone soon.
Start using the GDPR Tracker now!
The GDPR Tracker provides you with detailed regulation information, security suggestions, and ready-to-fill in policies and templates — making the process less intimidating and more straightforward.
Your progress will be tracked, so you'll always know how much is done and how much you left. (Keep pushing, the end of the tunnel is near!)
In the end, you'll have a downloadable PDF that shows everyone how seriously you take the GDPR.
We know how daunting the process is to become GDPR compliant. (Shout-out to Ilona for taking it on like a champ!)
While you should consult with a lawyer to ensure you are completely GDPR compliant, the GDPR Tracker will maximize self-efficiency and lessen the number of billable lawyer hours.
Stop wondering where to start and let the GDPR Tracker tell you!