MailRush is an email service provider specifically developed for email outreach efforts to increase engagement and warm up cold contacts.
Time to take the guesswork out of cold outreach email marketing.
MailRush gives you the tools you need to create, send, and track automated campaigns.
To get started, head to the campaigns dashboard where you can create a new campaign or manage ongoing campaigns, all from one convenient place.
Create and manage your cold outreach email campaigns from one convenient dashboard!
After you send the initial email, you can create follow up emails to be sent on later days to nurture your cold prospects into warmer ones.
Build event-based email automations in just minutes when you use MailRush's drag-and-drop tool to build email automation workflows.
The automation will automatically stop if you get a reply or any other email event that you want to track—like a click—occurs.
MailRush's automated email warming process sends emails staggered over time, so that you don't get flagged as spam. ("How dare they lump me in with freecashnow3532@earthlink.com?")
MailRush makes email automation easy with a drag-and-drop functionality for building automation workflows!
If a prospect opens an email and you didn't track it… did they really open it?
Fortunately, you don't have to worry about this existential question—MailRush lets you easily track opens, clicks, and replies for every email you send.
Take steps to protect your reputation as a sender with deliverability KPIs, like delivery rates and bounce rates, that allow you to optimize your email campaigns.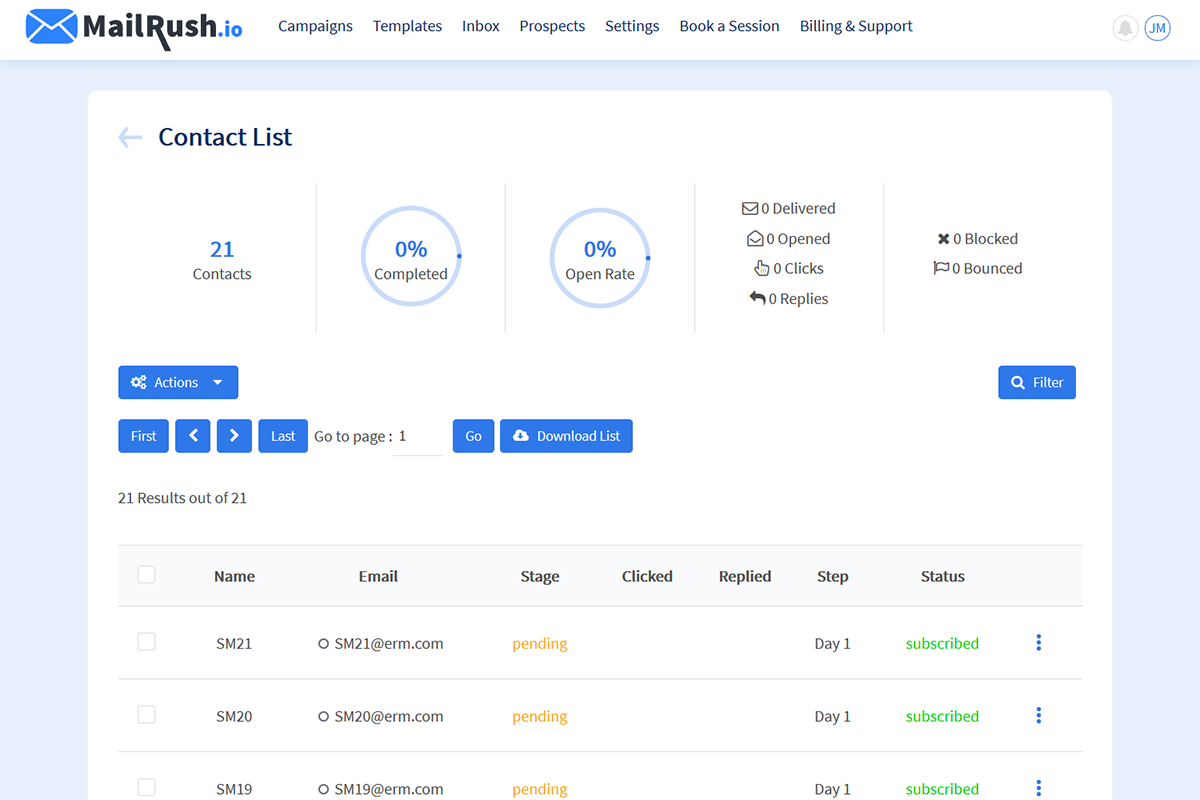 Get statistics for your contact list to see who has gone through the automation steps and who has replied or clicked to specific emails.
Just like coworkers you need a favor from, leads are more likely to pay attention to what you're saying if you know their name. ("Larry, ol' buddy… or was it Kevin?")
MailRush makes personalizing email copy simple with the ability to add the lead's name, location, company, and more to the email with the click of a button.
Save time with text-based templates that you can customize once and send to as many leads as you want!
The Template Assistant helps you improve your email drafts and optimize email placement based on best practices to avoid spammy words and enhance your messages.
Create text-based emails in the template builder, which includes personalizations like reader's name, company, and more!
Want to get a little fancier with your emails? (We're talking full tuxedo/ball gown at Five Guys-level fancy.)
Customize your HTML-based emails using a drag-and-drop email template builder to create templates with multi-media and different design elements.
You can include videos and images in your emails to grab your lead's attention and make the message feel more personal.
Use a brightly colored button to draw attention to your call-to-action and make it easier than ever to schedule a call or book a session with you.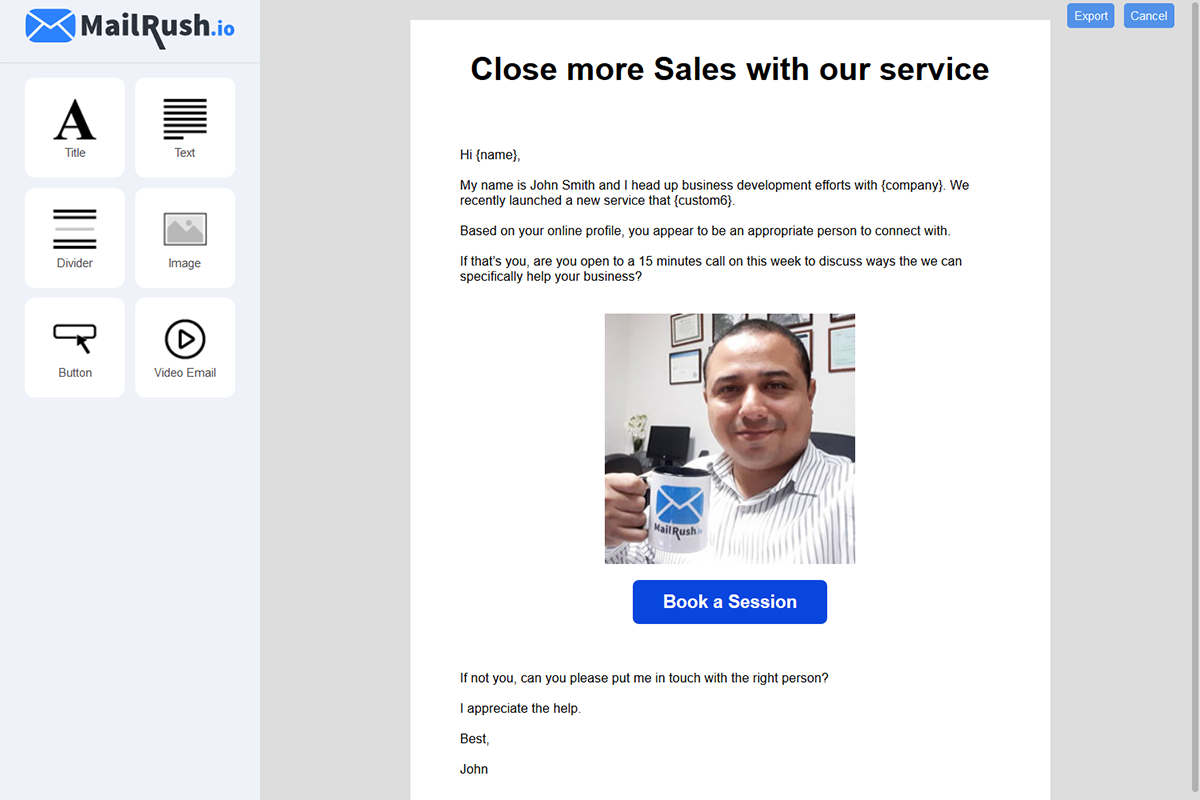 Customize your messages with the drag-and-drop template builder to create an eye-catching layout that highlights your call-to-action.
Imagine all the awesome leads that could be your dedicated customers. (♪ Come with me and you'll be... in a world of pure imagination. ♫)

Now, stop imagining and step into the future of outreach.

MailRush makes it possible to boost and nurture cold leads with outreach campaigns that you can automate and track with ease.

Get lifetime access to MailRush today!

P.S. Learn how to use MailRush like a pro by catching our training webinar replay here: Webinar Replay!