Morphio boosts your digital marketing ROI with AI-powered audits, monitoring, forecasts, anomaly detection, and suggestions.
You'll know the best next steps to take with your marketing strategy by using Morphio's AI.
Morphio analyzes your digital marketing performance, goals, advertising budgets, and audience behavior to give you plain-language tips in the dashboard.
You can check the list, make the changes, and watch your marketing efforts multiply like your growing collection of sweatpants. (Never too many pairs of joggers.)
Get custom suggestions with actionable steps to accelerate your marketing performance!
Morphio makes it simple to find anomalies in your marketing campaigns.
You'll get alerts for things like overspending on your ad budgets and unexpected behavior on your website.
Plus, it'll point out mistakes and failures with lightning speed (i.e. way before your first earnings report).
The best part? These alerts are automatically triggered to save you time.
Morphio's anomaly alerts give you the heads-up, so you can stay on top of trends and any unexpected spikes and dips.
Segmenting your customers lets you discover who's converting and who's not.
Morphio analyzes and automatically compiles your Google Analytics customer data based on website conversions/sales to discover who the high- and low-converting customer segments are.
You'll also get actionable data on segmented behavior, attribution, and trends to build and refine the perfect strategy for your audience.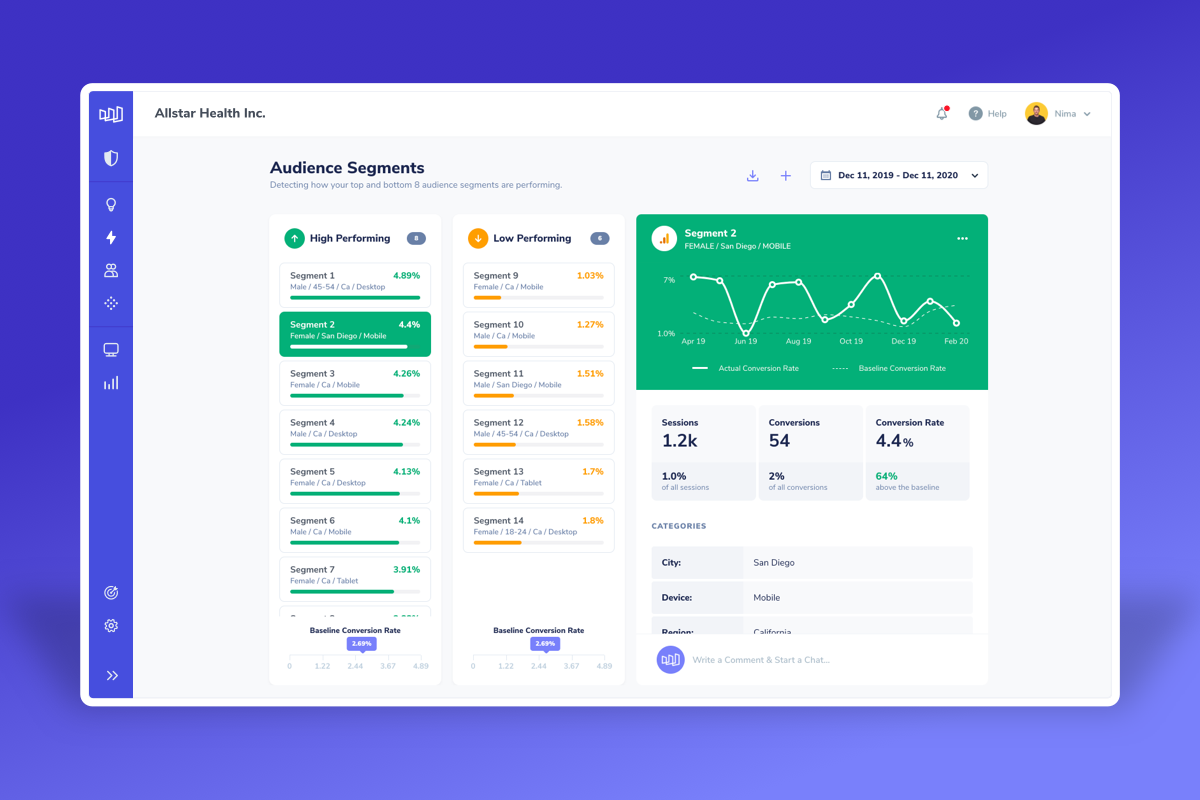 Find out who your highest and lowest converting customer segments are, plus get actionable data on user journeys!
Use Morphio's forecasting to project performance results and audit advertising budgets.
You'll have access to projections on conversions, costs-per-lead, sessions, and impressions for a clear view of what to expect with your strategy changes.
Plus, Morphio monitors key areas like website downtime, ad over- and underspend, and SEO performance* to make sure you're always at the top of your game—and search rankings.
Forecasts for conversions, sessions, and impressions help maximize your digital advertising budget!
Figuring out which levers to pull on your marketing strategy can feel like that dream where you're suddenly piloting a plane full of baby sloths. ("Definitely understand everything that's happening right now.")

Morphio uses AI to monitor marketing budget performance, audience segments, forecasting, and site monitoring, so you can start making informed updates to your strategy way faster.

Use all the time you save on analysis to maximize your marketing ROI.

Get lifetime access to Morphio today!

P.S. Learn how to use Morphio like a pro by catching our training webinar replay here: Webinar Replay!

*Please note that Morphio's SEO Rank Tracker feature is not included in the AppSumo lifetime deal.