ActiveCollab is an all-in-one project management tool with an intuitive interface that helps you keep organized and deliver projects on time.
With ActiveCollab, your team will never lose track of another project task, file, due date, or conversation again!
You can break down projects into actionable tasks, assign due dates, and attach files to ensure team members have everything they need to complete the task on time.
Assign tasks directly to team members, tracking their progress through the comments.
Got assignments that can't begin until others are completed? Connect tasks with a dependency and use automatic rescheduling to make sure they're assigned at the right time.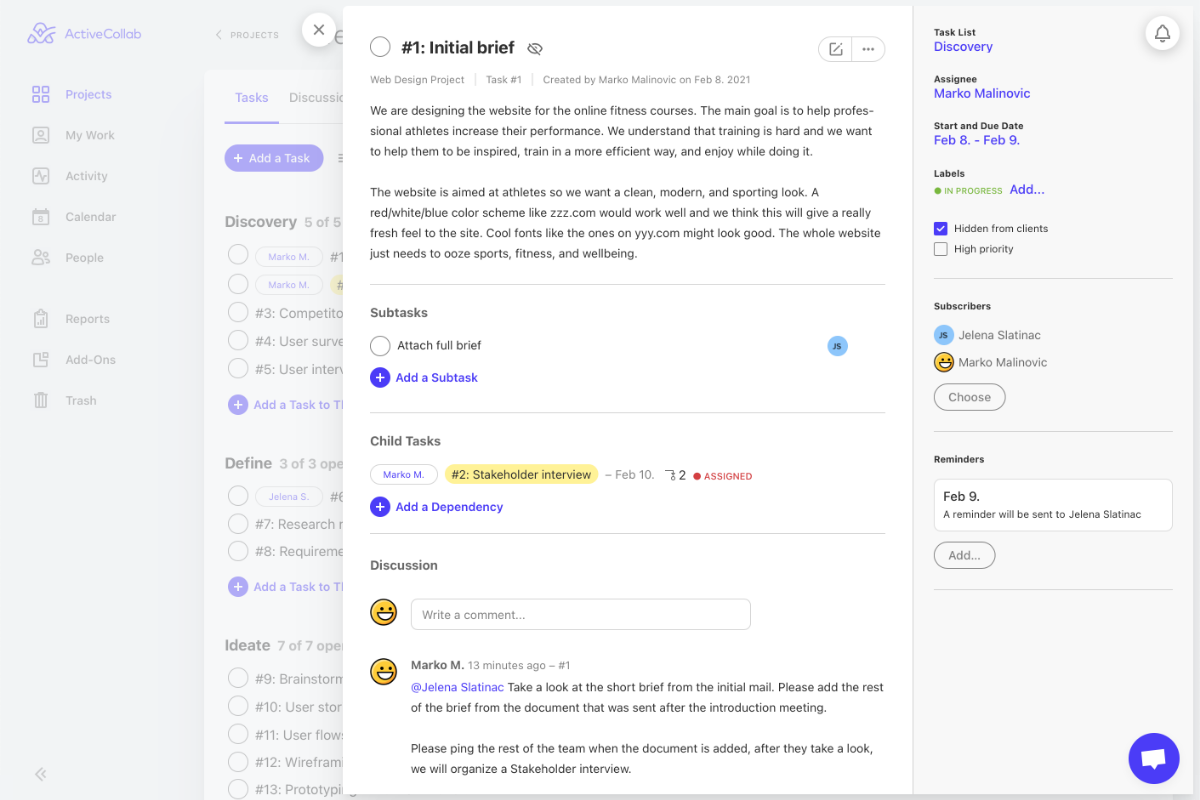 Break your project into tasks and subtasks while adding due dates, assignees, and files.
When dealing with multiple projects and clients, it's easy to get mixed up if you don't stay organized. ("Wait, did they say they wanted 'more class' or 'more crass'?")
With ActiveCollab, you can group tasks into task lists categorized based on the phase of the project, like discovery or ideate. Or you can group by the type of project, such as admin or marketing.
You can also use labels to add progress details to each task—assigned, in progress, blocked, completed, approved, and more.
Finding specific tasks on the platform is easy when you can search for tasks using the search feature or filter tasks based on task list, assignee, due date, or labels.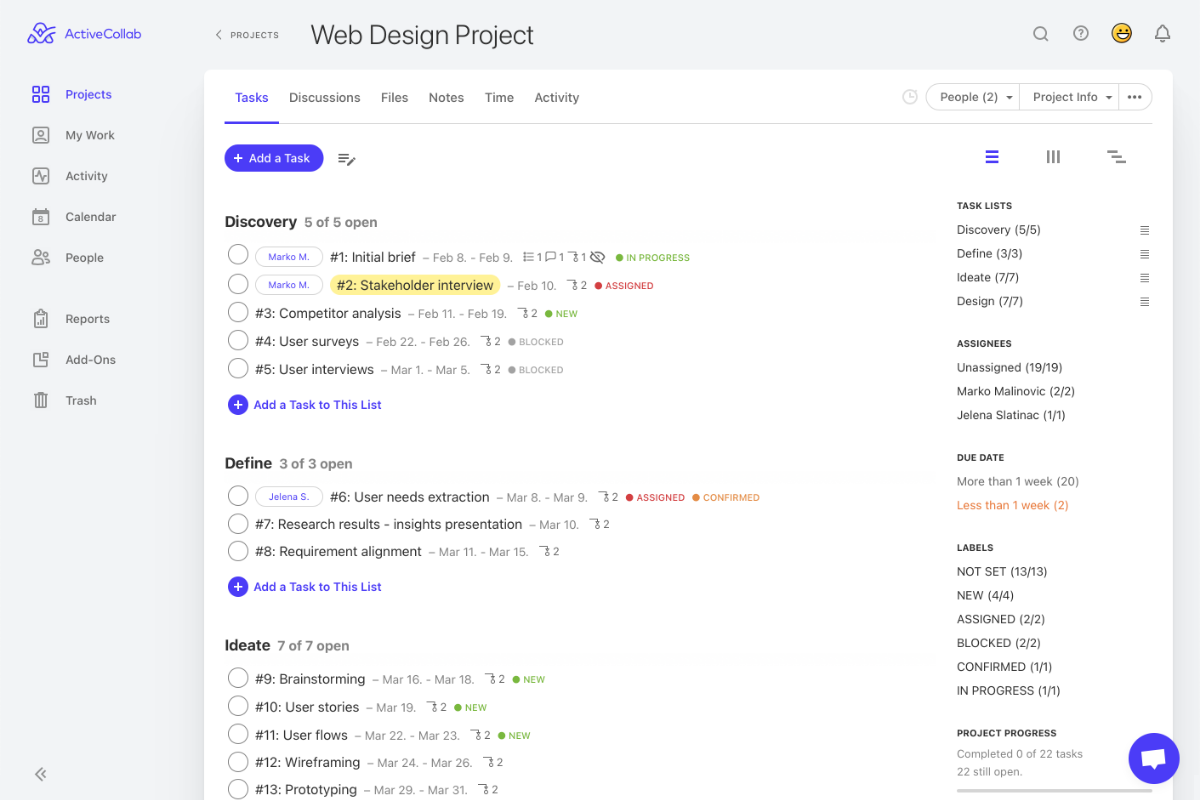 Get a bird's eye view of all your project tasks, filtering by task list, assignee, due date, or label.
Not everyone likes to visualize projects in the same way. ("Are you a Kanban gal or a Gantt guy?" Wow, BuzzFeed is really scraping the bottom of the barrel for this one.)
With ActiveCollab, you get to choose how you view your tasks on the platform based on your own preferences.
Choose Kanban view for columns, Gantt for a timeline view, or List to see your task lists—giving everyone the opportunity to have an overview of what they need to work on and when.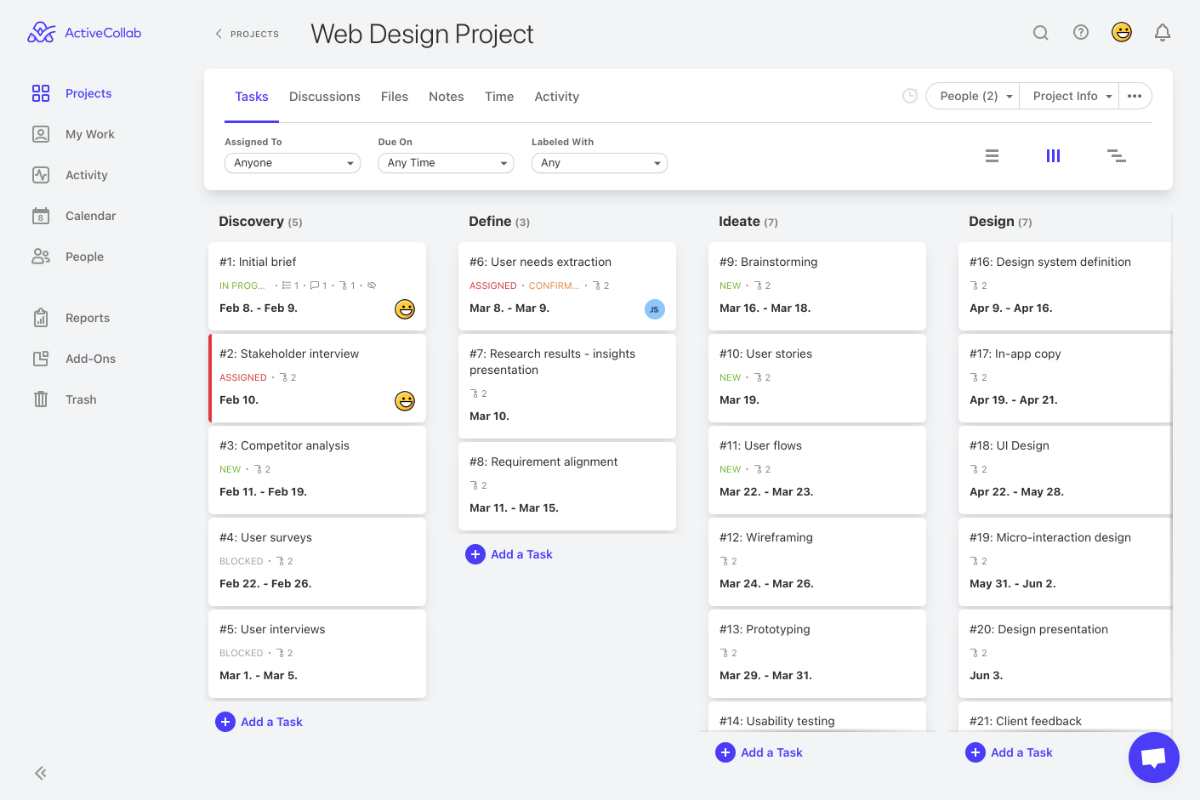 View your tasks in Kanban, Gantt (timeline), or list view—whichever way you work best!
Tired of using yet another spreadsheet or app to track your time on projects?
With ActiveCollab, it's all in one place! You and your team can track hours spent on each project in the same platform using the integrated Stopwatch.
That way, you'll know exactly how many hours to charge your clients and identify inefficiencies in your processes to improve them!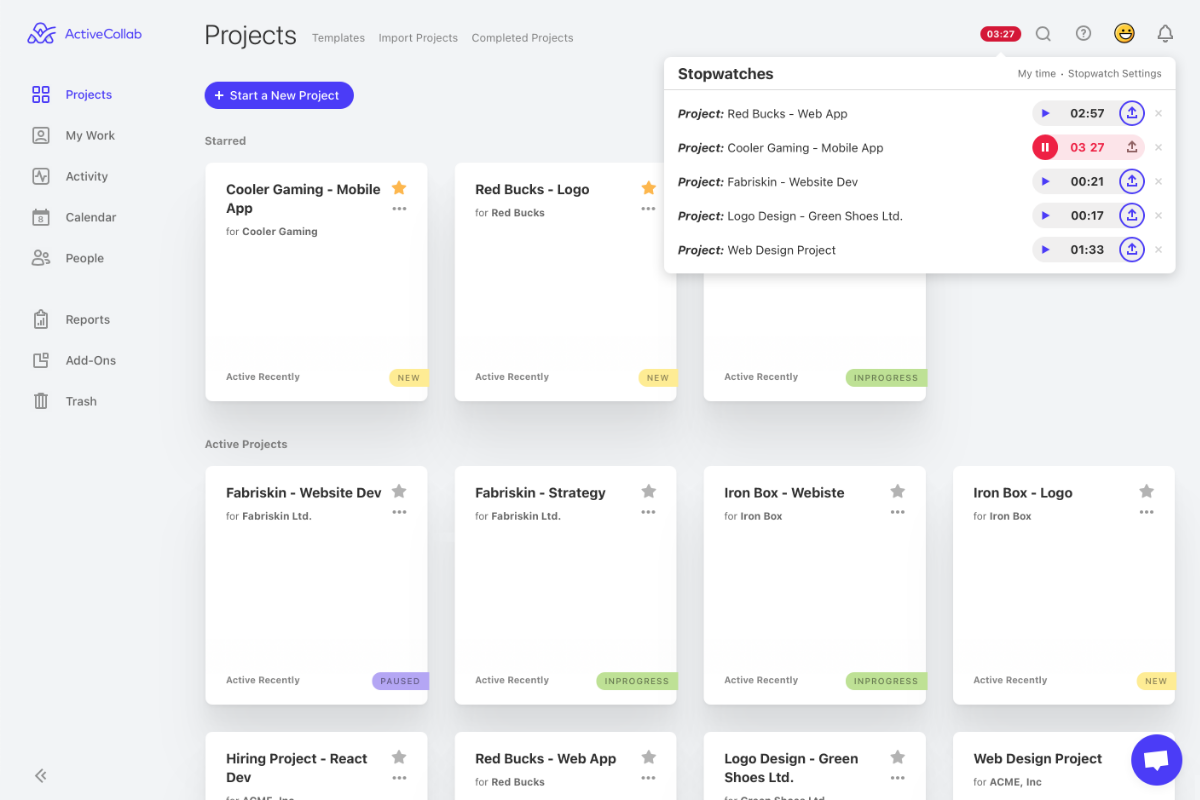 Track the time you spend working on projects with the easy-to-use Stopwatch feature.
Reports give an overview of what every team member is working on, providing key insight into activities and allowing you to better plan and use your resources.
You also won't need to use any additional spreadsheets or apps to keep track of when employees take a vacation or a day off.
Instead, manage all availability records for the entire team on the same platform, making it easy for everyone to see who is available and when.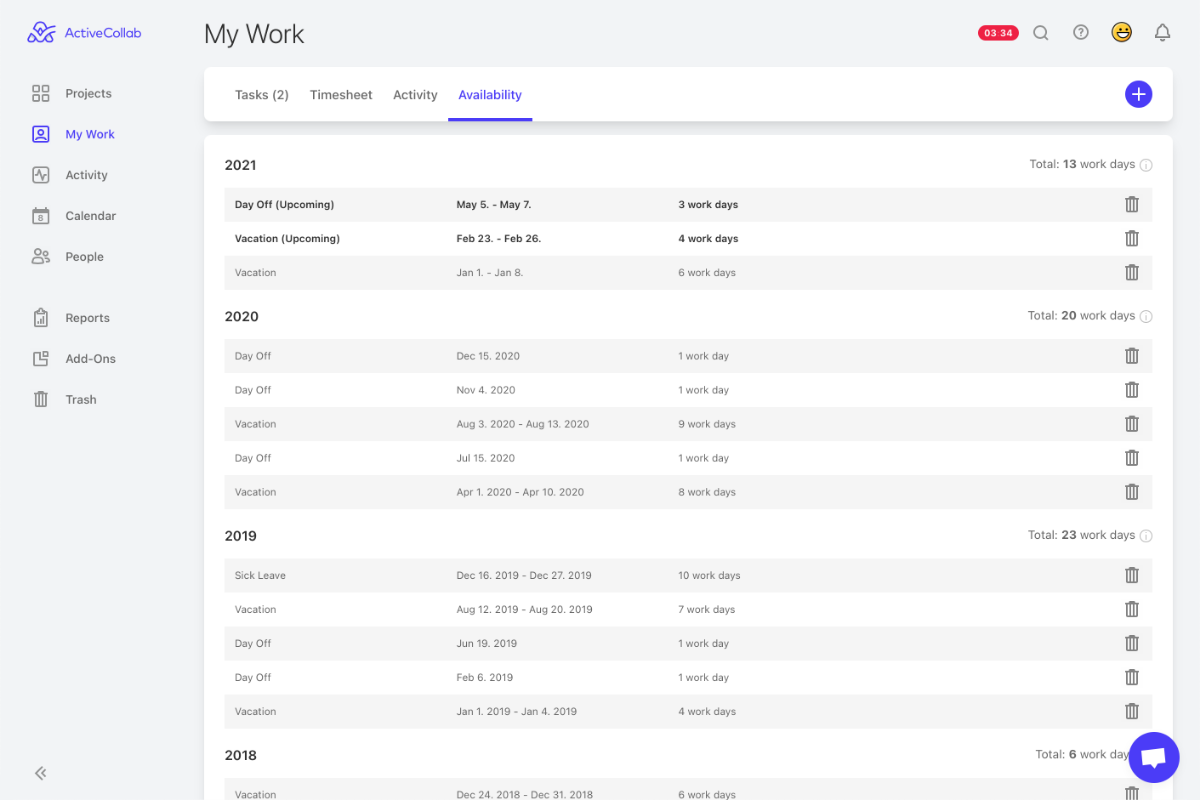 Create availability records to show when you're on vacation or taking a day off.
It's time to declutter your workspace. (Don't worry. Your Harry Potter Funko Pops are safe... for now.)
ActiveCollab puts everything you need to manage projects and keep your team organized in a comprehensive, intuitive platform.
Your team will be more efficient and complete more projects with fewer roadblocks.
Get lifetime access to ActiveCollab today!