AtomChat
Lifetime Deal
Build communities and encourage interactivity by adding group chat, video conferencing, and more to your website
AtomChat
Build communities and encourage interactivity by adding group chat, video conferencing, and more to your website
This deal is unavailable (a bummer, we know). Don't miss a great deal again — drop your email to get all our latest tools!
60 day money-back guarantee. Try it out for 2 months to make sure it's right for you!
Extended Access to this deal is exclusively available to AppSumo Plus members for a limited time.
If you are not an AppSumo Plus member, you can join now and purchase this deal before Extended Access ends on July 16th at 8am CST.

Experiencing a platform with friends is always more fun than doing it alone, much like going to Dave & Buster's. (It's exhausting trying to be both players in air hockey.)
While you work hard to grow your online presence, nothing boosts a brand more than a collaborative community where users can chat with one another.
Luckily, there's a way to add group chats, direct messages, video conferencing, screen sharing, whiteboards, and more to your website.
Meet AtomChat.
Embed group chat features on your site to encourage user communication and engagement
Alternative to: RumbleTalk, iFlyChat, and Chatwee
Empower users to collaborate over video calls, screen sharing sessions, and whiteboards
Best for: Social communities, marketplace websites, and platforms looking to add chat features that help foster collaboration
Overview
AtomChat is a chat and collaboration solution that helps website users interact with one another using text-based chat, audio features, and video calls.
Your community members want to be closer than peanut butter and jelly—and AtomChat's group chat and collaboration features help them jam. (Get it? Jelly and jam?...Anyone?)
This chat solution offers everything from private one-on-one conversations and discrete password-protected groups to all-access public channels and group video calls.
You can also customize the chat interface by toggling certain features on and off from the admin panel as you see fit.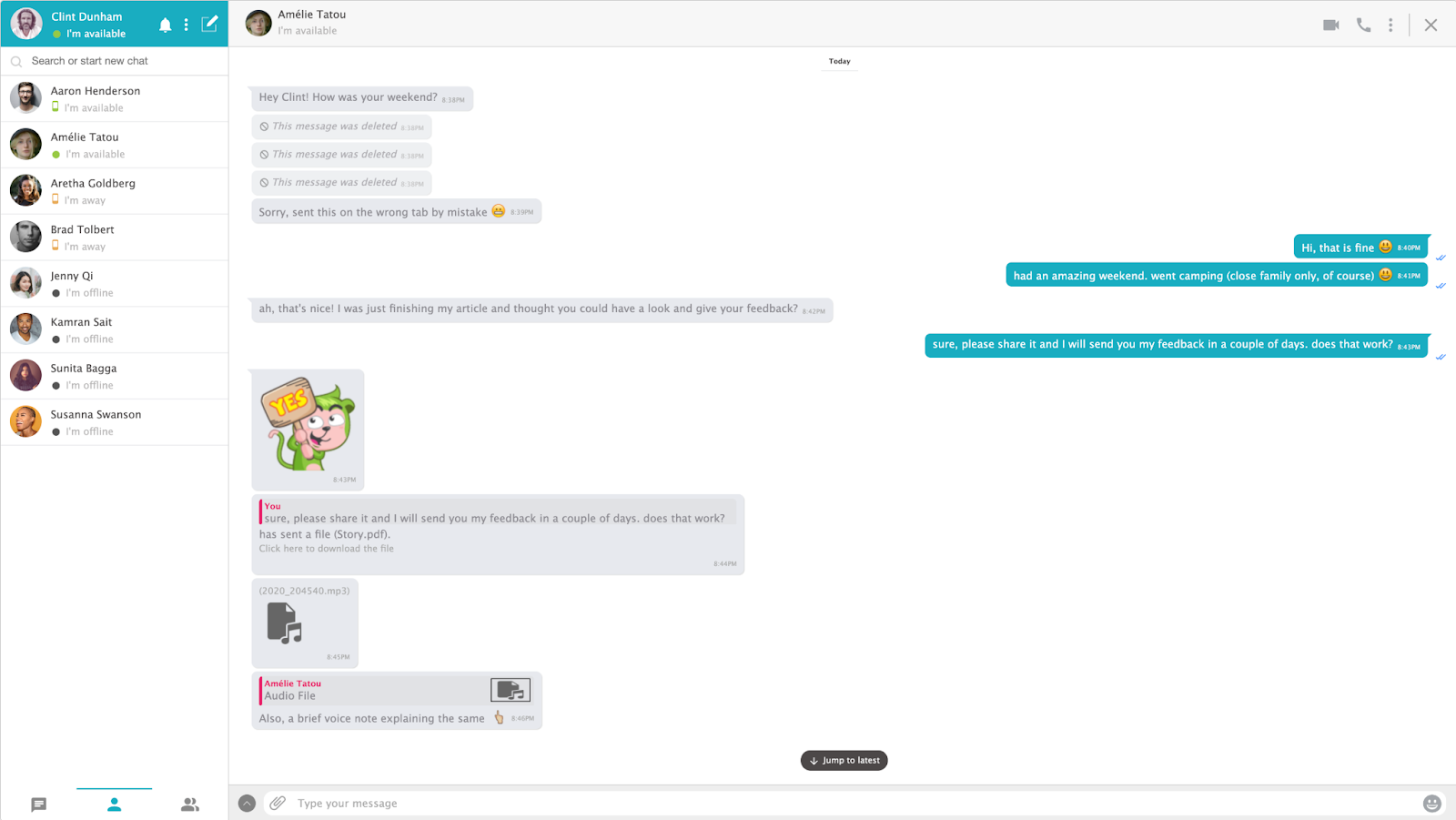 Users can send files, photos, emojis, and more to create a fun, engaging community.
With the ability to share files, images, stickers, and emojis, your community will be buzzing.
You can use AtomChat on all major browsers and integrate it with 30+ programs, including WordPress and Shopify, to keep your bases covered.
The platform's impressive and scalable backend can handle any size community with no load or dependency on your servers.
Plus, an intuitive interface for both chat and video allows you to heighten retention via effortless user navigation embedded directly into your site.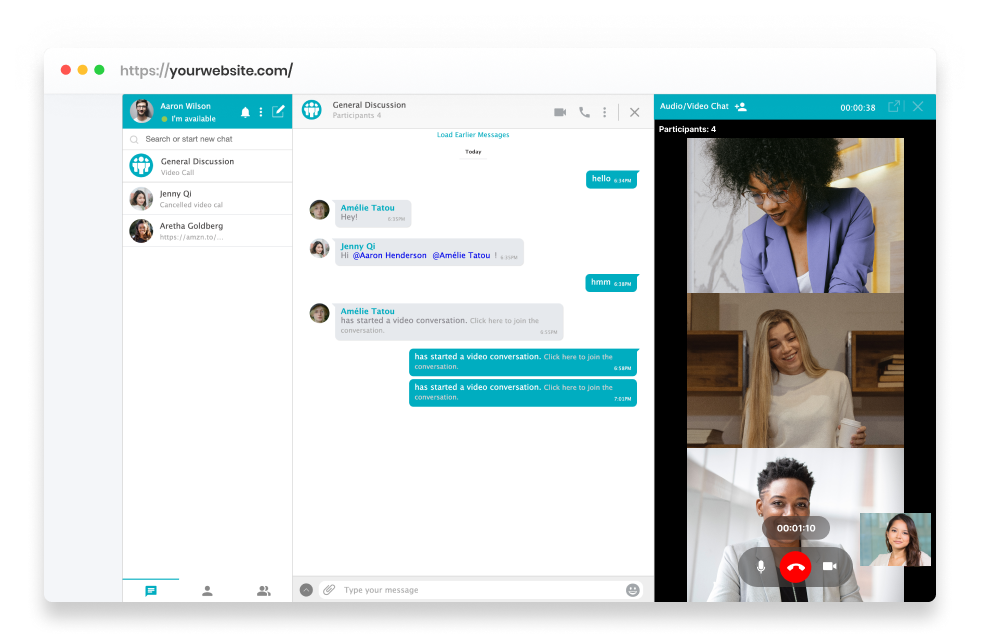 AtomChat's group video calls and conferences connect users from around the globe.
AtomChat is built to accommodate any community structure, whether paid, free, or hybrid.
You can quickly add role-based access control to manage permissions based on user subtypes.
And as administrator, you'll be able to control which categories of users can initiate conversations, access specific chat features, or function as paid premium users.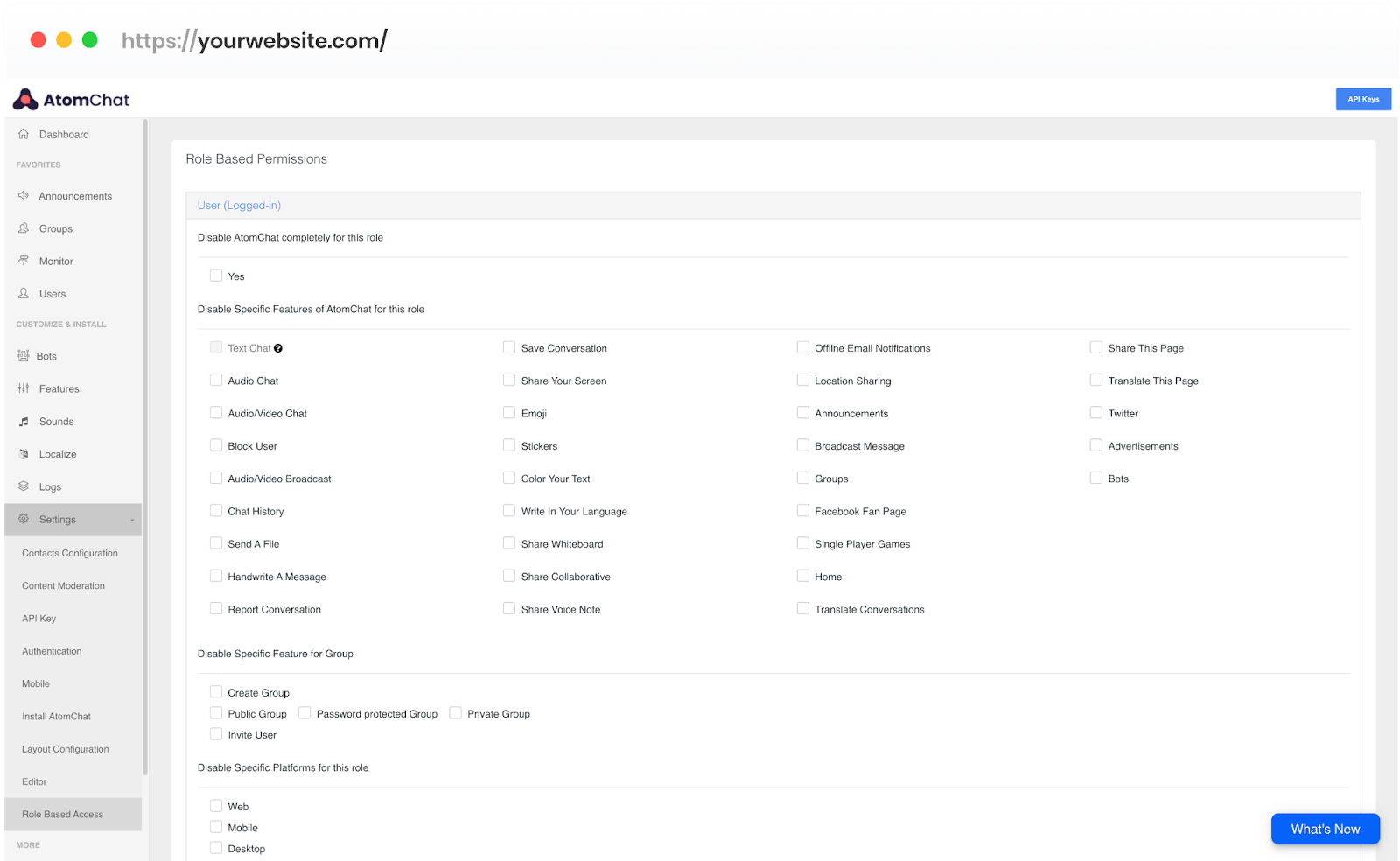 Select specific chat features for determined user roles from the easy-to-use dashboard.
Getting users to sign up for a platform for more than once can be tougher than reaching the last Pringles at the bottom of the can. (My arm hasn't been able to fit in there since I was six.)
AtomChat offers integrations with existing marketplaces, social networks, and communities for single authentication, making sign-up and login easy.
Because it connects to credential mechanisms already in place, new users can take advantage of automated usernames, avatars, and profile links upon integration.
AtomChat offers a range of adjustable settings including backend admin and security features.
Like a swanky modern café that purposely withholds wifi, there is always a way to get your customers talking. (Pretend it's 1995? Ma'am, absolutely not.)
When it's time to leverage your user base, a single-package chat platform plugin that encourages conversations is a must.
It's time to get your community talking.
Get lifetime access to AtomChat today!
AtomChat
Build communities and encourage interactivity by adding group chat, video conferencing, and more to your website
This deal is unavailable (a bummer, we know). Don't miss a great deal again — drop your email to get all our latest tools!
60 day money-back guarantee. Try it out for 2 months to make sure it's right for you!
Plans & features
Deal terms & conditions
Lifetime access to AtomChat Growth Plan

No codes, no stacking—just choose the plan that's right for you

You must activate your license within 60 days of purchase

All future Growth Plan updates

Ability to upgrade/downgrade between 4 license tiers
60 day money-back guarantee. Try it out for 2 months to make sure it's right for you!
Features included in all plans
Zapier integration

In-depth analytics

1 website per subscription
License Tier 1

All features above included

10,000 monthly active users
1 GB storage space
30 days data retention
20 MB file sharing limit

License Tier 2

All features above included

25,000 monthly active users
2 GB storage space
60 days data retention
25 MB file sharing limit
Screen-sharing

License Tier 3

All features above included

50,000 monthly active users
5 GB storage space
90 days data retention
30 MB file sharing limit
Screen-sharing
White-label branded app
Email notifications
Sign Up
All our deals are time-sensitive! Make sure you don't miss any of our awesome limited-time offers.