Beezer
Lifetime Deal
Create stunning and engaging apps through an intuitive no-code, drag-and-drop platform
Beezer
Create stunning and engaging apps through an intuitive no-code, drag-and-drop platform
60 day money-back guarantee. Try it out for 2 months to make sure it's right for you!
Ends on September 26th at 1:00pm
Extended Access to this deal is exclusively available to AppSumo Plus members for a limited time.
If you are not an AppSumo Plus member, you can join now and purchase this deal before Extended Access ends on September 26, 2022 at 8:00am CDT.

Launching a business-specific progressive web app is one trend we can definitely get behind—unlike the return of low-waisted jeans. ("Having your belly button out is in?! What in the Gen Z-")

To spice up your company's online appearance, you'll need a custom app that integrates the features most important to you.
Think you can't create the multi-functionality app of your business' dreams without learning to code?
Think again. Meet Beezer.
Create, distribute, and manage your own app from a single platform
Supercharge conversions with engaging content, add user loyalty programs, and drive revenue using e-commerce integrations
Overview
Beezer is a DIY app creation platform that makes it easy to build, distribute, and manage no-code progressive web apps for user engagement and customer conversion.
Most of the world already accesses the Internet using just a smartphone, and web-only platforms might soon go the way of MP3 players. (R.I.P., iPod Nano, 2005–2017)
Beezer is a platform that empowers you to create your own progressive web app (PWA) without any development know-how.
PWAs are applications that behave and look like native apps but run directly inside a user's browser for seamless accessibility from desktop and mobile without compromising functionality.
Through PWAs, you can bypass the app store process and send out your application directly with a single URL or QR code—which is vital when customers are reluctant to download yet another app.
Using Beezer, you can have your app up and running in less than a single day!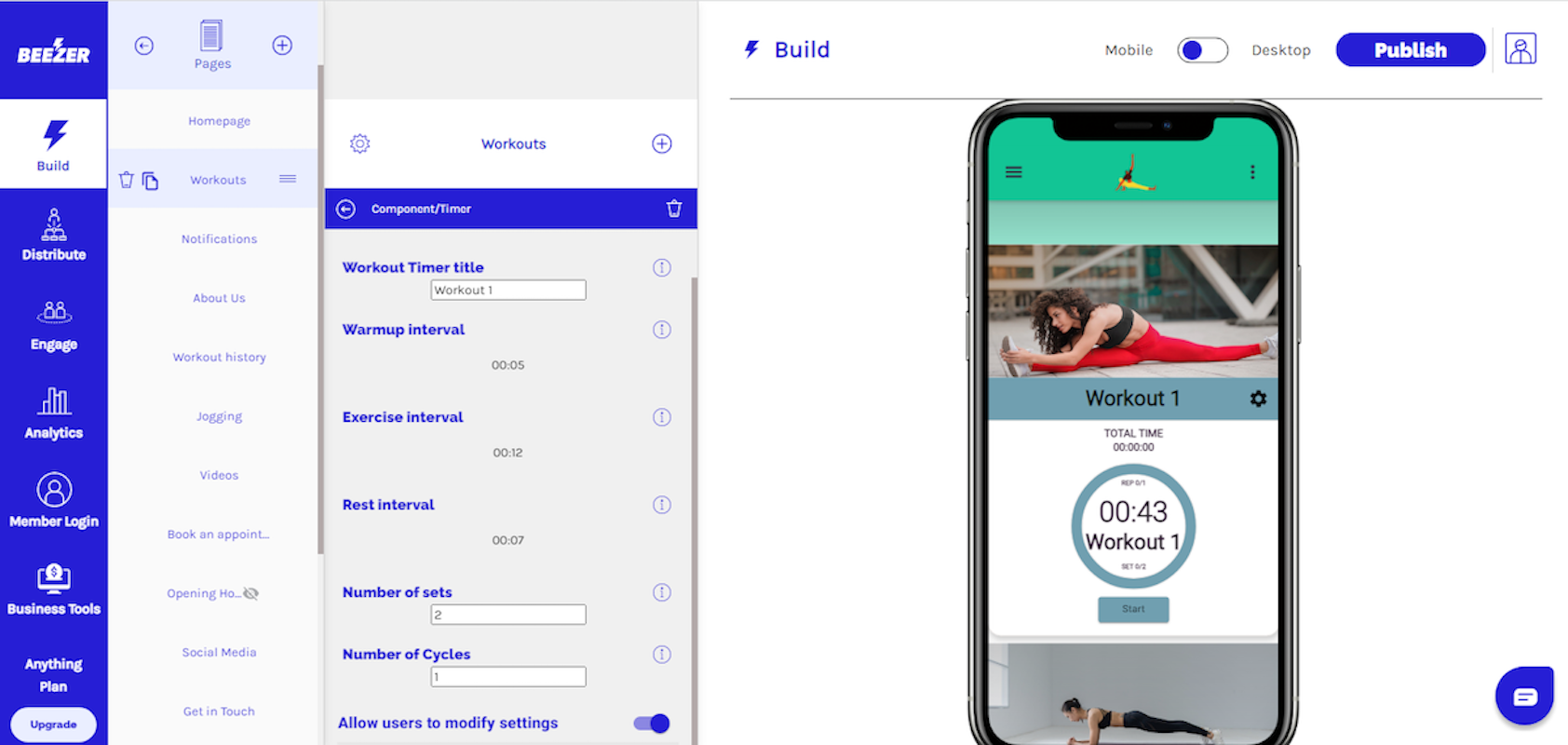 Build a progressive web app with bountiful features with the easy-to-use drag-and-drop interface!
Using Beezer to get your audience's attention is like having a tennis ball at the dog park: all eyes are on you.
Enable visitors to access all of your app features via a simple, clickable web link, which then seamlessly renders for your users like a typical app would.
You'll be able to push user engagement by uploading embedded multimedia content, like audio, video livestreams, and pop-up offers, accessible by users any time, anywhere.
You can even add loyalty program components, a user chat, and push notifications that can be customized and scheduled for greater customer relations.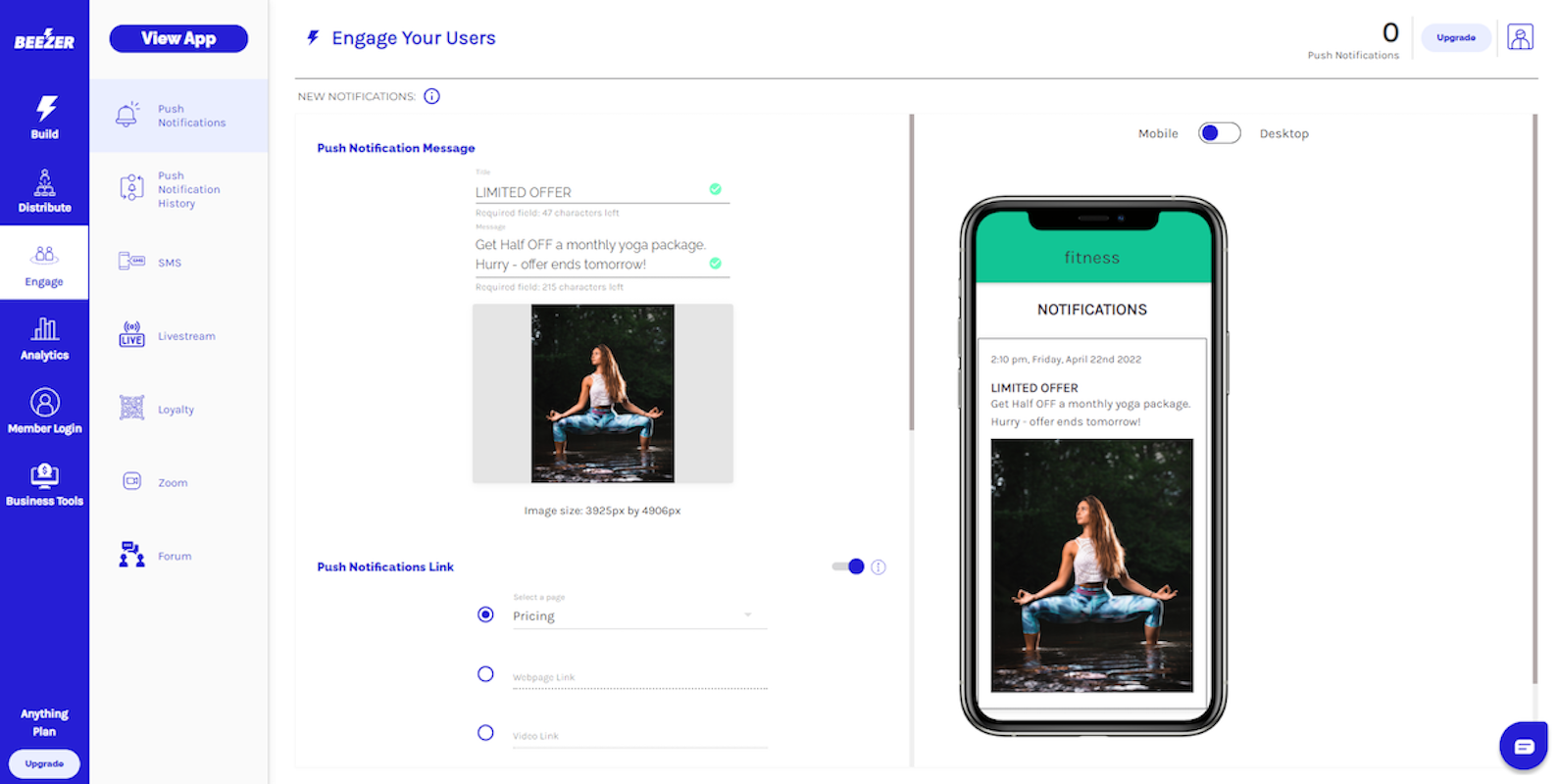 Access loyalty features, push notifications, and more for deeper engagement.
Beezer is happy to reach people where they are most: on their phones.
Member login functionality can be equipped with Stripe integration, letting you implement membership programs and recurring subscription payments.
The apps are e-commerce friendly, so you can embed your Shopify or WooCommerce store and have users pay via PayPal.
Plus, robust business tool features help manage store orders and delivery logistics among your online marketplaces.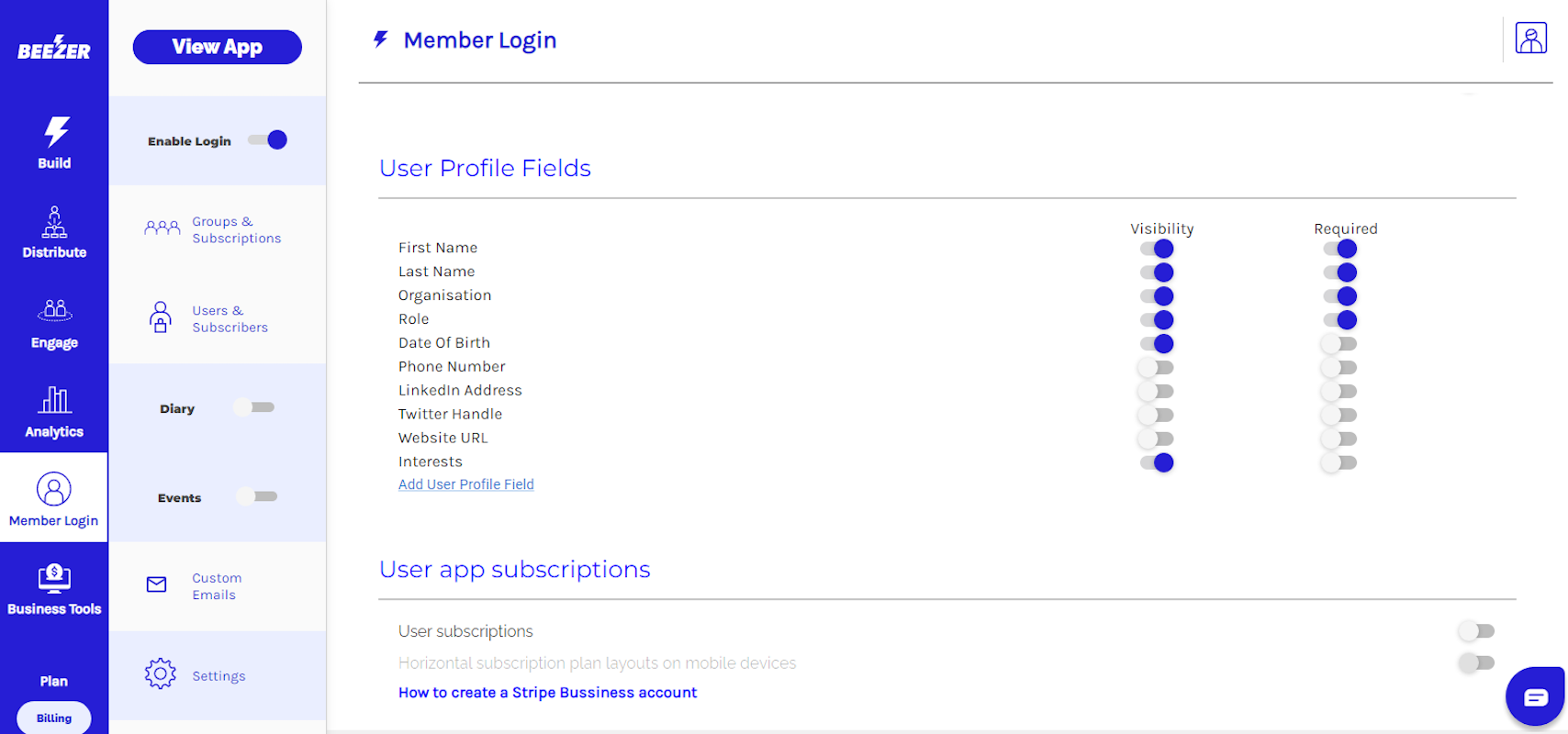 Equip your member apps with subscriptions, payments, e-commerce features, and more!
No matter how easy app-building can be, there'll always be people who won't do it—like replacing an empty toilet paper roll. (We don't know how your roommate always forgets either.)
Use this to your advantage with a multi-app account, where you can build multiple PWAs and sell them to customers in a white-label fashion.
As owner, you'll retain access to all apps you build on an agency level as the appointed super-admin.
From there, your business clients will be able to access apps via sub-accounts where they can see, manage, and update their app without ever seeing Beezer branding.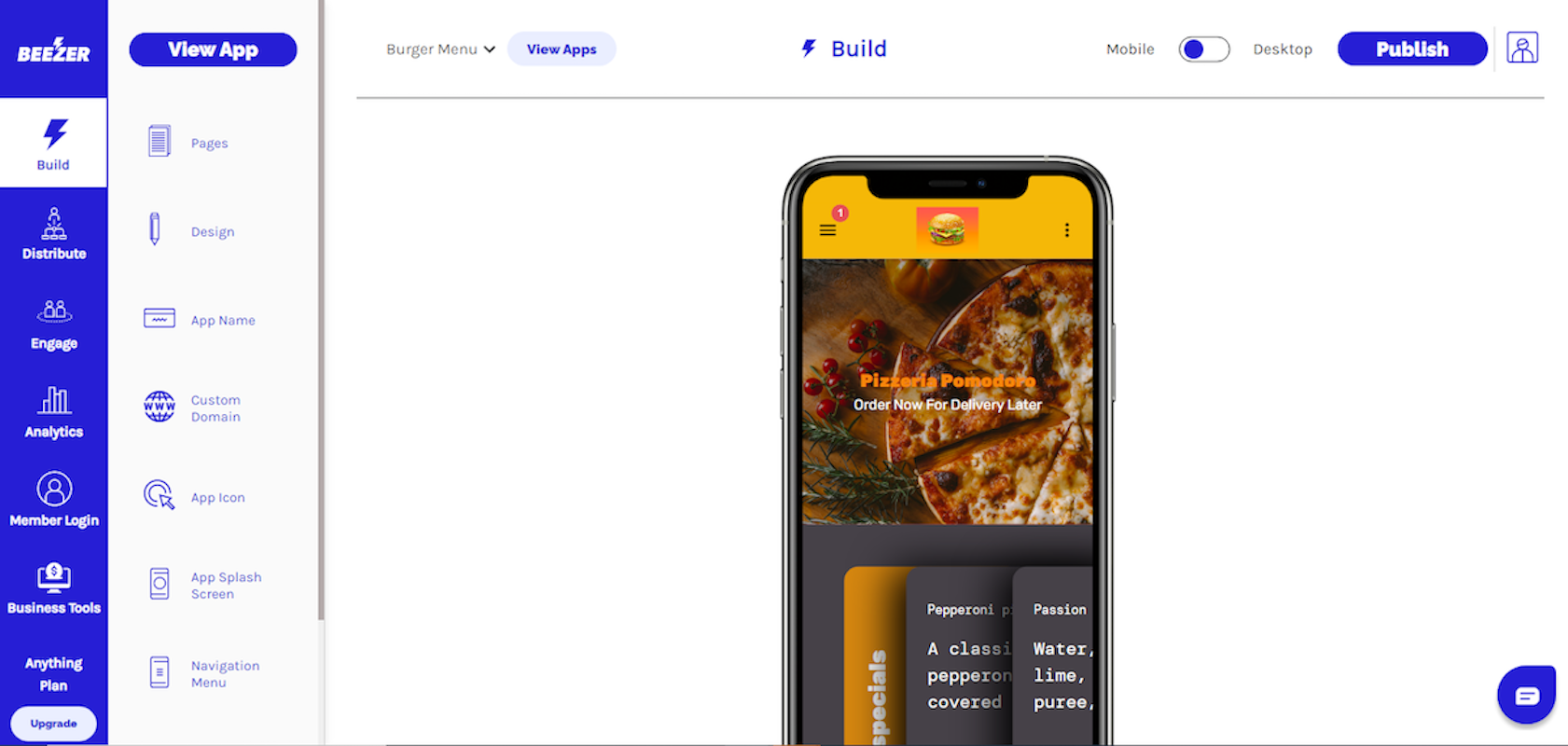 Beezer offers multi-app management and sub-accounts for resellers and agencies.
Scrap the idea that you need to spend thousands on a custom app or not have one at all when you can build one yourself without coding knowledge.
With Beezer, making an app is just like walking into a Target: the options are limitless. (And yes, we will be going down every aisle.)
The modern age's running joke is that there's an app for everything—and now there can be!
Get lifetime access to Beezer today!
Plans & features
Deal terms & conditions
Lifetime access to Beezer

All future More of Everything Plan updates

No codes, no stacking—just choose the plan that's right for you

You must activate your license within 60 days of purchase

Ability to upgrade or downgrade between 5 license tiers

Available for new Beezer users and returning AppSumo purchasers

Previous AppSumo customers who purchased Beezer can upgrade their license to increase their feature limits

Previous AppSumo customers will be grandfathered into the new feature limits
60 day money-back guarantee. Try it out for 2 months to make sure it's right for you!
Features included in all plans
One PWA usable and shareable across channels

Android, Apple, and desktop

Direct distribution: bypass the app stores

Unlimited push notifications

Design features

Monetization features

Data collection features

Custom domain (CNAME)

Beezer.com subdomain

Member login

Paid subscriptions for end-users
Beezer
Create stunning and engaging apps through an intuitive no-code, drag-and-drop platform
60 day money-back guarantee. Try it out for 2 months to make sure it's right for you!
Ends on September 26th at 1:00pm
All features above included

3 number of apps
0 sub-accounts
300 initial SMS credits (one time)

All features above included

15 number of apps
15 sub-accounts
600 initial SMS credits (one time)
Remove branding from apps/app white-labeling
Advanced business tool features

All features above included

50 number of apps
50 sub-accounts
1,200 initial SMS credits (one time)
Remove branding from apps/app white-labeling
Advanced business tool features
From the founders
Mariana_Beezer
Director of Product Development
Sign Up
All our deals are time-sensitive! Make sure you don't miss any of our awesome limited-time offers.