Callback Tracker Annual
1 year DEAL
Connect with site visitors via call, chat, email, and more from one tool
Callback Tracker Annual
Connect with site visitors via call, chat, email, and more from one tool
This deal is unavailable (a bummer, we know). Don't miss a great deal again — drop your email to get all our latest tools!
60 day money-back guarantee. Try it out for 2 months to make sure it's right for you!
Disclaimer: The Callback Tracker lifetime offer has ended. However, you can still get yearly access to the Corporate Global Plan for the discounted and locked price of $199 (retail value: $3,420). You'll be able to renew every year on the Callback Tracker website at $199.
Connecting to your website visitors means setting up callback features, live chat messaging, and SMS communication.

...which usually means paying for a bunch of expensive tools and web developers (Whatever happened to just dialing *69?).
Looking for a fully customizable widget that can do it all, without racking up costs and confusing installations?
Say hello to Callback Tracker.
Easily set up quick callbacks, live chats, or SMS messaging directly from your website
Offer email or offline messaging that also includes the option to schedule calls
Overview
Callback Tracker is a communications suite application offering callbacks, live chats, email, and SMS messaging for streamlined customer interactions.
With Callback Tracker, compatibility is not an issue.
This application works with any website, and you'll be finished with installation in a matter of minutes.
Forget about constantly updating your contact number or guessing at country codes or call instructions.
You'll get phone calls, live chat, SMS messaging, and email all from one tool.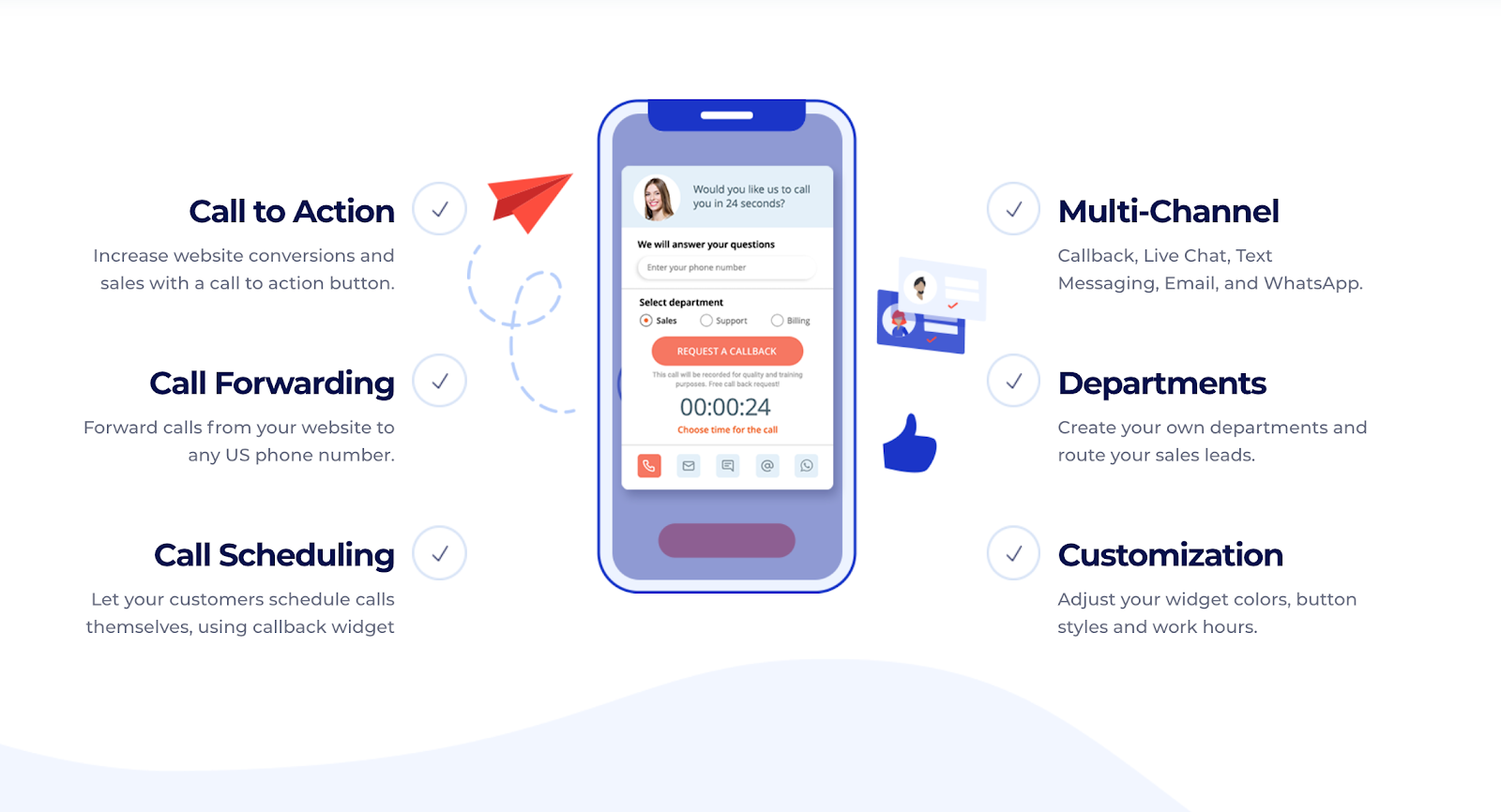 Use Callback Tracker on any website to access phone calls, live chat, SMS, and email communication.
With all of your new communication channels, you need a system to keep track of everything.
The dashboard is where you'll find a comprehensive overview of all your communication, stored in chronological order.
You'll be able to easily flip between emails, text messages, and chats to make sure your customers are getting the support they need.
Callback Tracker even lets you listen to the recording of all your calls, so you'll have the information you need to keep improving your service and support.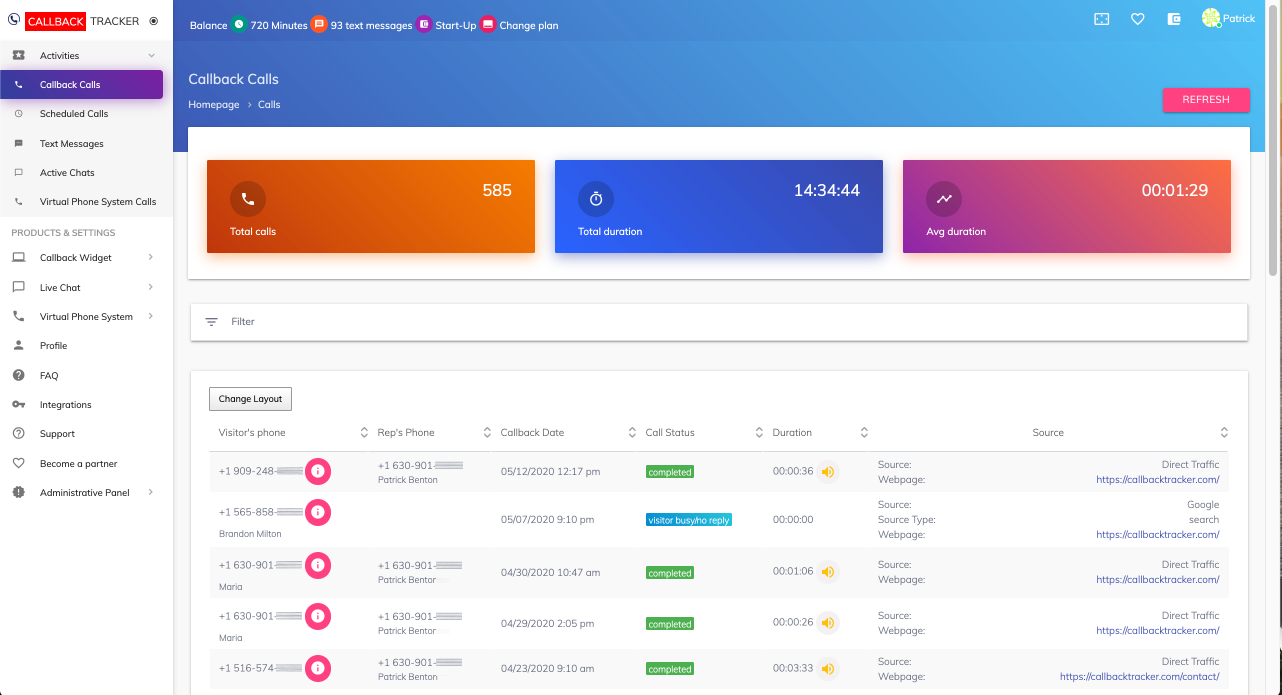 Access the dashboard to check call logs, text messages, chats, and emails, plus listen to call recordings!
The robust live chat feature allows for real-time communication with visitors in a way that won't have you juggling conversations like a nightmarish AOL Instant Messenger.
Segment the calls by department to route traffic to technical support, customer service, questions for the CEO, and any other channel that needs a little more specific knowledge.
Visitors will appreciate not being bounced around to different departments, and you'll save time and energy sorting through queries.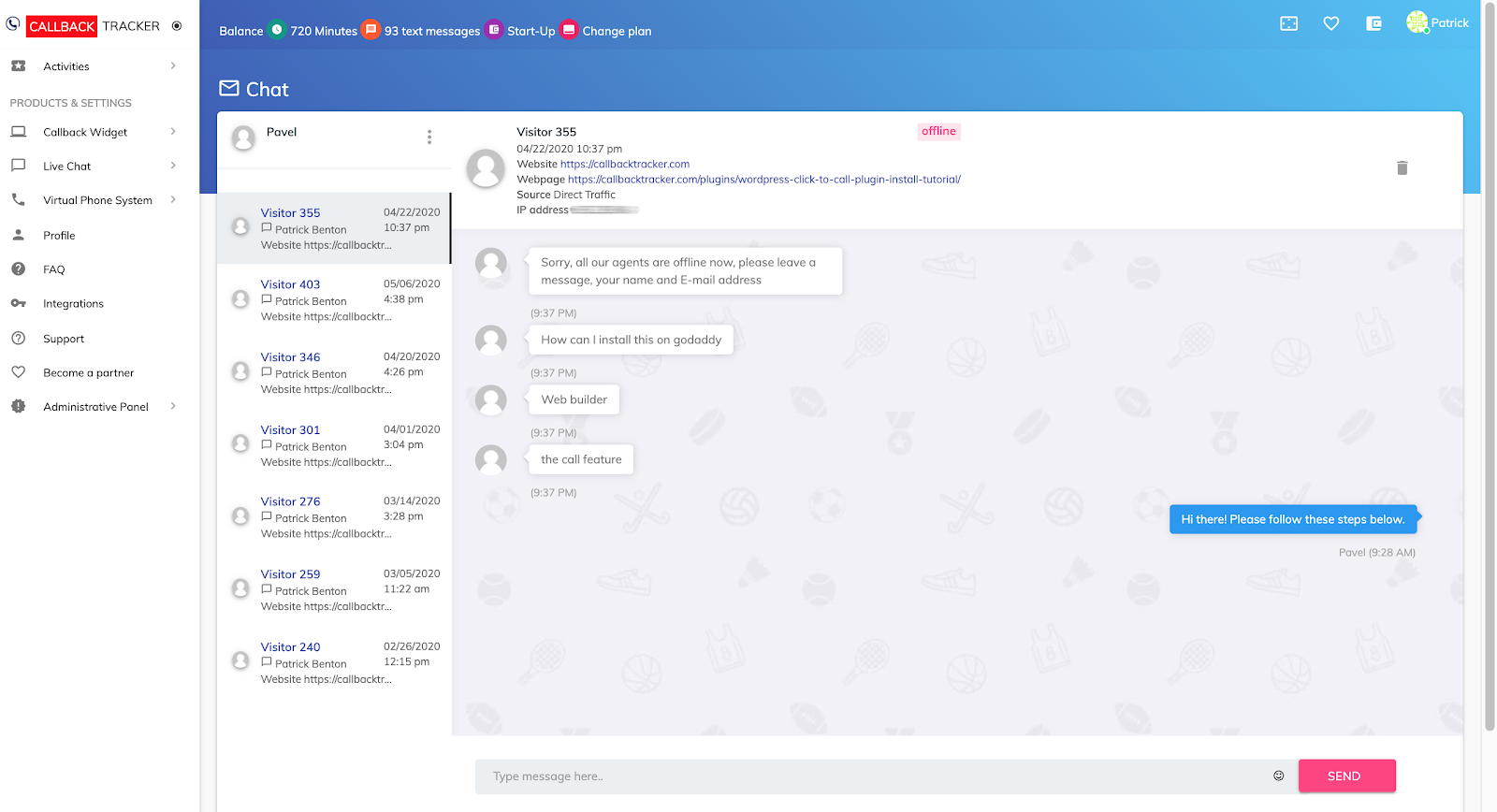 Funnel traffic to specific channels to streamline the live chat experience for both visitors and support.
Callback Tracker makes sure that you're not constantly waiting by the phone to receive calls, either.
Customers can schedule a call at any time, and you can get connected in as little as 24 seconds if they need immediate assistance.
Plus, you'll instantly see which page the customer requested the call from, giving you an idea of what to expect when you hop on the line.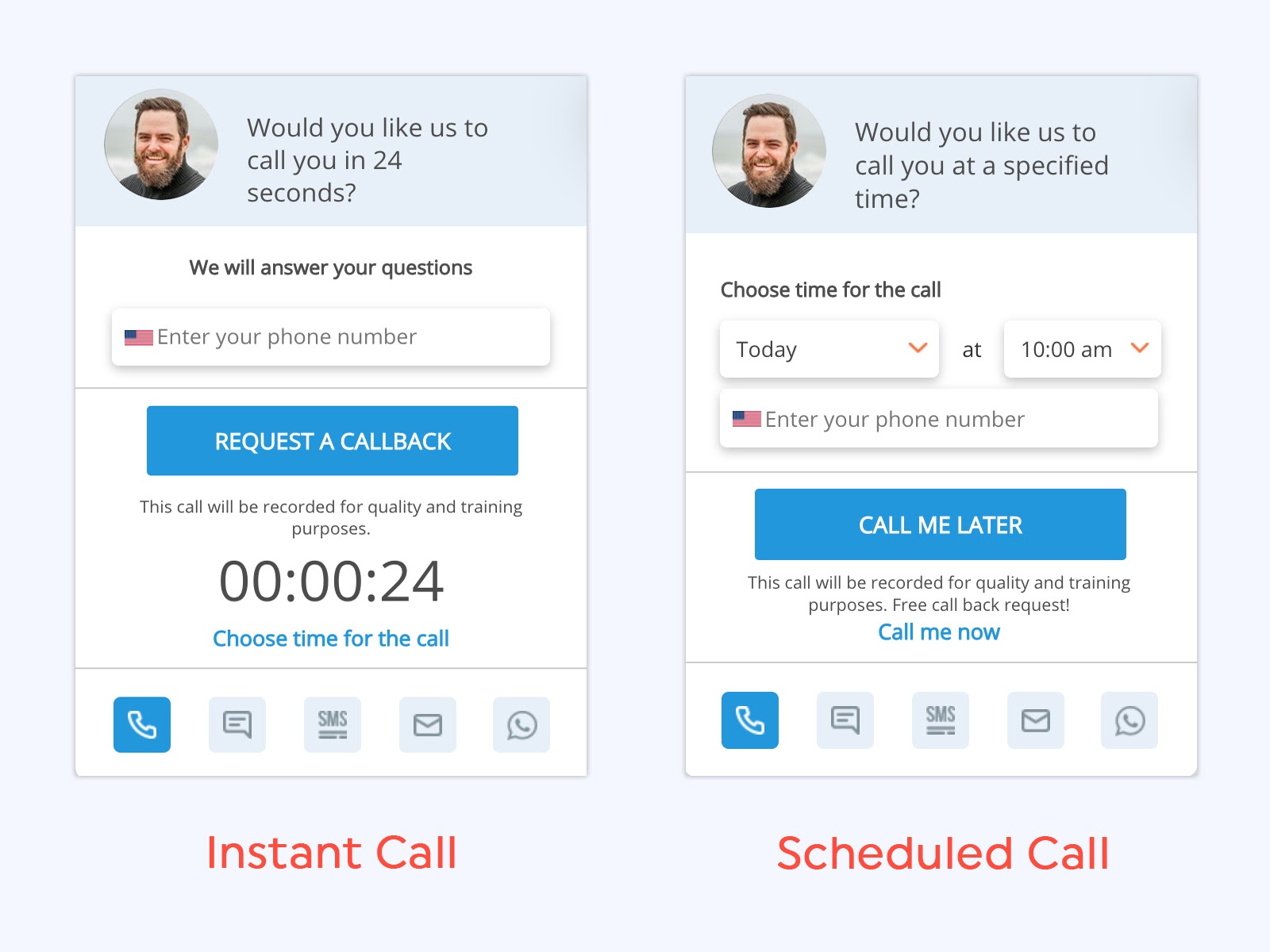 Call scheduling lets you connect with customers without worrying about missing calls.
Integrations are a cinch to set up right out of the box.
Callback Tracker works with Zapier, Salesforce, Google Analytics, WordPress, and more to fit nicely into your ecosystem.
You'll also be able to link email requests to SendFox, phone call requests to your calendar, and SMS requests to the customer record in Salesforce.
Callback Tracker is the missing piece to your business operations and customer messaging.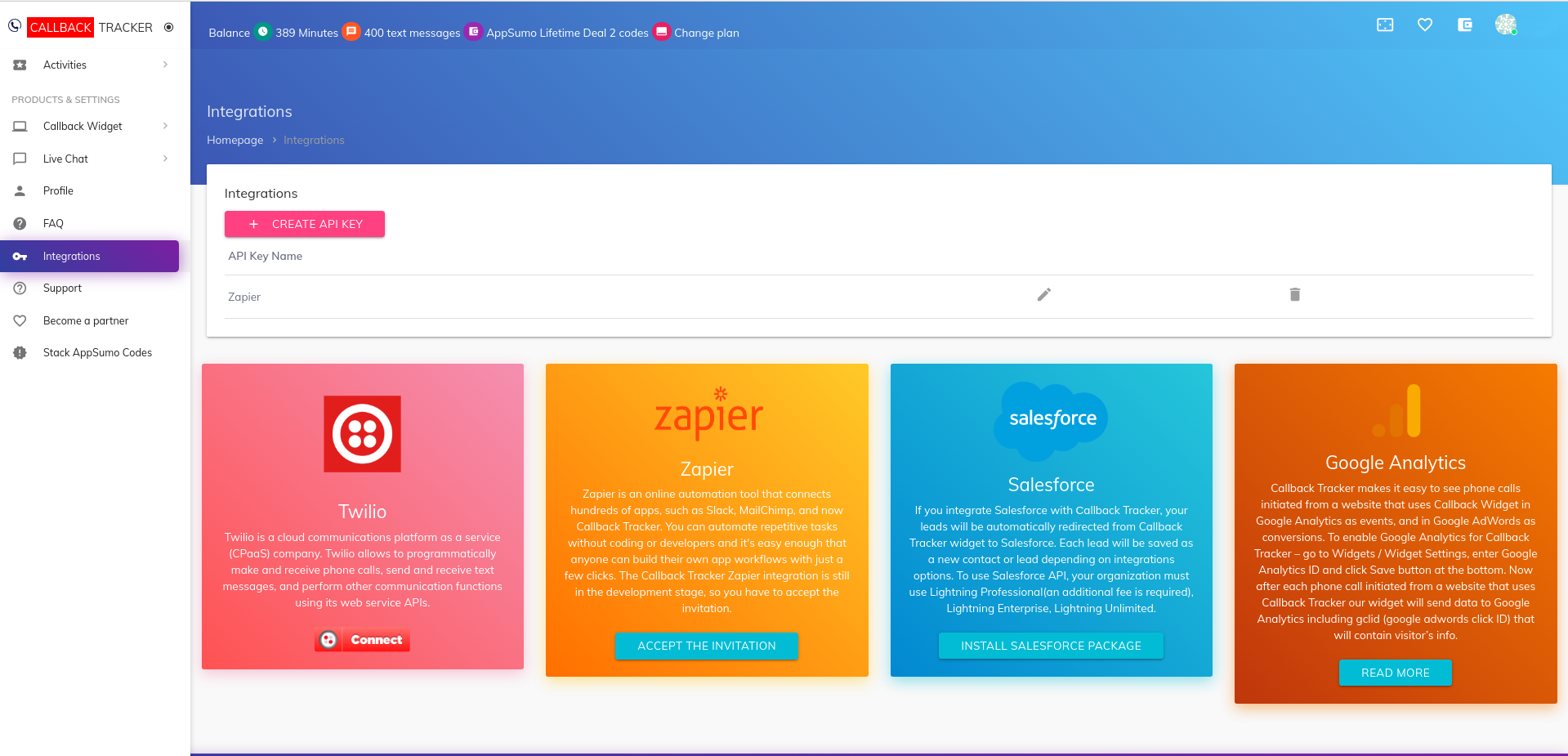 Integrate with Twilio, Zapier, Salesforce, WordPress and more right out of the box.
Getting your visitors the support they need is difficult enough without having to switch tools to manage phone calls, messages, and emails.
Callback Tracker handles all avenues of customer communication, and seamlessly integrates with other tools and platforms.
Get one year of access to Callback Tracker now!
P.S.
Learn how to use Callback Tracker like a pro by catching our training webinar replay here:
Webinar Replay
!
Callback Tracker Annual
Connect with site visitors via call, chat, email, and more from one tool
This deal is unavailable (a bummer, we know). Don't miss a great deal again — drop your email to get all our latest tools!
60 day money-back guarantee. Try it out for 2 months to make sure it's right for you!
ConvergeHub
1 year DEAL
An all-in-one CRM platform for sales, marketing, support, and billing
Classtra
1 year DEAL
All the first-class tools you need to build and sell your own live learning platform
SkyGlue - Funnels and Visitor Recordings for Google Analytics
1 year DEAL
Are you a digital analyst who is eager to improve website conversions using Google Analytics? SkyGlue funnels and visitor recordings put your Google Analytics on Steroid! SkyGlue is a Google Analytics add-on that offers individual visitor click journey reports, retroactive funnels and visitor record
Plans & features
Deal terms & conditions
1 Year of access to Callback Tracker Annual Corporate Global Plan

Option to renew annually at your AppSumo price

You must redeem your code(s) within 60 days of purchase

1 Year of Corporate Global Plan updates

Please note: This deal is not stackable

GDPR compliant

Only for new Callback Tracker users who do not have existing accounts

Annual deals are not stackable with previous LTD deals
60 day money-back guarantee. Try it out for 2 months to make sure it's right for you!
Callback Tracker Annual Corporate Global Plan

400 minutes per month
400 text messages per month

Free call recording

Unlimited websites

Custom caller ID

Free live chat: 1 agent

Supported countries: US & CA + Australia, Brazil, Bulgaria, France, Germany, India

Israel, Italy, Netherlands, Norway, Poland, Portugal, Romania, Slovakia, Sweden, UK...

Belgium, Luxembourg, Mexico, Finland, Czech Republic, Denmark, Dominican Republic, Guam, Ireland, Singapore, Spain
Sign Up
All our deals are time-sensitive! Make sure you don't miss any of our awesome limited-time offers.