Chatmatic
Lifetime Deal
Leverage Facebook Messenger and build high-impact, fully automated chatbot sequences
Chatmatic
Leverage Facebook Messenger and build high-impact, fully automated chatbot sequences
This deal is unavailable (a bummer, we know). Don't miss a great deal again — drop your email to get all our latest tools!
60 day money-back guarantee. Try it out for 2 months to make sure it's right for you!
Trying to reach qualified leads is about as easy as delivering a Hogwarts acceptance letter to Harry Potter. (Thanks a lot, Uncle Vernon.)
The key is having the right conversations that prospects will actually engage with, but you don't always have the time or resources to connect with every potential lead.
Automate these conversations through the power of chatbots, boosting sales, increasing profitability, and nurturing your relationships.
Meet Chatmatic.
Build automated Facebook Messenger and Instagram sequences
Create and cultivate leads across platforms while selling more products through quality conversations
Best for: Marketing agencies with clients looking to monetize subscribers faster and SMBs that want to automate list building
Overview
Chatmatic is an all-in-one chatbot solution that allows you to create, develop, and monetize high-value subscribers across multiple chat-based platforms.
Chatbots may not be the first thing that comes to mind when you think of "easy automation," but Chatmatic makes the process simple.
Build powerful lead generating sequences for Facebook Messenger without the nightmarish learning curve.
You can start with a sequence template or use the drag-and-drop builder to build and customize your message-based sequences.
Once you've built the sequence, you'll be able to customize the data and personalize the response for each message.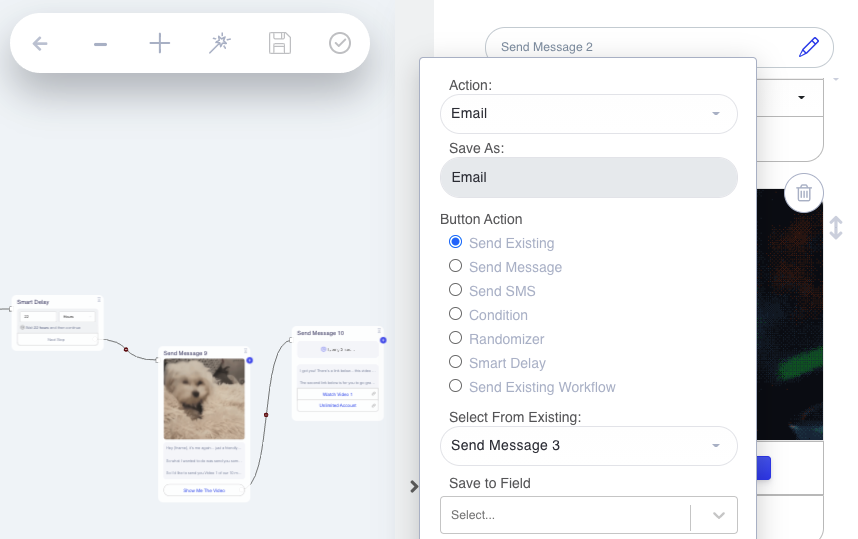 The message builder allows you to customize the data and response from each message.
Juggling tons of different conversations in Facebook Messenger can be time-consuming and confusing. (Much like that chaotic group text you never wanted to be part of.)
Chatmatic helps you scale these conversations with automated trigger messages based on what the user does or says.
With the comment trigger feature, you can also transform a mass amount of leads into conversations by turning comments on your Facebook posts into Messenger conversations.
Whether you want to run ads, place a button on your site, have a chat widget on your order page, or reply to all your Facebook comments, you can make it all happen with triggers.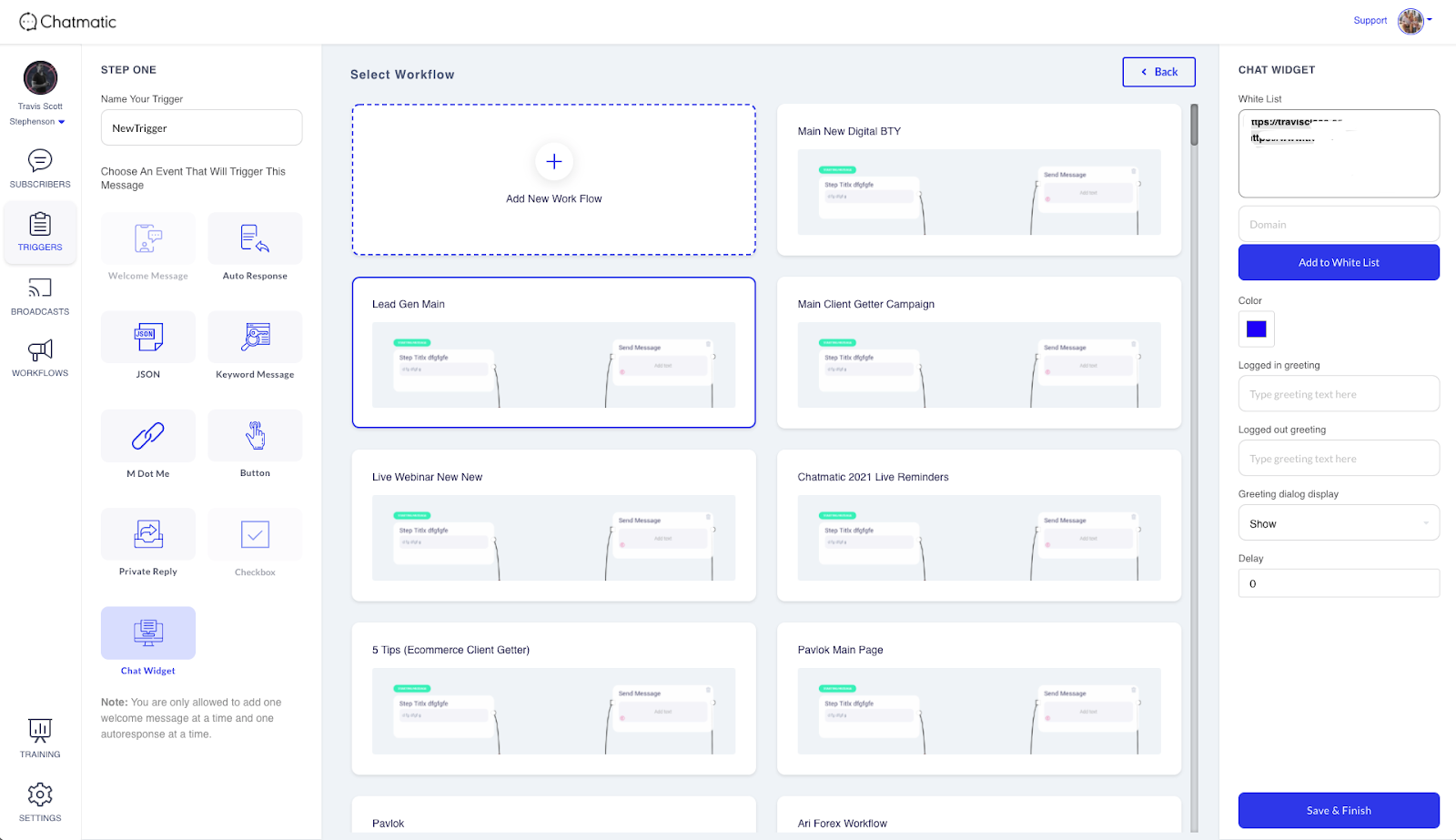 Create message triggers of all kinds to send every lead down a unique marketing path!
Chatmatic equips you with all the tools you need to optimize your messages and campaigns.
The workflows tab displays stats on each message in the workflow to determine which messages are converting and which aren't. ("Show me the mon-- er, data!")
When you run marketing campaigns, you can also access in-depth, easy-to-understand data displays on the campaign dashboard to help you optimize your campaigns.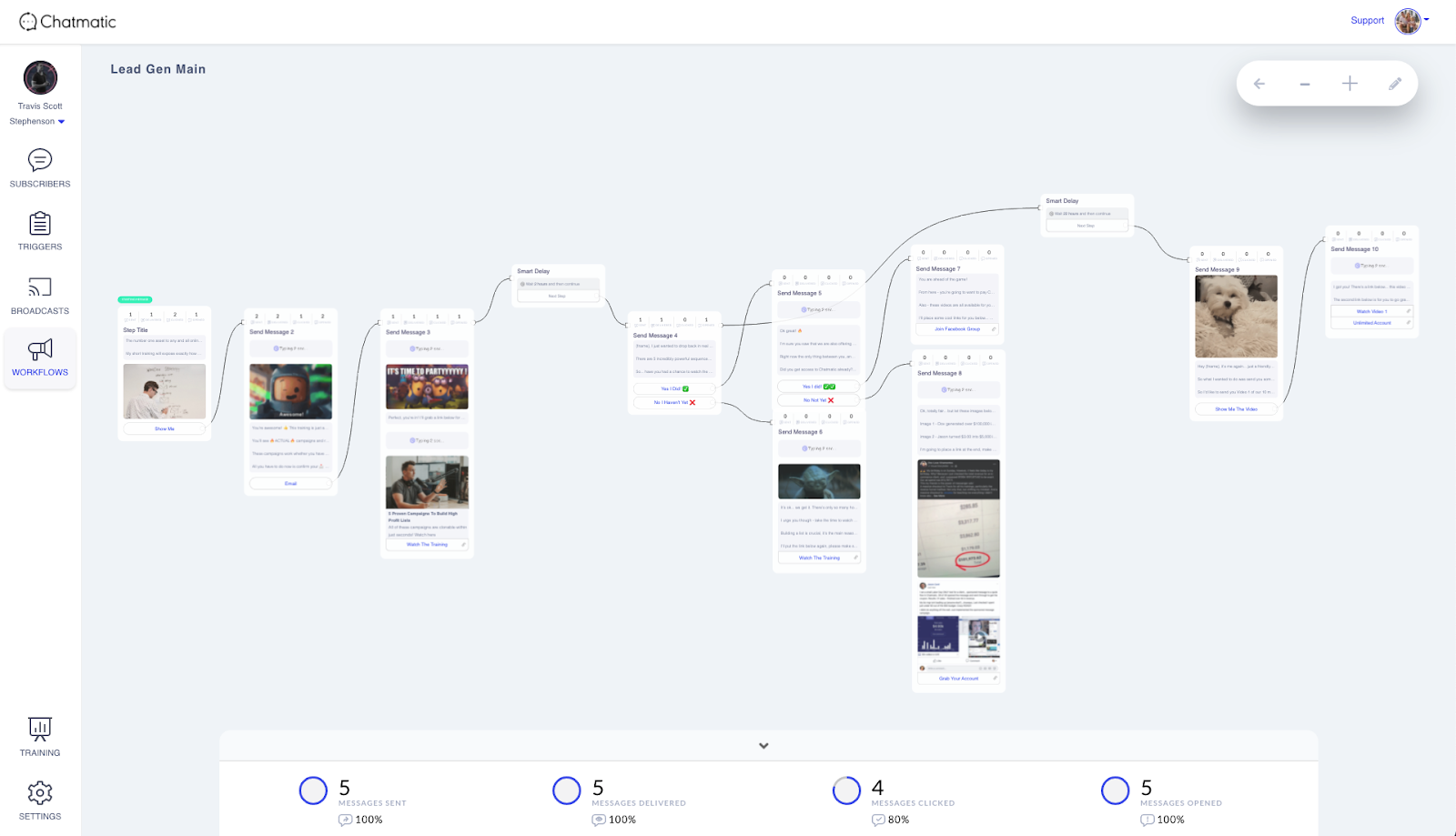 Quickly and easily check statistics on each message in your drag-and-drop sequences.
If Taylor Swift's re-recorded Fearless (Taylor's Version) has taught us anything, it's that there's no need to reinvent the wheel for magic to happen.
The same is true with chatbot sequences. You can find and buy an existing sequence template that works with your goals in Chatmatic's robust template marketplace.
You'll also be able to publish your own sequence templates directly to the marketplace and sell them to other users while keeping 50% of the sale's revenue.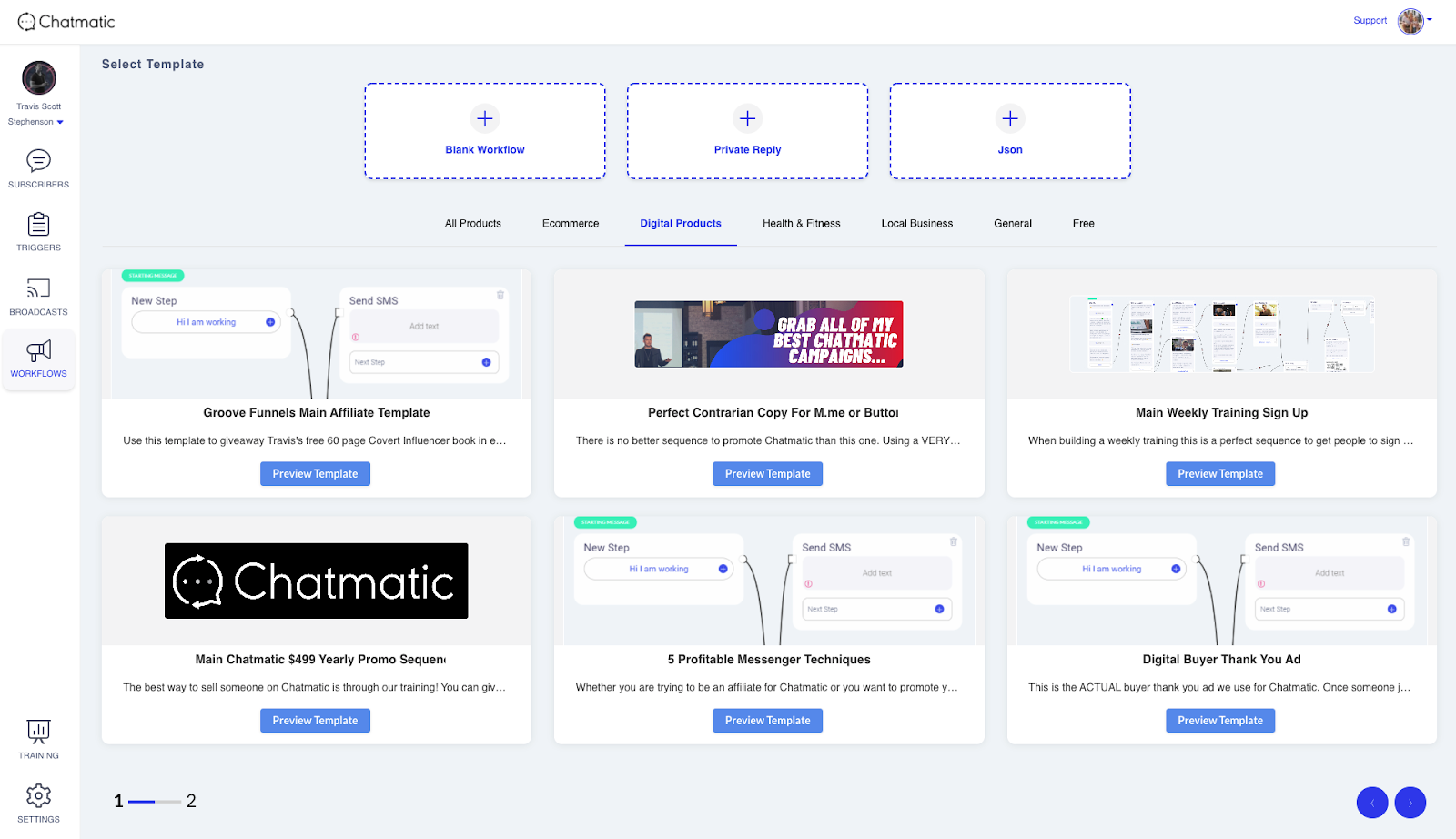 Buy and sell chatbot sequence templates in Chatmatic's robust marketplace!
As your company scales, you'll need a faster and more efficient way to build better customer relationships and grow your list of leads.
Using Chatmatic is like having your very own lead gen expert working for you in Facebook Messenger 24/7. (Except without violating any labor laws.)
Take charge of your lead generation and conversion efforts with customized chatbot sequences that let you do more faster.
Get lifetime access to Chatmatic today!
Chatmatic
Leverage Facebook Messenger and build high-impact, fully automated chatbot sequences
This deal is unavailable (a bummer, we know). Don't miss a great deal again — drop your email to get all our latest tools!
60 day money-back guarantee. Try it out for 2 months to make sure it's right for you!
Blits.ai
Lifetime Deal
Easily build and manage chatbots with conversational AI
Ticksy
Lifetime Deal
Build your own web-based help desk and knowledge base
Dewstack
Lifetime Deal
Build self-serve documentation on your domain without any tech skills
Plans & features
Deal terms & conditions
Lifetime access to the Chatmatic Unlimited Subscriber Plan

No codes, no stacking—just choose the plan that's right for you

You must activate your license within 60 days of purchase

All future Unlimited Subscriber Plan updates

Ability to upgrade/downgrade between 5 license tiers

GDPR compliant

Important note: A Facebook account is required to use Chatmatic
60 day money-back guarantee. Try it out for 2 months to make sure it's right for you!
Features included in all plans
Unlimited users (must log in through Facebook)

Unlimited subscribers

Unlimited campaigns

Full messenger automation capability

Lead generation/nurturing functionality

Drag-and-drop campaign builder

Quickly create m.me links, chat widgets, messenger buttons, post comment entry points, welcome messages, and auto-responses

Zapier & Webhook integrations

Email and phone number pre-population

Tag and user attributes allow users to save data about subscribers

Messenger broadcasting

SMS capabilities built into drag-and-drop builder

Live chat with subscribers

Messenger persistent menu customization

Build, sell, and transfer workflows as templates

Built-in messenger sequence marketplace

SMS broadcasting

Shopify integration with sales tracking and automated card and carousel creation

Email integrations directly from Chatmatic

Enhanced statistics
License Tier 1

All features above included

1 Facebook/fan page(s)
20 templates

License Tier 2

All features above included

10 Facebook/fan page(s)
40 templates

License Tier 3

All features above included

25 Facebook/fan page(s)
60 templates
Sign Up
All our deals are time-sensitive! Make sure you don't miss any of our awesome limited-time offers.