Covve Scan
Lifetime Deal
Easily digitize business cards with the world's most accurate AI-powered scanner
Covve Scan
Easily digitize business cards with the world's most accurate AI-powered scanner
This deal is unavailable (a bummer, we know). Don't miss a great deal again — drop your email to get all our latest tools!
60 day money-back guarantee. Try it out for 2 months to make sure it's right for you!
You left that conference flush with stacks on stacks...of business cards — now it's time to scan them or risk losing important contacts forever.
The problem is, most scanners are more trouble than they're worth and still need manual corrections at the end.
If your current business card solution involves an overstuffed drawer, it's time to join the 21st century.
Meet Covve Scan.
Effortlessly and accurately scan business cards in every left-to-right language to make the most of your contacts
Organize, manage, and store information in the easy-to-use app so you never lose a potential lead
Protect all your information with stringent data protection and GDPR compliant software
Overview
Covve Scan is an AI-powered, language-agnostic business card scanner that makes digitizing cards simple and hassle-free.
If you can take a picture with your phone, you can use Covve Scan.
After a busy week of networking, the last thing you want is to spend hours manually entering business card info into your database.
With Covve Scan, all you need is your phone and this simple, powerful, user-friendly app.
Just snap a picture of the business card and Covve Scan quickly imports all the information with unbeatable accuracy.
Now you have more time to sort through all your free event swag!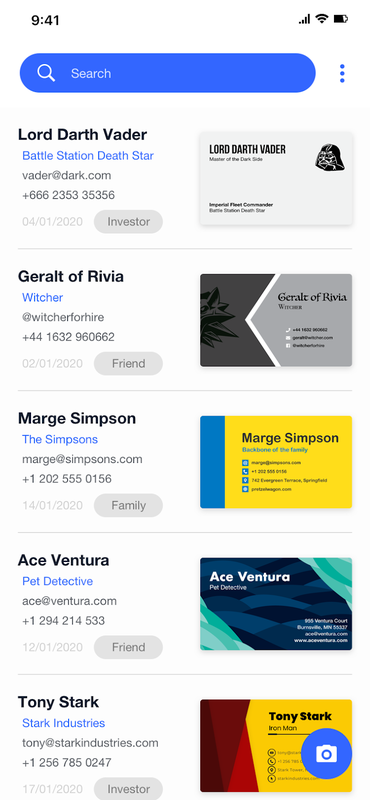 Get a look at all your business cards in one simple interface.
Covve Scan supports every left-to-right language around the world, so you don't have to worry about importing the wrong information.
Once you snap a picture and scan the card, you'll be able to label the contact with customizable tags and easily identify them later on.
Refresh your memory for each contact by adding notes, like interesting personal details to bring up — or never mention again. (Note to self: Do NOT ask Dr. Bruce Banner where the Hulk is.)
You'll connect better with clients and impress them with your "photographic memory."
In the Covve Scan app, you can send an email or text, call your new contact, or even see where their office is on Google Maps.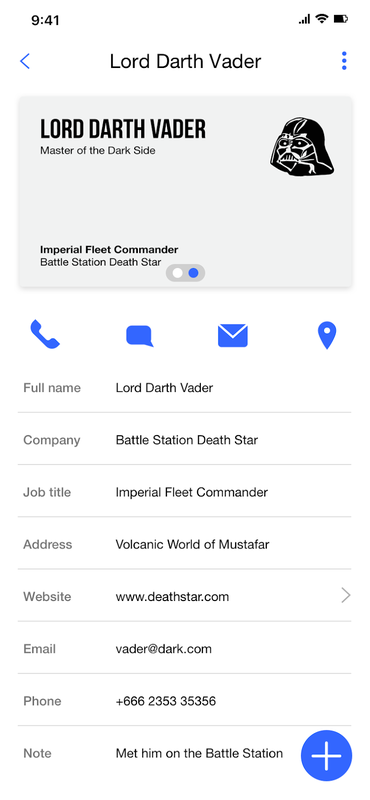 Fingers tired from manual entry? Accurately scan and save contact info with just one click.
Want to add new contacts to your phone? You can import cards into your phone's native contact system with just one click.
What if you've got a warm lead that you want someone on your sales team to follow up with ASAP?
Covve Scan makes it a breeze to share the contact with your colleagues via email, text, or Slack — you name it.
You can also export contacts to Excel, Gmail, or Outlook with ease.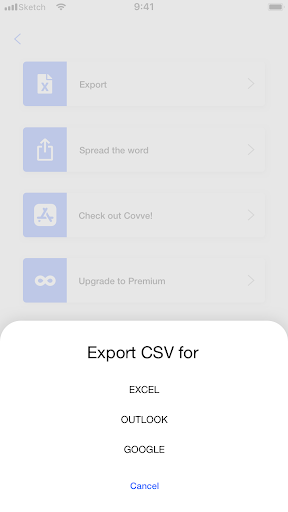 Covve Scan makes it easy to export your collection of business cards to Excel, Gmail, or Outlook.
Double-sided cards? No problem.
Covve Scan lets you scan the front of the card and also add a photo of the back of the card — that way, you can hang on to visual touches like logos and handwritten notes ("oh my God, it even has a watermark").
There's also a powerful search feature built into the app, so you can search by name, job title, company, and existing tags to easily find the exact contact you need.
When you're importing and storing personal data, you want to be sure all of your information is secure.
Covve Scan makes privacy a priority — none of your data is ever reused or sold, and all functions are fully GDPR-compliant.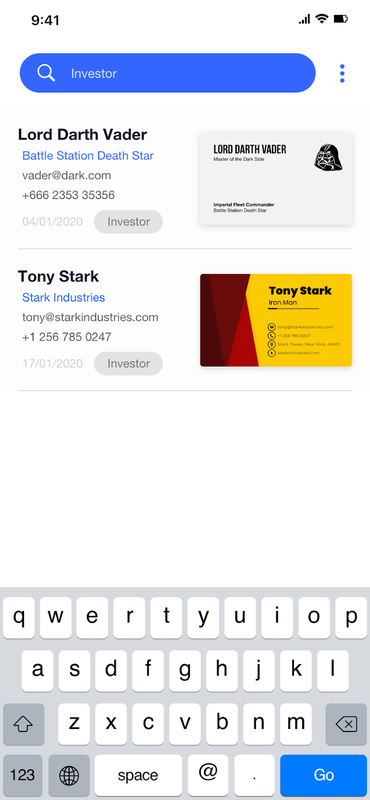 Use the powerful search feature to quickly find exactly what you need.
You've got a ton of business cards, but they're not the kind of paper you want taking up room in your wallet (it's all about the Benjamins, baby).
Say goodbye to clutter and manual transcription.
Just snap a photo and grow your network from your phone.
Get Covve Scan today!
P.S. Learn how to use Covve Scan like a pro by catching our training walkthrough replay here: Watch Training Replay!
Covve Scan
Easily digitize business cards with the world's most accurate AI-powered scanner
This deal is unavailable (a bummer, we know). Don't miss a great deal again — drop your email to get all our latest tools!
60 day money-back guarantee. Try it out for 2 months to make sure it's right for you!
Plans & features
Deal terms & conditions
Lifetime access to Covve Scan

You must redeem your code(s) within 60 days of purchase

All future plan updates

Please note: This deal is not stackable

GDPR Compliant

Covve Scan only works on mobile apps available through the Apple App Store or Google Play
60 day money-back guarantee. Try it out for 2 months to make sure it's right for you!
Covve Scan

Unlimited card scans

Market leading accuracy in over 40 languages

Automatic recognition for all left-to-right languages

Export cards to Excel, Google Contacts and Outlook

Save cards to your phone

Advanced privacy protection - fully GDPR compliant

Group/tag cards for fast searching
Sign Up
All our deals are time-sensitive! Make sure you don't miss any of our awesome limited-time offers.