DarwinMail
Lifetime Deal
Take back control of your inbox with fast, elegant, and secure email
DarwinMail
Take back control of your inbox with fast, elegant, and secure email
This deal is unavailable (a bummer, we know). Don't miss a great deal again — drop your email to get all our latest tools!
60 day money-back guarantee. Try it out for 2 months to make sure it's right for you!
Managing all your emails can feel like fighting an uphill battle where the hill keeps growing. ("Many hours were lost in the Battle of Inbox 54,952.")

With all the work you put into your business, you don't have time to organize your bloated inbox email by email.
If only there was an email tool that let you sort, filter, and perform bulk actions right from your inbox.
Evolve your inbox with DarwinMail.
Seamlessly manage multiple accounts, send from multiple aliases, and create multiple custom signatures
Alternative to: Superhuman
Create rules to automatically categorize your emails so you can stay organized
Best for: Busy professionals and project managers who want enhanced control of their inbox and streamlined communication
Overview
DarwinMail is a fast and secure email tool that lets you email from multiple accounts and set up reminders, snoozing, and bulk actions, so you can increase your productivity.
DarwinMail allows you to seamlessly connect multiple email addresses to a single account.
Not only can you send mail from different accounts, but you can also track all your email to-do lists from one place.
So you'll never have to worry about logging into all your different email addresses to get work done again.
And as a bonus, you can also set up custom signatures for each of your email accounts.
That means your business email can sign off with "Best wishes" and your personal Gmail can end with "So long, and thanks for all the fish."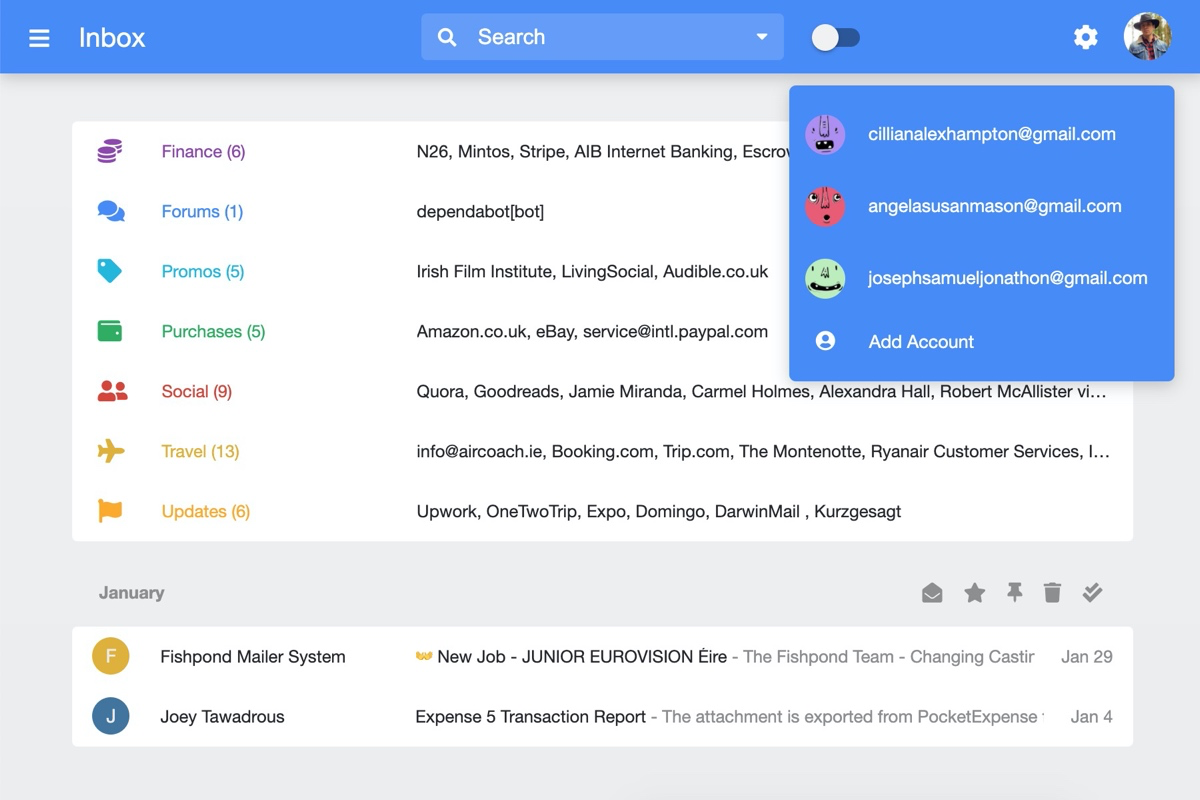 You can seamlessly manage multiple accounts by sending from multiple aliases and creating custom signatures.
With DarwinMail, you can decide which emails you want to see without having to sort through a ton of literal junk.
Create rules to automatically categorize your emails based on your needs, so you can sort emails into specific bundles to help you stay focused.
That means you easily sort things like your grocery shopping into your Purchases bundle and filter all the email notifications for your Goodreads account into your Social bundle.
Best of all, you can also create unlimited custom bundles to organize the more miscellaneous parts of your inbox.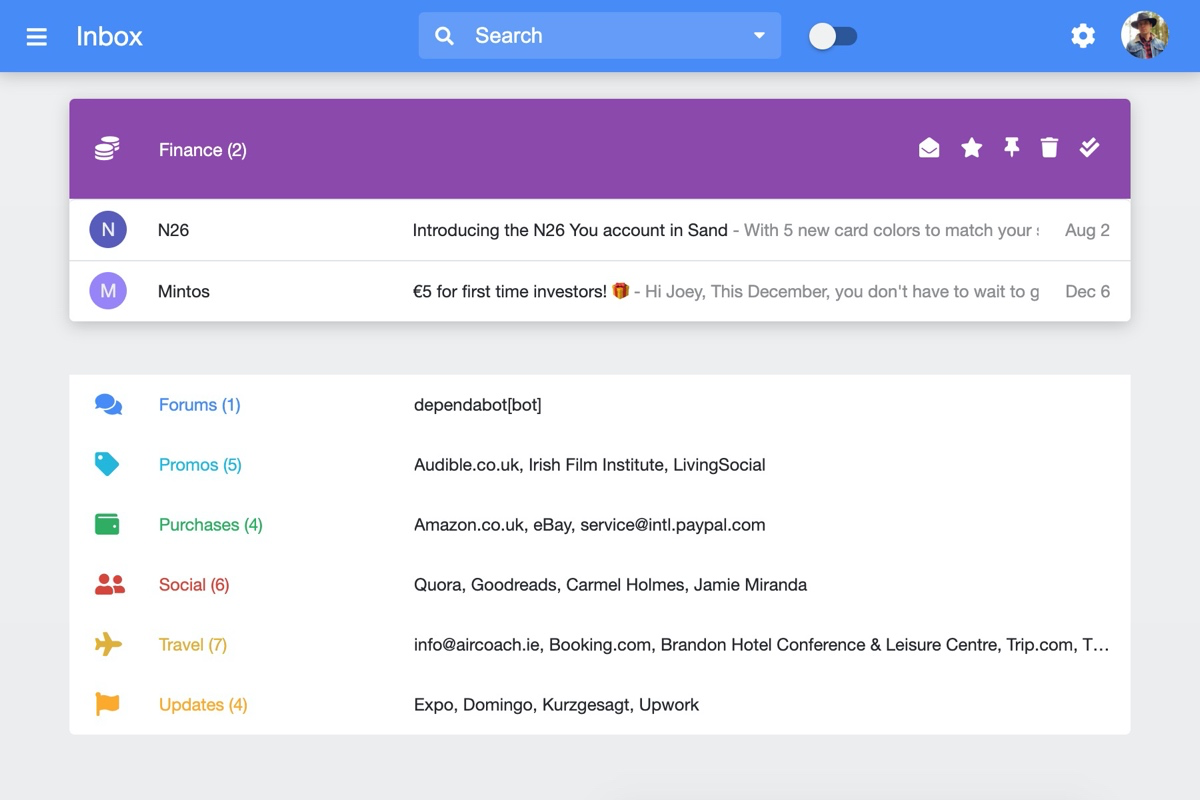 Use the Bundles feature to create rules that automatically categorize your emails, so you can stay organized.
With DarwinMail's easy-to-use interface, you can maximize your output via bulk archive, snooze, and trash!
You don't just get a tool that organizes your emails into handy bundles, but also by the timeline of when emails are received.
So you can quickly apply bulk actions to large volumes of email with a single click. It's like closing a bunch of browser tabs all at once—instant relief.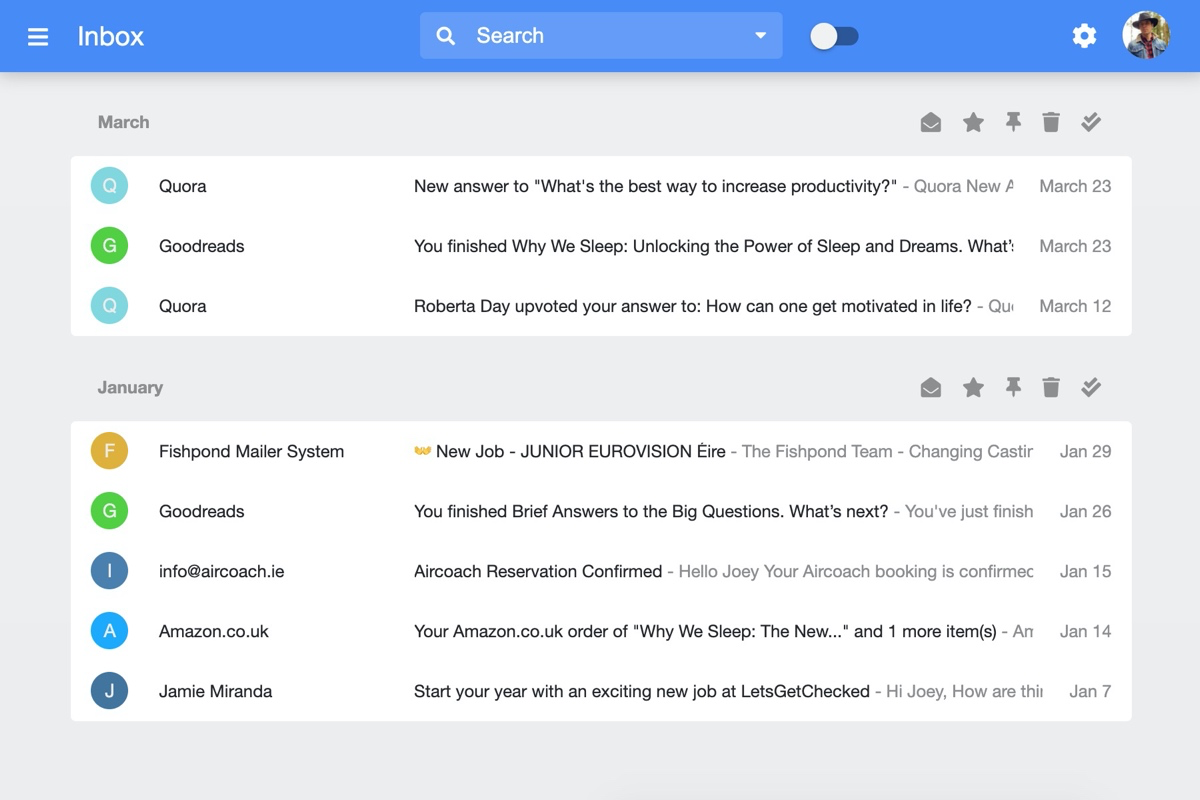 You can maximize your output via the bulk archive, snooze, and trash functions.
When you're getting heaps of emails per day, it's only natural for something to fall through the cracks.
That's why DarwinMail offers a handy snooze feature for emails and task reminders, letting you tackle projects on your own time, instead of forgetting about them.
Now you can get back to work without stressing about remembering everything that happens in your inbox.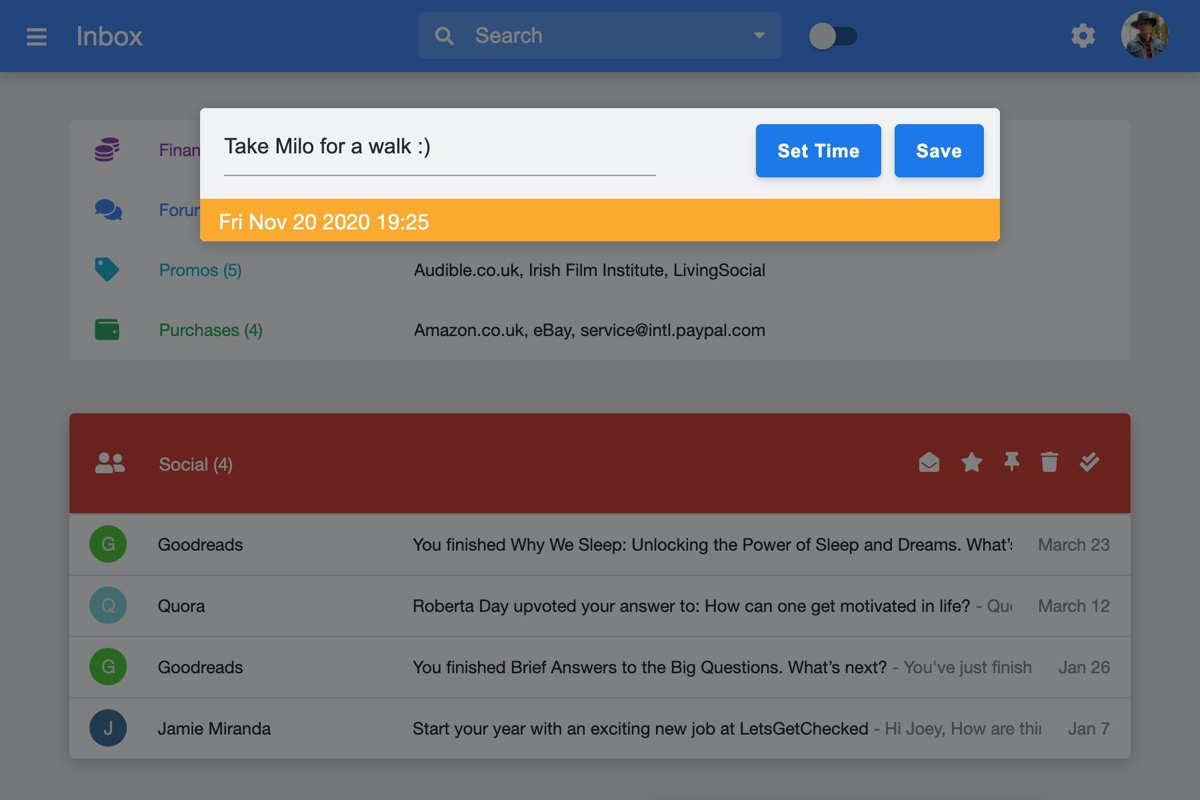 Snooze emails and task reminders, so you can focus on what's most important to you and your schedule.
Sending out emails can feel like telling the same joke over and over again. ("Is your refrigerator running? Then you'd better...")
Instead of typing out the same spiel to different stakeholders, use DarwinMail's Templates feature to create templates for sales pitches, support responses, outreach and more!
That way, you can increase your team's productivity without having to increase your words per minute.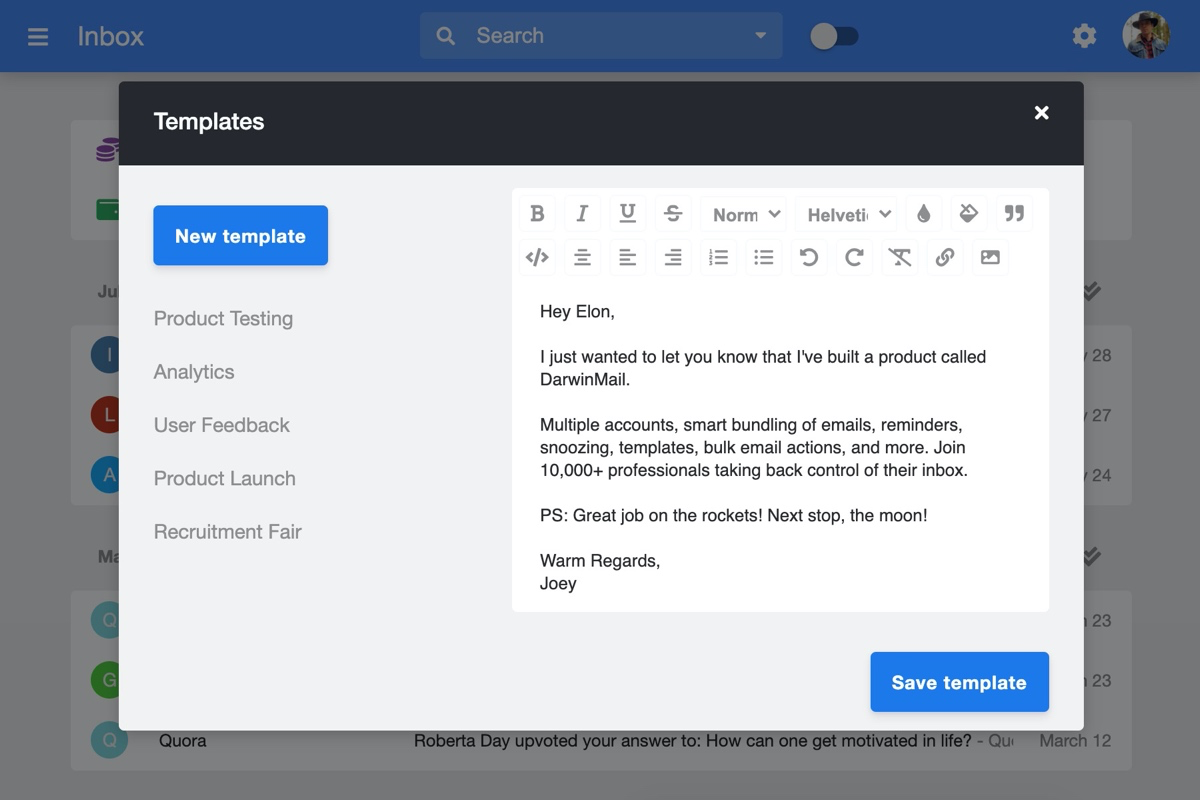 Create reusable templates, so you'll never rewrite the same email ever again.
You've come a long way since your first email address (do NOT hit me up at xxdragonballZZ@aol.com), but your inbox habits are still stuck in the past.
DarwinMail lets you level up and manage multiple email accounts more effectively with reminders, bulk actions, snoozing, and more!
Spend less time dealing with inbox shenanigans and more time growing your business.
Get lifetime access to DarwinMail today!
DarwinMail
Take back control of your inbox with fast, elegant, and secure email
This deal is unavailable (a bummer, we know). Don't miss a great deal again — drop your email to get all our latest tools!
60 day money-back guarantee. Try it out for 2 months to make sure it's right for you!
Balloonary
Lifetime Deal
Automatically generate digital ads based on your website's content
Plans & features
Deal terms & conditions
Lifetime access to DarwinMail Enterprise Plan

You must redeem your code(s) within 60 days of purchase

All future Enterprise Plan updates

Please note: This deal is not stackable

Please note: Users can purchase additional codes to create new individual accounts per code

GDPR compliant

A Gmail account is required to use DarwinMail
60 day money-back guarantee. Try it out for 2 months to make sure it's right for you!
DarwinMail Enterprise Plan

1 User account (Gmail account)

Unlimited reminders

Unlimited templates

Unlimited custom bundles

DarwinMail bundles

Snooze emails

Bulk actions

Dark mode

Undo send

Swipe actions

Signature editor

Distraction-free mode

Advanced keyboard shortcuts

Unlimited emails

Custom backgrounds

Private and secure mail

Ad-free email

No "Sent using DarwinMail"

Cross platform web app
Sign Up
All our deals are time-sensitive! Make sure you don't miss any of our awesome limited-time offers.