Flowlu
Lifetime Deal
Unify your business processes with a comprehensive project and customer management platform
Flowlu
Unify your business processes with a comprehensive project and customer management platform
This deal is unavailable (a bummer, we know). Don't miss a great deal again — drop your email to get all our latest tools!
60 day money-back guarantee. Try it out for 2 months to make sure it's right for you!
Your business is growing, and that's why you got more tools—to tackle bigger projects.

But maybe it's time to take a page from the Power Rangers book and combine all those single-purpose tools into one Megazord of awesomeness.
Looking for an intuitive platform that offers project management, a CRM, invoicing, and more?
Jump into Flowlu.
Manage projects, track workloads, and prioritize tasks, plus access a CRM to handle sales funnels
Easily create invoices, automate billing, track revenue, and optimize expenses
Overview
Flowlu is a complete suite of project and business management tools, including a CRM, invoicing, kanban board, white-label functionality, and client portal.
Get your projects in order with Flowlu's generous management options.
You can quickly view project progress, key milestones, deadlines, budgets, and even time estimates for tasks.
Use project workflows to easily create similar projects with predefined activities and sequences, plus forecast project revenue and calculate costs before comparing them to final budget results.
You'll be able to store your files and documents right in Flowlu to keep everything organized for easy finding.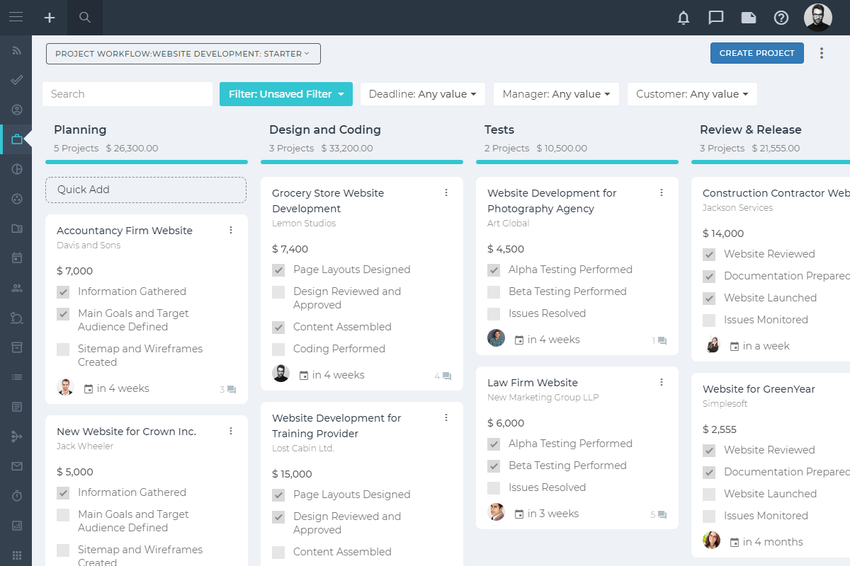 Use the project board to quickly view progress, budgets, deadlines, and more!
Flowlu makes task management a cinch. Instantly convert your ideas to tasks, and make recurring tasks for the same workflows or at specific intervals, like weekly reports.
The kanban board lets you prioritize tasks and find out what needs to get done at a glance, including due dates attached right to the cards.
There's even the option to measure the time spent on each task to optimize your processes.
And because there's no I in team, you can also add collaborators to each task, who have the same access rights as assignees and can help get the job done.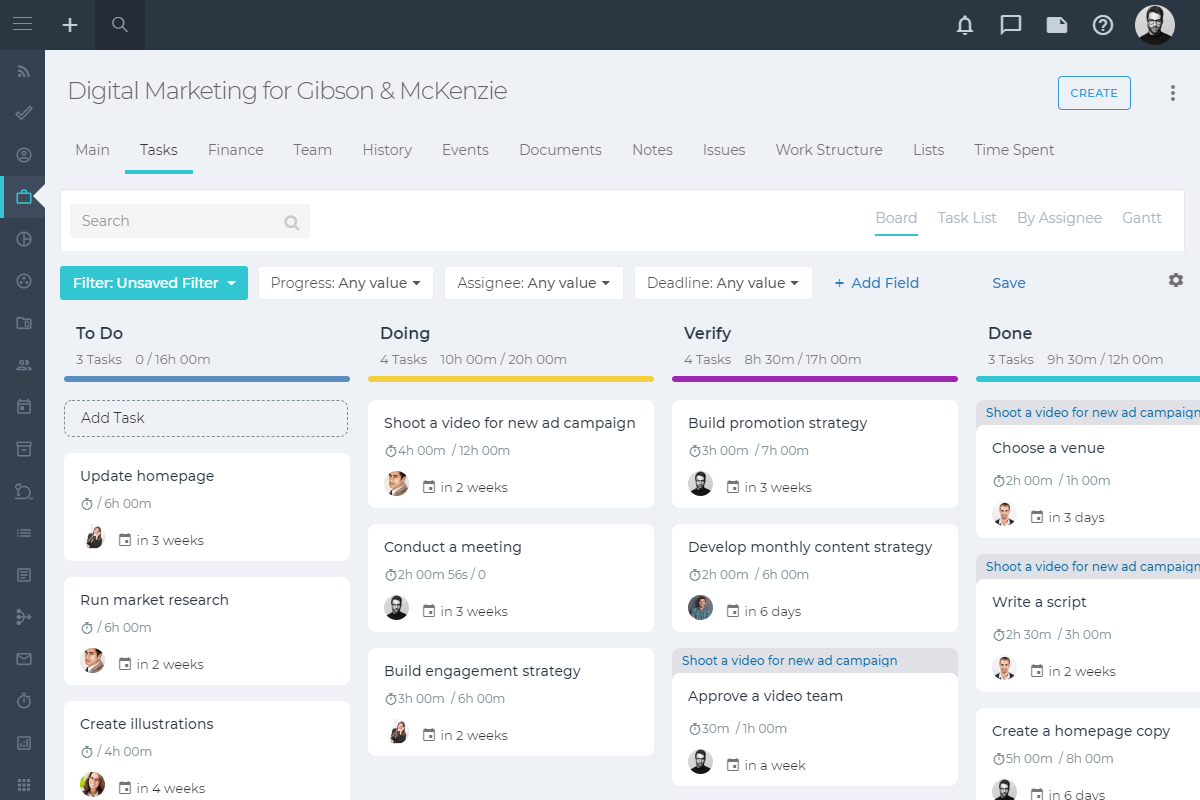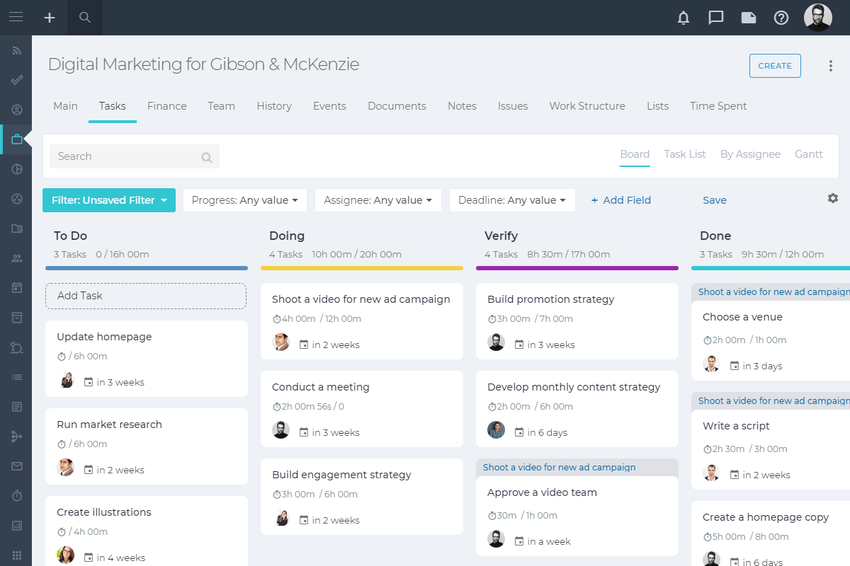 The kanban board lets you quickly create tasks, prioritize work, and set deadlines.
Flowlu's included CRM lets you track all your sales funnels from one place.
You can manage new sales opportunities and funnels, as well as track customer interactions and store email communications in a centralized location.
CRM automation makes it easy to design flows that set follow-up tasks, create projects, and send emails.
Flowlu enables you to focus on your bottom line, instead of searching for email threads and creating repetitive task cards.
Plus, you can assign users to the employee access level and manage which accounts they can see, protecting your contacts' privacy.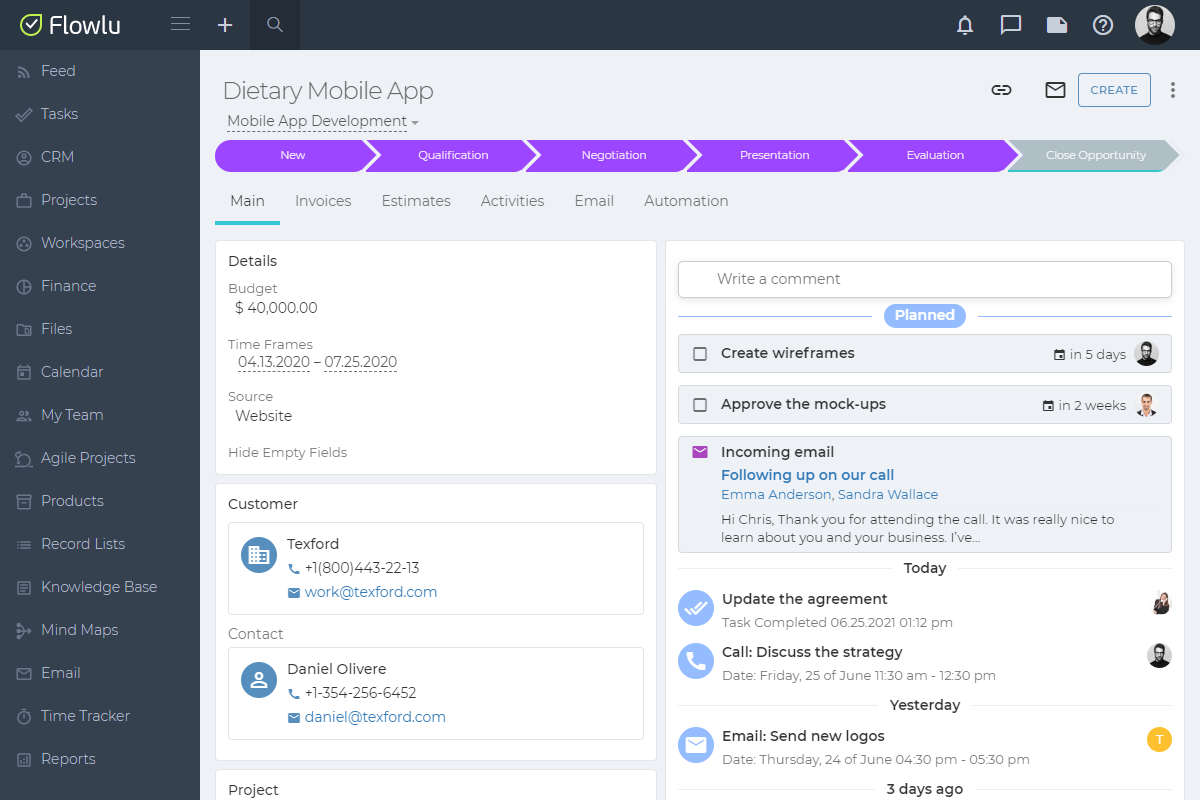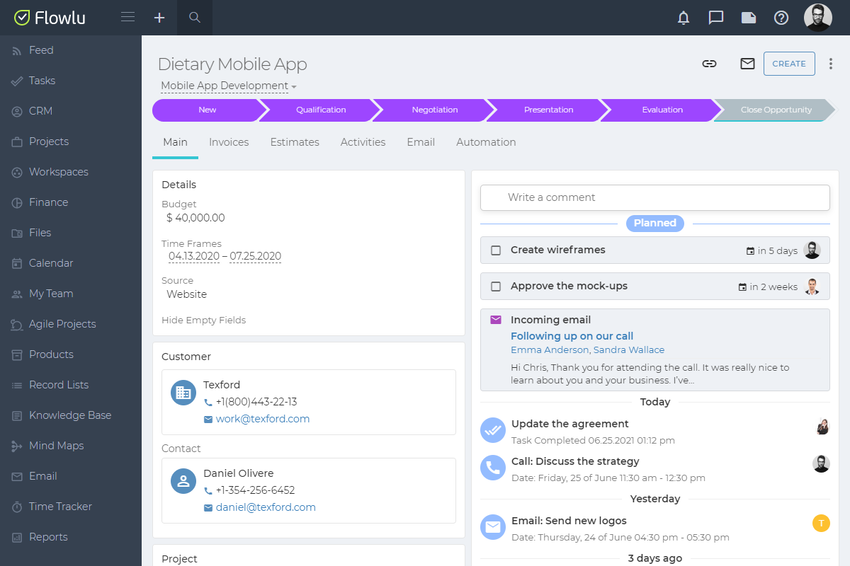 The built-in CRM lets you automate processes like follow-up tasks and emails to save tons of time.
You won't cringe at the mention of invoices anymore, either.
Craft professional estimates and invoices in seconds using fully customizable templates, which let you include your logo, change the layout, or apply a specific color scheme.
You can also add taxes, discounts, and shipping charges to single line items or invoice totals, then let Flowlu crunch the numbers for you..
There are even options to create recurring or scheduled invoices, so you always get paid on time. Don't worry—you can enable invoice approval to verify before sending, too.
And because Flowlu integrates with major payment gateways, clients can pay you right from the invoice!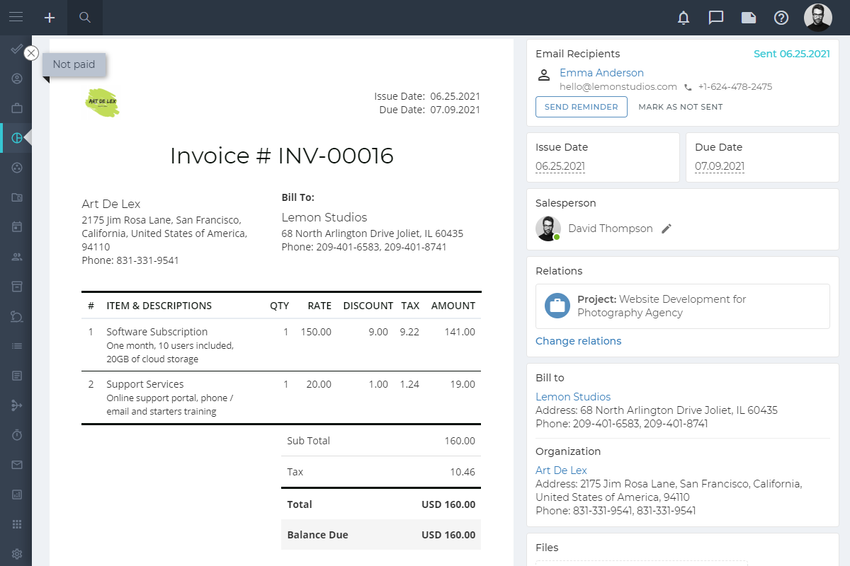 Swiftly create custom invoices that integrate with major payment gateways to get paid without the hassle.
Flowlu's knowledge base makes it simple to store and manage any kind of data from one place.
Document your team's critical information and SOPs in an organized, shared knowledge hub for easy access.
You can also use a knowledge base to craft a help center for your customers to view at their leisure.
Instead of swamping your support team with emails, just route customers to a self-service portal for a buffet of information.
Level up your communication with clients using the white-label feature. Create a custom domain and email domain for notifications, invoices, estimates, and user invitations to the account!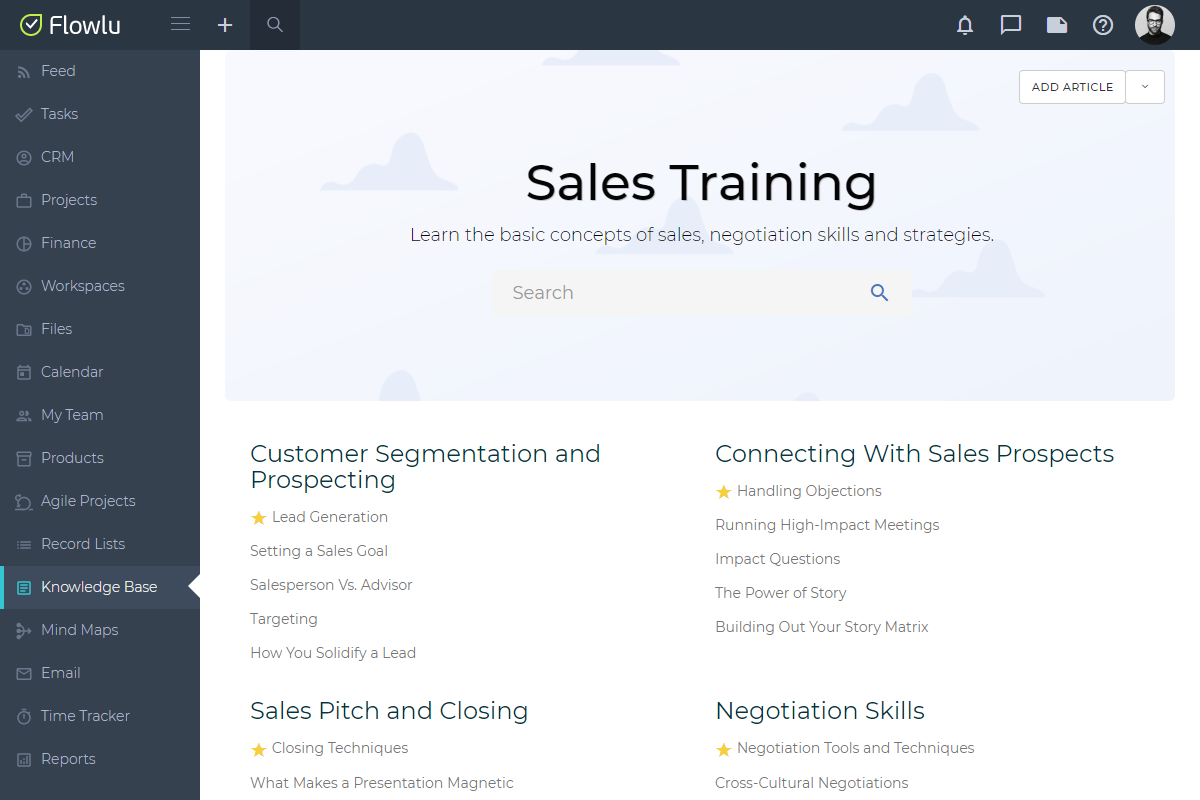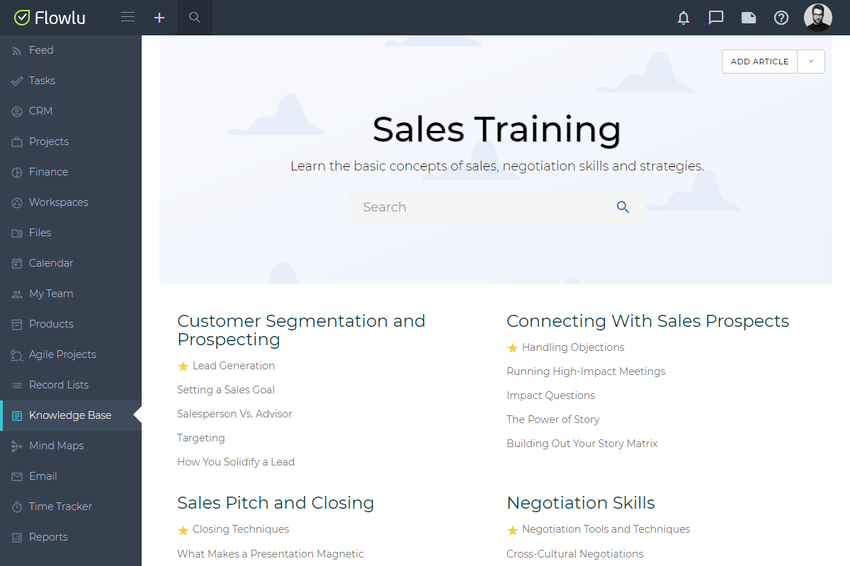 Build organized knowledge bases to share important information with your team and customers!
Flowlu also offers a powerful client portal that makes it easy to seamlessly share information with your clients, freelancers, contractors, or anyone outside your company.
You can invite external users to the portal via email or a link, using flexible permissions to make sure clients are only able to view the data and fields you appoint.
They can access their own projects, tasks, invoices, estimates, and knowledge base, plus chat with your team via the built-in messenger.
On top of improving collaboration and enhancing transparency, Flowlu's client portal lets you use your own custom domain, add a logo, and customize onboarding.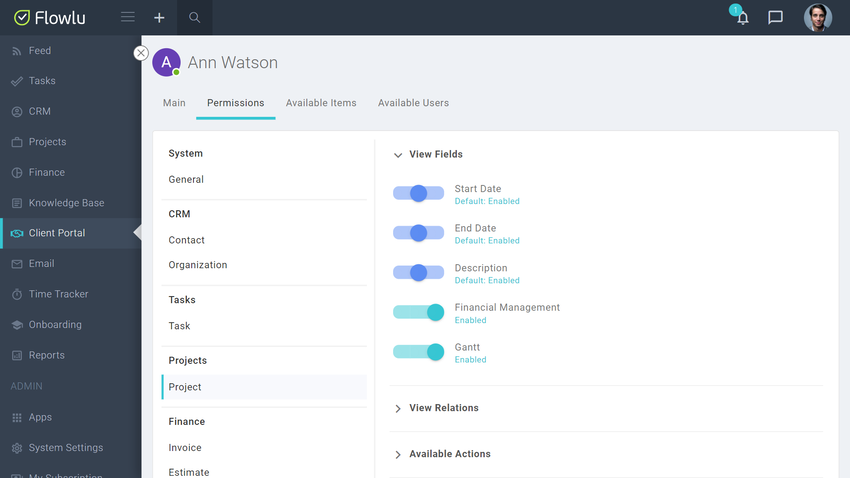 The client portal offers a dedicated space for your external users to access information and stay connected with your team.
There comes a time when you have to consolidate, whether you're out of hard drive space or your significant other asks if you really need that many pairs of socks. ("And if I say 'Yes'?")
Flowlu has your all needs covered with project management, kanban board, CRM, and invoicing, all in one place.
Make work a breeze.
Get lifetime access to Flowlu today!
Flowlu
Unify your business processes with a comprehensive project and customer management platform
This deal is unavailable (a bummer, we know). Don't miss a great deal again — drop your email to get all our latest tools!
60 day money-back guarantee. Try it out for 2 months to make sure it's right for you!
Plans & features
Deal terms & conditions
Lifetime access to Flowlu

All future Professional Plan updates

You must redeem your code(s) within 60 days of purchase

Stack up to 6 codes

GDPR compliant

Available for new Flowlu users and returning AppSumo purchasers

Previous AppSumo customers who purchased Flowlu can buy more codes to increase their feature limits

Previous AppSumo customers will be grandfathered into the new feature limits
60 day money-back guarantee. Try it out for 2 months to make sure it's right for you!
Features included in all plans
Unlimited automation rules

Unlimited workflows

Unlimited sales funnels

3 inboxes per user

5-minute sync frequency

90 day initial email sync

User access groups (roles)

Unlimited project templates

Unlimited record lists

Unlimited knowledge bases

Unlimited businesses

Custom logo

Change history

Extended reports
Single

All features above included

10 users
100 GB file storage

Double

All features above included

20 users
200 GB file storage

Multiple

All features above included

35 users
350 GB file storage
IP whitelisting
White labeling
From the founders
---
All posts
Flowlu Introduction Post #1
Flowlu Introduction Post #1
---
All posts
Flowlu Introduction Post #1
Sign Up
All our deals are time-sensitive! Make sure you don't miss any of our awesome limited-time offers.