Froged
1 year DEAL
Improve customer communications and support by tracking their unique behavior
Froged
Improve customer communications and support by tracking their unique behavior
60 day money-back guarantee. Try it out for 2 months to make sure it's right for you!
Disclaimer: The Froged lifetime offer has ended. However, you can still get yearly access to the Basic Plan for the discounted and locked price of $149 (retail value: $348). You'll be able to renew every year on Froged's website at $149.

Reading your customers' minds is tough (unless you're Professor X or one of those targeted ads that knows I'm out of paper towels).
If you're looking for a better understanding of what your customers need, monitoring their online behavior can be an effective tool.
But what if we could go one step further and use this data to improve customer communications and support?
Introducing Froged.
Send proactive automated messages embedded in chat to encourage customer responses and interaction
Build strategic email campaigns and create dynamic audience segments based on customer behavior
Overview
Froged is a customer success and support platform that allows you to engage meaningfully with customers based on their specific actions.
No two customers are alike. With Froged, you can engage with customers through their unique differences.
Froged lets you create dynamic segmented lists based on specific actions that leads and customers take on your platform or website.
Once you've identified key behaviors — such as filling out a form or starting a trial for your product — you can then group users into dynamic segments by using tags.
Then, use the segments you've created to deliver strategic content to targeted audiences and improve customer interactivity.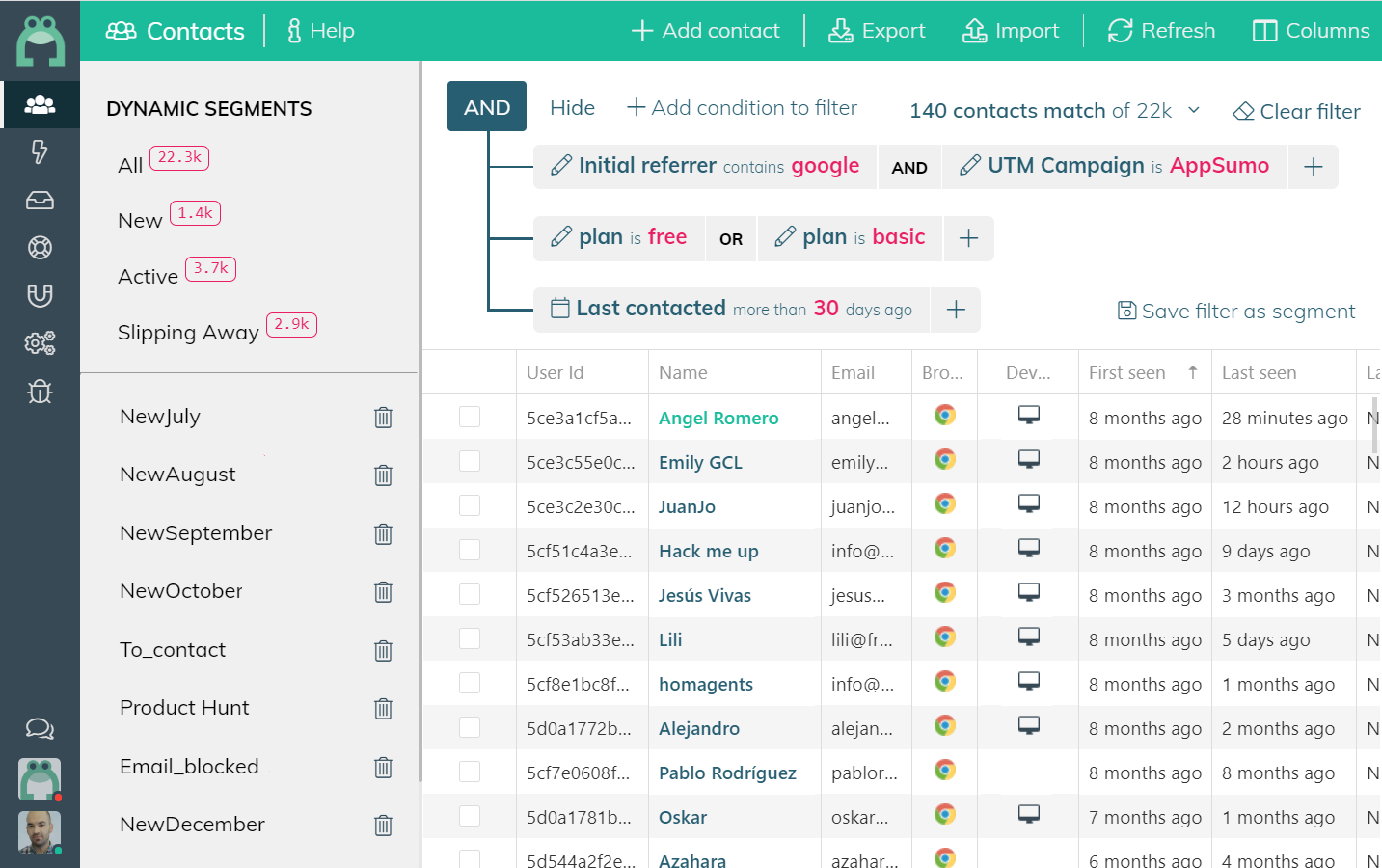 Strategically segment your audience based on specific online behaviors.
There's nothing worse than going to a website to buy something and not being able to find answers to your questions.
With Froged, you can provide support to your leads and customers right where they are, when they need it most.
The support widget makes it easy for customer service reps to see who the customer is and what actions they've taken.
That way, they can provide better service based on each user's unique journey (namaste).
Support agents can chat with customers live, give timeline updates, and attach articles from the company's knowledge base to provide a better user experience.
When support agents aren't available, Froged makes it easy for you to collect a user's email address to follow up later.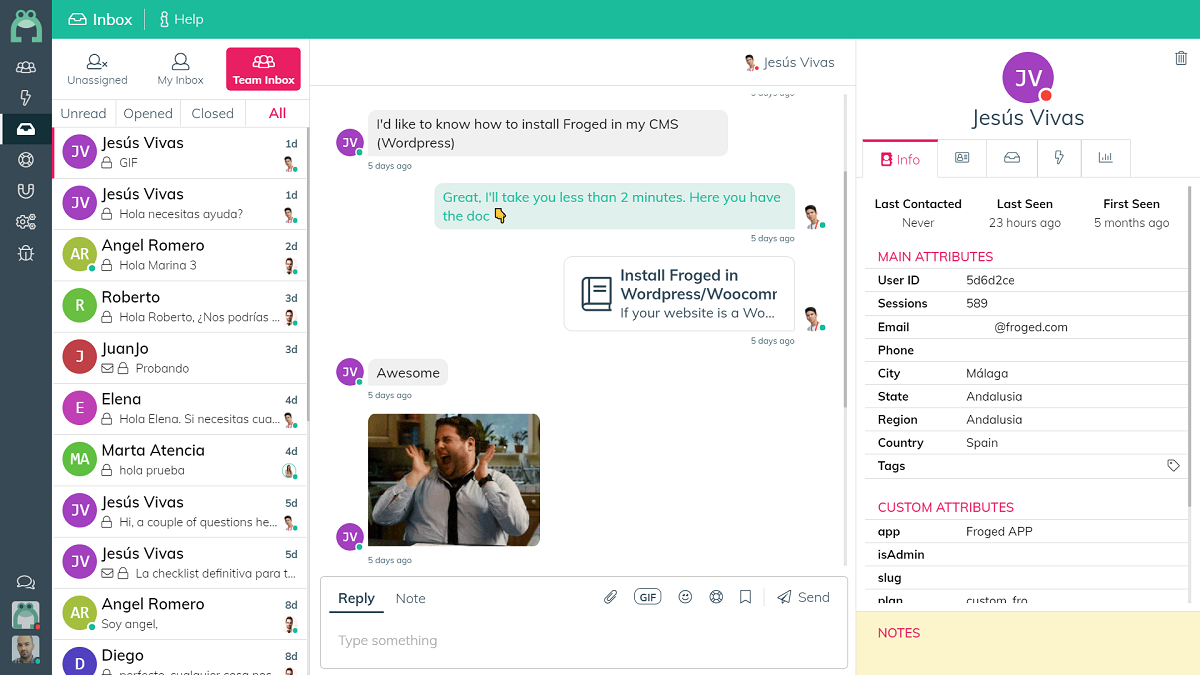 Chat with visitors live and provide individualized support based on unique customer actions.
Plus, thanks to auto messages, you can send tailored communications to leads and customers.
Auto messages let you deliver customized in-app or website notifications to your segmented audiences.
Choose the notification format that most appeals to your segmented audience, and send a message that will encourage users to engage or convert.
You can send messages tailored to different landing pages or trigger unique messages based on actions that the user takes.
The best part is that customers and leads can interact with the notifications simply by starting a chat conversation or queuing up an email.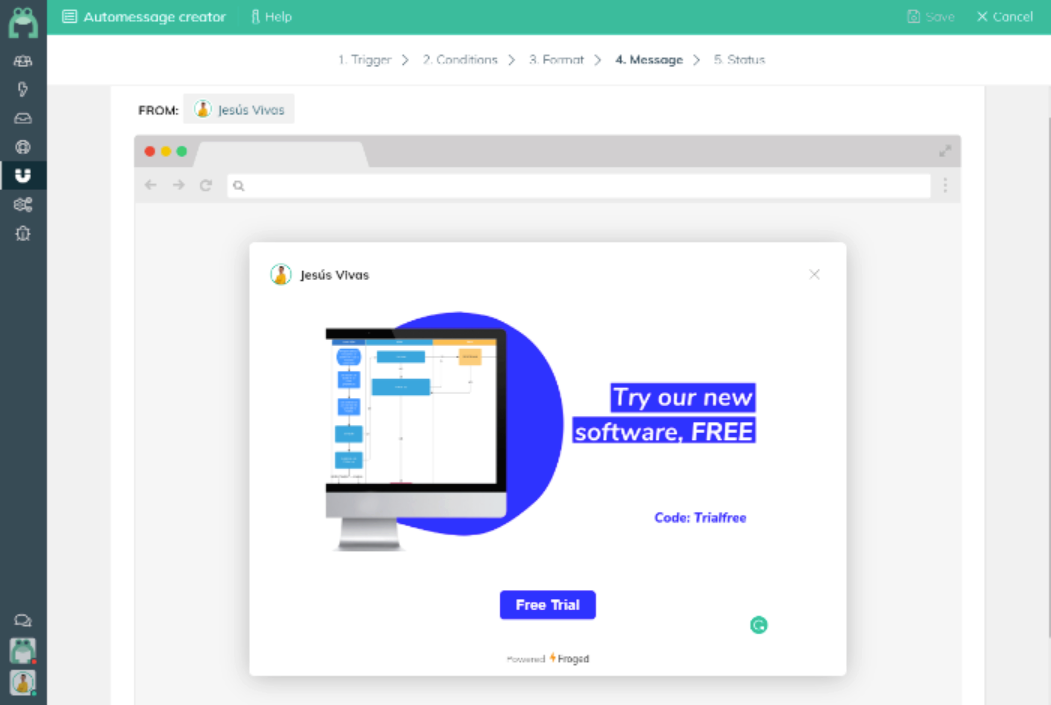 Create automated in-app notifications to maintain customer interest and interactivity.
Email is a great way to communicate with your leads, but today's consumers crave personalized email content.
Froged livens up stale email campaigns through quick and easy email designs and personalizations – like adding your recipient's first name. (No more "Hello Sir or Madam...")
Use the segments you've created in Froged to make sure each contact receives the best email content for them, thus maximizing click-through rates.
You'll be able to improve email campaign performance while tracking opens, clicks, and unsubscribes.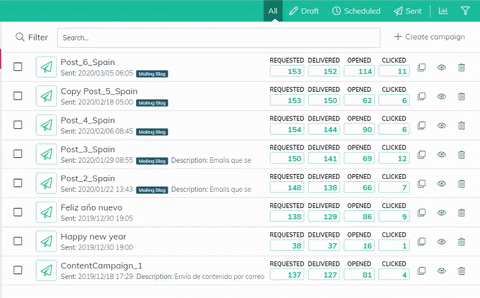 Develop personalized email campaigns to send the best content to each customer segment.
Froged joins buyers on every step of their journey by sending automatic messages based on consumer behavior.
Specific customer actions, such as completing a trial or visiting the pricing page, will trigger targeted email messages instantly.
You'll receive insights on the success of these event-based email campaigns and get the scoop on data like open, clickthrough, and unsubscribe rates.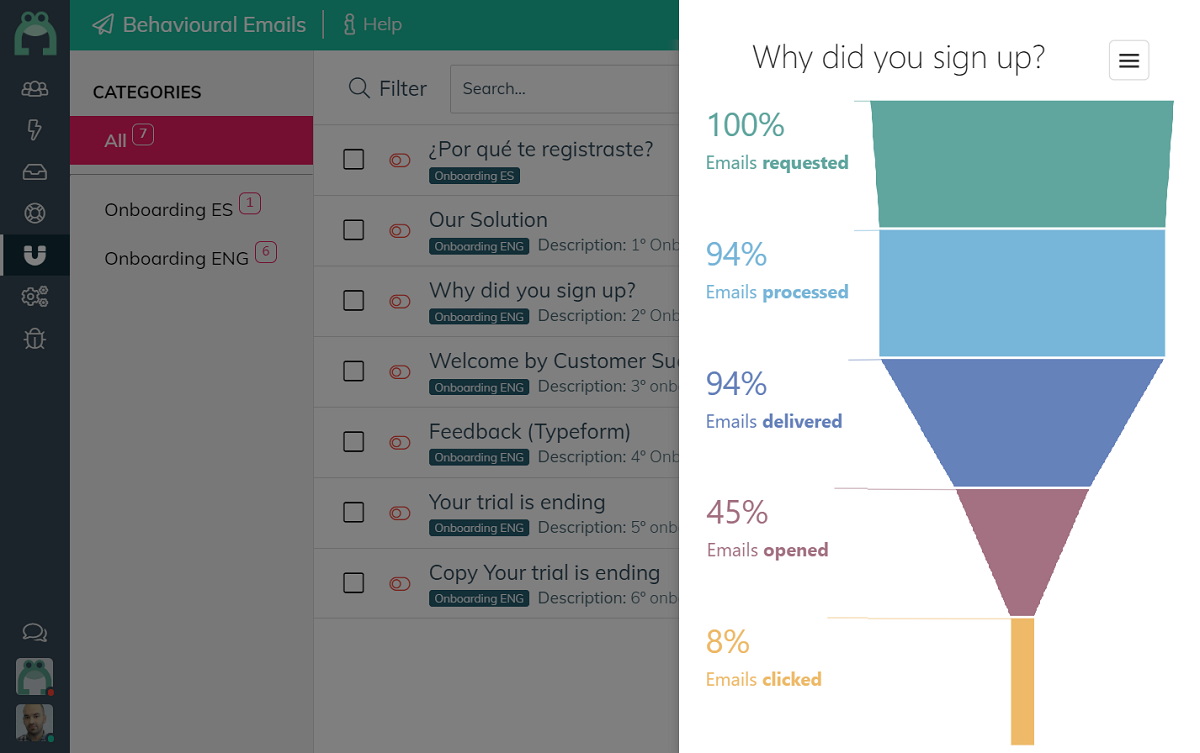 Send event-based emails triggered by specific customer actions.
Sending generic communications to your customers is like giving an Amazon gift card as a present — it does the job, but barely.
With Froged, you'll be able to serve the unique needs of your customers with customized email campaigns, a beautiful integrated knowledge base, live chats, and notification messages.
So what are you waiting for? Hop to it!
Get access to Froged today!
P.S.
Learn how to use Froged like a pro by catching our training webinar replay here:
Webinar Replay
!
Related Blog Posts:
Plans & features
Deal terms & conditions
1 Year of access to Froged Annual Basic Plan

Option to renew annually at your AppSumo price

You must redeem your code within 60 days

1 Year of plan updates

Please note: This deal is not stackable

GDPR compliant (partner verified)

Optional upgrade: 30% OFF for AppSumo customers who upgrade to higher paid plan(s)
60 day money-back guarantee. Try it out for 2 months to make sure it's right for you!
Froged
Improve customer communications and support by tracking their unique behavior
60 day money-back guarantee. Try it out for 2 months to make sure it's right for you!
3 Agents

Email campaigns

Up to 1,000 contacts
4,000 emails/month

Free customizable Live Chat

Notifications in app

Slack integration
Sign Up
All our deals are time-sensitive! Make sure you don't miss any of our awesome limited-time offers.