InfluencerSoft provides all the funnel building tools influencers and entrepreneurs need to effectively market their products and services.
InfluencerSoft makes funnel-building quick and easy, taking the frustration, irritation and guesswork out of marketing. (And you can finally get rid of that tacky promotional stress ball, too.)
Design custom funnels in minutes using a drag-and-drop builder that makes it easy to see traffic sources, types of pages, and email sequences at a glance.
Want to launch quickly? Just use one of more than 50 conversion-proven funnel templates to get your product or service out to the world ASAP.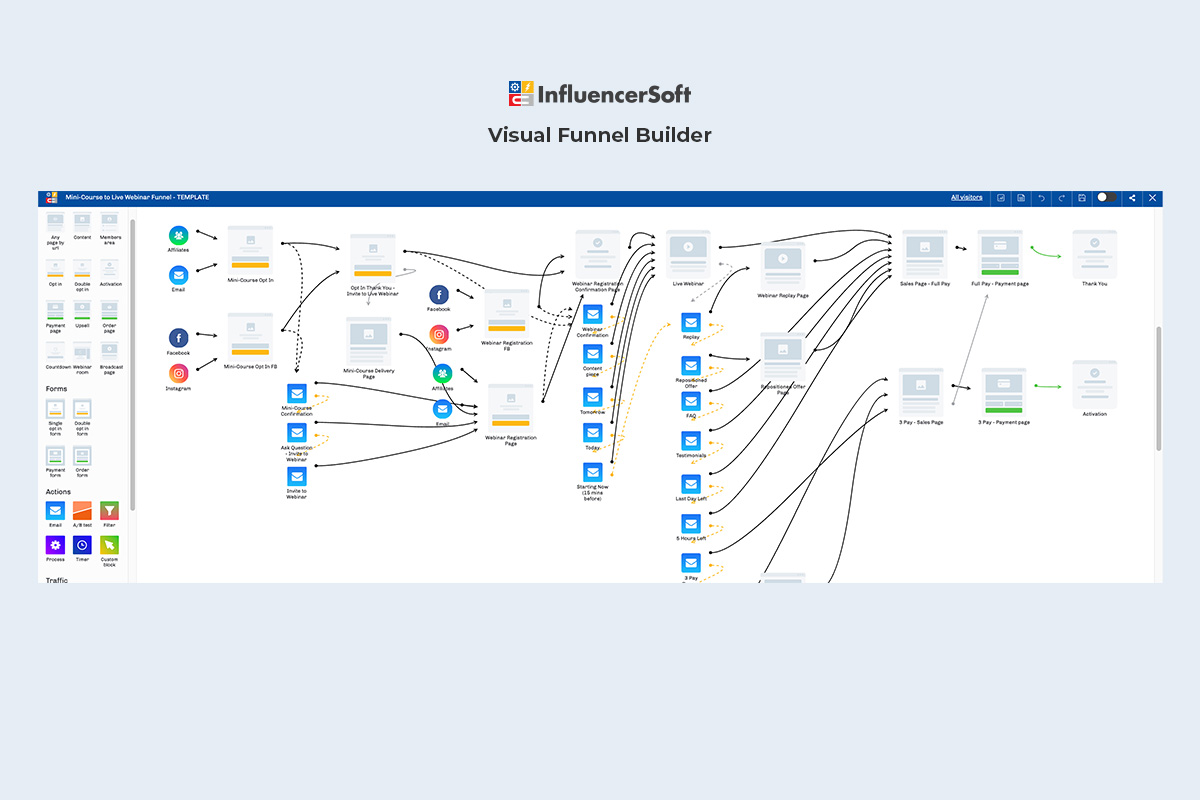 Design custom funnels in minutes or use the proven funnel templates to launch products quickly!
InfluencerSoft isn't just a funnel-builder. It also has a learning management system (LMS), which allows you to create courses for your students with your own branding and design.
Offer free courses or paid online training with as many lesson modules as you want—all with sequential content delivery.
You can even drag and drop your way to a professional looking website or sales page and skip the technical stuff altogether. ("Which is great, because the dev team doesn't let me touch anything anymore.")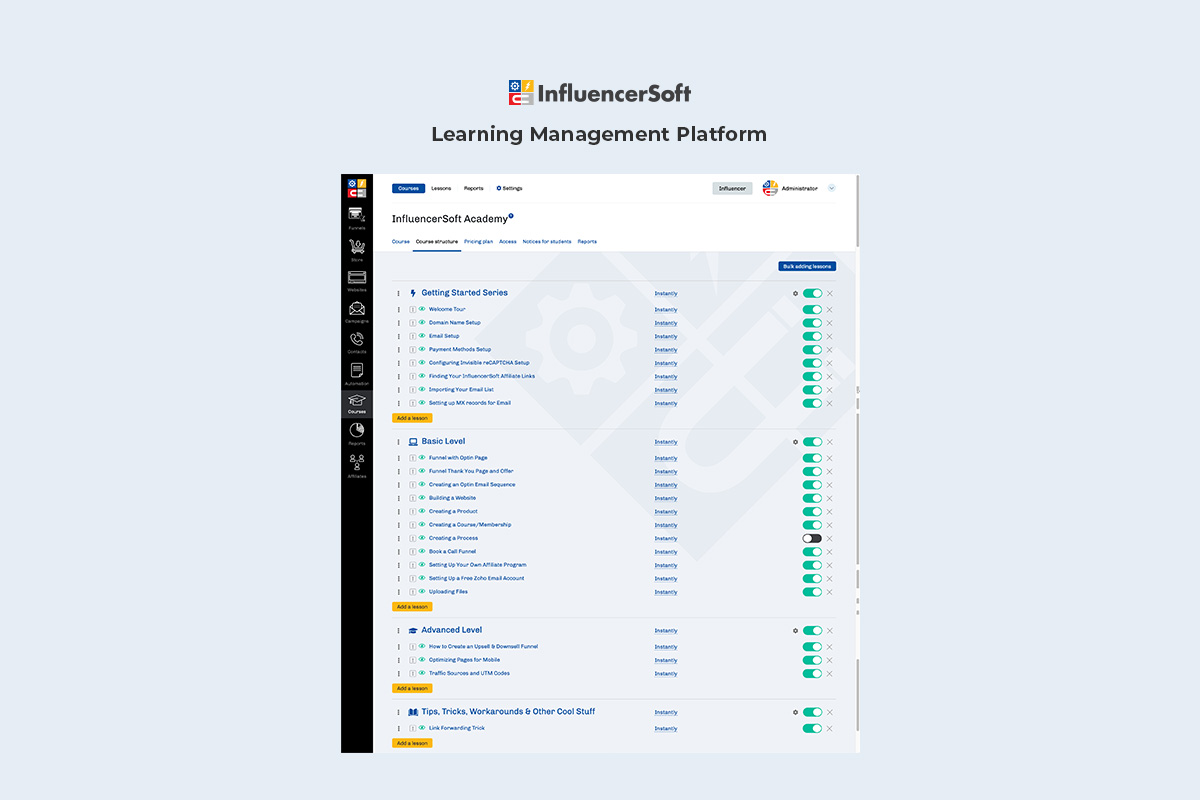 Use the learning management platform to transform the world with your online courses.
You know what they say: automation makes the world go 'round. ("They" being busy entrepreneurs and robots looking for work.)
Use the process mapping tool to plan out the sequence of actions you want to automate in your marketing funnel.
Then, set up nurture touch points and trigger email sequences to make sure your marketing is still working even when you're not.
You'll also be able to track the performance of your marketing automations with robust analytics and data, letting you make tweaks for even better success.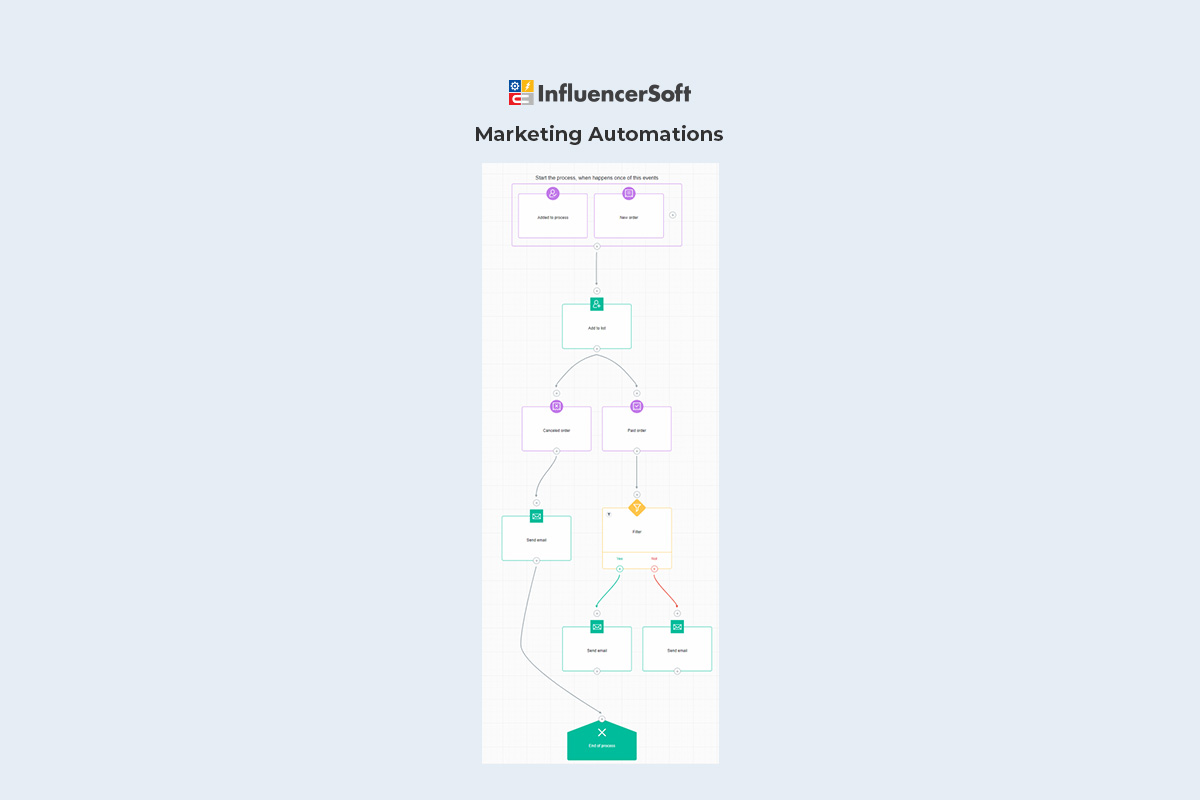 Quickly set up all your marketing processes from lead generation to payment and beyond!
An affiliate program is an easy way to bring in new customers, but the pains of building and managing one can make you want nothing to do with it. ("I wish to be… unaffiliated.")
Use InfluencerSoft's affiliate management dashboard to get new affiliates into your system and set them up with swipe copy and graphics for promotion.
Customize your affiliate program settings by setting rules, choosing the payment method, and inputting your commission percentage.
You can also track affiliate clicks, referrals, sales, commissions, and payout history from one dashboard.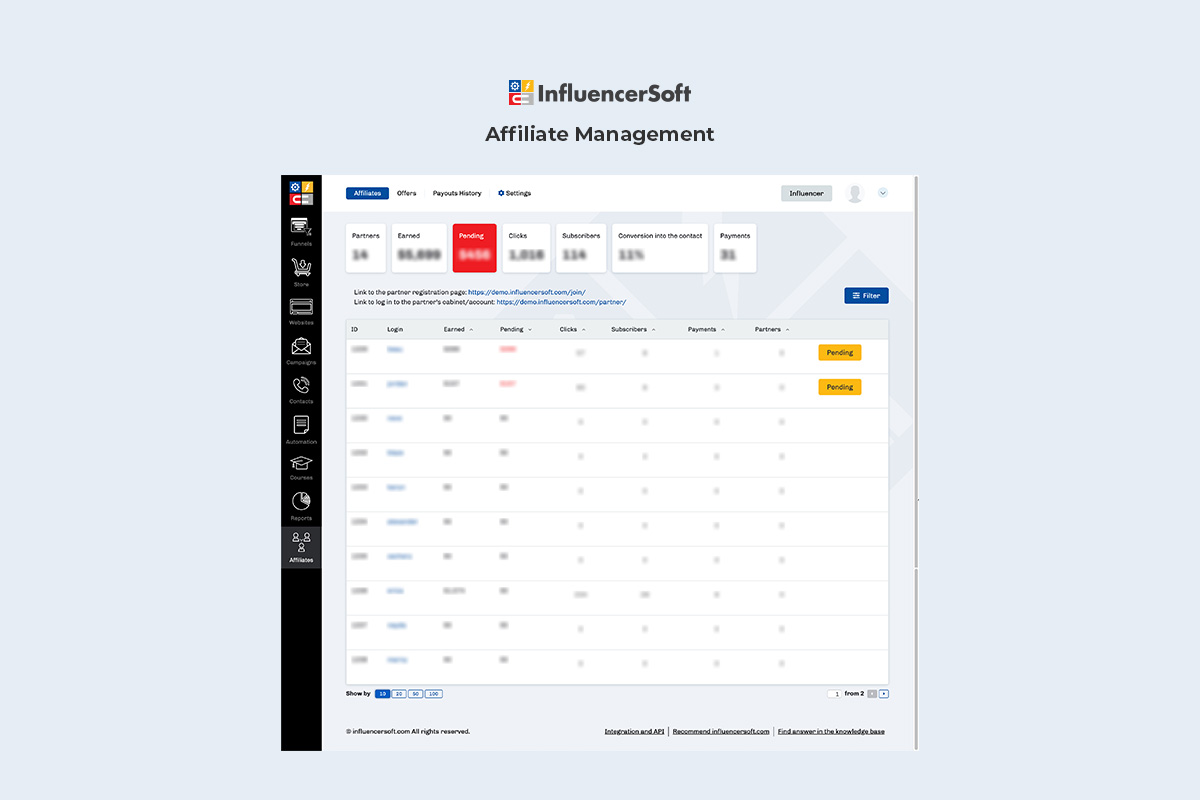 Manage all your affiliate information, including bringing on new affiliates and tracking payouts, from a single location!
Fumbling through a bunch of complex marketing tools to try and boost your bottom line can be about as effective as trying to get your cat to sit. ("Or bite my finger. That works, too.")
With InfluencerSoft, you can build conversion-ready funnels, develop profitable course content, implement time-saving automations, and manage affiliates in the same tool.
So stop making funnels hard for yourself.
Get lifetime access to InfluencerSoft today!