Knowlocker
Lifetime deal
Reinvent info sharing in the workplace with Knowlocker
Knowlocker
Reinvent info sharing in the workplace with Knowlocker
This deal is unavailable (a bummer, we know). Don't miss a great deal again — drop your email to get all our latest tools!
60 day money-back guarantee. Try it out for 2 months to make sure it's right for you!
Everyone knows that you should never make the same mistake twice.
Yet, there you are, continuously fudgin' up your company's SOPs. You're better than that, Evan!
But you're not clueless; you're just struggling to access what you and your business already know.
Here to keep all the knowledge you need in one place is Knowlocker.
Have a central location for all of your workplace knowledge
All contributions are searchable, shareable, and usable
Quickly turn docs and posts from integrations into actionable articles
Automatically search the internet for articles using the keywords you set with the "Seek" feature
Overview
Knowlocker is a platform that brings all of its users' knowledge into one centralized location.
Think of Knowlocker like a collaboration tool on steroids or a social feed that has information that actually matters to you, minus the political rants from your opinionated uncle.
Everyone in your organization will be able to showcase (or show off) what they know, making onboarding staff or taking on new projects simple and straightforward.
Knowlocker makes every article, text, and video your team contributes into the tool searchable, shareable and usable.
Now, it's easier than ever to share relevant content with team members.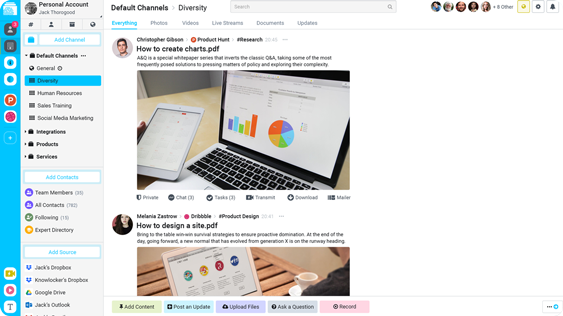 But unlike other tools where you have to add all your information from within the app, you can pull outside resources into Knowlocker.
Adding files to Knowlocker is as easy as syncing apps and clicking your mouse.
You can quickly turn files from Dropbox, Google Drive, Gmail, Slack, Word, Excel, and social media into actionable articles. (Soon, Knowlocker will even be smart enough to suggest which emails and Slack messages you should turn into articles!)
But don't worry about being distracted by noise and memes from social media accounts — they will only appear in a small box in the top right of your screen and you can filter out accounts and keywords you don't find helpful.
There's even an awesome feature called "Seek" that has Knowlocker searching the web every day for information on the keywords you set. When it finds relevant material, you can easily import it to your existing knowledge base.
You'll also have the ability to buy access to valuable expertise within the Knowlocker Marketplace. (And you can sell your knowledge, too!)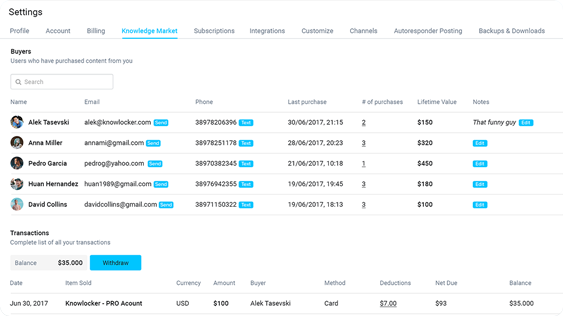 Knowlocker is helping companies plug knowledge gaps with the Knowlocker Pro Plan.
And because they know Sumo-lings will go ga-ga for all dat Knowledge, they're giving you access to:
3 users per code (each user can create and add content)


1TB storage per user (3TB total)


Unlimited users that can receive and view content


Create 'Seek' alerts to build knowledge


Filtered social feed integrations


Smart 'Knowledge Feed' of content


Unlimited 3rd party platform integrations


Sequential sharing of knowledge


Recordable video meetings platform


'Expert' level profile promotion (be seen as an 'expert' in search results, etc.)


Sell knowledge in Marketplace


No ads


Copy and paste URLs
Normally, you'd be paying $150 a year to have 3 users on the Pro Plan.
But while we are lucky enough to have this deal in our store, you can get lifetime access for just $49!
Aggregate all of your knowledge now!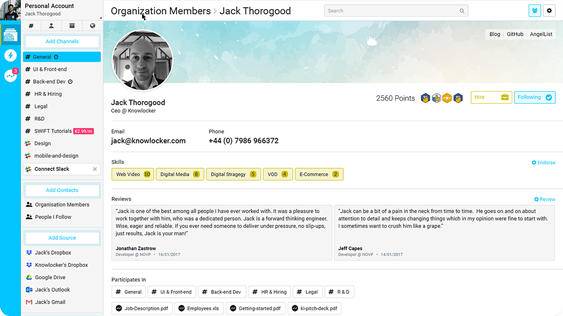 Yes, there are other tools you can use, but let's take a look at some reasons why you should be using Knowlocker:
Knowlocker makes sure that you can share knowledge inside and outside of your organization. So while your first instinct will be to use Knowlocker for internal processes, you can also use it to share information with customers!


This unique knowledge management space will help you increase sales and reduce churn by allowing customers to understand what is they're buying, and how to use it.


Knowlocker wants to make your job/life easier, which is why they are a platform that will continue to add even more integrations, making this deal even sweeter with age!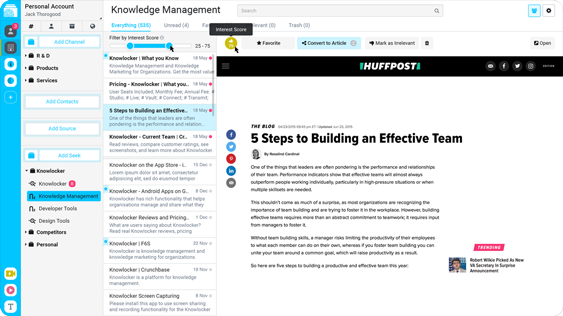 If you run a company, you know that your information is all over the place. We spent 3 months searching for our Twitter password!
But with Knowlocker, you can finally bring all that sweet, sweet knowledge under one roof so that everyone can be more productive.
Grab lifetime access to Knowlocker for just $49!
Knowlocker
Reinvent info sharing in the workplace with Knowlocker
This deal is unavailable (a bummer, we know). Don't miss a great deal again — drop your email to get all our latest tools!
60 day money-back guarantee. Try it out for 2 months to make sure it's right for you!
Sign Up
All our deals are time-sensitive! Make sure you don't miss any of our awesome limited-time offers.