Onlive
Lifetime Deal
Create engaging online events from start to finish and track event metrics from one platform
Onlive
Create engaging online events from start to finish and track event metrics from one platform
This deal is unavailable (a bummer, we know). Don't miss a great deal again — drop your email to get all our latest tools!
60 day money-back guarantee. Try it out for 2 months to make sure it's right for you!
Managing online events is hard. (In other news: water is wet, grass is green, and X gon' give it to ya.)

Not only does putting on a live event require you to use (and pay for!) lots of different platforms, but it's also tough to pull data from all these channels to understand how the event went.
It's time for an all-in-one platform that lets you manage and run your events from start to finish, plus learn more about your attendees.
Meet Onlive.
Create and manage your own virtual event platform to drive attendee engagement alongside a branded registration website
Get detailed reporting options to help you understand more about customer profiles, personas, and event success parameters
Best for: Agencies, freelancers, and software founders who want to create engaging online event experiences
Overview
Onlive is an online end-to-end encrypted event management platform that enables you to launch interactive events that reach a global audience.
Event organizers spend a lot of time on the backend of their event platform to ensure that the frontend is impactful for attendees.
With Onlive, you get every tool you need to create a successful, engaging online event, from a registration website and virtual event platform to a streaming studio and attendance checker.
Setup wizards will help guide you from the start, so you can create your registration site or virtual event platform in just a few clicks!
You'll save time customizing, managing, and even duplicating events without sacrificing functionality or attendee experience.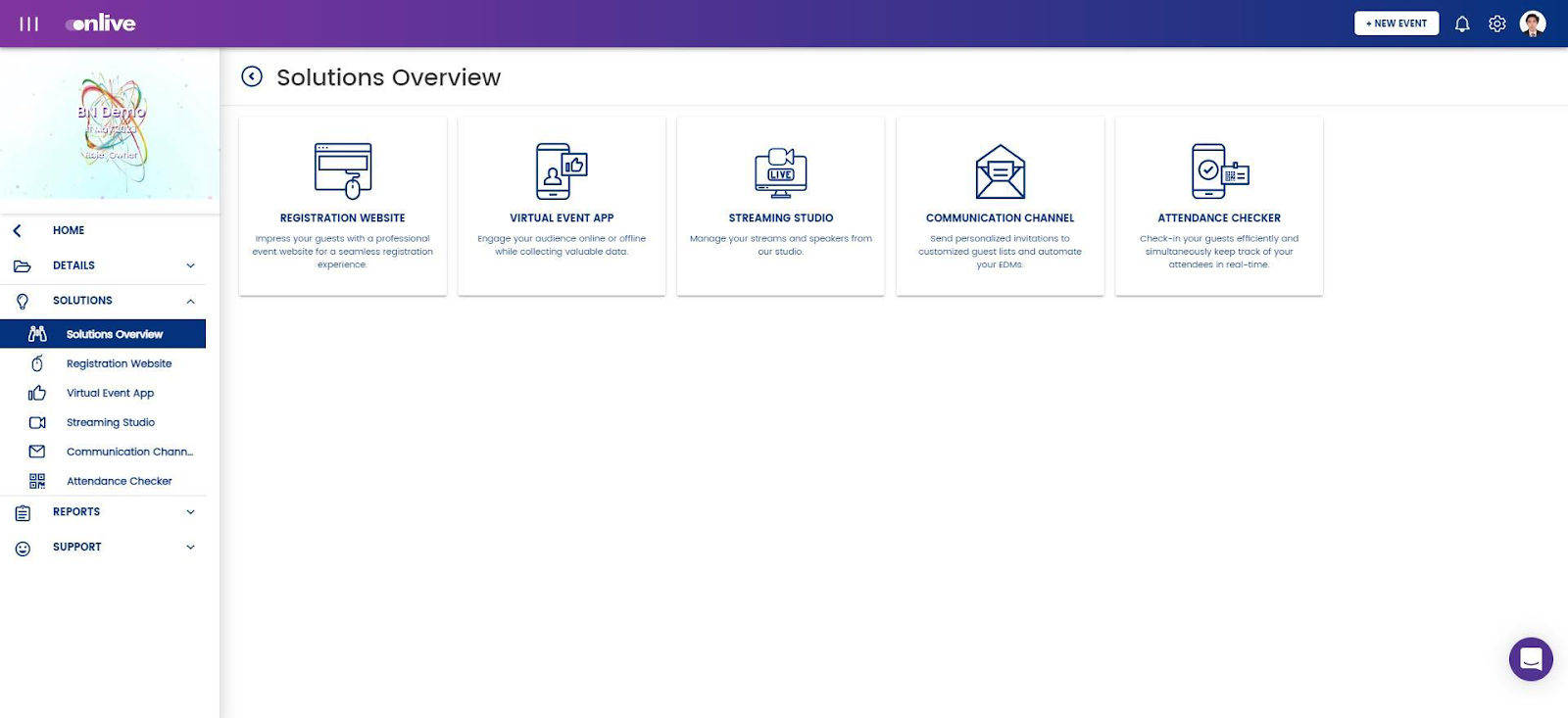 Onlive offers everything you need to create and manage an engaging online event from start to finish.
Make your attendees' first impression of your event a great one by building a customized, branded registration platform where they can get information and register in a few clicks.
Onlive's modular design gives you access to templates that stand apart from the crowd of event registration sites.
And you can use advanced features for form building, such as segments and conditions, to collect all the guest info you need in a way that makes sense for you.
You can even integrate your site with tools you use everyday, like Google Analytics, Facebook Pixel, Google Tag Manager, and Zapier.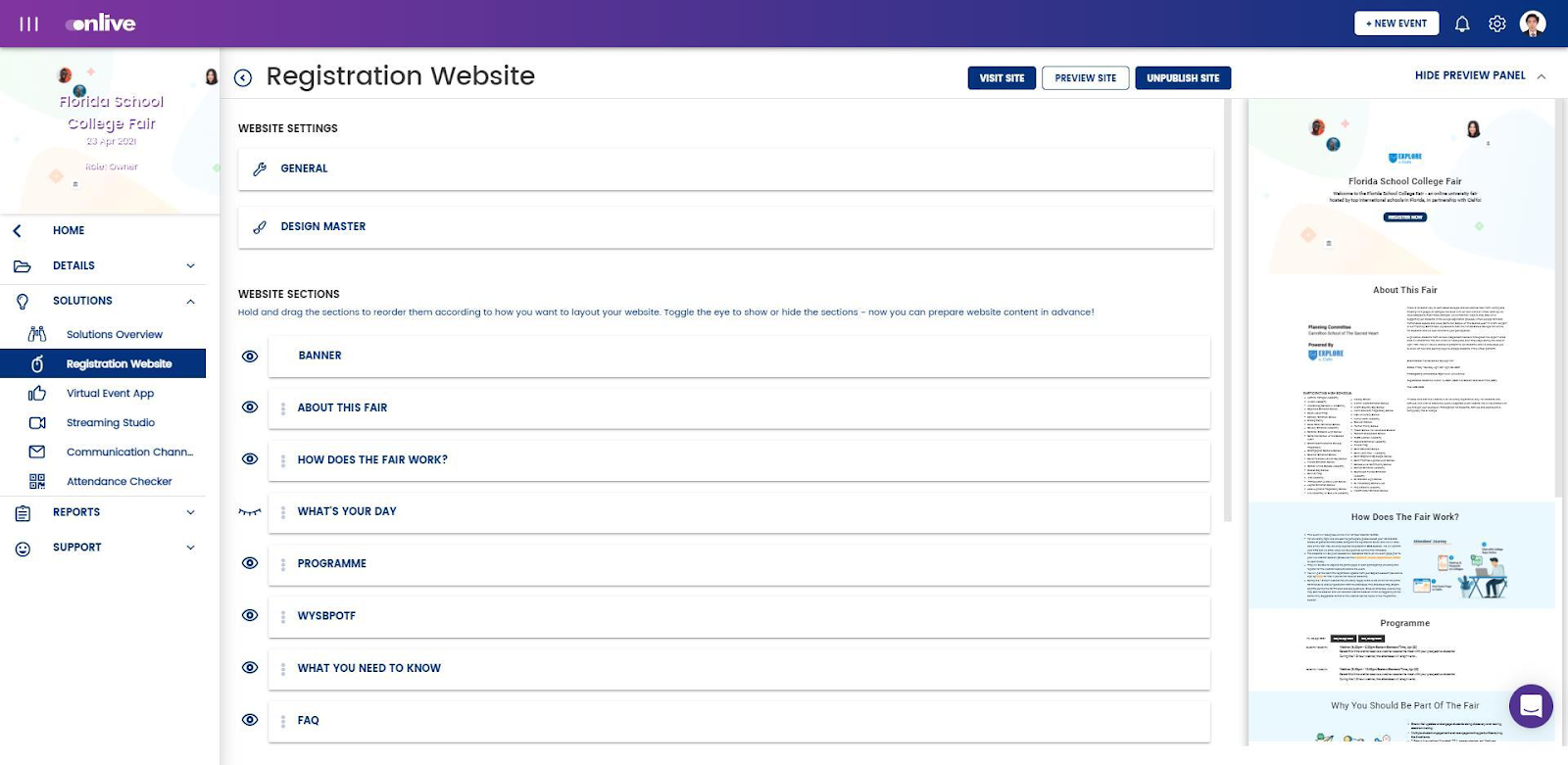 Create a branded registration website in no time with Onlive's modular website builder!
Host interactive sessions with up to 19 speakers using Onlive's live streaming studio and stream high quality streams directly to the virtual platform without having to embed links.
You'll have full control over the speaker layout and can allow attendees to participate in the stream using the raise hand feature.
Get ready to create an engaging experience for attendees with Q&As, polls, and surveys, all in the Onlive studio.
Guests will view the live streams from a desktop platform where they can engage with other attendees and exhibitors through posts, video calls, and messages.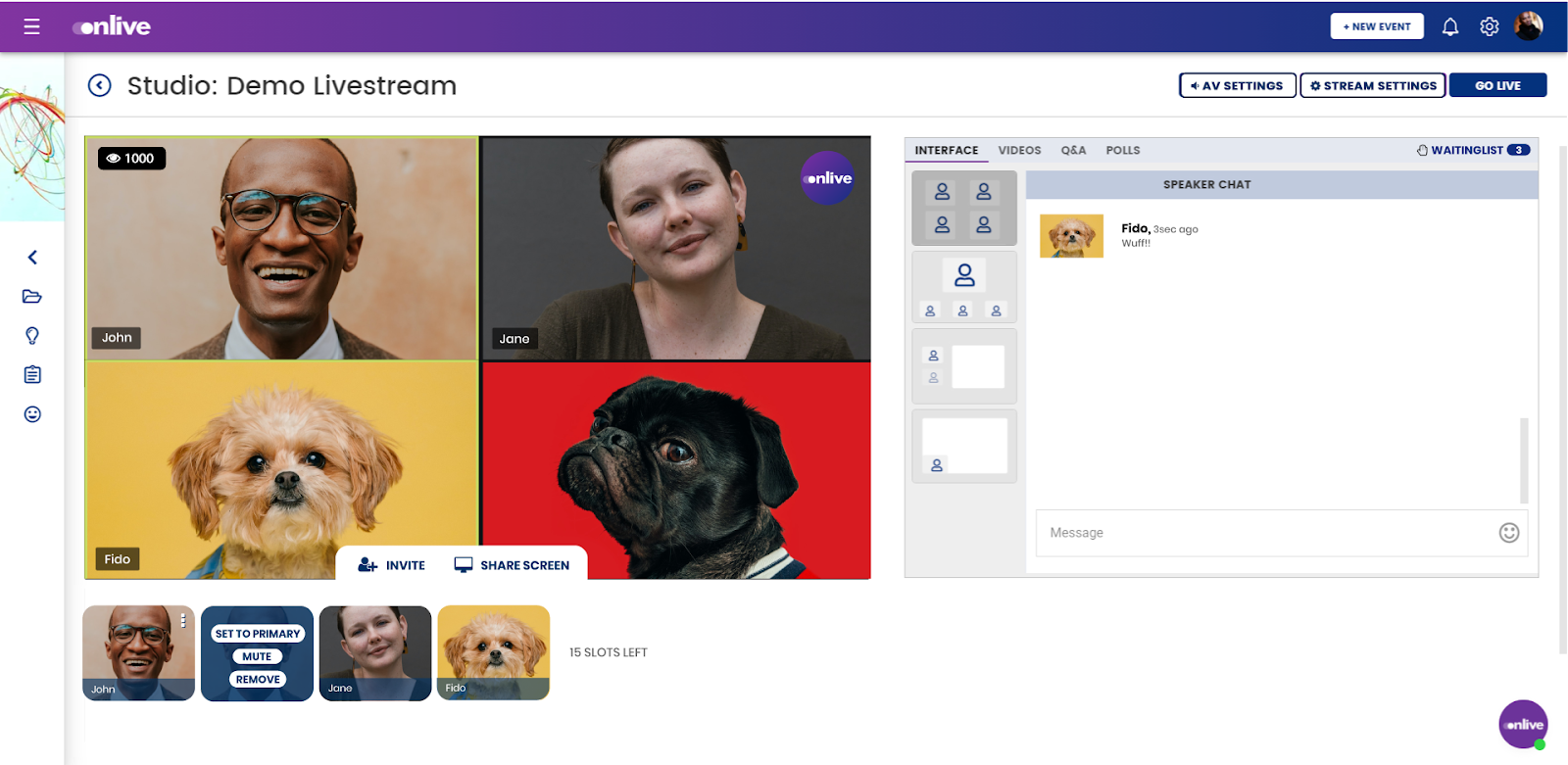 Manage engaging live streams with ease using Onlive's robust streaming studio.
Reporting is a must for evaluating the success of your event and monitoring the touchpoints guests have with content, sponsors, and exhibitors.
That's why Onlive lets you capture essential data from registrations, revenue, stream turnout, referral sources, and registrations by country.
With advanced reporting, you can deepdive into event metrics, including heatmap usage data and engagements like Q&As and polls.
Create custom filtered reports, so you can evaluate more complex data like event-to-event benchmarking to understand how different events compare.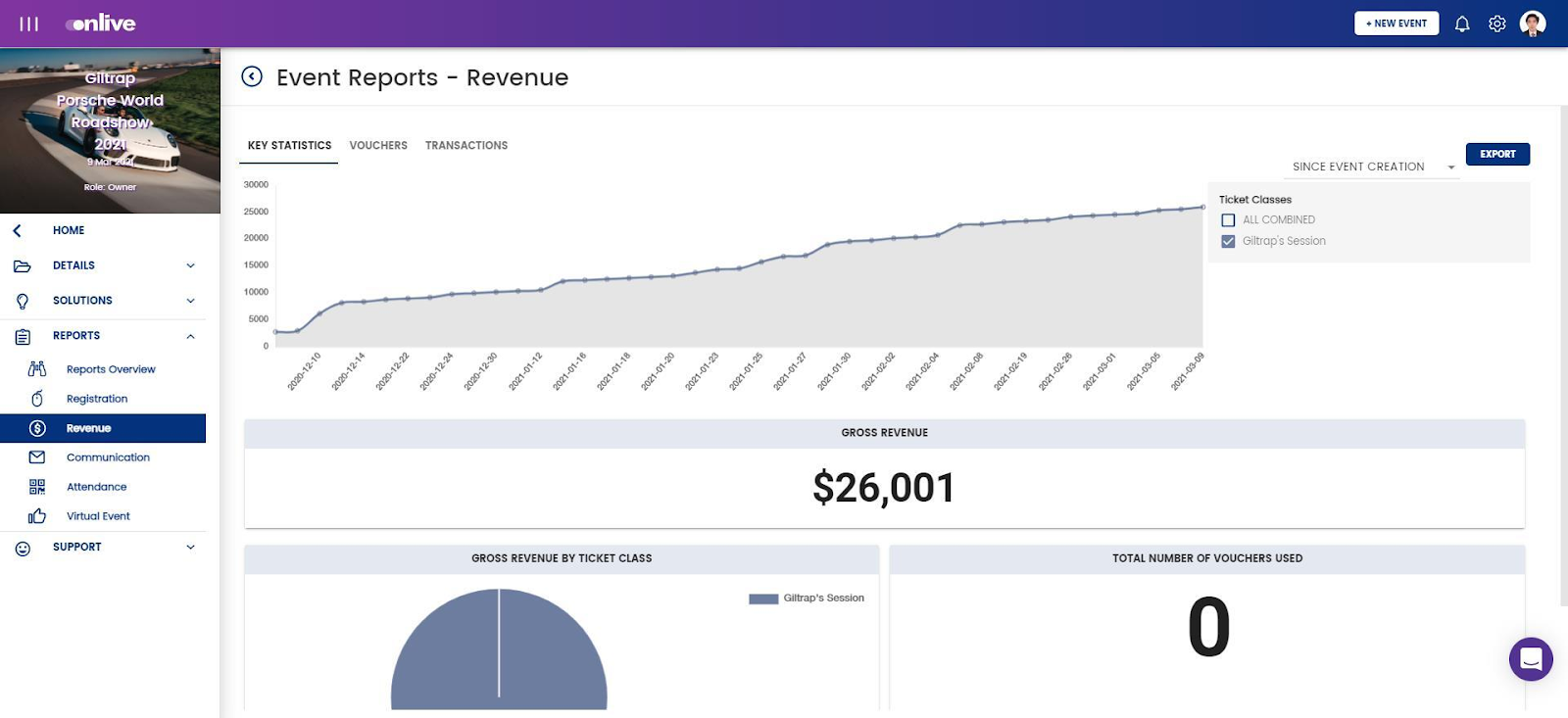 Online lets you capture the event insights that matter so you can make sense of your event wins and areas of opportunity.
Using multiple platforms to manage your online events is definitely one of the most chaotic forms of juggling. ("Whoops, I almost dropped the ball on Zoom.")
Now you don't need separate platforms for building a registration website and event platform, streaming, communication, and analytics, because Onlive does it all!
Manage the different moving parts of your event and collect data to make the next one even better!
Get lifetime access to Onlive today!
Onlive
Create engaging online events from start to finish and track event metrics from one platform
This deal is unavailable (a bummer, we know). Don't miss a great deal again — drop your email to get all our latest tools!
60 day money-back guarantee. Try it out for 2 months to make sure it's right for you!
Plans & features
Deal terms & conditions
Lifetime access to Onlive Standard Plan

You must redeem your code(s) within 60 days of purchase

All future Standard Plan updates

Stack up to 3 codes

GDPR compliant

Important note: No roll-over on unused credits

Deal add-on: Additional seats for $89/month each

Note: Additional free registrations cost $1 per attendee

Note: 5% ticketing fee

Note: Only one admin account per IP address.

Only for new Onlive users who do not have existing accounts
60 day money-back guarantee. Try it out for 2 months to make sure it's right for you!
Features included in all plans
Unlimited events and paid registrations

Single and group registrations

Vanity URL

Web studio

RTMP support

Download recordings

1:1 video networking

Invitation and reminder emails (max 10,000 per day)

Surveys, Q&As, polls, word clouds, and gamification

Integrations with Xero invoicing, Stripe, Paypal, Zapier, Google Analytics, and Google Tag Manager

High quality streaming (max 1080p)

Breakout rooms for up to 19 attendees (8 on screen)
Single

All features above included

800 free registrations per month
1 team seat(s)
12-hour event length
RTMP OUT: 1 destination

Double

All features above included

1,600 free registrations per month
3 team seat(s)
24-hour event length
RTMP OUT: 1 destination
Custom domain
Personal email address (SMTP)

Multiple

All features above included

2,500 free registrations per month
5 team seat(s)
48-hour event length
RTMP OUT: 2 destinations
Custom domain
Personal email address (SMTP)
Salesforce integration
Unlimited viewers when simulcasting to Facebook, Vimeo, Youtube, Periscope, and custom RTMP
Advanced reporting & event benchmarking
iOS QR check-in app for hybrid events
Sign Up
All our deals are time-sensitive! Make sure you don't miss any of our awesome limited-time offers.