Pixlr
Lifetime Deal
One-click editing for professional quality images without the learning curve
Pixlr
One-click editing for professional quality images without the learning curve
This deal is unavailable (a bummer, we know). Don't miss a great deal again — drop your email to get all our latest tools!
60 day money-back guarantee. Try it out for 2 months to make sure it's right for you!
You want to create professional-quality designs, but your skills haven't evolved beyond MS Paint and WordArt. (Wavy rainbow 3D text? We've all been there.)
Photoshop is one option, but do you really have the patience to sift through brush effects, vertices, and vector paths?
The truth is, you don't have to be a graphic designer to edit photos like a pro.
Presenting Pixlr.
Remove image backgrounds in one click with the AI Cutout tool and enhance photos with filters, overlays, icons, and more
Alternative to: Photoshop and Lightroom
Edit images smarter and faster right in the browser — no installation or pesky ads
Best for: Marketers and content teams that want pro designs for their businesses without needing pro design skills
Overview
Pixlr is an intuitive online photo editor that uses AI-powered tools for quick and easy professional designs and edits.
With Pixlr, editing photos has never been easier, faster, or smarter.
Ever try in vain to remove unwanted objects or people from a photo (there's always that one tourist in a speedo), or blur out an ugly background with exact pixel precision?
For those of us that weren't blessed with perfect vision and steady surgeon hands, there's the AI Cutout button, which lets you remove backgrounds with just one click.
Pixlr lets you creatively remove backgrounds with a Shape mask, Magic mask, Draw mask, Lasso mask, and Gradient mask.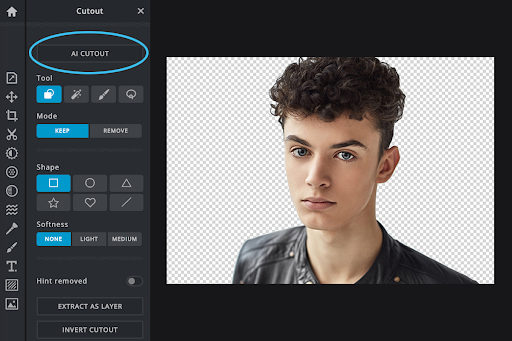 Automate your image cutouts to remove unwanted objects, people, and backgrounds in just a click.
You don't need to be a Photoshop pro to have Photoshop-style photos.
Give your images a makeover with a simple drag-and-drop of Pixlr's dazzling selection of overlays.
Add accents or textures, like light streaks, dust flecks, and glitter to your photos, whether you're at a music festival or pretending you are (#QuarantineLife).
Plus, you can use layers to create captivating photo edits, image composites, and more!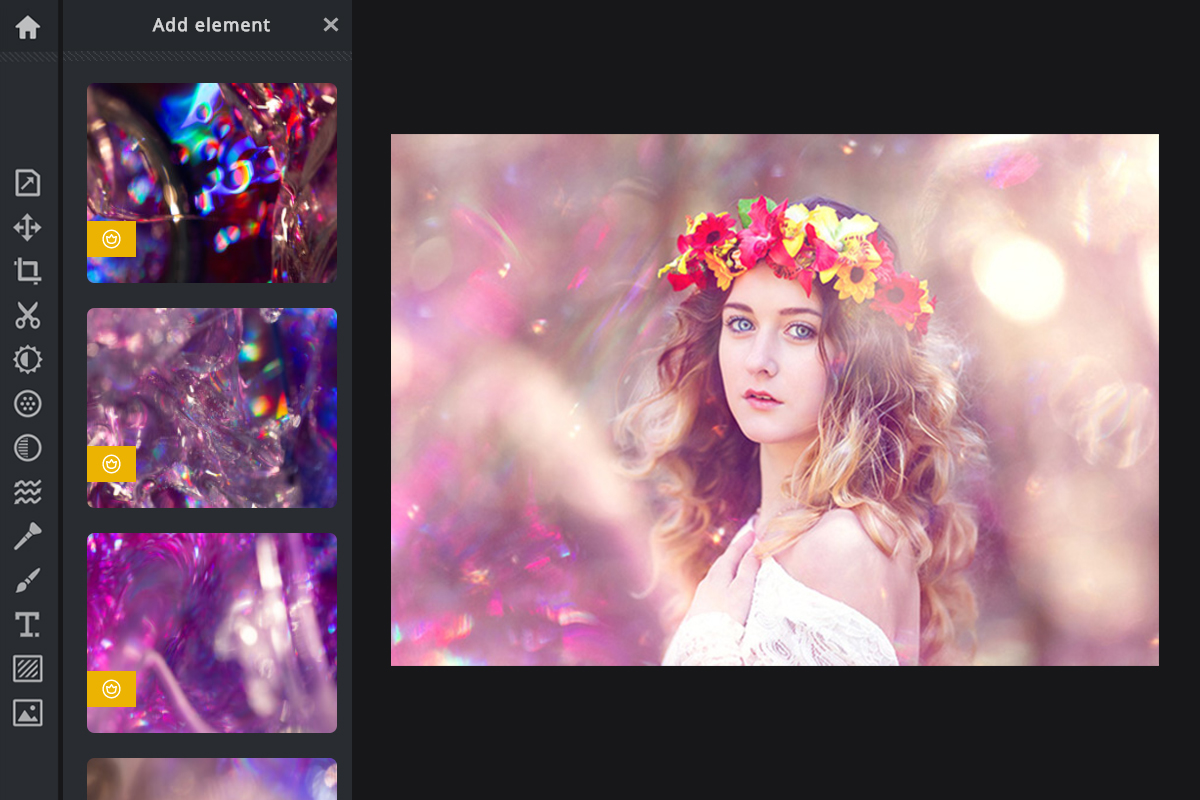 Transform your photo into a masterpiece with premium overlays for any vibe.
A picture is worth a thousand words, but a picture with words is worth that, and then some.
Whether you're adding inspirational quotes to a photo (Live, Laugh, Love) or designing an eye-catching event flyer, Pixlr's collection of decorative text gets your message across — literally.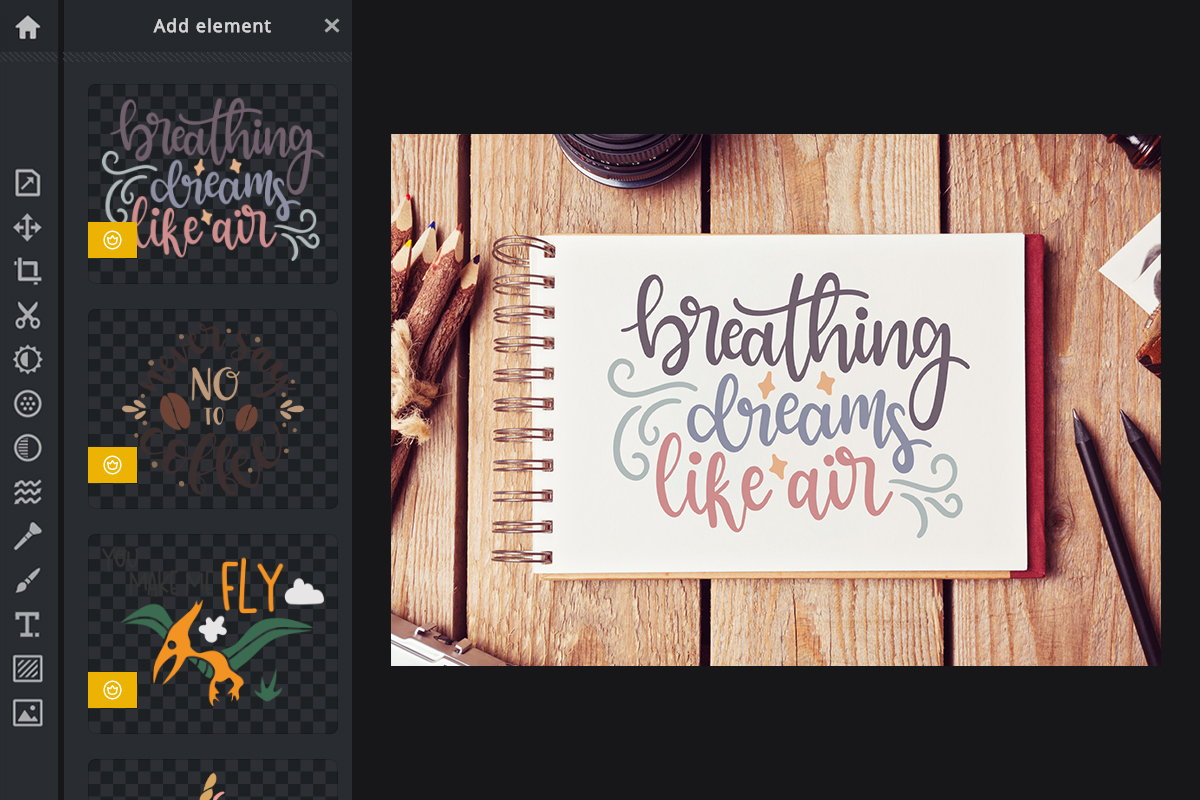 Beautify your photos with a collection of 5,000 decorative texts for ads, flyers, and more!
Like scrunchies and high-waisted jeans, there's one design trend that's back and brighter than ever: gradients! And Pixlr's gradient tool is here for it.
Gradients add depth and a pop of color to your designs, logos, and photos, and Pixlr makes adding them easy.
Upload your photo, choose the color (or colors), and edit hue, saturation, and brightness directly in the editor.
Add a touch of color or a gradual blend to your photos with the gradient tool.
Speaking of trends, here's another one we're happy to see return: stickers.
If you took part in the sticker book craze of the 90's (where are all my Lisa Frank fans at?), then you'll love Pixlr's collection of 7,000+ stickers, borders, icons, and shapes.
From pop art frames and snappy slogans to cute and quirky, there's something for every vibe and aesthetic.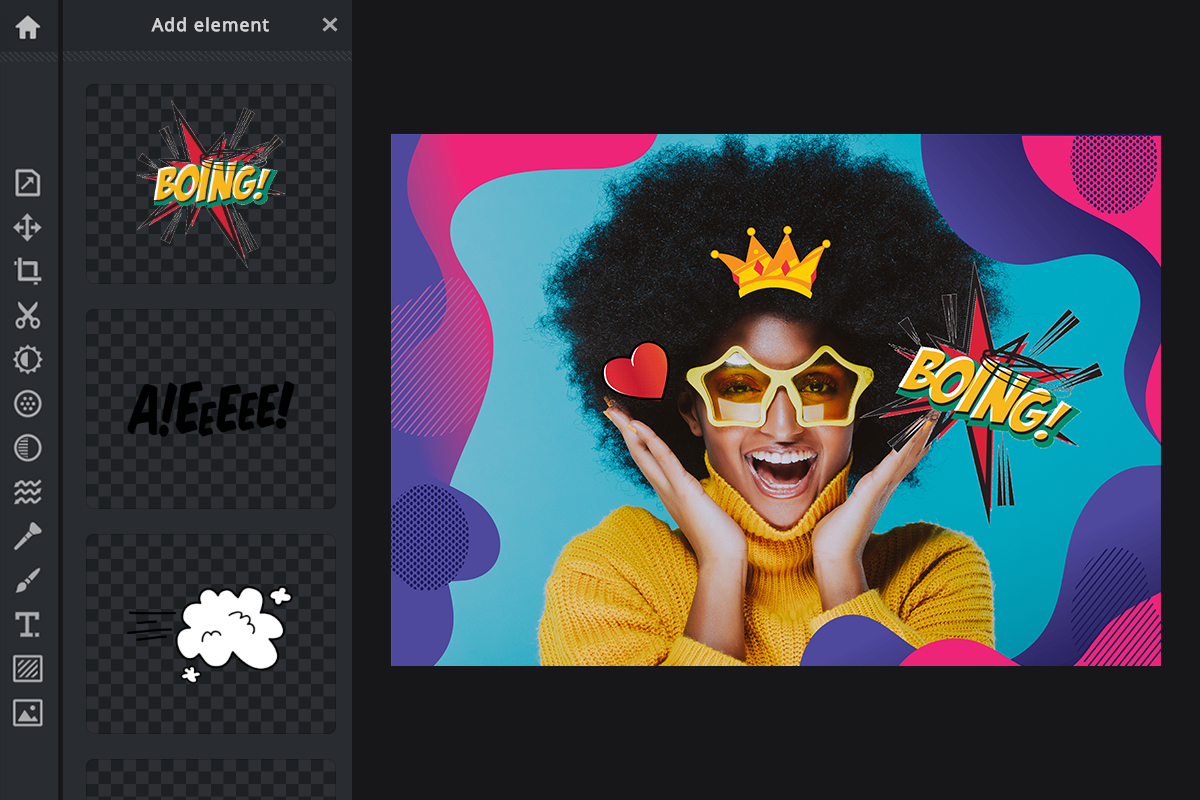 Spice up your visuals with thousands of unique stickers and icons!
In today's digital age, image is everything. (#YesFilter)
But those MS Paintbrush strokes and clip art aren't doing your rich content any justice.
Pixlr makes it a breeze to create eye-catching visuals that turn heads and convert clients — without the time, hassle, and price tag of Photoshop.
Get lifetime access today!
P.S.
Learn how to use Pixlr like a pro by catching our training webinar replay here:
Webinar Replay
!
Pixlr
One-click editing for professional quality images without the learning curve
This deal is unavailable (a bummer, we know). Don't miss a great deal again — drop your email to get all our latest tools!
60 day money-back guarantee. Try it out for 2 months to make sure it's right for you!
EpicPxls
Lifetime Deal
Create beautiful websites and landing pages with customizable templates
Plans & features
Deal terms & conditions
Lifetime access to Pixlr Premium Plan

You must redeem your code(s) within 60 days of purchase

All future Premium Plan updates

Please note: This deal is not stackable

GDPR compliant (partner verified)
60 day money-back guarantee. Try it out for 2 months to make sure it's right for you!
Pixlr Premium Plan

Full access to Pixlr X and E

Extensive editing tools

AI CutOut (and future AI tools)

3,000 extra overlays

7,000 extra icons/stickers

5,000 decorative texts

Exclusive video tutorials

Ad free
Sign Up
All our deals are time-sensitive! Make sure you don't miss any of our awesome limited-time offers.