Scribbbe is a tool that adapts its A.I. to your voice to quickly and accurately generate transcriptions.
With Scribbbe's easy-to-use interface, you can transcribe your audio and video content in just three steps.
No more wasting time manually transcribing your videos and podcasts! (Now you can watch every episode of Law and Order: SVU instead.)
To get started, mass-import your files, configure them according to your needs, and quickly download the resulting transcriptions. Then, you're ready to repurpose!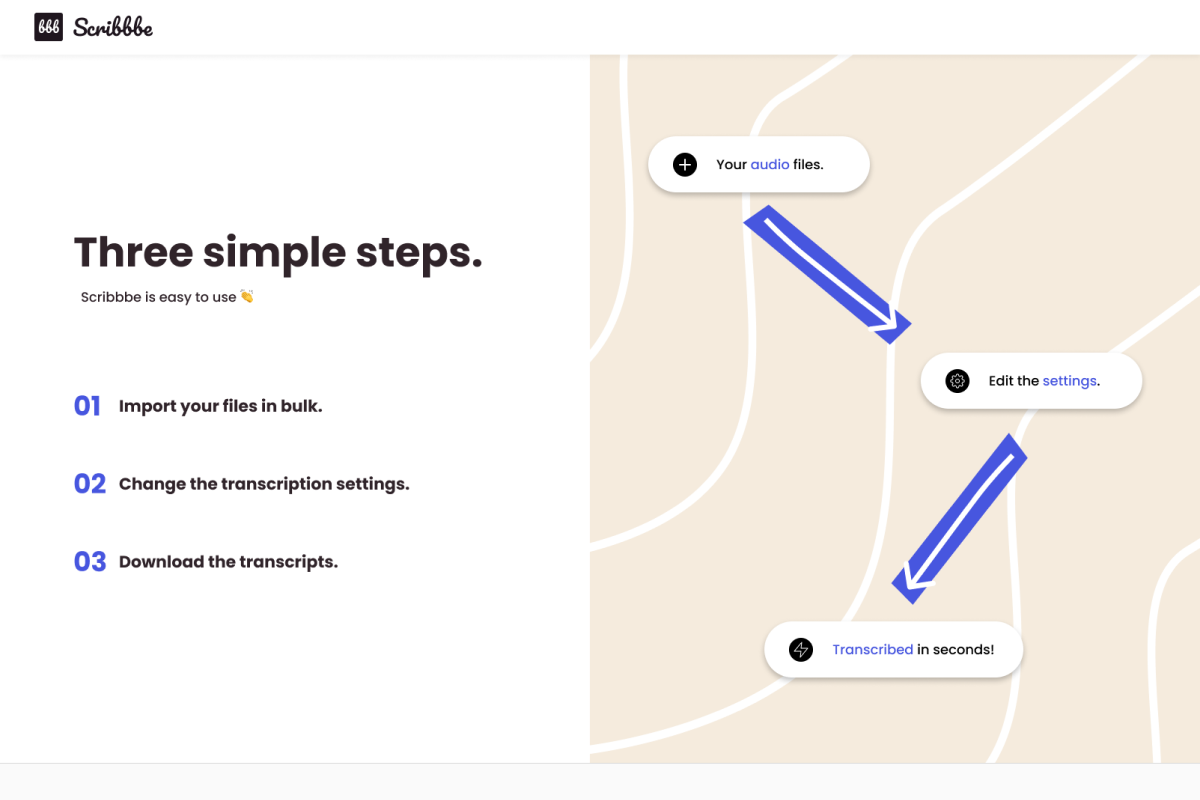 Be on your way to an accurate transcription in just three easy steps: import, edit, and transcribe!
Save time transcribing by mass-importing as many files as you want onto the Scribbbe dashboard at once.
Experience the joy of no length limits for files as you import both short YouTube videos and podcast episodes as well as longer business meetings or webinar recordings.
You can also view and manage files on your dedicated dashboard, adding new files or deleting those you don't want to transcribe just yet. ("Maybe my Tony the Tiger rant isn't for everyone…")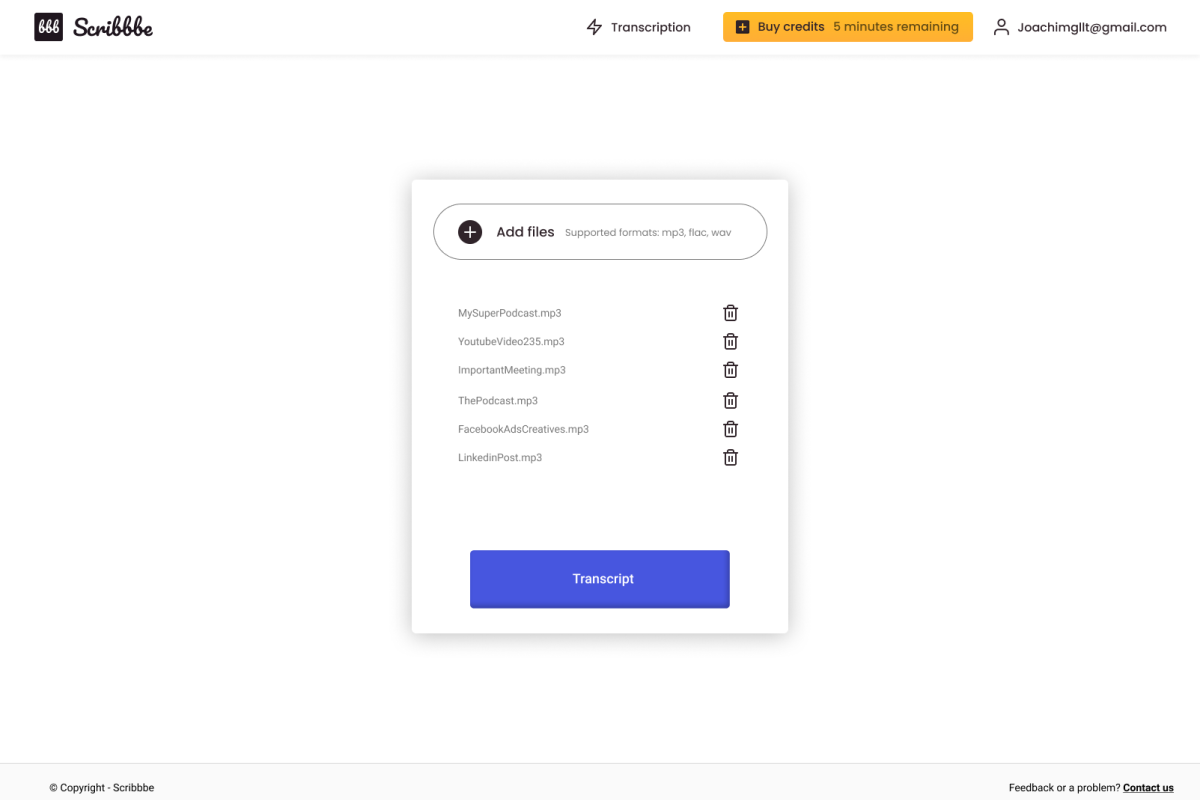 With Scribbbe, you've got a dedicated dashboard to view, edit, and mass-import your audio files.
You can also modify the parameters of the files you've selected to customize your transcription results.
Choose settings like language, speaker identification, timecode, and more to make sure you're getting a transcription you're happy with.
After clicking "confirm," Scribbbe will take care of the transcription process in the background, even while you sleep (or watch The Emperor's New Groove for the 15th time).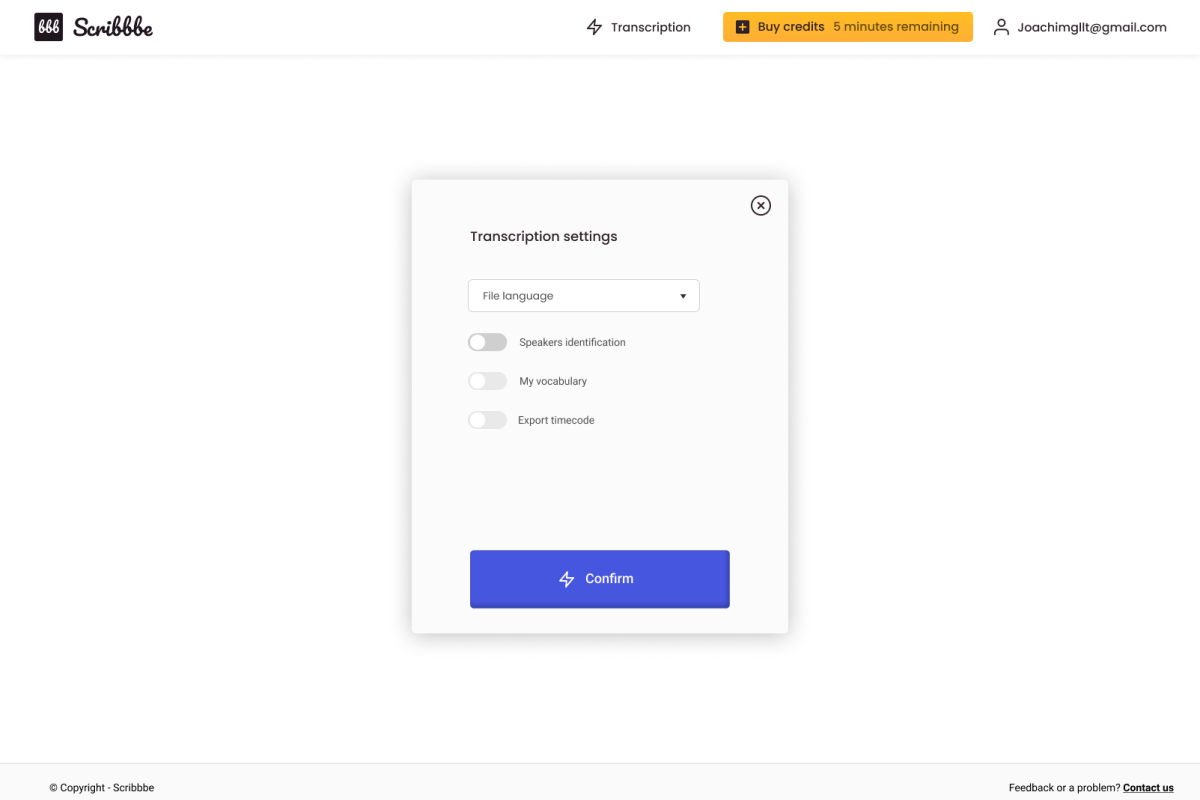 Change your transcription settings to customize your results with an easy-to-use interface.
A lot of tools deliver transcriptions that are full of errors, requiring you to go back and edit the whole document. (The only 'automation tool' here is me.)
But Scribbbe provides a different vision of transcription with an adaptive A.I. that adjusts to your voice, getting to know how you say things for higher accuracy.
Features like advanced punctuation, personalized vocabulary, and speaker recognition allow you to walk away with a more accurate transcription the first time.
Once the transcription is complete, you'll be able to download your transcriptions, make edits, search the transcripts, or share them with others.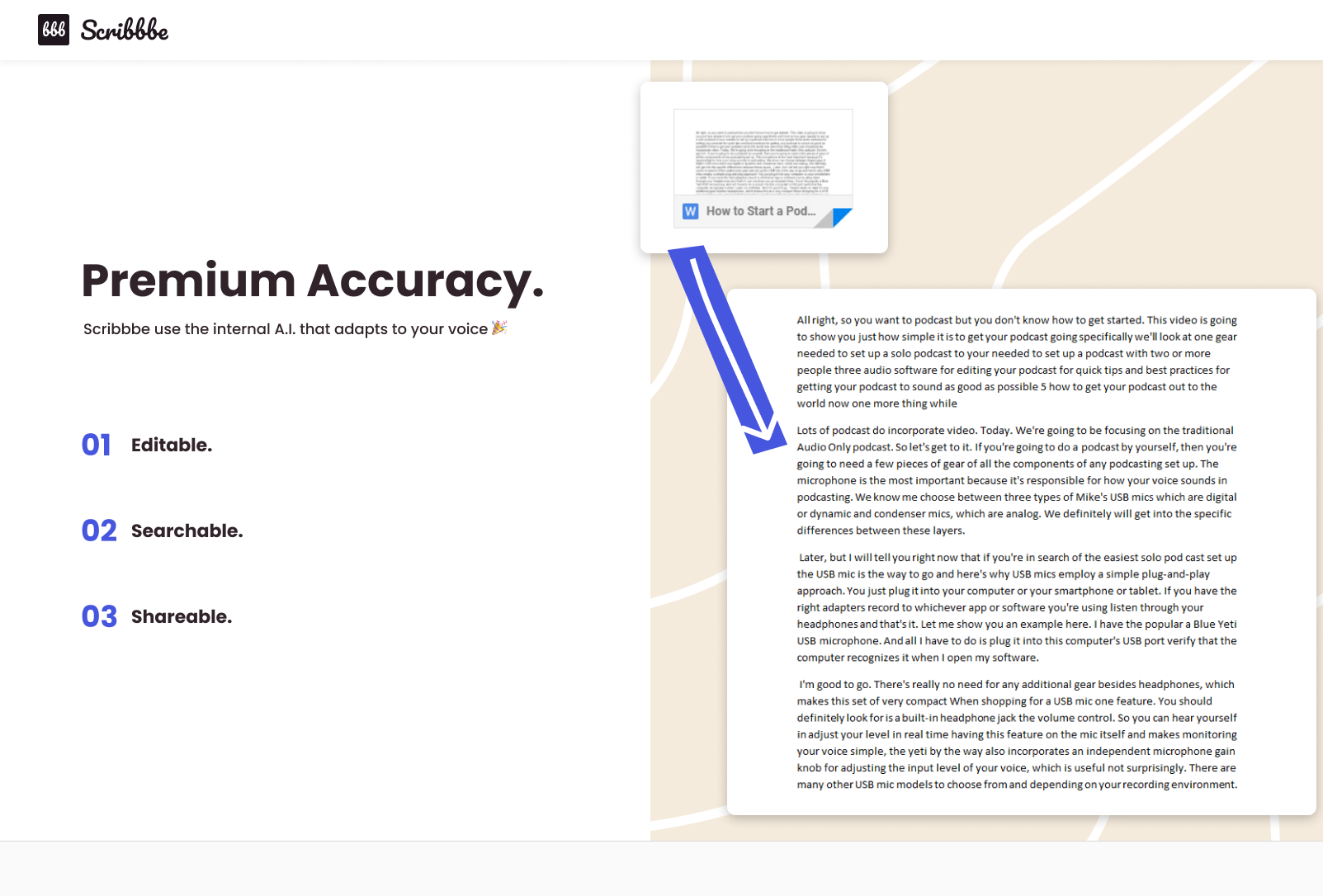 With adaptive A.I. technology, Scribbbe provides exceptional accuracy, saving you time in editing and rewriting.
Most "automatic" transcription tools feel like more work than just doing it all yourself. ("I don't know who said 'popcast,' but it wasn't me.")

Scribbbe helps you repurpose content with simple, quick, and accurate transcription that adapts to your voice.

So invest in a transcription tool that actually listens to you.

Get lifetime access to Scribbbe today!

P.S. Learn how to use Scribbbe like a pro by catching our training webinar replay here: Webinar Replay!