SocialBee
Freebie
Schedule and optimize your posts with this all-in-one social media manager
SocialBee
Schedule and optimize your posts with this all-in-one social media manager
This deal is unavailable (a bummer, we know). Don't miss a great deal again — drop your email to get all our latest tools!
Get lifetime access. Just download and save within 60 days.
The key to social media success is consistency. (That or having a billion dollars, a rocket bound for Mars, and the ability to determine meme stock prices with a single tweet.)
But posting all the time is draining, making you feel more like a wannabe influencer than a productive entrepreneur.
Wouldn't you love a tool that saves time by helping you optimize your posts and recycling your best content?
SocialBee is all the buzz.
Share content across all major social media platforms, including Facebook, Instagram, Twitter, LinkedIn, and Google My Business
Alternative to: Hootsuite, Sprout Social, and MeetEdgar
Recycle or expire your content, save time with post variations, set a posting schedule, and analyze the growth of your accounts
Best for: Solopreneurs, small businesses, and social media managers who want to optimize their social media management
Overview
SocialBee is a social media management platform that helps you create, curate, schedule, and recycle social media content.
Not a tech wizard (or even like a tech hobby-magician)? No problem!
Getting started with SocialBee is stress-free with an Onboarding Wizard that walks you through each step of the initial setup process.
Use the post editor to create your posts and customize them for each social media channel, and take a look at the post preview to see how it will show up on social media.
You can also import content to SocialBee from various sources, like RSS Feeds, Pocket, media files, links, and CSVs for quick and easy access to more content.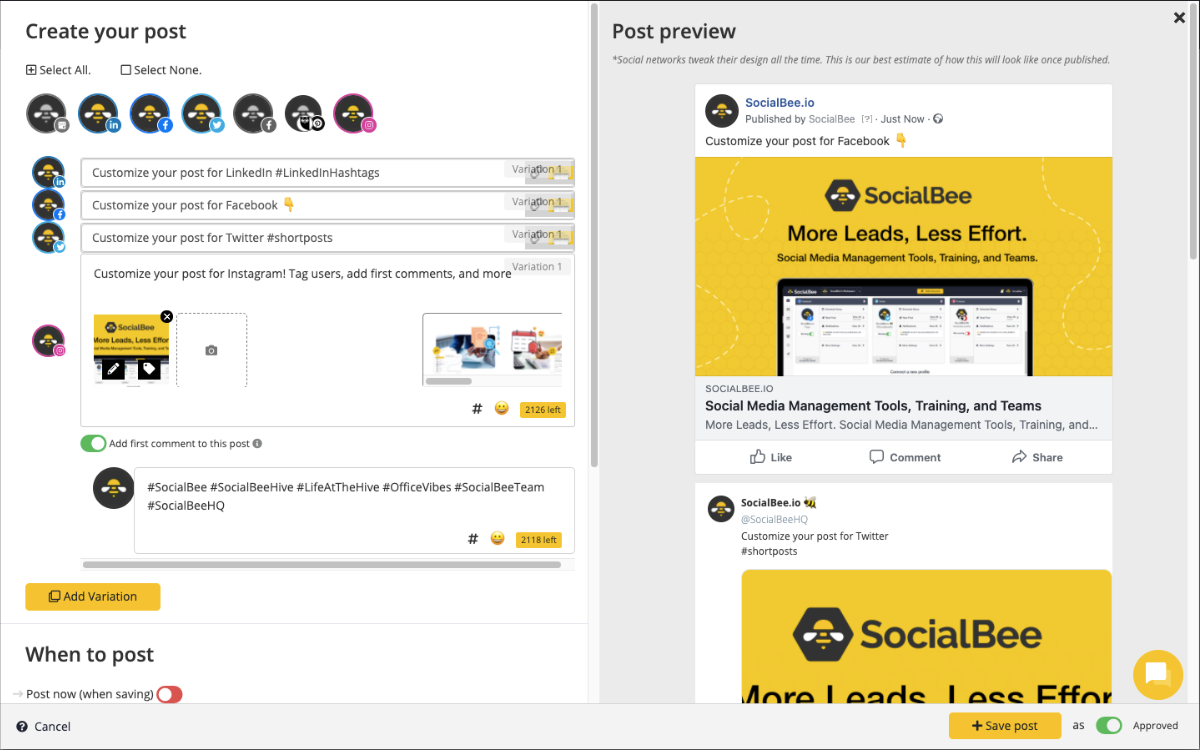 Use the Post Editor to create and customize posts for each social media channel!
Post variations let you create fresh versions of the same post across channels to ensure that it's optimized for each. (Throw around words like "strategic" and "synergy" for LinkedIn.)
Once you've created or imported your content, add hashtags, emojis, GIFs, and photos, then schedule it to your social media channels. Or you can import designs directly from Canva.
When you schedule posts in SocialBee, you'll get to decide if it's a one-time post or a post you'd like to recycle (that is, post again at a later date).
Automate and optimize your posting even further by scheduling based on content categories, so you can organize your posts by category to get a better mix of content.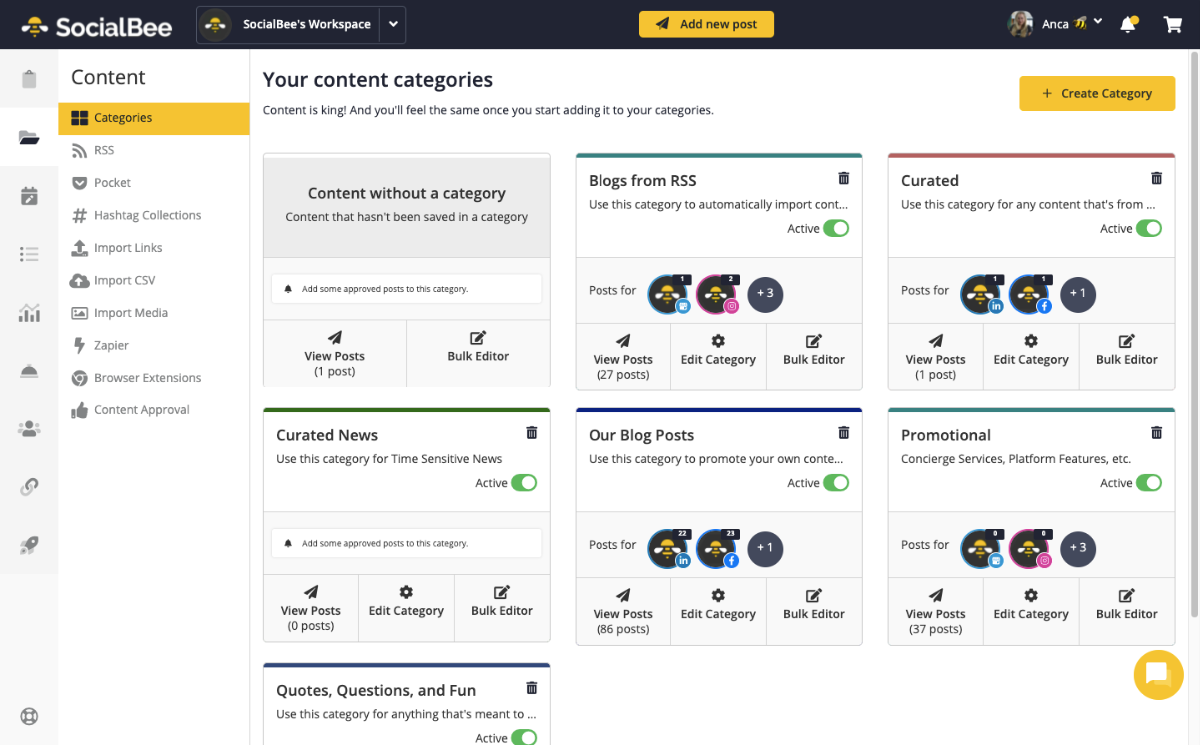 Organize your posts into different categories and use content recycling to create an engaging mix of materials.
Just like that chore wheel on your fridge for your adult roommates, you need a system for scheduling when it comes to social media.
With SocialBee, you can generate a schedule for your profiles and add time slots that are relevant based on when your audience is online.
The main dashboard offers an overview of all your connected profiles, letting you add more profiles, designate separate schedules for each, and create time-specific posting.
Preview your post and add any final touches before it's published. Thanks to Schedule Stats, you'll also be able to see how often you're posting to maintain consistency.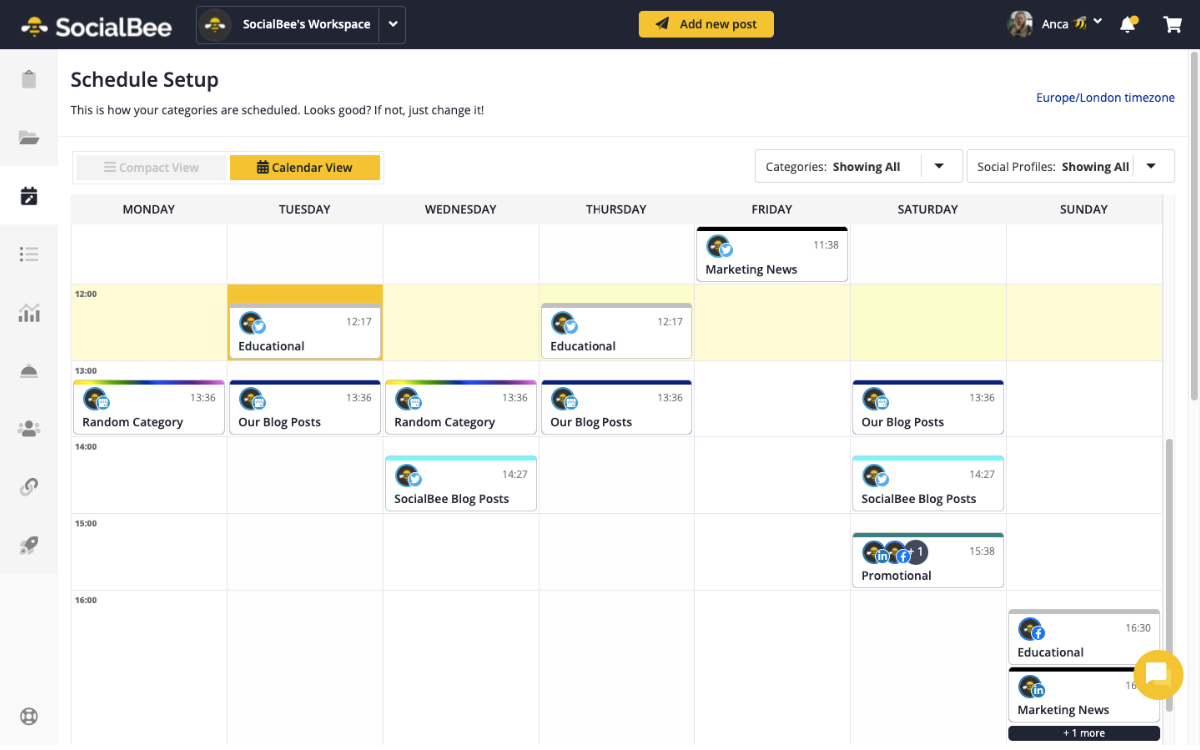 Schedule your posts on a weekly basis by using the category-based system scheduler.
Measure your efforts with SocialBee's Analytics feature, which displays your top-performing posts, follower growth, and activity status.
You can customize all the links you'll be sharing with shorteners like Bitly, Rebrandly, Replug, and even other AppSumo fam tools, like PixelMe, JotUrl, RocketLink, and Switchy.
The category-based UTM settings enable you to track results, sending email notifications to keep you and your team updated.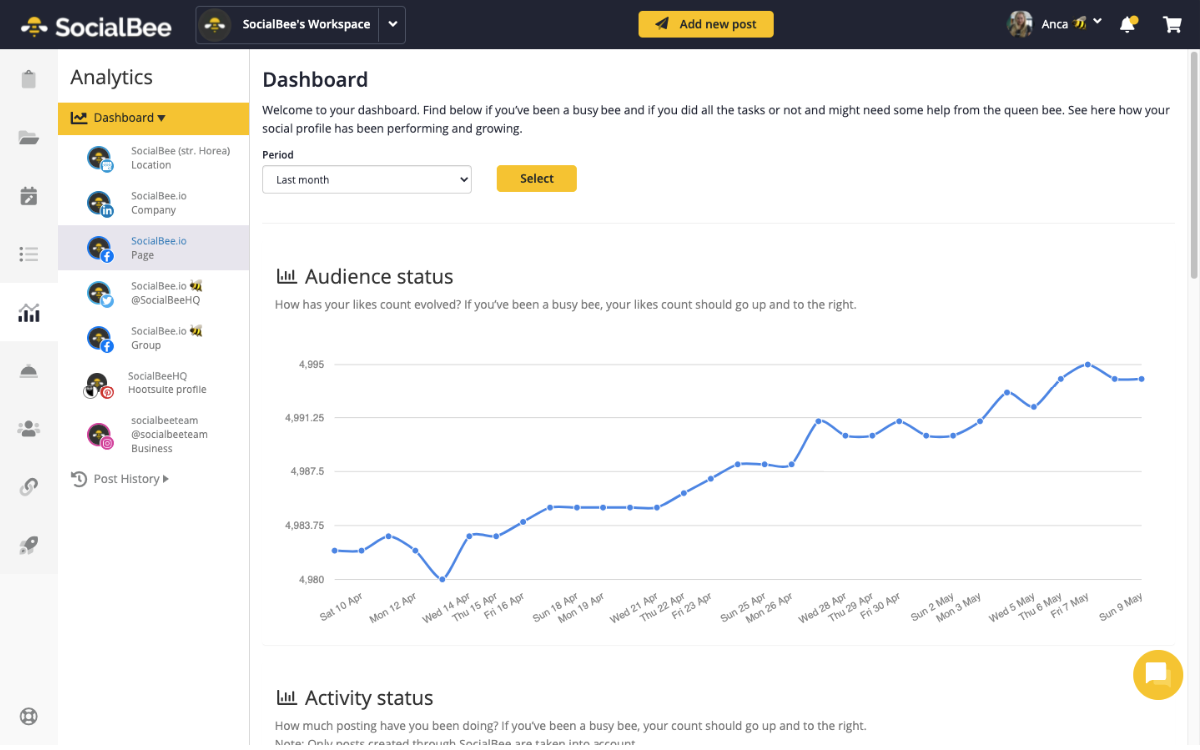 Check performance for your posts and profiles by looking at the analytics dashboard.
Let's face it: constantly posting on social media is time-consuming (i.e., seriously cutting into your 90-Day Fiance obsession).
That's why SocialBee lets you schedule your posts across platforms while recycling your best content to get even more value out of it.
Make the most of your social media accounts.
Get one year of free access to SocialBee today!
P.S. Learn how to use SocialBee like a pro by catching their training webinar on July 21 at noon CT.
SocialBee
Schedule and optimize your posts with this all-in-one social media manager
This deal is unavailable (a bummer, we know). Don't miss a great deal again — drop your email to get all our latest tools!
Get lifetime access. Just download and save within 60 days.
Plans & features
Deal terms & conditions
1 Year of FREE access to SocialBee Bootstrap Plan

You must redeem your code(s) within 60 days of purchase

1 Year of Bootstrap Plan updates

Please note: this deal is not stackable

GDPR compliant

Only for new SocialBee users who do not have existing accounts
Get lifetime access. Just download and save within 60 days.
SocialBee Annual Bootstrap Plan

Post on Twitter, Facebook, LinkedIn, Pinterest, Instagram, and Google My Business

1 workspace

1 user per workspace

5 social profiles

10 content categories

10 RSS feeds

1,000 posts per category

Post recycling

All audience tools
Sign Up
All our deals are time-sensitive! Make sure you don't miss any of our awesome limited-time offers.