Soundwise Essentials Plan
Lifetime Deal
Sell, deliver, and manage your audio programs online from one seamless platform
Soundwise Essentials Plan
Sell, deliver, and manage your audio programs online from one seamless platform
60 day money-back guarantee. Try it out for 2 months to make sure it's right for you!
With so many audio product tools on the market today, it's easy to get overwhelmed. ("You get a tool! And you get a tool!")
How many tools does it take to make podcasts, create audio courses, self-publish audiobooks, sell podcast subscriptions, and give your audience access to all your audio content on the go?
Just one.
Introducing Soundwise.
Sell your audio programs online with total access control and offer mobile listening while protecting your proprietary content
Alternative to: Podbean, Audible ACX, Teachable, and Memberium
Use audio content as lead magnets to grow your email list and manage all your audio products from one dashboard
At-a-glance
Overview
Soundwise is an all-in-one platform that makes it easy to create and sell audio products online while growing your email list.
With Soundwise, you've got everything you need to create, price, and deliver your audio products in one spot.
Unlike those elaborate cakes on Pinterest, getting an audio product up and running on Soundwise takes just four easy steps.
Just upload your audio, set your pricing, share your landing page, and watch the money come rolling in.
The best part is, you can manage all your content, pricing, subscribers list all from one user-friendly online dashboard.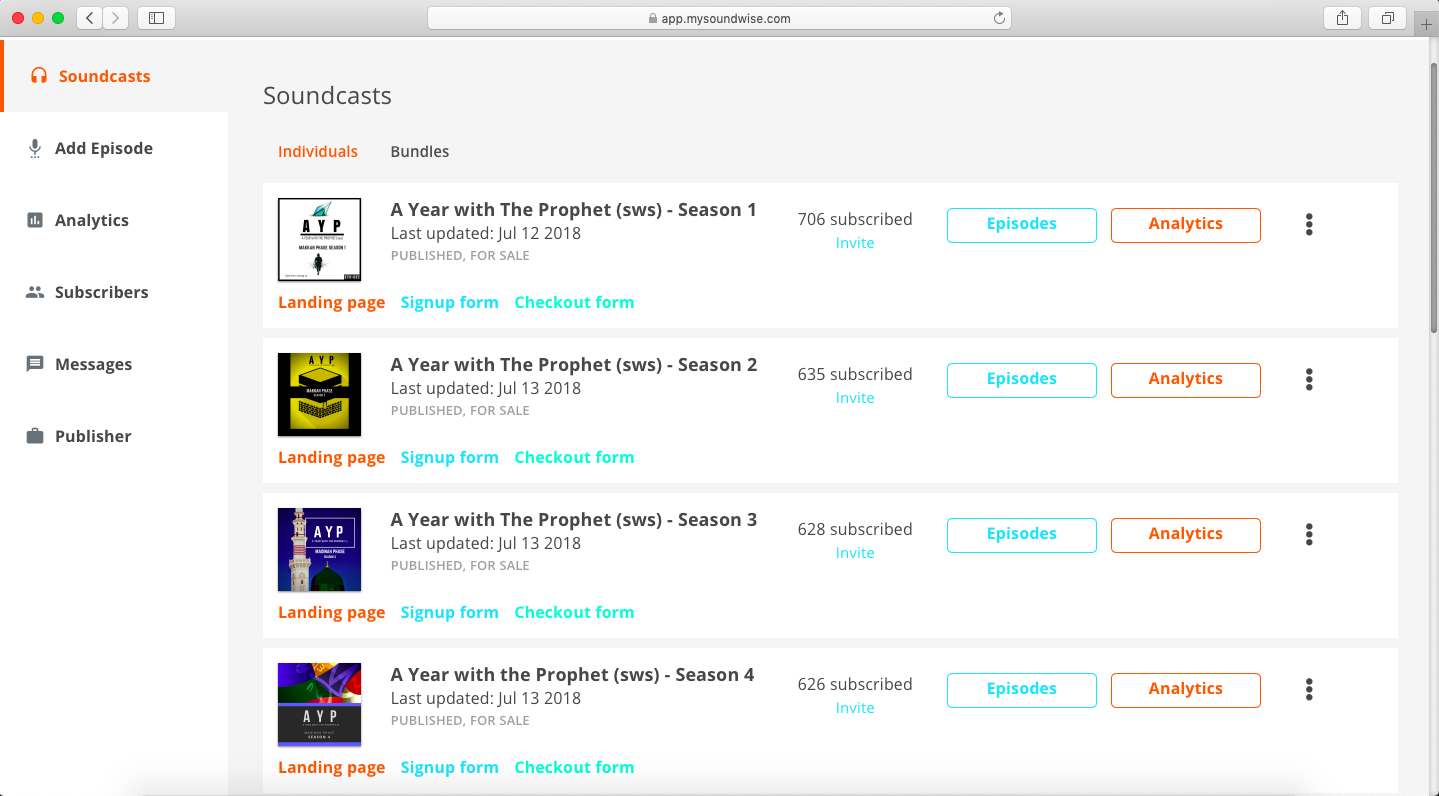 Manage all your audio programs from one convenient dashboard.
Soundwise provides rich marketing features that help you sell more of your audio content.
You'll get the name and email of each of your listeners, so you can use your awesome audio content for lead generation and build your email list.
Lead magnets you can listen to? Now that's music to our ears.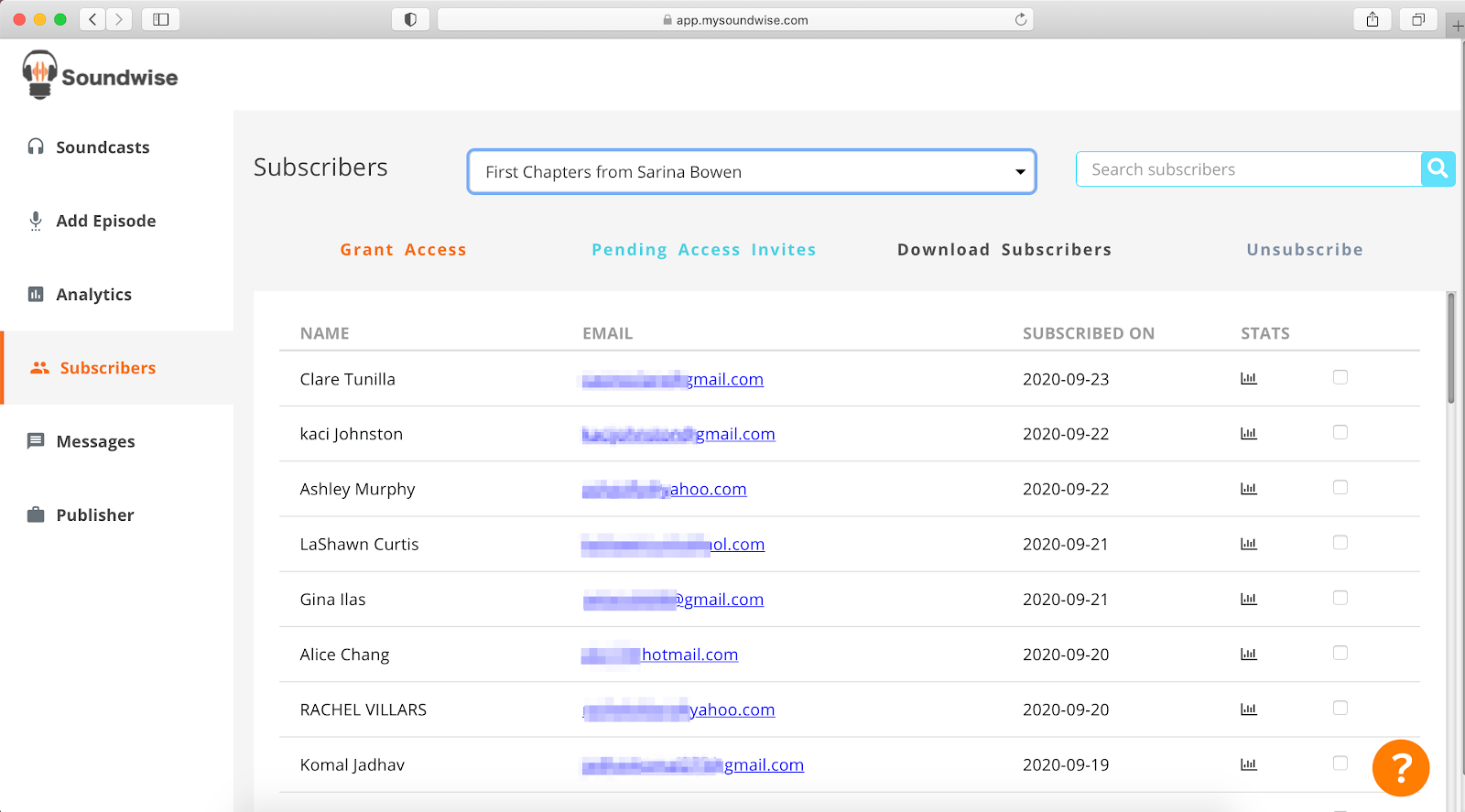 Use free audio programs to build your email list and generate the leads you want!
If the amount we spend on Netflix, Hulu, and Spotify Premium is any indicator, subscription services are a prime way to sell media content.
Soundwise's flexible sales options allow you to offer audio products online as a subscription, one-time purchase, or rental.
Want new listeners? Create promo codes and subscription trials to give them a taste of what you have to offer.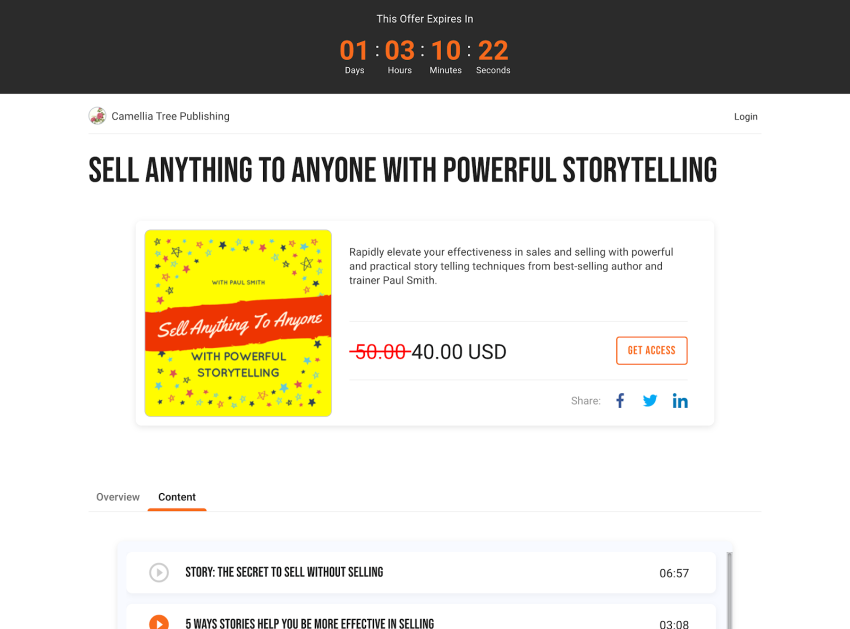 Create trial offers and limited-time promotions with just a few clicks!
Beyond audio, Soundwise helps you delight listeners with a comprehensive content experience.
Include images and PDF documents to accompany your audio tracks in the mobile app.
If you publish educational content, you can also add action items so listeners can better implement what you taught.
You can even bundle multiple programs together to create your own Spotify-like streaming subscriptions.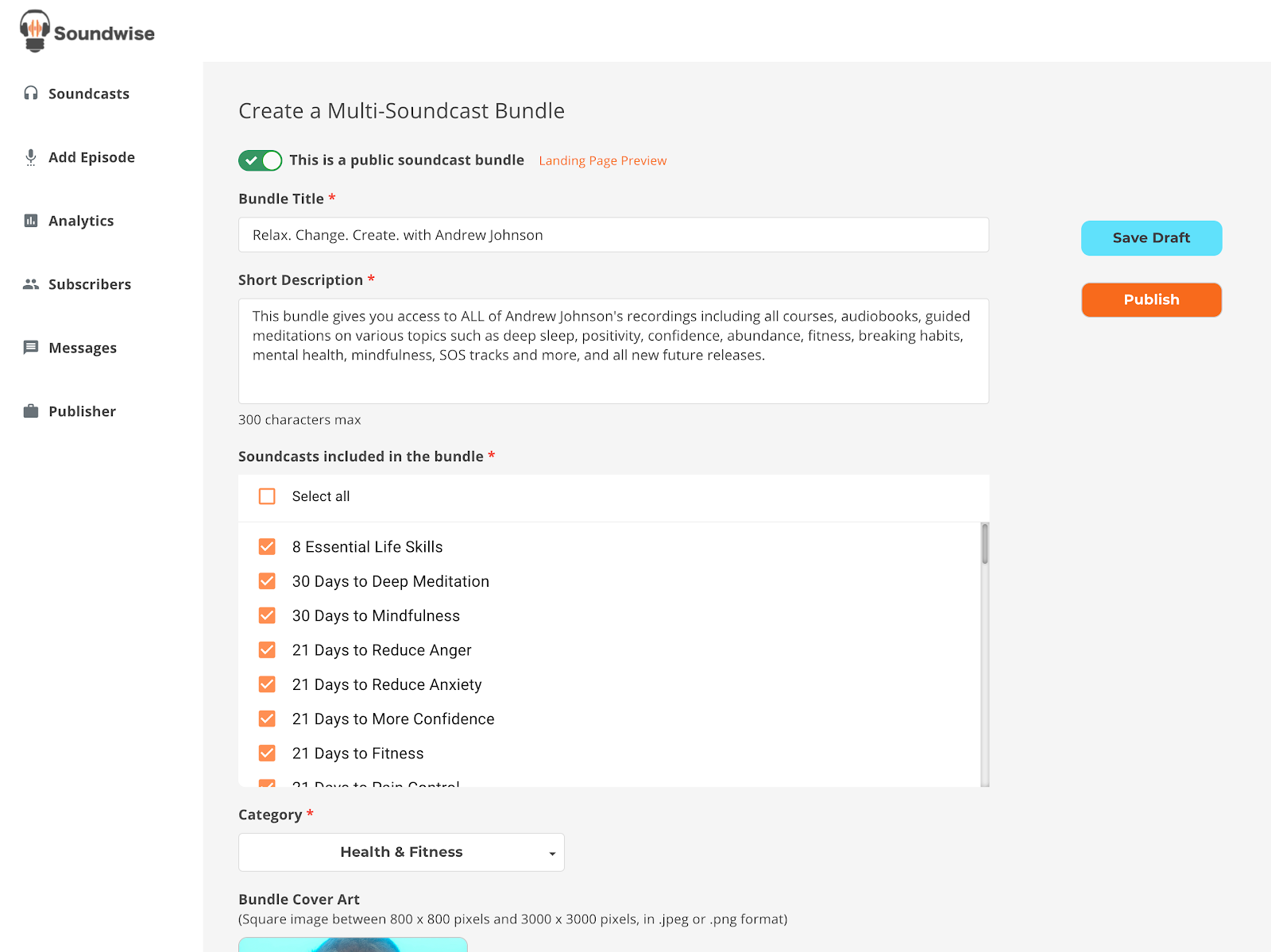 Bundle soundcasts together to create a subscription library.
Whether you've got one premium podcast or 1,000 recorded audiobooks for sale, adding audio products to your catalog is quick and easy.
When you're done, you can slice and dice your audio programs any way you want by dragging and dropping to change the order of audio tracks or moving tracks across different audio programs.
Soundwise lets you create a seamless experience for mobile listeners while protecting the safety of your premium content.
After their purchase, listeners can instantly access your proprietary content on the go and interact with you through comments on the Soundwise app to share how much they love your stuff.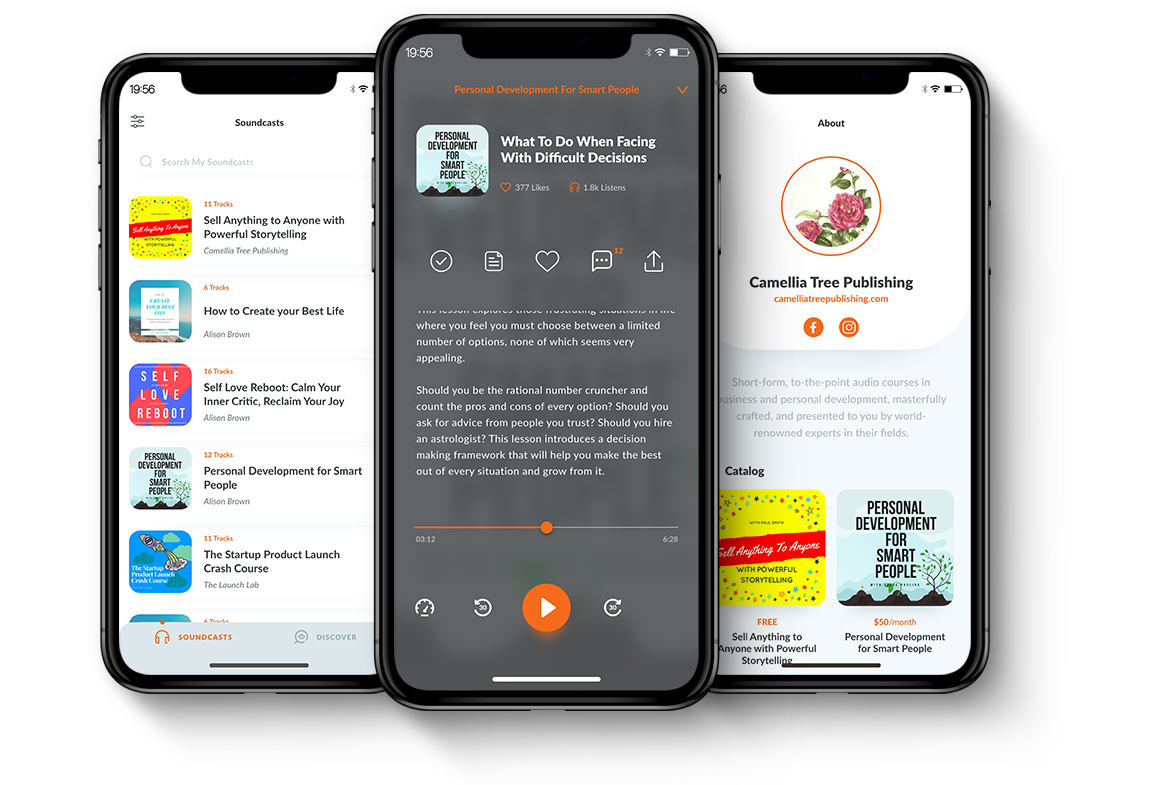 Soundwise is like an Audible app that you have full control of!
Single-use tools take up unnecessary space and a lot more time and hassle to set up. (How often do you use your pizza scissors or your avocado slicer?)
With Soundwise, it's simple to create, price, sell, and deliver your audio products—while engaging with your audience—from one convenient platform.
Stop juggling tools, and start making great audio content.
Get lifetime access today!
P.S. Watch the replay of a webinar and walk-through of Soundwise here!
Plans & features
Deal terms & conditions
Lifetime access to Soundwise Essentials Plan

You must redeem your code within 60 days of purchase

All future Essentials Plan updates

Please note: this deal is not stackable

GDPR compliant

Only for new Soundwise users who do not have existing accounts
60 day money-back guarantee. Try it out for 2 months to make sure it's right for you!
Soundwise Essentials Plan
Sell, deliver, and manage your audio programs online from one seamless platform
60 day money-back guarantee. Try it out for 2 months to make sure it's right for you!
Soundwise Essentials Plan

Unlimited soundcasts

Unlimited listeners for public soundcasts (both paid and free)

1 podcast feed (attached to a public soundcast)
50 listener seats for private soundcasts

Unlimited promo codes

No transaction fees (excluding Stripe payment process fees)

Sell subscriptions

Trial access

Sell rentals

Sell bundles

Companion material

Manual listener import

Listener community

1 admin
From the founders
Natasha_Soundwise
President
Sign Up
All our deals are time-sensitive! Make sure you don't miss any of our awesome limited-time offers.