Stencil is a quick and easy image editor that helps you create professional graphics for maximum social engagement.
High-quality graphic design is a walk in the park thanks to Stencil's sleek and simple interface.
If you're like Taylor Swift with your blank space, Stencil is here to help your artist's block.
You can access gorgeous stock photos, dope templates, clean icons and graphics, artsy filters, and Google fonts that transcend Comic Sans (plus personal fonts you can upload).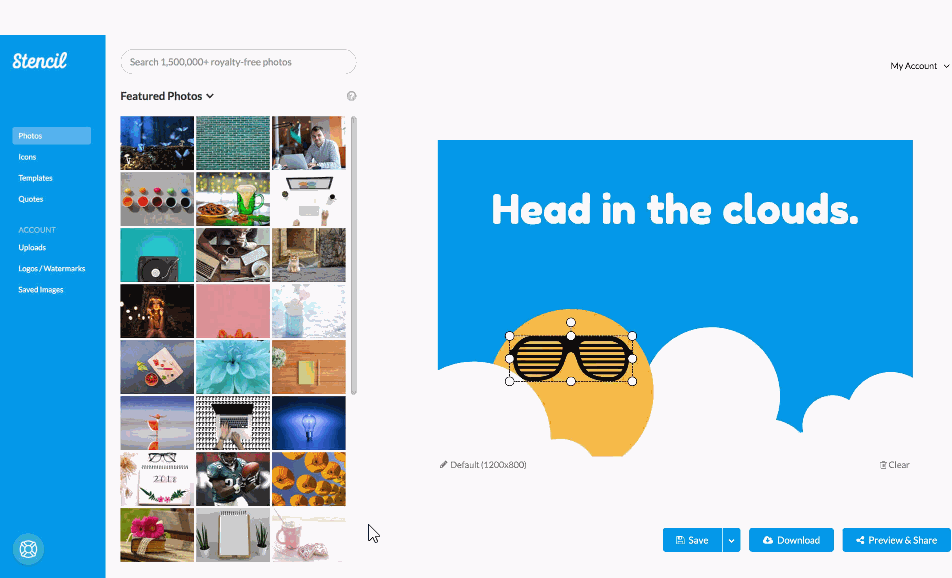 Create amazing graphics instantly with Stencil's beautiful media library!
Your masterpieces can then be shared on social media and stored neat 'n tidy in custom Stencil collections.
Whether you're tweeting or Instagramming, Stencil sizes you up with 147+ dimensions perfectly cropped to fit social networks, ads, blog posts, and more.
Stencil lets you kick back and relax with a Buffer integration that allows you to schedule social media posts for the future.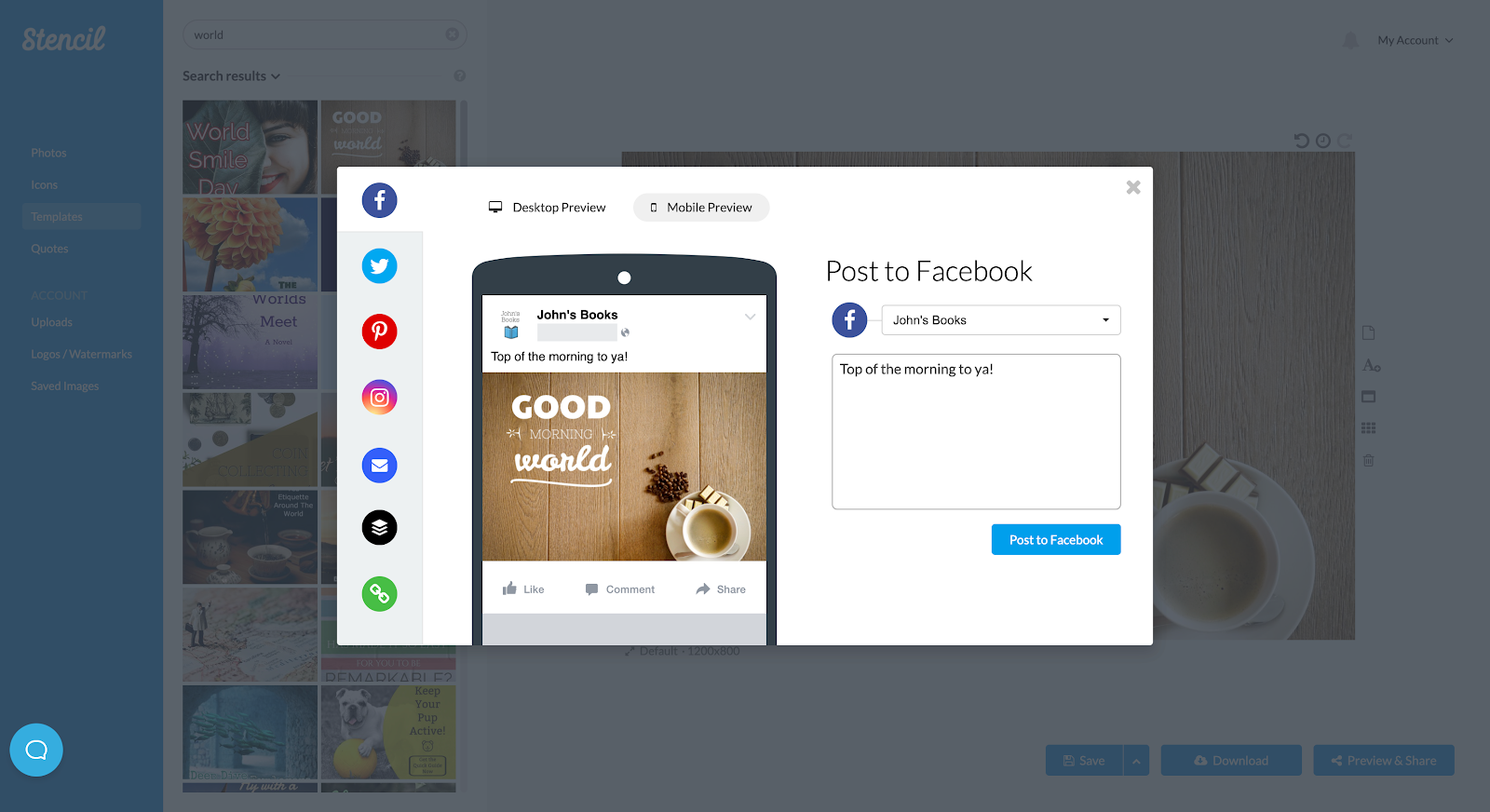 Images are perfectly cropped for popular social media platforms, so you're always ready to go!
In a hurry? "Initializing" and "loading" never mean anything good.
Stencil's lightning-fast platform is quick on the draw, prioritizing speed and accessibility.
With add-on options for Chrome and Firefox along with a handy WordPress plugin, you can make magic right in your browser instead of waiting on slow process-heavy programs. (♫ Hello task manager, my old friend… ♫)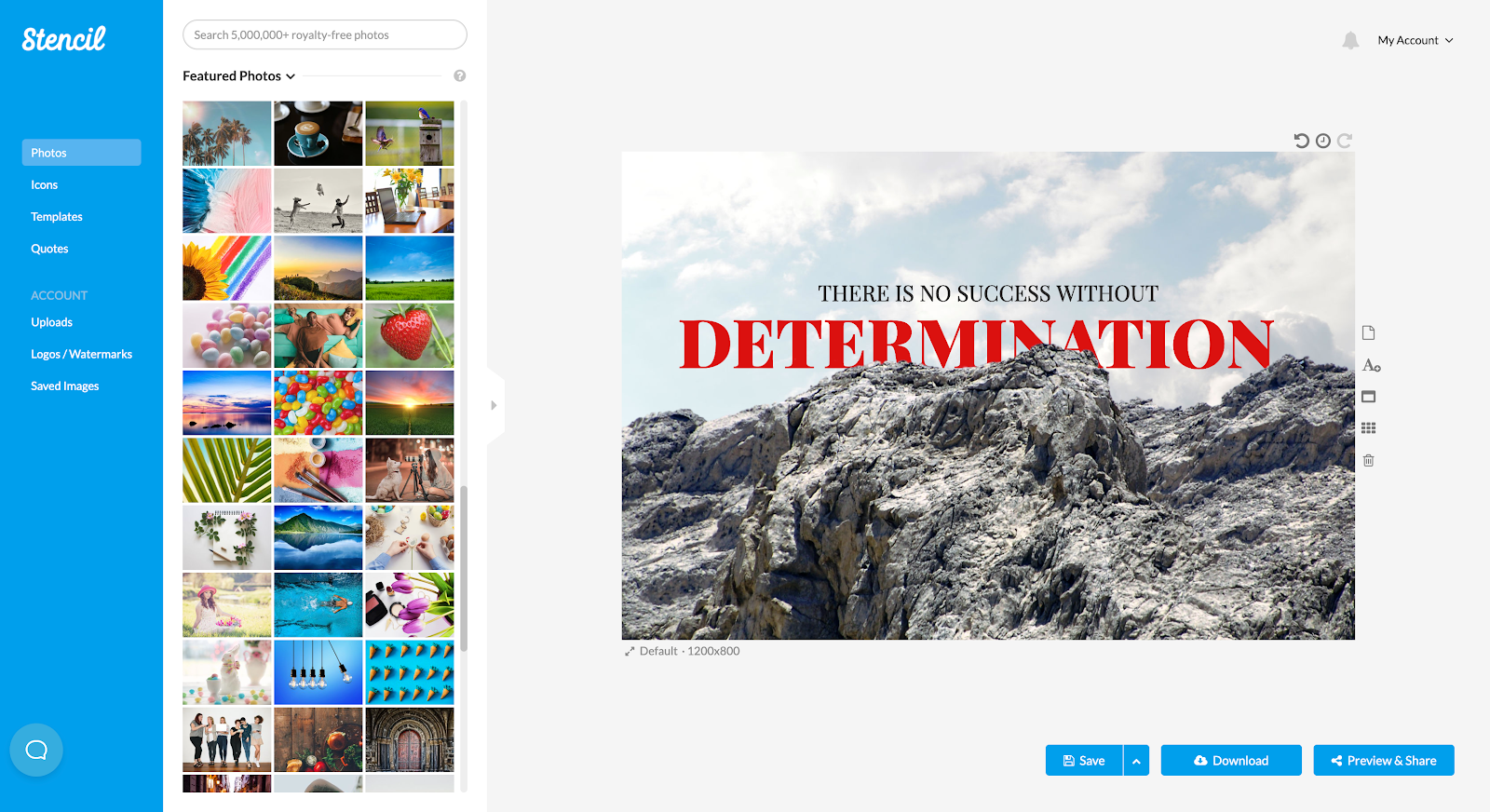 Like a Marvel movie when the credits roll, Stencil's not done yet.
Stencil comes loaded with even more helpful features, like the ability to upload and store multiple logos—a must for agencies with dozens of brands and clients.
You'll transform drab images into museum-worthy art: blur, color, and adjust to your liking with over 18 filters and tools.
You can also live preview your images before you send them out into the world.
Plus, say goodbye to amateur, potato-quality images with the ability to export super-high-res images, even at 300 dpi for print.
Get a live preview of your masterpiece before publishing it to the world!

If your grandma can cross-stitch "Live, Laugh, Love" in the time it takes you to complete a graphic, you're definitely spending more time than you need on your posts.

Sometimes your inner muse is asleep on the design job.

That's where Stencil comes in—it really is as easy as tracing a stencil. (Ha! I get it!)

Get lifetime access to Stencil now!

P.S. Learn how to use Stencil like a pro by catching our training webinar replay here: Webinar Replay!