Teamdeck
Lifetime Deal
Get your team in sync with time tracking and resource management in one simple calendar view
Teamdeck
Get your team in sync with time tracking and resource management in one simple calendar view
This deal is unavailable (a bummer, we know). Don't miss a great deal again — drop your email to get all our latest tools!
60 day money-back guarantee. Try it out for 2 months to make sure it's right for you!
It's hard to collaborate productively as a team when you don't know who's working on what. (So Who's on first, What's on second, and I Don't Know's on third?)
The secret to team management is time management.
You need a single workspace that makes it effortless to sync up schedules, track billable hours, and keep everyone connected.
Say hello to the newest member of your team, Teamdeck.
Assign projects to people on your team based on availability and expertise
Track time, monitor performance, and compare your project's estimate with actual costs
Best for: Remote teams looking to coordinate schedules, boost productivity, and work better together
Overview
Teamdeck is an all-in-one resource management solution that tracks your team's time and productivity.
Getting your team on the same page has never been easier with Teamdeck's clean and simple calendar view.
Find employees, view team schedules, and assign bookings based on expertise and availability.
Teamdeck lets you see exactly what everyone's working on, so you know who's got the bandwidth, who's swamped, and who's out of office.
With visibility into your production pipeline, you can plan for future projects accordingly.
Teams and organizations of all sizes love Teamdeck's flexible layout and customizable interface.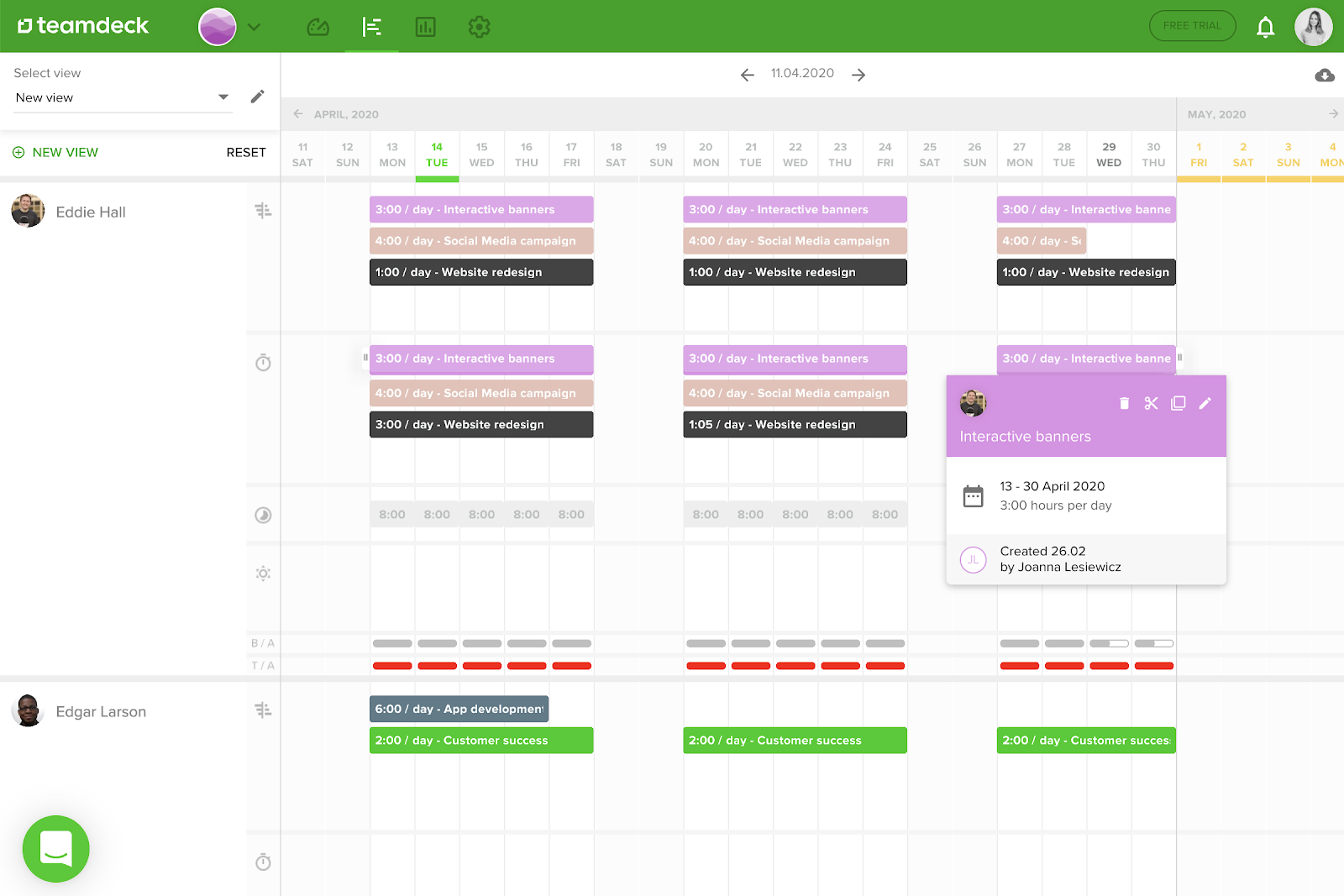 Get real-time insights into team member availability, and instantly see who's got the bandwidth for more projects.
Every person on your team brings something different to the table: skills, experience, personality, and infinite patience for a certain client (you know the one).
Add custom filters and tags to your team or project, and assign the right people to the right booking. If plans change, just edit the booking with drag-and-drop building blocks.
And because Teamdeck has your back, it warns you about booking overlaps or time exceeded.
Bonus: part-time employees or freelancers can also enter their availability, so you know exactly how many hours they've allotted to work on your project.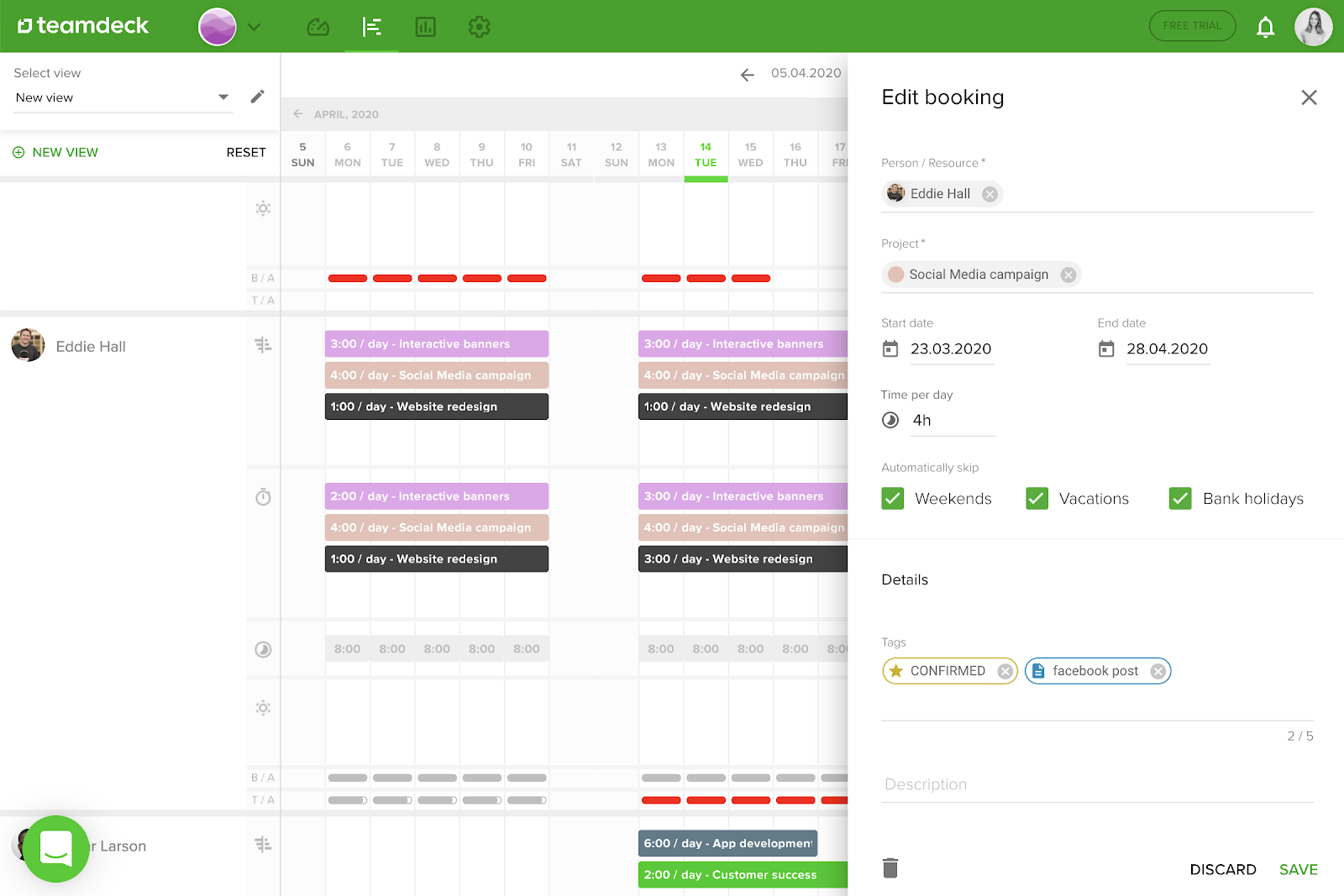 Easily add and edit bookings with drag-and-drop building blocks!
Teamdeck's time tracking tool helps you monitor your team's performance and keep track of billable hours across different projects and departments.
When you're on the clock, every minute counts—but you don't always remember to count every minute.
With Teamdeck's start-and-stop timer, it's easy to track your time in one click. If you forget, you can always go back and add/edit hours manually.
Timesheets can be exported to CSV for internal analytics—analyze your project's schedule against the recorded timesheets, and spot the miscalculations before going over budget.
Monitor your team's performance and compare actual data with projected estimates.
Let's be honest. These days, you can hardly keep up with what day of the week it is, let alone when someone's taking a day off.
That's why you'll love how easy it is to manage vacation time right in the calendar.
Employees submit their time-off request with dates, time, and reason for absence right in the calendar. Managers can then approve or dismiss a request in a few clicks.
Approved time-off appears in the calendar view, along with a schedule of your location's public holidays.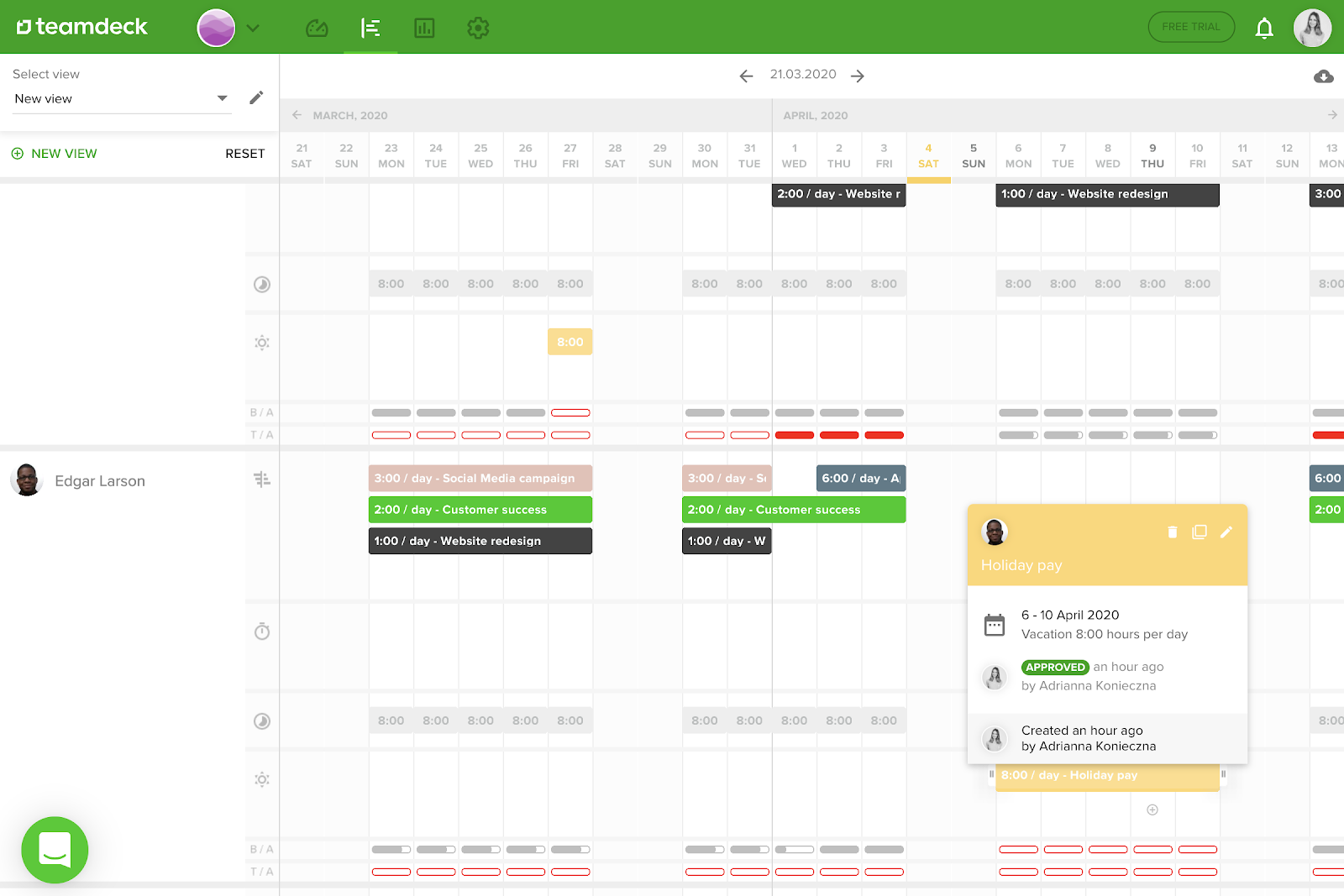 Manage your team's vacations and track availability within the dashboard.
You've got way too much on your plate to waste time building reports from scratch.
Focus on driving value from real-time insights using one of Teamdeck's professionally-designed report templates.
Teamdeck makes it easy to customize these templates to your company's needs—edit labels, add diagrams, enter custom formulas, and more.
Plus, Teamdeck's powerful report builder lets you create your own analytical dashboards from start to finish.
Summarize and visualize data with charts and tables to identify important areas easily; enter custom values and calculations; and aggregate your data into flexible groups.
Once you're done, you can export your report to a CSV file or even share it with people outside of your organization through a public link!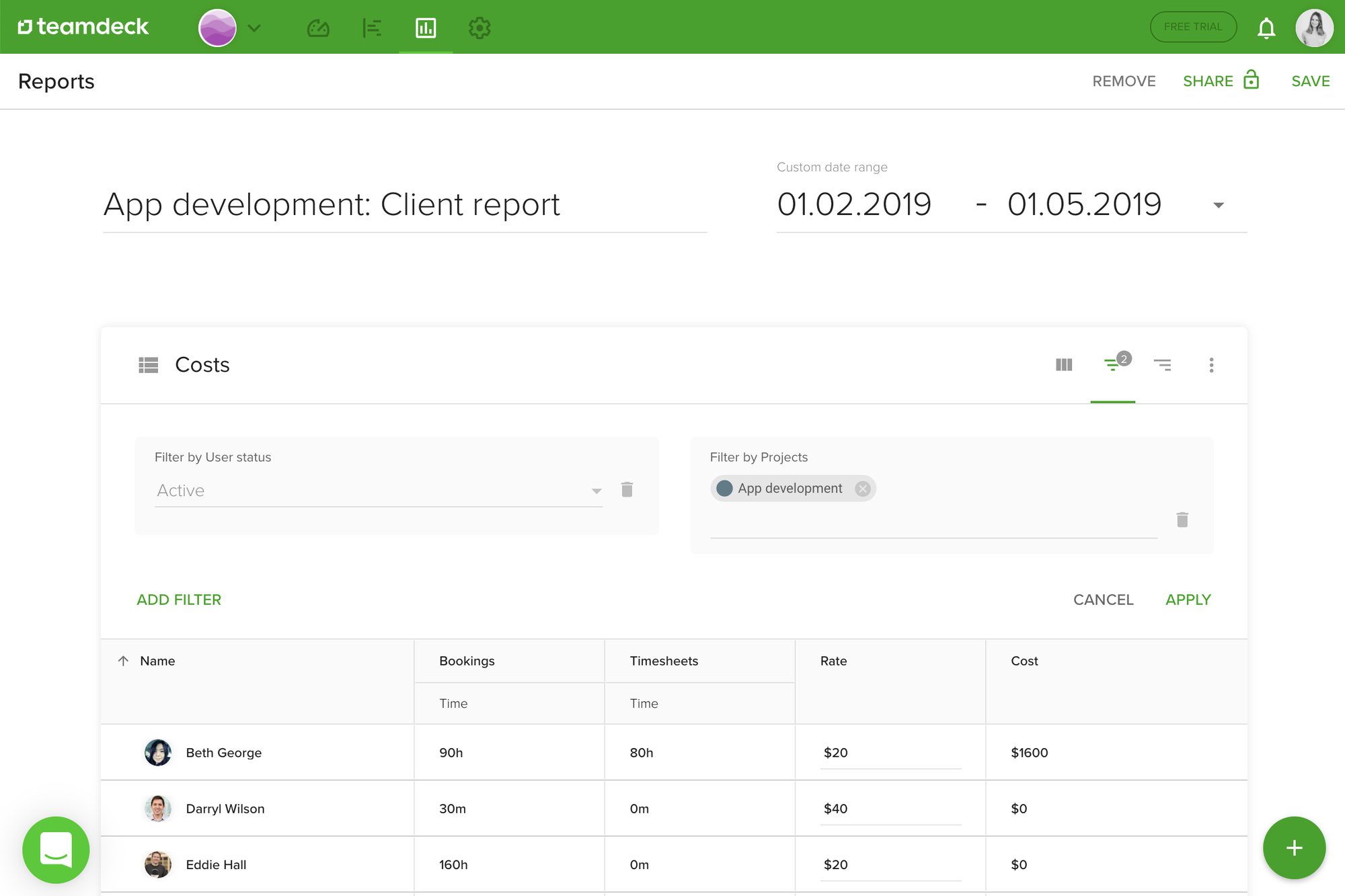 Create custom client reports with templates that you can tailor to your company's needs.
Juggling multiple apps and rallying individual team members is as exhausting as getting that one person to mute their mic on Zoom. (At least turn off the blender, Gary.)
Luckily, Teamdeck makes it a breeze for teams to tackle their projects together, in one beautifully shared workspace.
Grab lifetime access today!
P.S.
Learn how to use Teamdeck like a pro by catching our training webinar replay here:
Webinar Replay
!
Related Blog Posts
Teamdeck
Get your team in sync with time tracking and resource management in one simple calendar view
This deal is unavailable (a bummer, we know). Don't miss a great deal again — drop your email to get all our latest tools!
60 day money-back guarantee. Try it out for 2 months to make sure it's right for you!
Plans & features
Deal terms & conditions
Lifetime access to Teamdeck

You must redeem your code(s) within 60 days of purchase

All future plan updates

Stack unlimited codes

GDPR compliant (partner verified)

Only for new Teamdeck users who do not have existing accounts
60 day money-back guarantee. Try it out for 2 months to make sure it's right for you!
Features included in all plans
Manage the work schedule

Control the workload

Plan future projects

Drill down your team

Find the right people fast

Add and edit bookings

Resolve scheduling conflicts

Hourly availability

Measure billable time

Compare estimates with actuals

One-click time tracker

Add tracked time manually

Analyze your team's performance

Share your insights

Track employee availability

Handle time-off requests

Leave management solution

Time-off approval workflow

Absence types

Public holidays

Reasons for absence
Single

All features above included

25 Team members

Double

All features above included

35 Team members

Multiple

All features above included

45 Team members
Sign Up
All our deals are time-sensitive! Make sure you don't miss any of our awesome limited-time offers.