TuCalendi
Lifetime Deal
The online personal assistant that schedules and manages all your meetings
TuCalendi
The online personal assistant that schedules and manages all your meetings
This deal is unavailable (a bummer, we know). Don't miss a great deal again — drop your email to get all our latest tools!
60 day money-back guarantee. Try it out for 2 months to make sure it's right for you!
Growing your business is hard enough without worrying about organizing your chaotic calendar. ("I just need to schedule time to schedule time to schedule a meeting.")

You want to connect with your customers and collaborators, but it's hard to seem accessible when it takes a week of back and forth just to schedule an appointment.
Concentrate on the everyday nuts and bolts of your business and leave the scheduling gymnastics to someone else.
It's all possible with TuCalendi.
Create and manage appointments right from your website and social media pages
Alternative to: Calendly, Monday, and Asana
Build surveys that give you insight into your customers' habits and preferences
Overview
TuCalendi is an automated appointment manager that makes it easy to schedule and organize virtual events and in-person meetings.
TuCalendi lets you give your customers a seamless scheduling experience, so you can build a reputation of being accessible and reliable.
Create a live, online calendar to share with your customers and host on your website, as well as your social media pages—all without any coding!
You'll be able to share your TuCalendi widget's URL on different channels and let your clients schedule appointments in advance.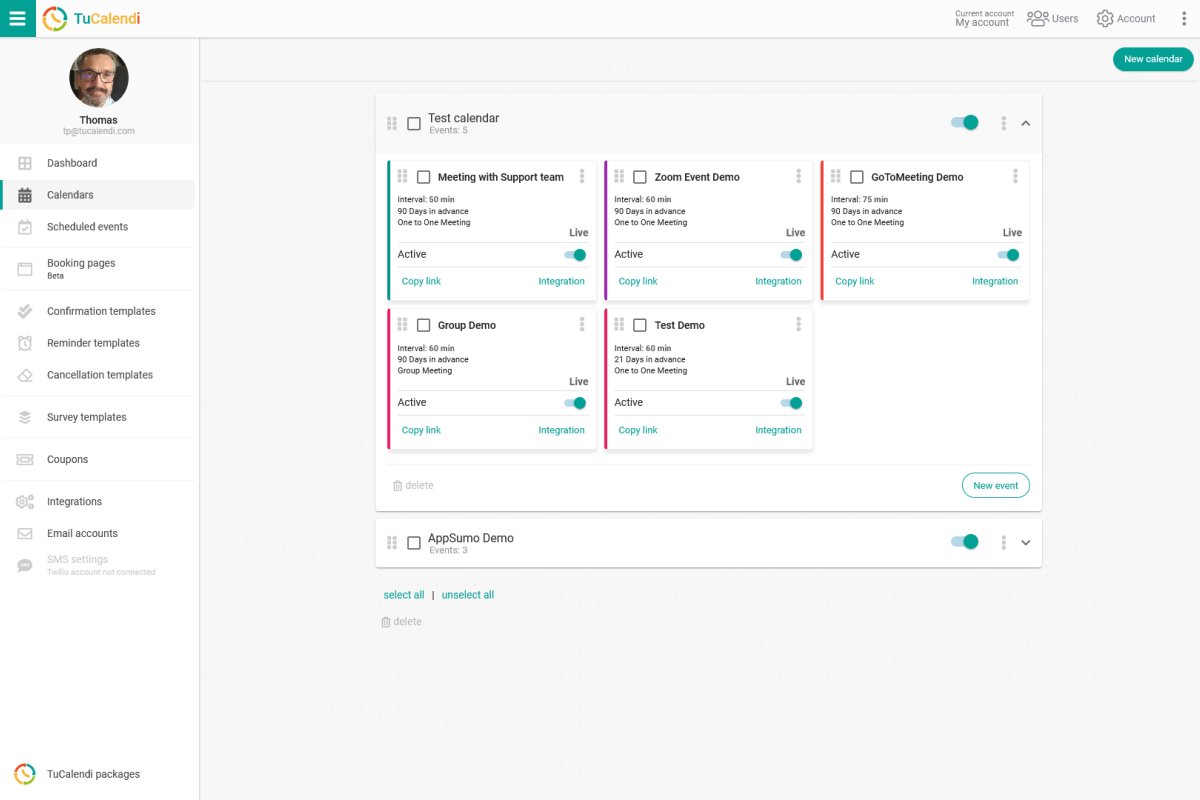 Customers can easily book appointments on a calendar found right on your website and social media pages.
With TuCalendi, you can make it simple for your customers to schedule appointments right from your booking page, so you can say goodbye to pesky back-and-forth email chains.
Customize your booking pages as a standalone website or as a landing page on your existing site with instant access to your pricing, hours, and other details.
Whether your meetings are virtual, over the phone, or in-person, you can ensure that your time and your customers' time are used as efficiently as possible.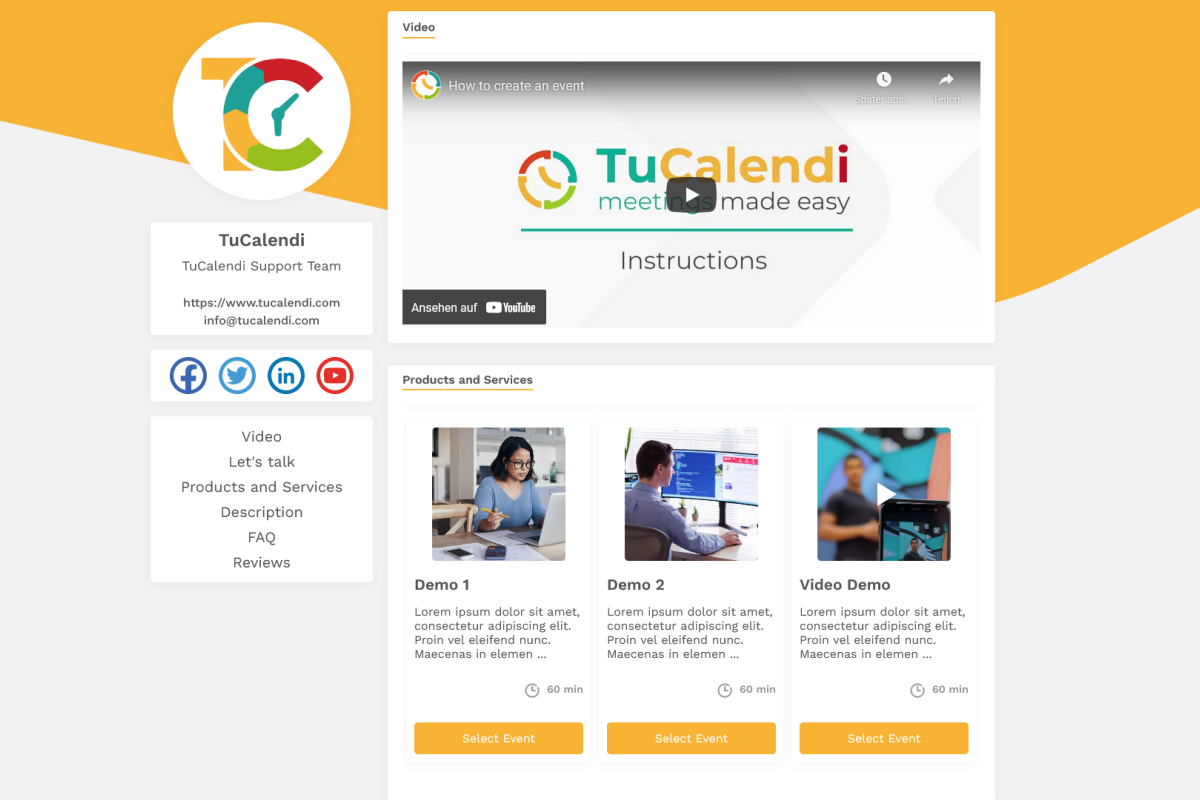 Customize your calendar pages and easily embed them into your business's landing page or website.
Using TuCalendi's built-in, automatic email reminders, you can reduce missed appointments.
You'll be able to immediately notify attendees of changes in their appointment time, whether you're dealing with rescheduling or canceling the meeting.
Plus, you can personalize appointment reminders, so your clients know you care about their time, too.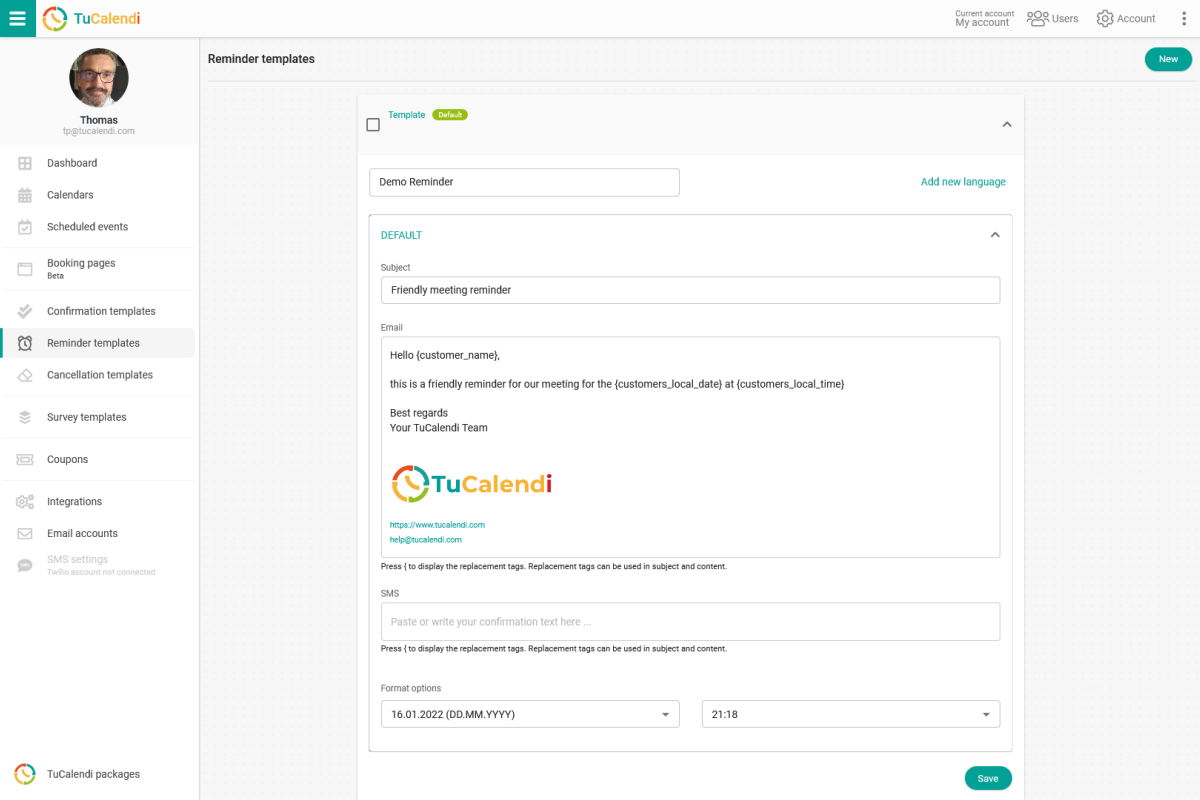 Thanks to TuCalendi's automatic email alerts and reminders, you never have to worry about missing an appointment ever again.
TuCalendi's survey toolset helps you get the most out of your appointments and meetings.
Now you can understand your customers, get feedback on your services, and collect user data to better address your clients' needs.
Using the functional survey editor, you'll be able to create surveys that you can send independently, or attach to appointments.
Once someone schedules an appointment, you can immediately send them a survey to complete before the meeting, so you're prepared to serve them before they even arrive!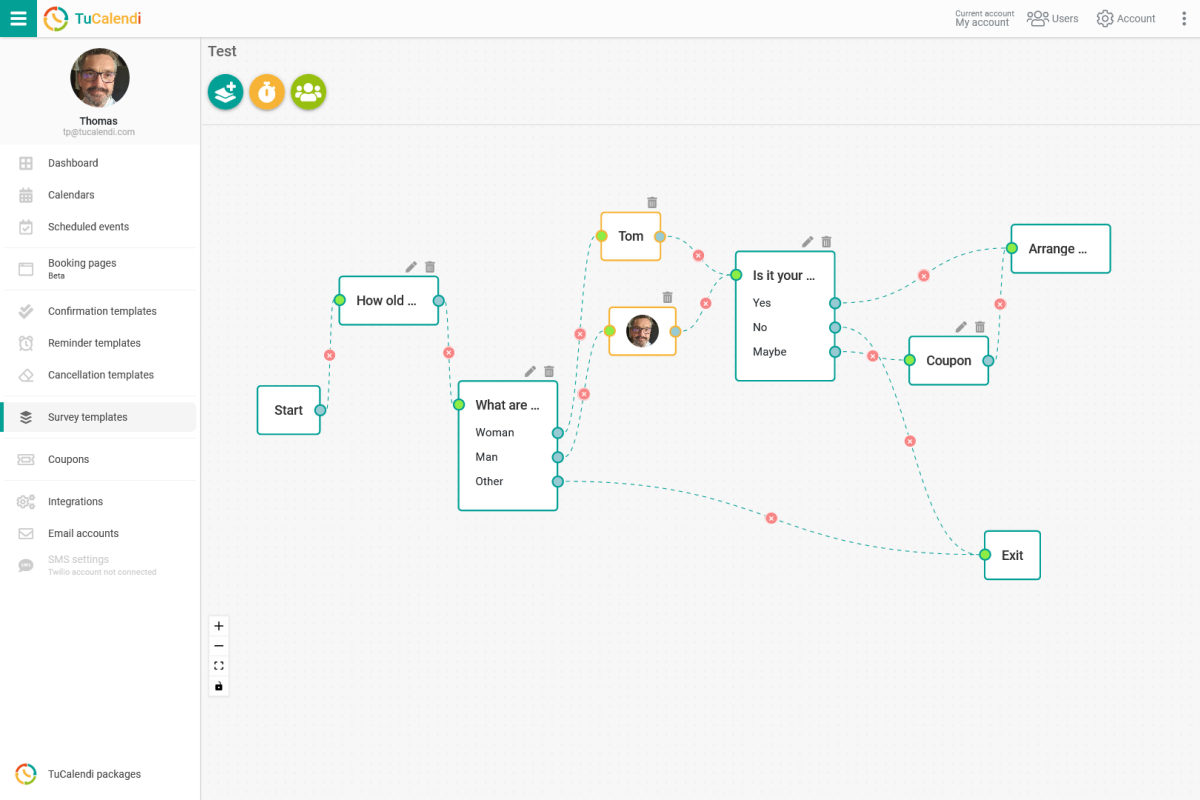 Build surveys to gather information about your customers, so you're prepared for their appointments ahead of time.
Keeping track of all your appointments shouldn't feel like you're juggling a dozen eggs. ("Brunch has really gotten out of control around here.")
TuCalendi's streamlined scheduling and survey tools make it easy for you to book and manage appointments efficiently.
Make the most of your time.
Get lifetime access to TuCalendi today!
TuCalendi
The online personal assistant that schedules and manages all your meetings
This deal is unavailable (a bummer, we know). Don't miss a great deal again — drop your email to get all our latest tools!
60 day money-back guarantee. Try it out for 2 months to make sure it's right for you!
Campaignware Quizzes and Trivia
Lifetime Deal
Create unlimited quizzes and trivia games to boost lead generation
InboxPro
Lifetime Deal
Boost your productivity in Gmail with an AI-powered email assistant
Plans & features
Deal terms & conditions
Lifetime access to TuCalendi

All future Pro Plan updates

You must redeem your code(s) within 60 days of purchase

Stack up to 3 codes

GDPR compliant

Previous AppSumo customers who purchased TuCalendi can buy more codes to increase their feature limits

Previous AppSumo customers will be grandfathered into the new limits
60 day money-back guarantee. Try it out for 2 months to make sure it's right for you!
Features included in all plans
Unlimited events

Javascript widgets

Email templates

Booking overviews

Email accounts

Booking pages

Dynamic and organic surveys and templates

Coupons and management

Integrations: Google Calendar, Outlook, iCloud Calendar, Zoom, GoToMeeting, Microsoft Teams, Stripe, PayPal, Slack, and more
Single

All features above included

3 users
10 calendars
5 confirmation and reminder templates
5 surveys

Double

All features above included

6 users
20 calendars
10 confirmation and reminder templates
10 surveys

Multiple

All features above included

9 users
40 calendars
20 confirmation and reminder templates
20 surveys
Sign Up
All our deals are time-sensitive! Make sure you don't miss any of our awesome limited-time offers.