Vidyou
Lifetime Deal
Convert your product data feed into custom high-quality video ads in minutes
Vidyou
Convert your product data feed into custom high-quality video ads in minutes
This deal is unavailable (a bummer, we know). Don't miss a great deal again — drop your email to get all our latest tools!
60 day money-back guarantee. Try it out for 2 months to make sure it's right for you!
Video ads bring your product to life, effectively driving sales and demand (the things those commercials have made me do for a Klondike Bar...).
But if you've got tons of products in your e-commerce store with changing prices, creating videos for each one seems impossible.
What if you could convert your entire product catalog into individual ads and update them automatically?
Now you can with Vidyou!
Transform your entire product catalog into an inventory of video ads
Alternative to: Smartly.io
Auto-update ads to reflect the most current prices to drive sales
Best for: Marketers and e-commerce teams who want to quickly create high-quality video ads for all their products
Overview
Vidyou helps you automatically turn your product inventory into customizable video ads within minutes, so you can take your ads to the next level.
With Vidyou, you can create high-quality, branded video ads in minutes by syncing to your digital product catalog – no more manually updating product or pricing info!
Use the ready-made video templates to make building video ads easier and quicker than ever.
Vidyou lets you generate thousands of ads that can be shared on major platforms like YouTube, Instagram, Facebook, and more.
To get started, simply sync your digital product inventory with the Vidyou platform using an XML link, or links from Google Merchant, Facebook product catalog, or Google sheets.
Vidyou will automatically pull in product details from your catalog, saving you time and energy – finally.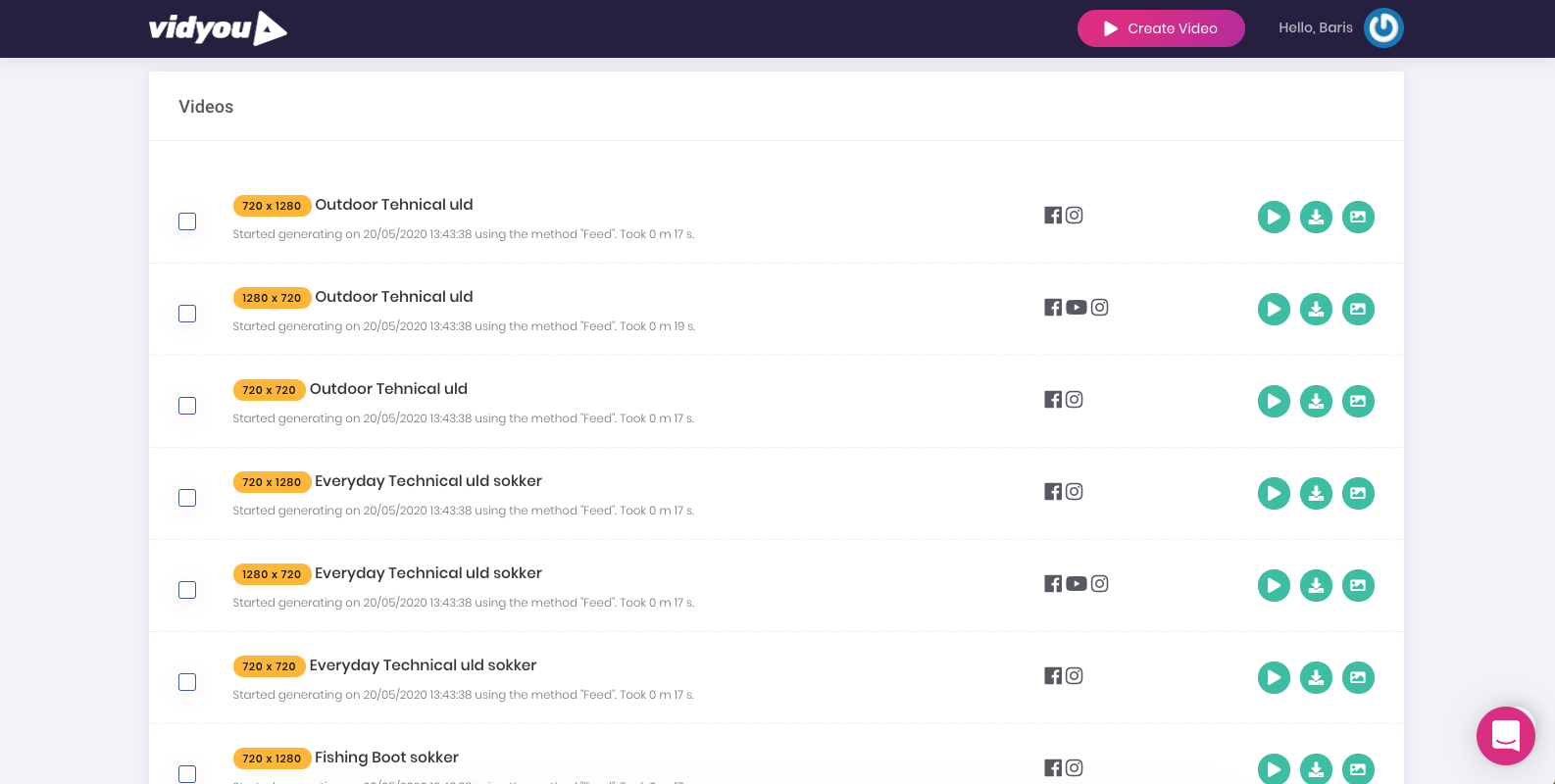 Create video ads for all of your campaigns in minutes.
Pick the format you want to use based on the platform(s) you'll use to broadcast your ad, like Instagram stories or in-feed ads on Facebook.
Once your product feed loads, you can add any external media such as your logo, so your ads are always #onbrand.
Running a promotion or sale? Add a custom CTA to highlight product discounts.
Plus, add music to your ad by uploading a song you've purchased or select one from the Vidyou library to make your ad stand out.

Connect your product inventory to automatically generate video ads and skip manual updates to product information.
If you've ever accidentally posted the wrong thing on social media, you know how important it is to make sure your ads look just right.
As you create the ad, you can see it play in real-time. You can also double-check your work with previews of how the ad will look on each individual platform.
Peace of mind – achieved!
Once your ads are created, you can download individual videos, or export a report of all the links.
You can also connect your Facebook business account to share ads straight from Vidyou to your Facebook page.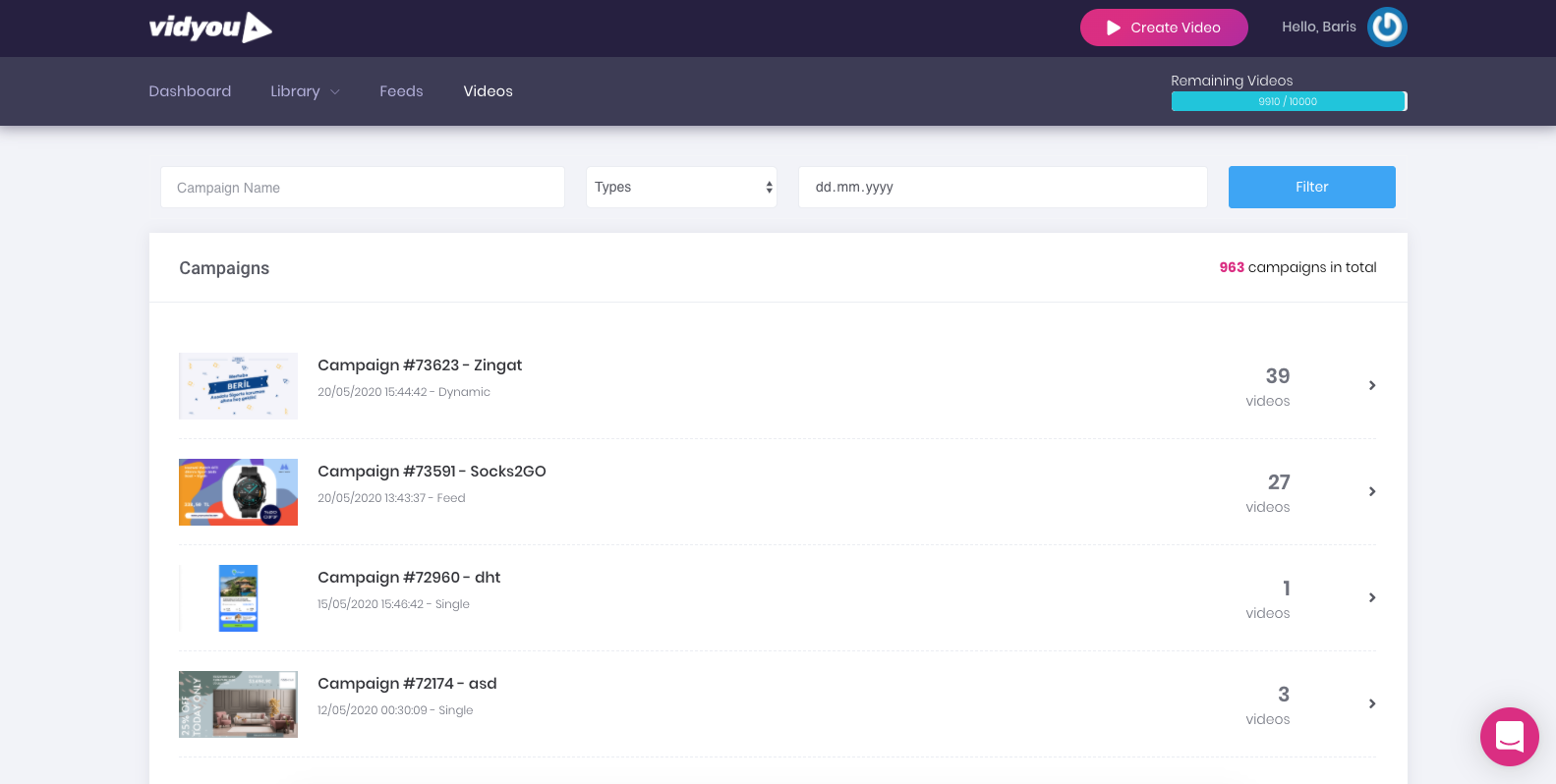 Get the video format you need for top social platforms!
Running a limited time promotion or planning a price-drop in the future? There's no need to redo any of your work.
The Vidyou platform lets you schedule auto-updates to automatically sync any changes to product price or description with your ad.
Choose from hourly updates all the way to monthly – whatever fits your schedule.
Never run outdated video ads again or worry about changes to product information when you use Vidyou.

Set scheduled updates, so your product info is always accurate.
Having to decide which product to showcase with a video ad is as tough as choosing your favorite AppSumo tool (of course, we're not biased).
Now there's a better way to create incredible video ads for your entire inventory, without wrecking your budget or your timeline.
Sync your product catalog and generate video ads for all your social platforms with just a few clicks.
Get access to Vidyou today!
P.S.
Learn how to use Vidyou like a pro by catching our training webinar replay here:
Webinar Replay
!
Related Blog Posts
Vidyou
Convert your product data feed into custom high-quality video ads in minutes
This deal is unavailable (a bummer, we know). Don't miss a great deal again — drop your email to get all our latest tools!
60 day money-back guarantee. Try it out for 2 months to make sure it's right for you!
Notetracks Pro
Lifetime Deal
Collaborate on audio projects with ease and get feedback directly on your tracks
Plans & features
Deal terms & conditions
Lifetime access to Vidyou

You must redeem your code(s) within 60 days of purchase

All future plan updates

Stack up to 10 codes

GDPR compliant (partner verified)

Only for new Vidyou users who do not have existing accounts
60 day money-back guarantee. Try it out for 2 months to make sure it's right for you!
Features included in all plans
Unlimited users

Free template & music library

HD, in-feed square, & vertical formats

MP4, GIF, & JPG Export
Single

All features above included

Up to 500 video credits / month

Double

All features above included

Up to 1,000 video credits / month

Multiple

All features above included

Up to 1,500 video credits / month
Sign Up
All our deals are time-sensitive! Make sure you don't miss any of our awesome limited-time offers.