Waybook
Lifetime Deal
Transform your documents and processes into a powerful playbook for your business
Waybook
Transform your documents and processes into a powerful playbook for your business
This deal is unavailable (a bummer, we know). Don't miss a great deal again — drop your email to get all our latest tools!
60 day money-back guarantee. Try it out for 2 months to make sure it's right for you!
As a business owner, you've got a ton of essential knowledge in your head. (And some less essential knowledge—e.g., "toasters were invented before sliced bread.")

But keeping that knowledge to yourself, written on Post-Its, and in that random note on your phone doesn't exactly benefit your team.
Your business could use a playbook, with all your training, onboarding, and process documentation in one convenient place.
Enter Waybook.
Collect and store all your business process documentation and onboarding materials in one place
Use simple quizzes and complex tests to certify knowledge for team members
Best for: Managers and entrepreneurs who want to effectively scale their teams and adapt to new ways of working remotely
Overview
Waybook is a powerful tool to turn your documents, processes, and know-how into effective and organized onboarding, training, and reference materials.
With Waybook, you no longer have to hound that one person for info. ("So I know you're on a beach in Bali, but where do we upload PDFs?")
Waybook helps you build a playbook for your business, with all your training materials and documents in one place.
Now it's easy to capture, store, and share knowledge and business information with your team, so you can scale faster.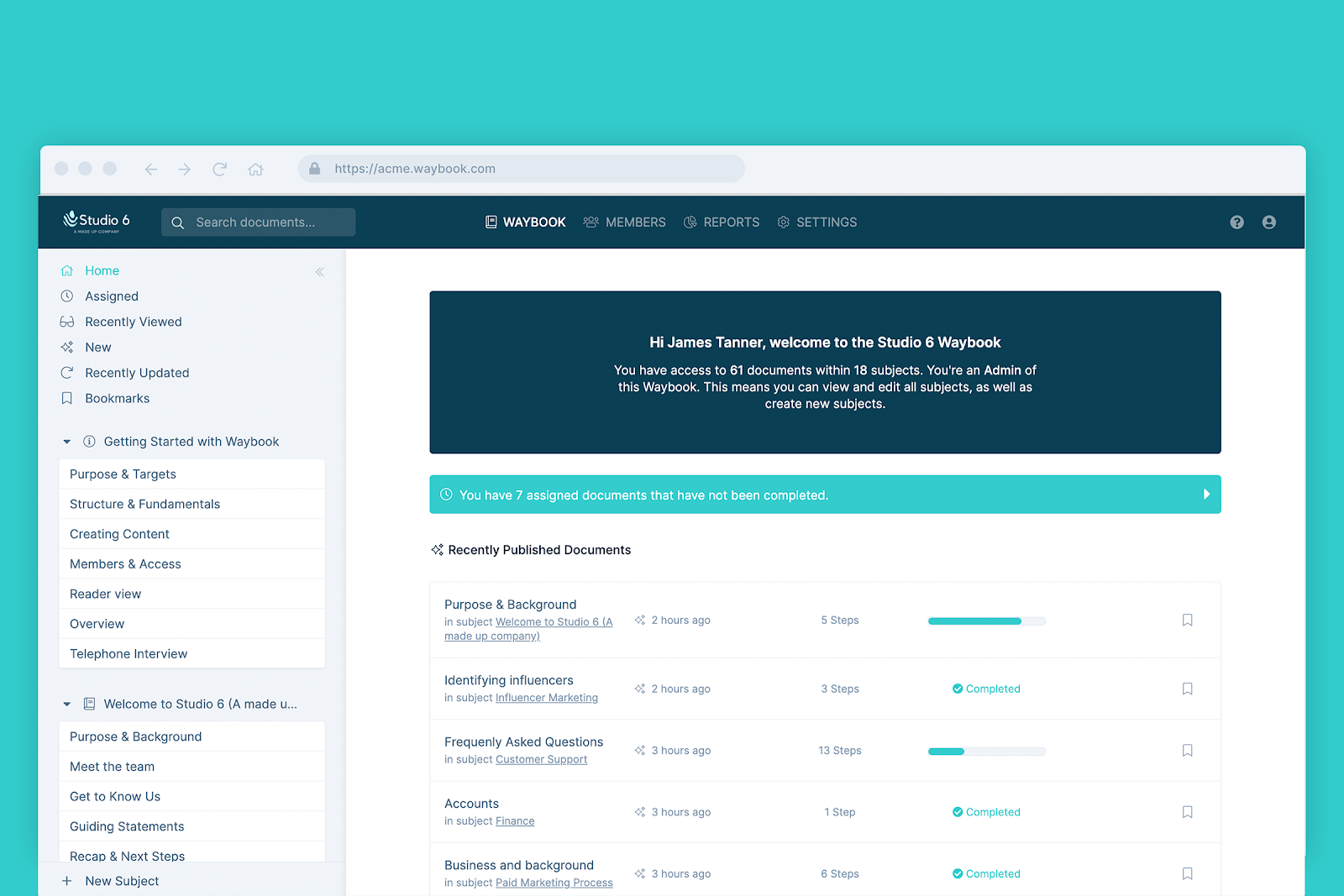 Keep all your crucial business knowledge organized and accessible in the Waybook dashboard.
Every successful business needs a great playbook, and Waybook was designed by process experts to help keep you organized.
The easy-to-use interface that lets you create documentation directly in the tool using two structures: Subjects and Documents.
Subjects mirror your departments or business functions, while the Documents structure reflects your business activities.
Each Document is made up of a series of steps, digestible snippets of information, and media in whatever form you need to best share your core information.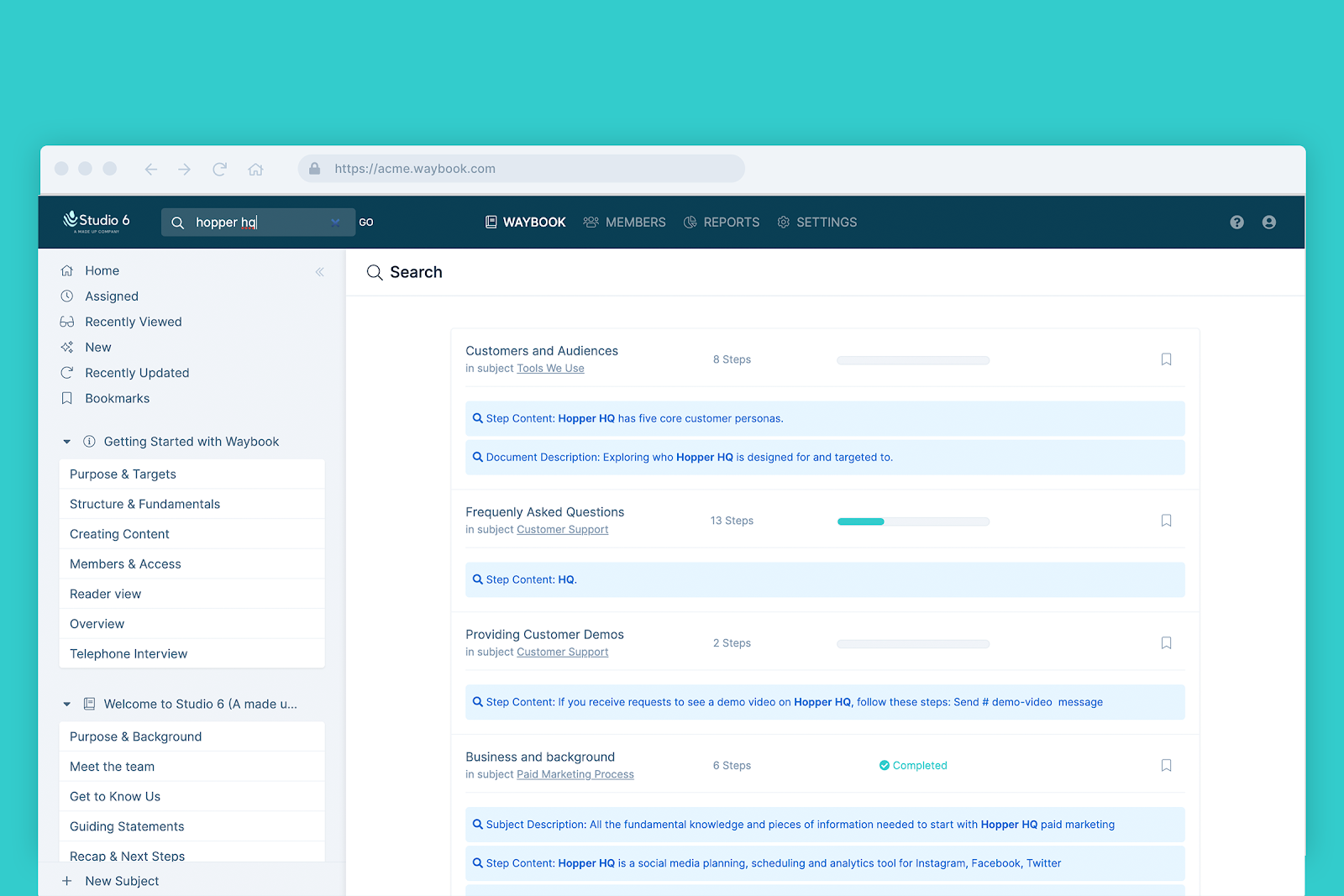 Organized by process experts, Waybook makes it easy for your team to find the processes, knowledge, and training they need!
Scaling your business means upping your headcount, and it's essential that everyone is on the same page. ("Turn to page 394.")
With Waybook, you can standardize best practices across your org, helping you delegate and outsource work more effectively.
Customize access and permissions to your playbooks to streamline collaboration, so the right people can view the right information for their role.
You'll be able to give team members access to the documents they need to do their jobs and limit edit access to protect your processes and important documents.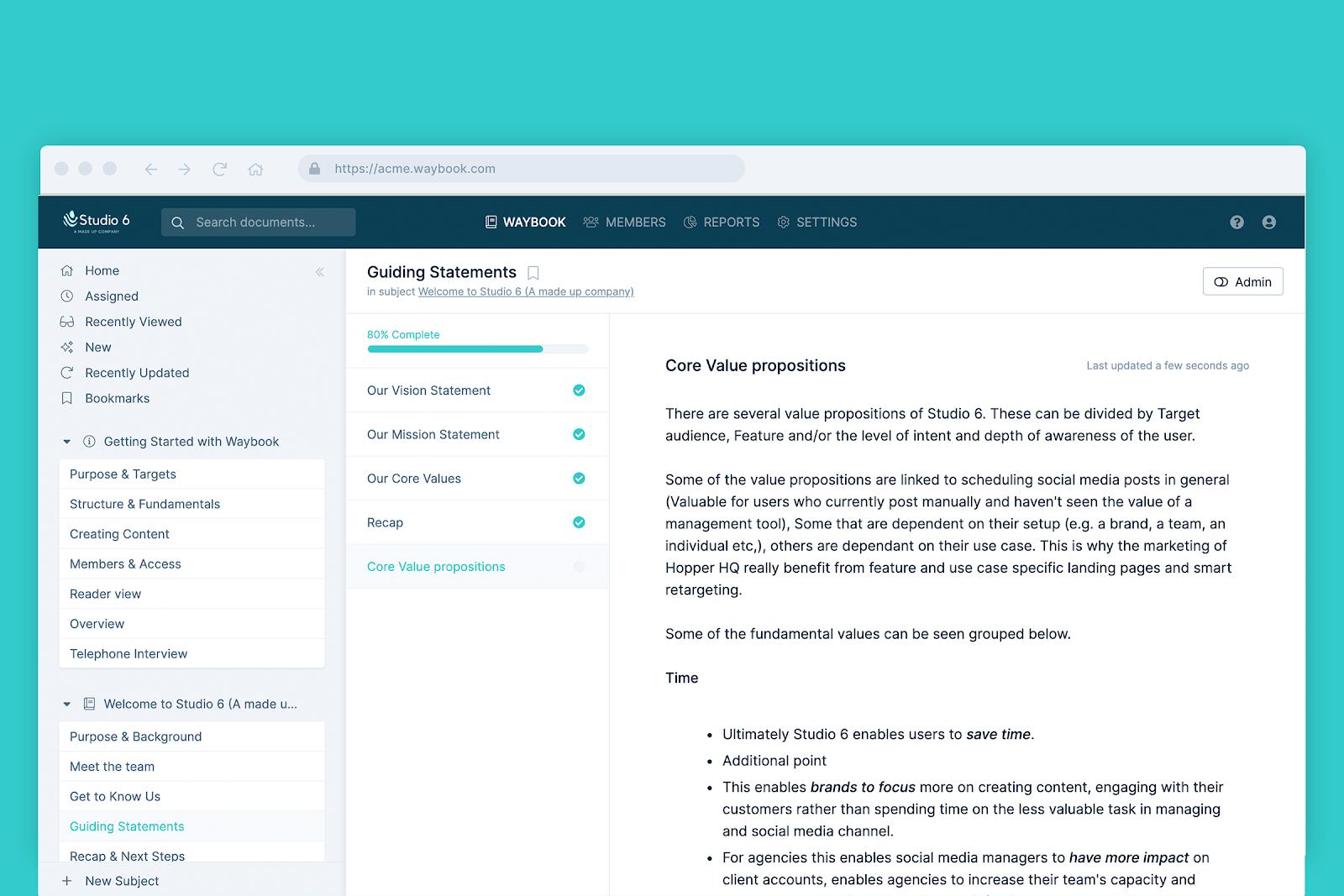 Take your company organization to the next level with a shareable knowledge base.
New hire training can be rough. (Think the merger episode of The Office).
Simplify training and onboarding by housing all your new hire materials in Waybook.
You can use completion tracking to see whether everyone is up-to-date on best practices and guides.
As you update processes or knowledge docs, Waybook can automatically notify relevant team members and request that they re-review or re-complete the documents.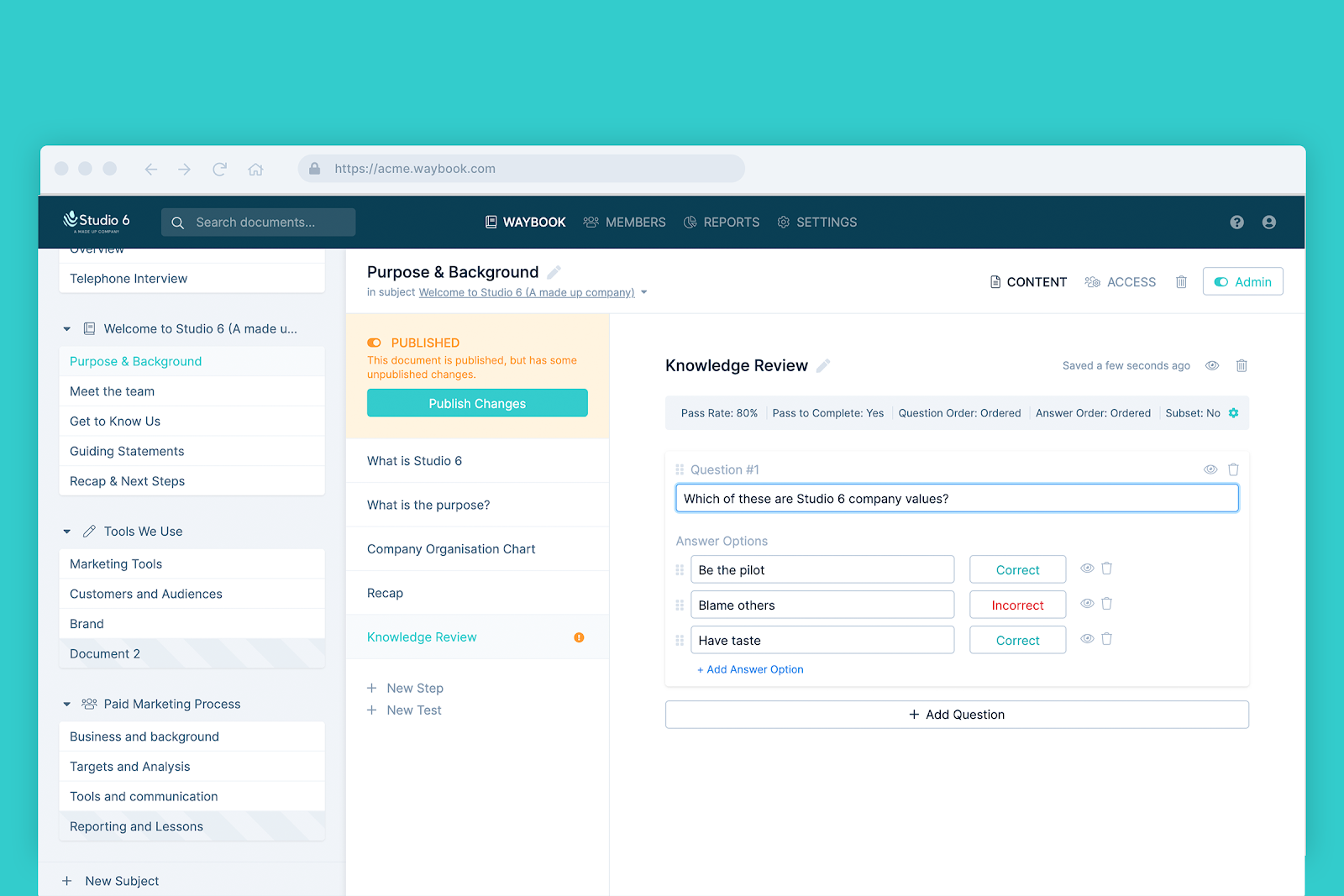 You can certify excellence with knowledge tests and quizzes for critical processes and training.
You've shared some great knowledge with your team—but how do you know they've really learned it? ("Huh? I was checking my dogecoin.")
Waybook lets you quantify your team's knowledge with multiple choice quizzes and tests to make sure your employees have read and understood the content.
You can create simple quizzes and complex tests with a minimum percentage employees have to score to certify excellence and ensure compliance.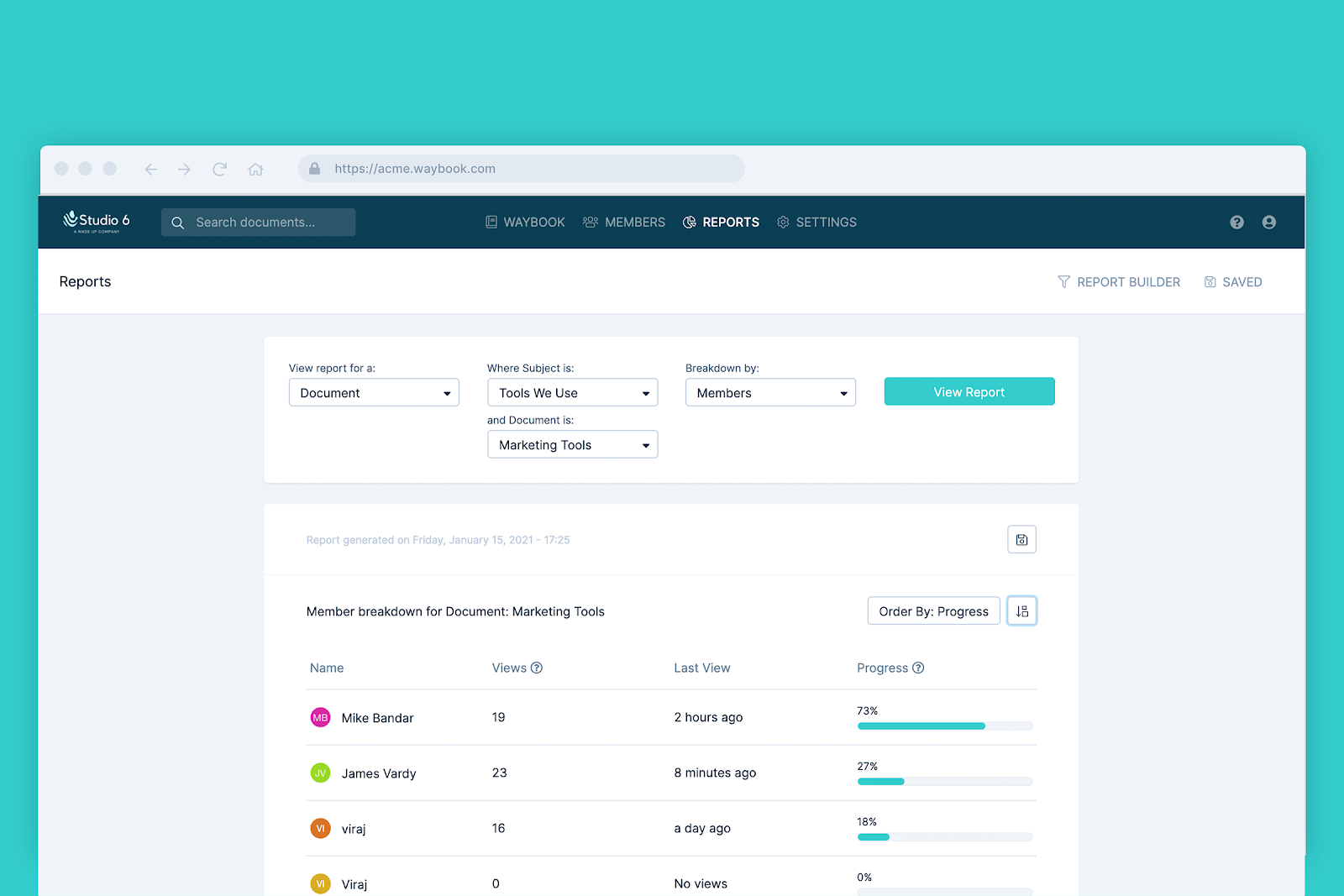 Track your team's performance with streamlined, holistic reporting.
All the valuable business knowledge stored in your brain isn't helpful to your team unless they can read minds. (Sorry, Alex. You're not a real Jedi.)
Don't get lost trying to navigate business plans and new hire orientation off the top of your head.
Rally your business processes and your team with your very own business playbook.
Get lifetime access to Waybook today!
P.S. Learn how to use Waybook like a pro by catching our training webinar replay here: Webinar Replay!
Waybook
Transform your documents and processes into a powerful playbook for your business
This deal is unavailable (a bummer, we know). Don't miss a great deal again — drop your email to get all our latest tools!
60 day money-back guarantee. Try it out for 2 months to make sure it's right for you!
Plans & features
Deal terms & conditions
Lifetime access to Waybook

All future Core Plan updates

You must redeem your code(s) within 60 days of purchase

Stack up to 5 codes

GDPR compliant

Only for new Waybook users who do not have existing accounts
60 day money-back guarantee. Try it out for 2 months to make sure it's right for you!
Features included in all plans
Unlimited subjects, documents, and steps

Full image and video embed functionality

Powerful content editor

Content tests and assessments

Customizable branding

Content library

Automatic reader notifications

Reader status tracking

Advanced search functionality

Bookmarked documents

Multilayer team and access permissions
Single

All features above included

5 users

Double

All features above included

10 users

Multiple

All features above included

15 users
From the founders
Elle_Waybook
Head of Customer Success
Sign Up
All our deals are time-sensitive! Make sure you don't miss any of our awesome limited-time offers.