Ziggeo
Lifetime Deal
Collect user-generated video and audio recordings as well as image captures with an award-winning API
Ziggeo
Collect user-generated video and audio recordings as well as image captures with an award-winning API
This deal is unavailable (a bummer, we know). Don't miss a great deal again — drop your email to get all our latest tools!
60 day money-back guarantee. Try it out for 2 months to make sure it's right for you!
While front-facing cameras and recordings of your own voice can be terrifying, they're vital in creating engaging videos for training, customer testimonials, and much more.
But how do you get high-quality, user-generated content that drives sales without expensive equipment, a dedicated video team, or complex software?
Meet Ziggeo, an award-winning scalable multimedia solution.
Record, customize, share, host, and track video, audio, and images to meet your goals
Integrate with all your favorite solutions to streamline your processes
Best for: HR and sales teams seeking an easy way to connect with prospects, deliver training, collect testimonials, and more
Overview
Ziggeo offers video and audio recording, image capture, media hosting, streaming, and playback in one award-winning and easy-to-use platform.
Unlike the last time you went to Times Square, getting started with video doesn't have to be overwhelming.
Ziggeo provides a simple way for you to embed a video recorder on your site or app, so you can capture, host, and customize videos for worldwide instant playback, all in one platform.
Whether you want a video solution to screen potential new employees, a new way to share product demos, or user-generated reviews to mix up your outreach, Ziggeo's ready to capture your good side.
The streamlined UX in your personal dashboard makes it easy to organize and customize all your user-created videos based on your preferred parameters.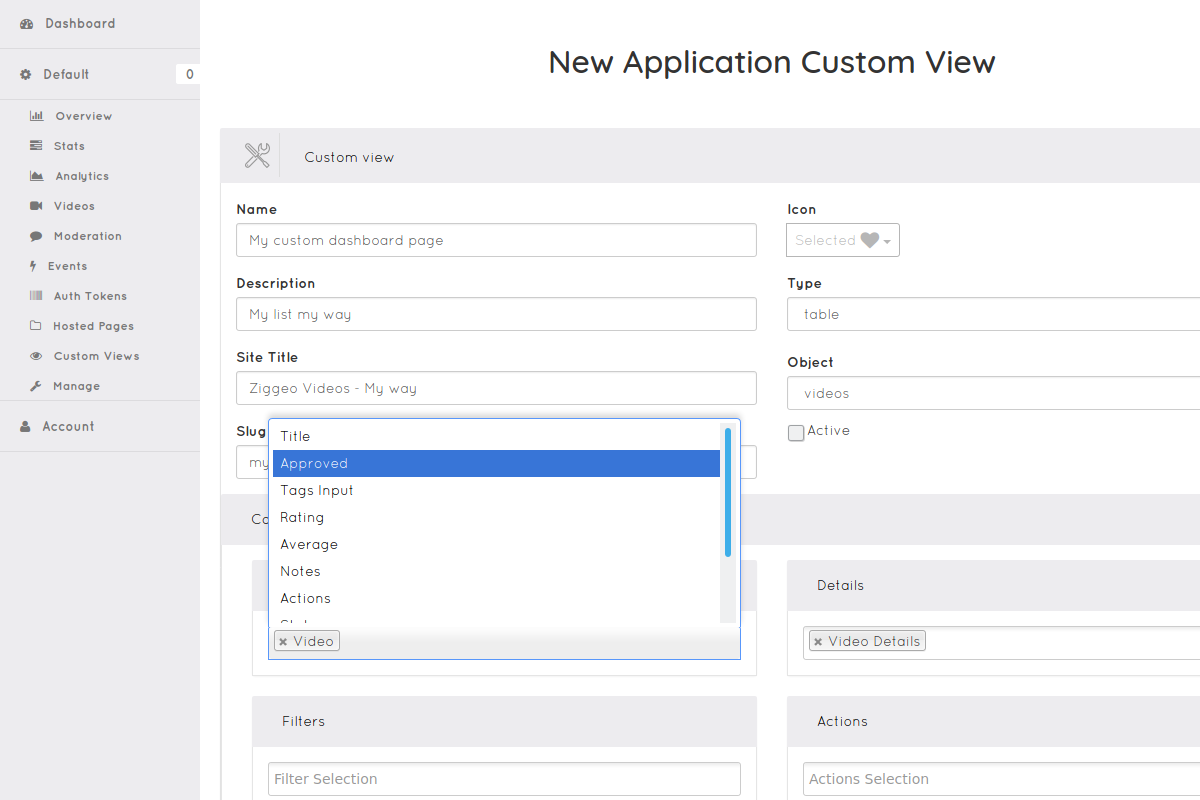 Organize and customize all your user-created videos in one streamlined personal dashboard.
From recording to playback, Ziggeo helps users record and upload great videos right from your website without needing to call in an Oscar-winning Director. (Is Bong Joon-ho available, though?)
Ziggeo offers browser-based recording that's mobile-friendly and works with native video SDKs for iOS and Android.
No need to download (another) app—anyone can film and upload their videos from the browser on their computer, phone, or tablet.
Worried about quality? Don't be. The sound and light indicator makes sure everyone looks and sounds their best.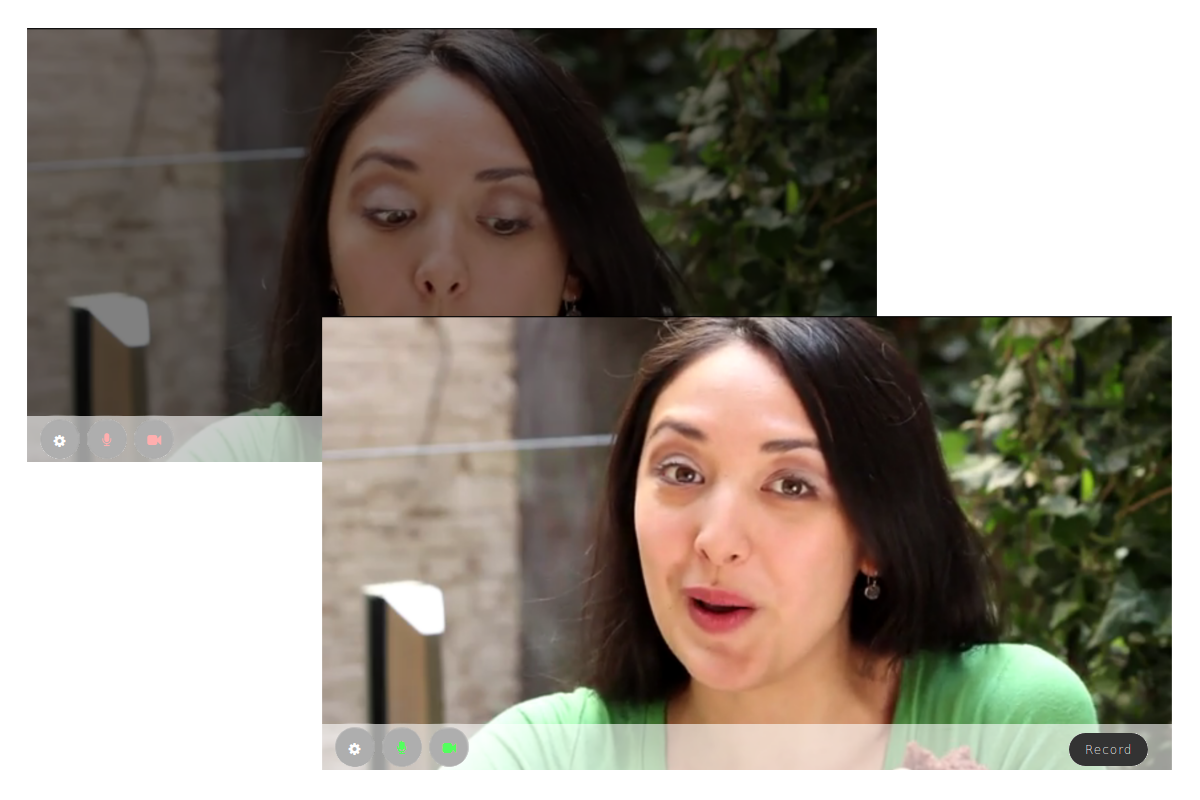 The lightning-fast content delivery network (CDN) means videos are available for playback immediately, wherever you are.
You'll be able to set access permissions so only the videos you choose are made available.
Use the cryptographic tokens to specify permissions for who can watch, record, or re-record videos so you can always manage your video content.
The best thing is, you can apply these tokens to audio and images, too—and you'll be able to manage your library of videos, audio, and images all in one place.
Ziggeo also integrates with all your favorite tools, from WordPress to Salesforce.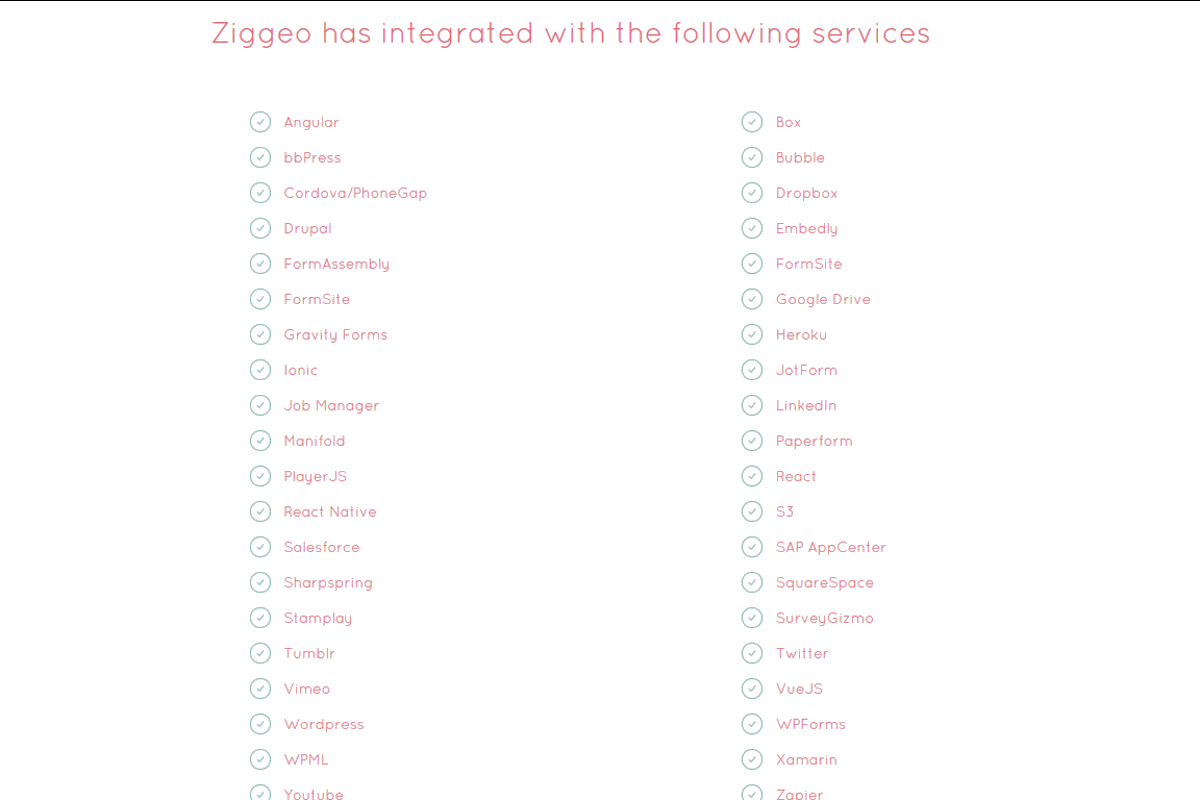 Ziggeo offers seamless integrations with the tools you're already using, so collecting videos is easier than ever.
All videos are hosted by Ziggeo on Amazon Web Services (AWS) and are available for instant playback after they're recorded.
Videos can be transcoded and downloaded in different resolutions to match any goal.
You'll get optimized viewing, whether you're creating a presentation or embedding a video into an email.
Plus, Ziggeo is GDPR, HIPAA, and PCI compliant; SOC2 certified; and CCPA ready for maximum peace of mind.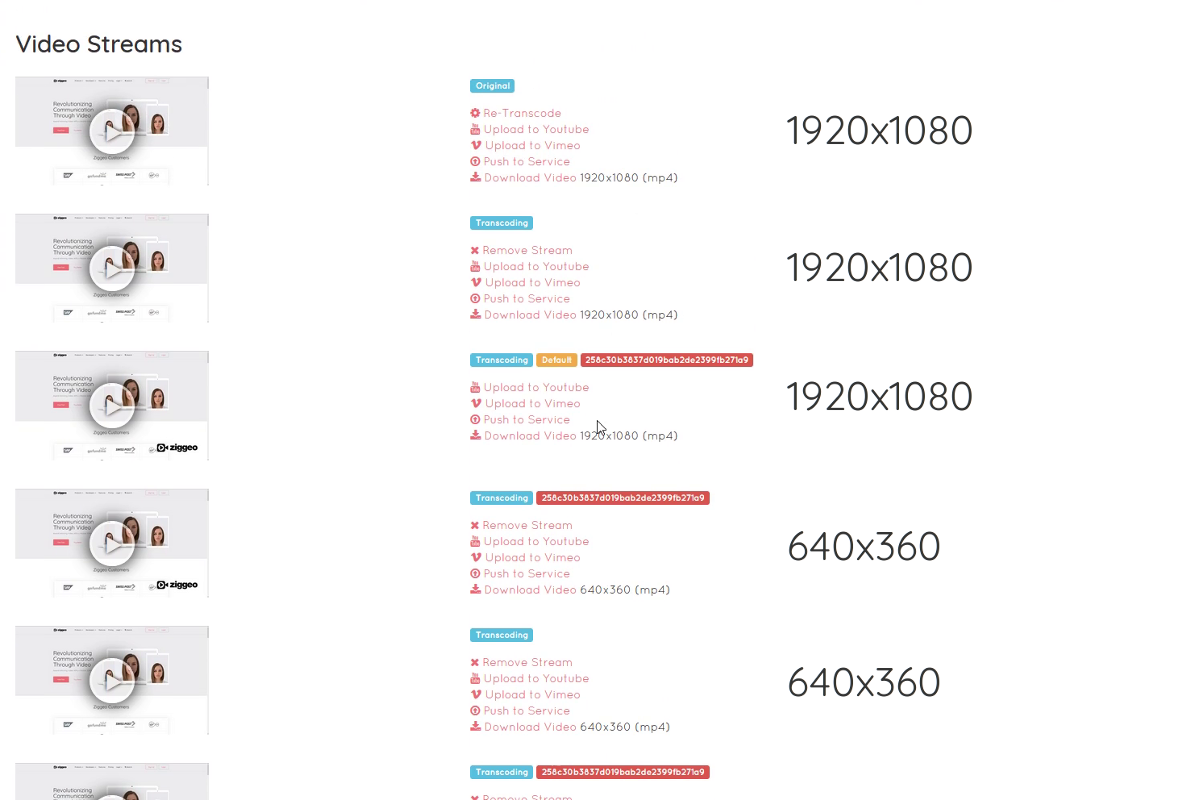 Transcode and download videos to different resolutions and optimize viewing for any goal!
With Ziggeo's versatile dashboard, you never have to go hunting through a cluttered server to find the video you need.
All videos are housed in your dashboard, making it easy to organize all your content, from video resumes to online lessons to Peloton unboxing videos. (A Peloton?!)
Track activities and stages, adjust permissions, tag videos to make them searchable, and more!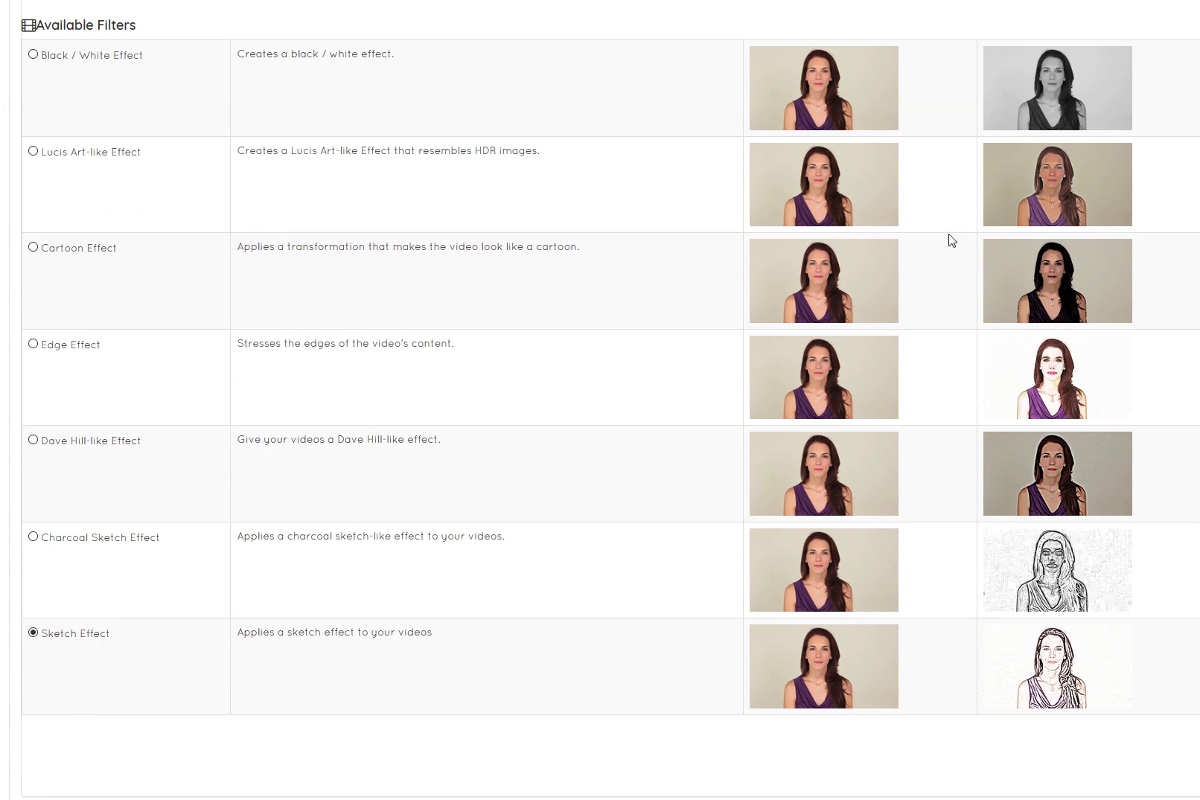 Transform your videos with a collection of dazzling filters!
Ziggeo's effects can help you transform and enhance your videos and images with a variety of Instagram-like filters from black and white to sketch effects.
Add logos or watermarks to your video and have them applied to all incoming videos automatically.
Turn user-generated testimonials into compelling video recommendations, highlight your bench of actors, or showcase your skilled teachers and coaches with professional branding.
All your original videos are safely stored, so you can play with changes and effects to your heart's desire.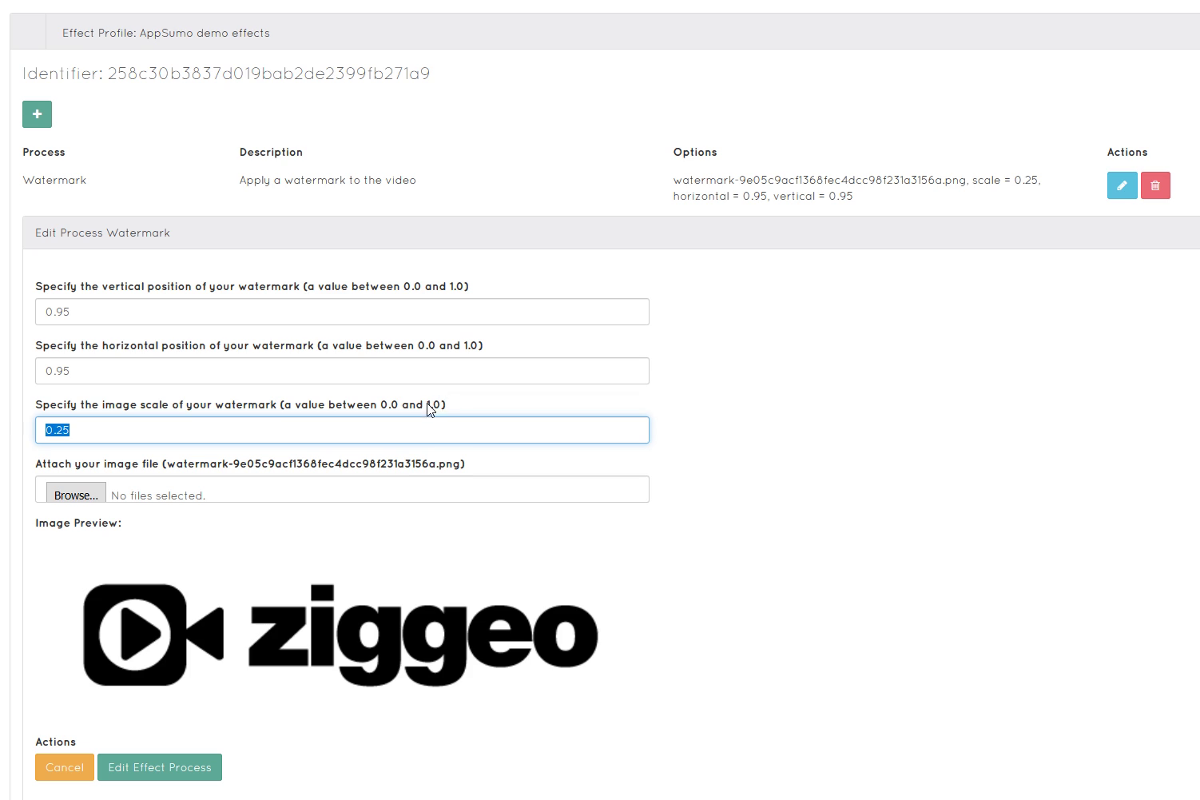 Apply and position logos and watermarks to your video.
Recording phenomenal content doesn't have to mean blowing your budget, learning complicated tech, or bribing your adorable niece.
To get personalized product reviews, find the next star for your creative project, or identify the perfect candidate to join the team, you've got a multimedia heavy-hitter in your corner.
Create awesome user-generated content all in one easy-to-use dashboard without enlisting a professional team.
Get lifetime access to Ziggeo today!
P.S. Watch the webinar and walk-through replay for Ziggeo here.
Ziggeo
Collect user-generated video and audio recordings as well as image captures with an award-winning API
This deal is unavailable (a bummer, we know). Don't miss a great deal again — drop your email to get all our latest tools!
60 day money-back guarantee. Try it out for 2 months to make sure it's right for you!
Plans & features
Deal terms & conditions
Lifetime access to Ziggeo Pro Plan

You must redeem your code(s) within 60 days of purchase

All future Pro Plan updates

Stack unlimited codes

GDPR compliant

Previous AppSumo customers who purchased Ziggeo can buy more codes to increase their feature limits

Please note: Videos are removed after 1 year of inactivity. Customers will be notified 1 week prior to removal

Please note: Videos hosted on third-party platforms do not count towards playback minute limits
60 day money-back guarantee. Try it out for 2 months to make sure it's right for you!
Features included in all plans
Unlimited videos

Video Recorder + Player

HTML5/WebRTC support

Video dashboard

iOS + Android SDKs

Push to S3, Dropbox, FTP

Secure video access

Screen capture

High-definition videos (HD)

Add logos to videos

Configurable dashboard

'Not Safe For Work' filter

Moderation dashboard

Sub-accounts

Video transcription

WordPress plugin

Zapier

All integrations
Single

All features above included

100 video minutes per month
3 users
5,000 playback minutes per month

Double

All features above included

250 video minutes per month
10 users
15,000 playback minutes per month

Multiple

All features above included

500 video minutes per month
Unlimited users
30,000 playback minutes per month
Sign Up
All our deals are time-sensitive! Make sure you don't miss any of our awesome limited-time offers.