Zooc is a collaboration tool that supports asynchronous communication via text, voice, video, and screen recording for high-context feedback.
Conversations in Zooc are housed in canvases, which are like containers for the content you're commenting on.
Zooc supports seven types of content: video, audio, PDF, image, text, whiteboard, and website.
That means you can use screen recordings, YouTube videos, MP3s, and more to easily discuss with your team.
Because Zooc is available on desktop, tablet, and mobile, you can always record a voice or video clip for easy commenting on content, or go old-school with simple text.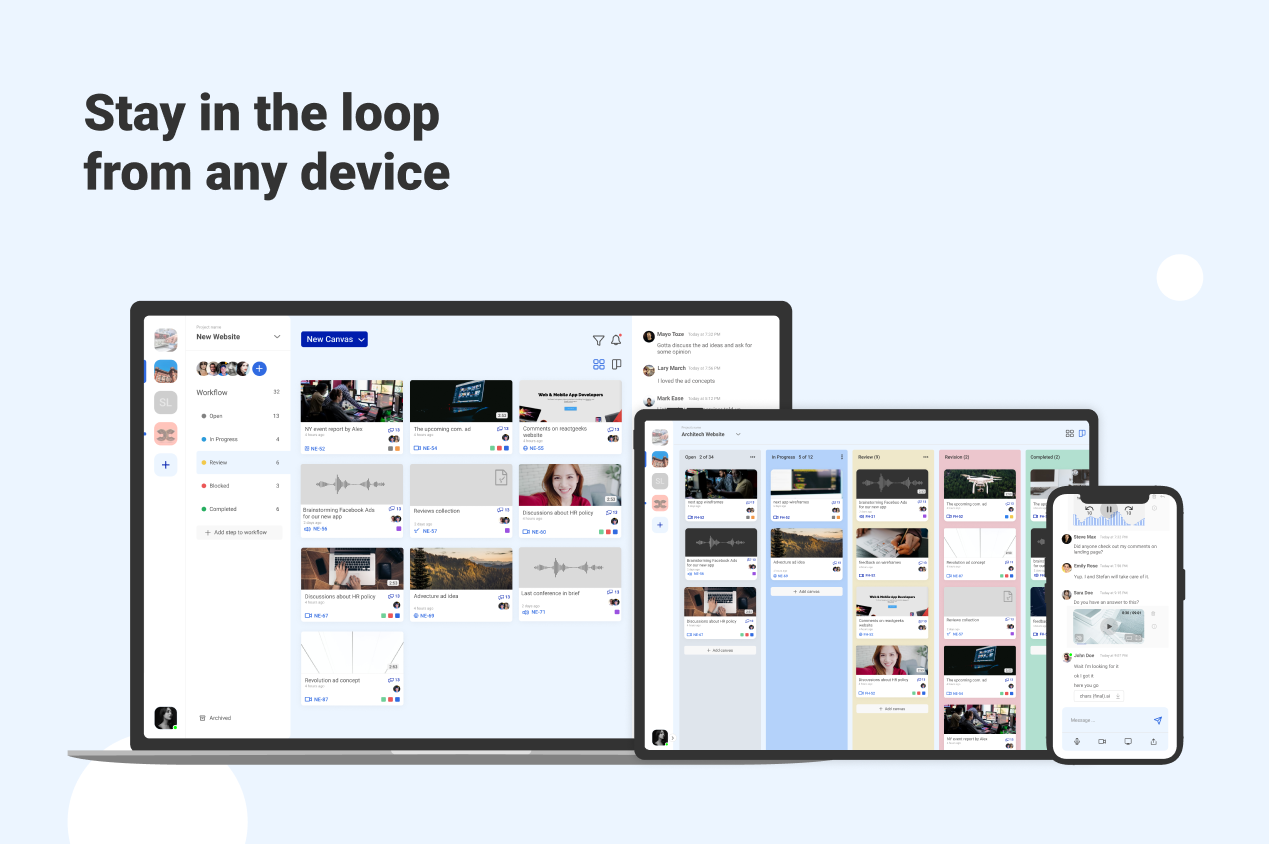 Use Zooc on desktop, tablet, and mobile to easily record voice or video clip comments.
Stay on top of all your active conversations with the dashboard.
You can manage multiple projects, and each project can have its own workspaces with customizable workflows for quick organization.
The canvas conversations can also be assigned to team members or tagged for filtering.
Communicating with your team is as easy as pasting a screenshot to the dashboard and clicking anywhere on the image to start the conversation.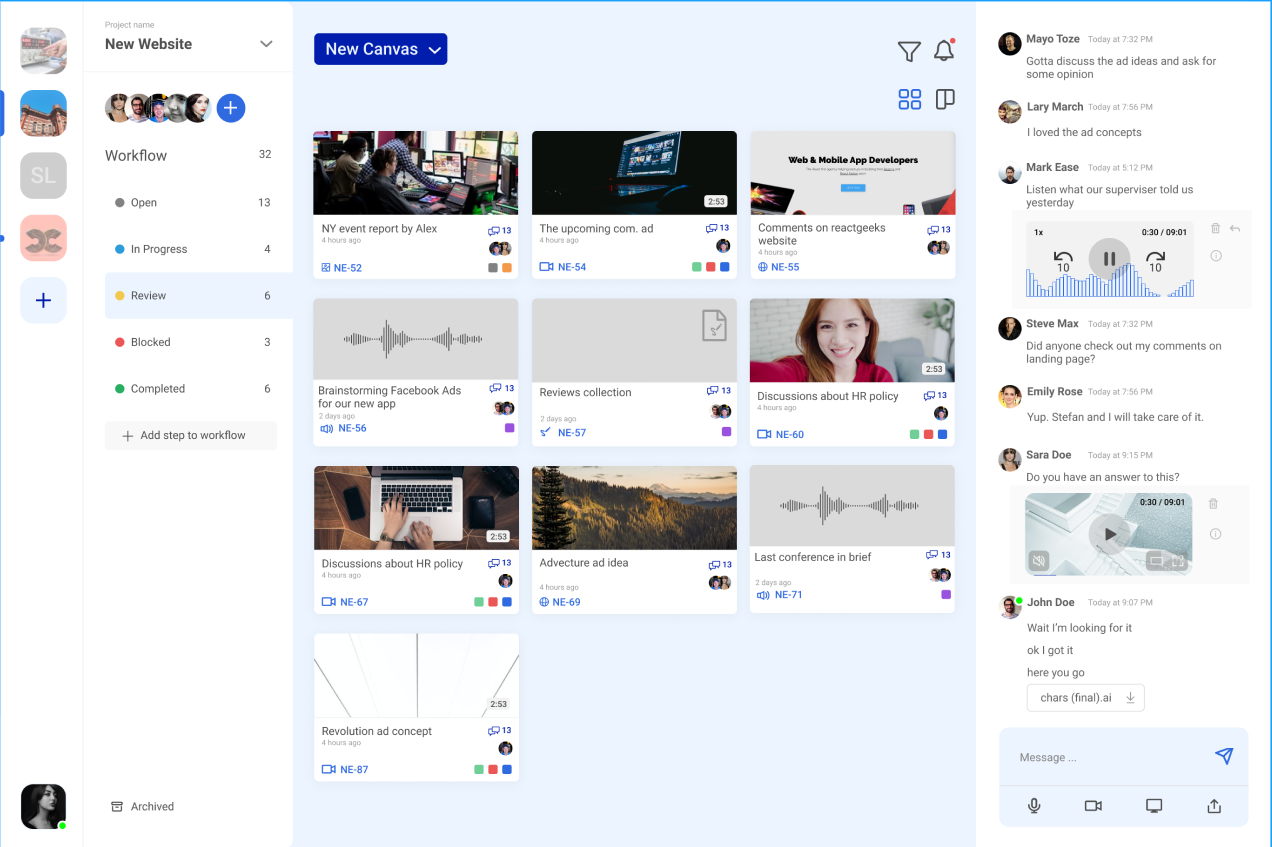 Manage multiple projects and workspaces within Zooc for easy organization!
Don't get stuck in a description loop. Get specific with your feedback by commenting on any frame of a video in Zooc.
Videos can be recorded within Zooc or hosted on another platform like YouTube, SoundCloud, Facebook, Twitch, and many more.
You can even do a screen recording and pinpoint each second that includes a task for completion.
These pinpoints are displayed on the timeline and open a subthread for discussions, which can be resolved when the task is completed.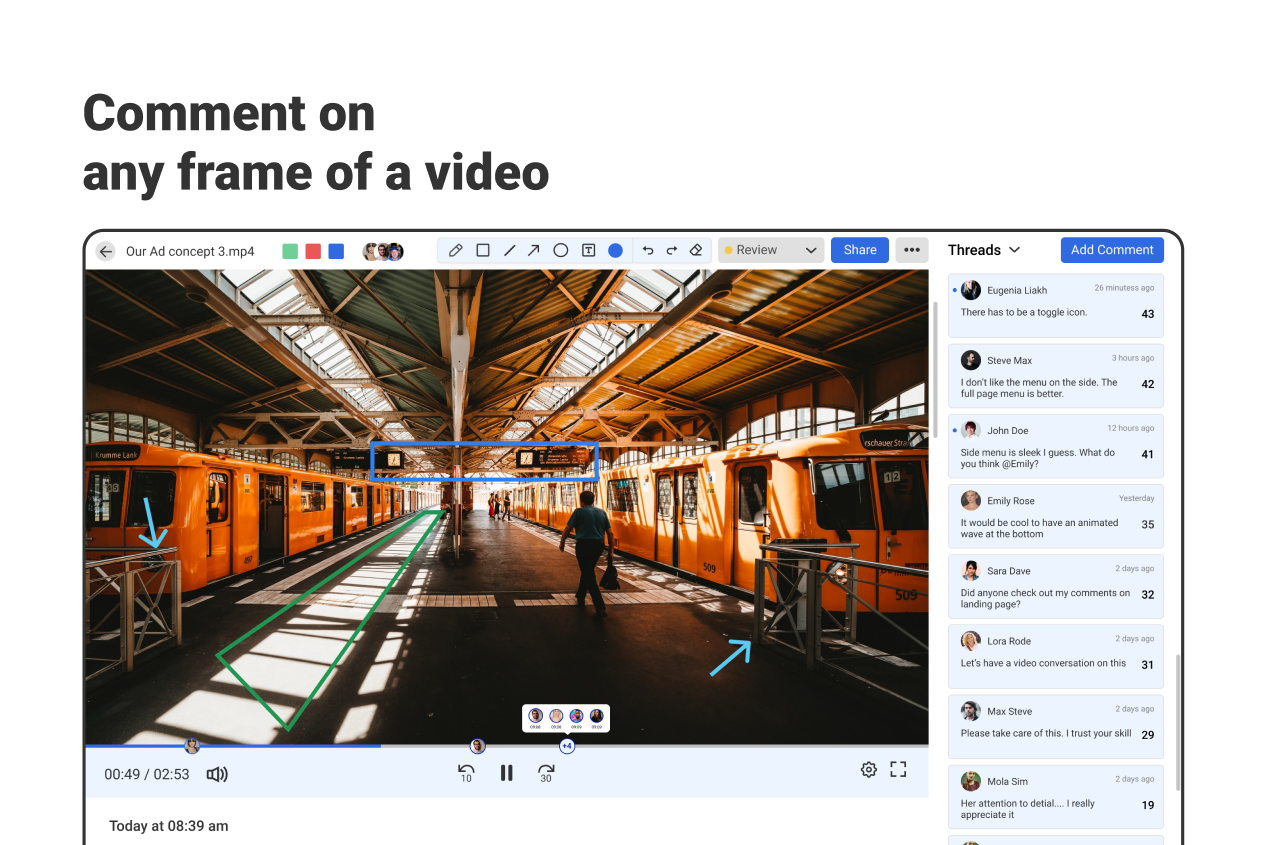 Assign tasks and discuss specific points for high-context collaborative editing!
Zooc makes it easy to add notes to any type of content.
Draw comments free-hand on a live website, a PDF, or a video to get your point across exactly where you need to.
Zooc even lets you brainstorm ideas with the whiteboard feature for immersive digital communication (and your personal choice of snack that you don't have to share).
Plus, white-labeling means agencies can share their comments with clients while keeping the focus on their brand.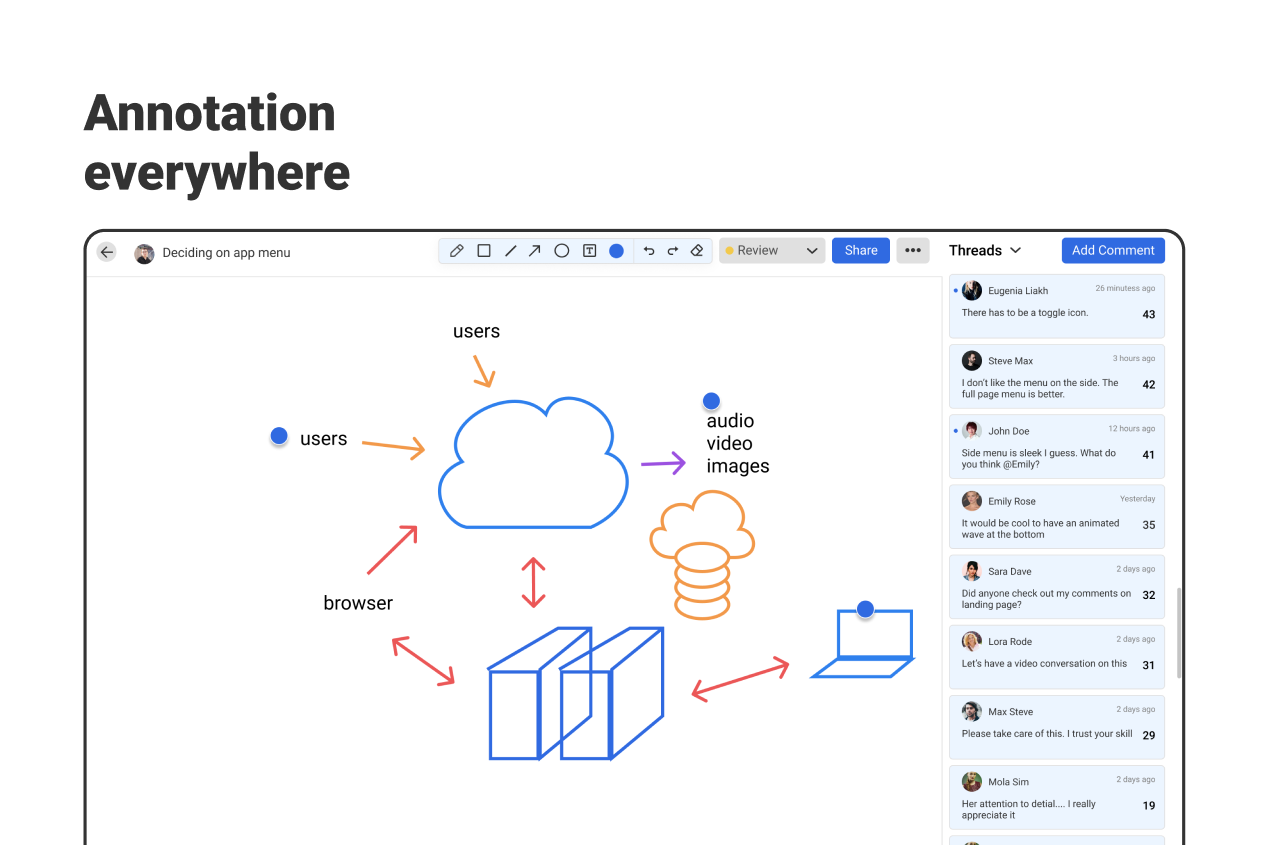 You can add free-hand notes to any document, or brainstorm with the whiteboard!
The Google Chrome extension brings all the awesome commenting features of Zooc to your web applications, too.
Provide rich feedback by adding a voice recording, webcam video, or screen recording to any comment box.
Now you can include design tips on Figma, InVision, Google Docs, and even GitHub. Plus, with the Slack integration you can send rich content clips to any channel or contact so you never miss a beat.
You can also take a full-page screenshot of any website with a single click, then add detailed feedback by simply pointing and clicking—perfect for in-app feedback.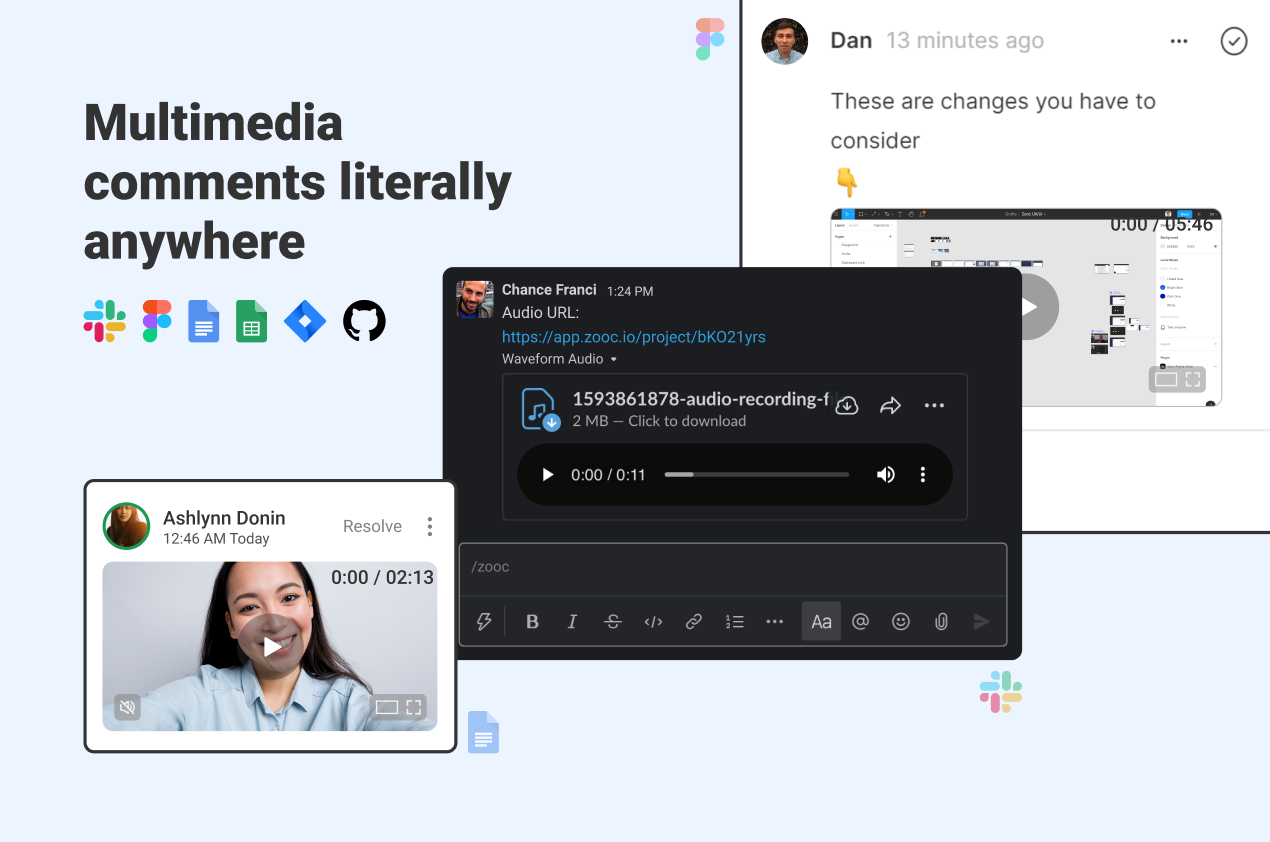 Add voice, webcam, or screen recordings to any comment box in your favorite web apps!
Remote collaboration is a tricky proposition, especially when you work with visual mediums and talk with your hands a lot. ("Ay! I'm commenting over here!")

Zooc gives you voice, video, and screen recording to make sure your point gets across, while letting you add those comments to any type of content on-the-fly.

It's all the flexibility and collaboration of a meeting, without the shared time commitment.

Get lifetime access to Zooc today!

P.S. Learn how to use Zooc like a pro by catching our training webinar replay here: Webinar Replay!