PWAforWP is a WordPress plugin that generates an app-like shortcut for your WordPress site, giving users access from both Android and iOS mobile devices.
Your website could be an app in the time it takes to finish your Zoom yoga class (Now breathe a big sigh of relief…).
Skip right past fussing with developers, overhead costs, maintenance, and troubleshooting.
PWAforWP builds an app-like experience to live on your users' home screen, so they can access your content right away.
Use the intuitive interface to get your WP site onto mobile home screens in minutes!
Don't worry about platform wars either—PWAforWP works on both Android and iOS.
You can even get your "app" listed on the Google Play Store with the PWA to APK generator.
PWAforWP also caches your web page, so it's accessible offline (take that, spotty elevator service!).
Define your caching schedule to make content available offline in the app!
You can also add the PWA install banner wherever you'd like on your site, so people know they can always find you.
The scroll progress bar extension will show app users how much content they have left on their plate, while the pull to refresh extension lets them grab more whenever they please.
PWAforWP offers a streamlined app experience that makes sure you don't lose traffic to the whims of search rankings.
Plus, the detailed data analytics track how many users have your app installed.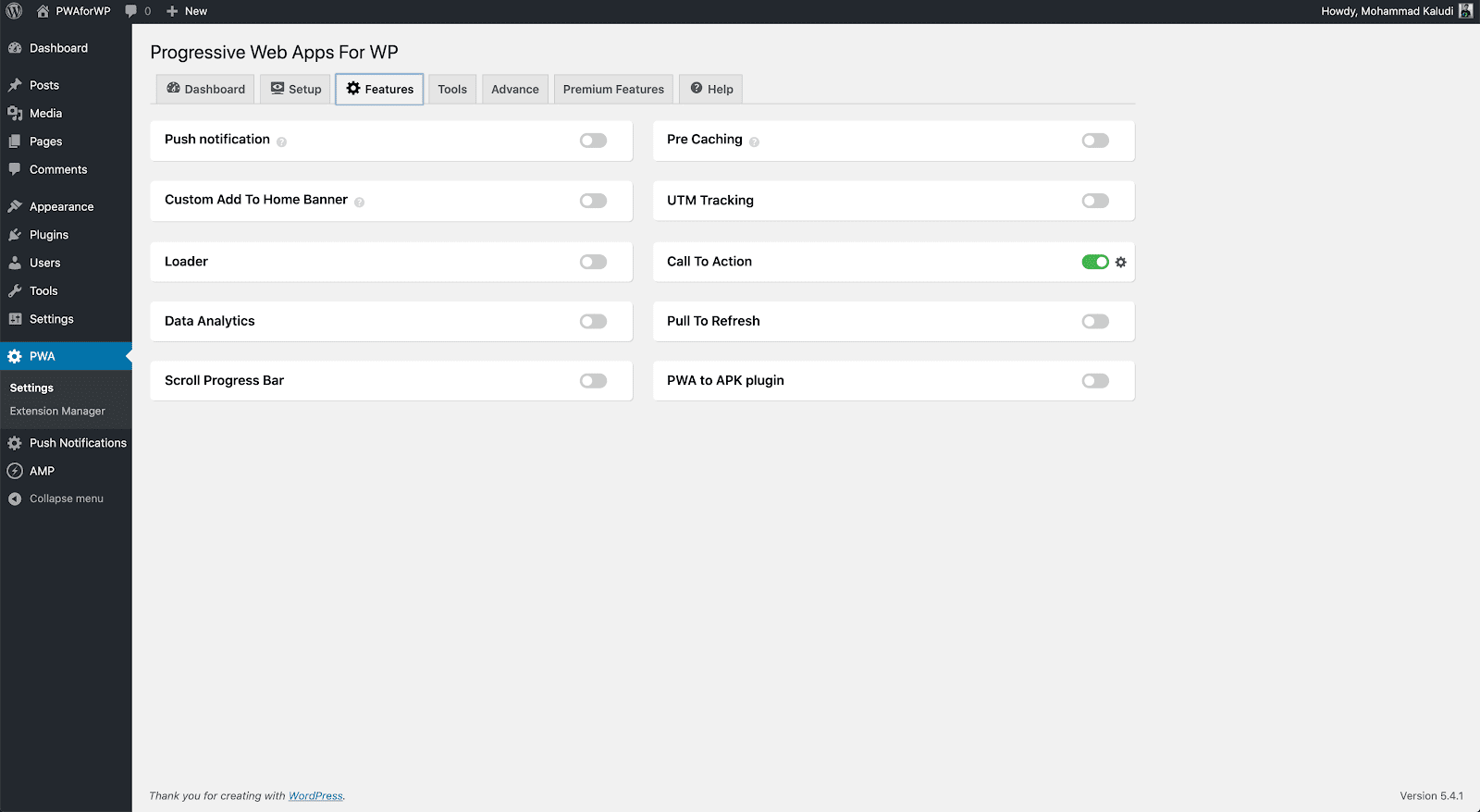 Useful features like a scroll progress bar and pull to refresh keep users engaged!
News sites will love PWAforWP because you can get your latest articles right to mobile devices without making users fire up their web browser.
Meanwhile, e-commerce businesses can secure long-term customers by pushing their deals straight to customers, as well as eliminate the competition from product searches.
And content creators can connect to their fanbase way easier, giving them more airtime.
Plus, with Push Notification support built-in, your PWA users will be notified as soon as the new content is available.
Use the dashboard to ensure your app is online and working for devices!
Developing an app is a big undertaking, and most times that money is better spent elsewhere (e.g., a standing desk).

Your home screen homecoming is here to get you the repeat visitors you deserve.

PWAforWP lets you bypass all of the hard parts of app development and maintenance to get your site on home screens in record time.

Get lifetime access to PWAforWP today!

P.S. Learn how to use PWAforWP like a pro by catching our training webinar replay here: Webinar Replay!