Reportz is an intuitive, fully customizable KPI-based reporting tool that pulls real-time data from all your marketing channels.
With Reportz, you'll be able to automate the reporting process for clients, ensuring that they get regular updates with no extra effort on your part.
These automated reports allow you to speed up your client reporting system and increase transparency between you and your client.
You can add an unlimited number of users, which means each user in your organization can collaborate more efficiently while also reporting for their own individual clients.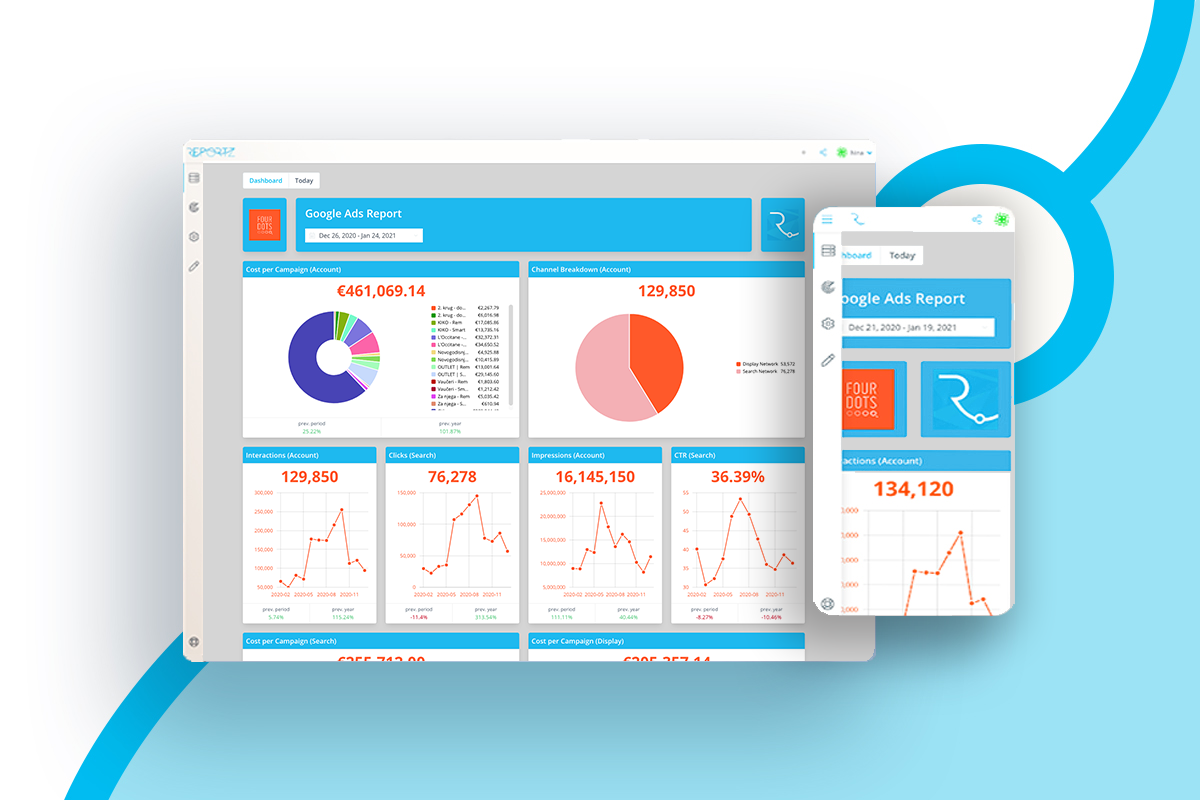 Reportz offers a KPI-based, customizable dashboard that pulls data from your marketing channels in real-time!
Customization isn't just for wedding cakes and Build-A-Bear Workshop.
Creating custom dashboards in Reportz is a quick and user-friendly process that lets you white-label your dashboard with brand logos, colors, backgrounds, and more.
You can also assign custom subdomains to your dashboards and set up automated email reporting from a custom email address for the full white-label experience.
Create customized and detailed reports that outline all the metrics you specify, providing only the information you want in as much detail as you need. (Unlike that one oversharing neighbor.)
With a fully customizable dashboard, you get to decide which data you want front and center.
Once your Reportz account has been created and all your integrations are set up, you can start assembling your reports in minutes, not hours. (More time for your whittling hobby! Yay!)
Access pre-made templates for SEO, PPC, social media, e-commerce, and more to get the information you're looking for in a few clicks.
You'll be able to customize the templates to better fit your campaign needs and make sure that your metrics are working for you.
Use a selection of reporting templates to create your own reports in just a few clicks!
Reportz integrates with 19+ (and growing!) major data providers, allowing you to pull real-time data from marketing tools and social channels.
Connect accounts for Google Analytics, Facebook, Instagram, LinkedIn, SEMrush, WooCommerce, and more to get the data you need when you need it.
Dashboards can contain data from different sources, allowing you to completely customize your dashboard to present all the data you want to see.
Integrate Reportz with the marketing tools and social platforms you already use to get the data you want to see.
Privacy and data security are top of mind whenever you're dealing with sensitive data (like my embarrassing playlists from middle school ft. Hoobastank).
With Reportz, you can password-protect your dashboards so that only authorized members can access this data.
You'll be able to share a regenerated dashboard link with those who need to view specific data but don't need access to change any of the reporting settings.
Keep your data and reports secure with a password-protected dashboard and custom permissions.
Just like waiting in line is the least exciting part of Walt Disney World, the fun part of marketing definitely isn't manually updating reports. (Wheee…)

It's time to put reporting on autopilot with customized reports, KPI-driven dashboards, and real-time updates.

Reportz lets you take back those valuable hours and hypercharge your reporting process.

Get lifetime access to Reportz today!

P.S. Learn how to use Reportz like a pro by catching our training webinar replay here: Webinar Replay!