Textnock is a powerful bulk texting platform that makes connecting with your customers easy and efficient.
With Textnock, a text is worth a thousand emails.
Reach large audiences with a single text message and send bulk SMS and MMS messages to mobile devices in minutes. (MMS is only available in US and Canada.)
You can also set up campaigns, schedule messages, and segment audiences to hit the right people at the right time.
Then track your outbound text messages and campaigns in the handy dashboard.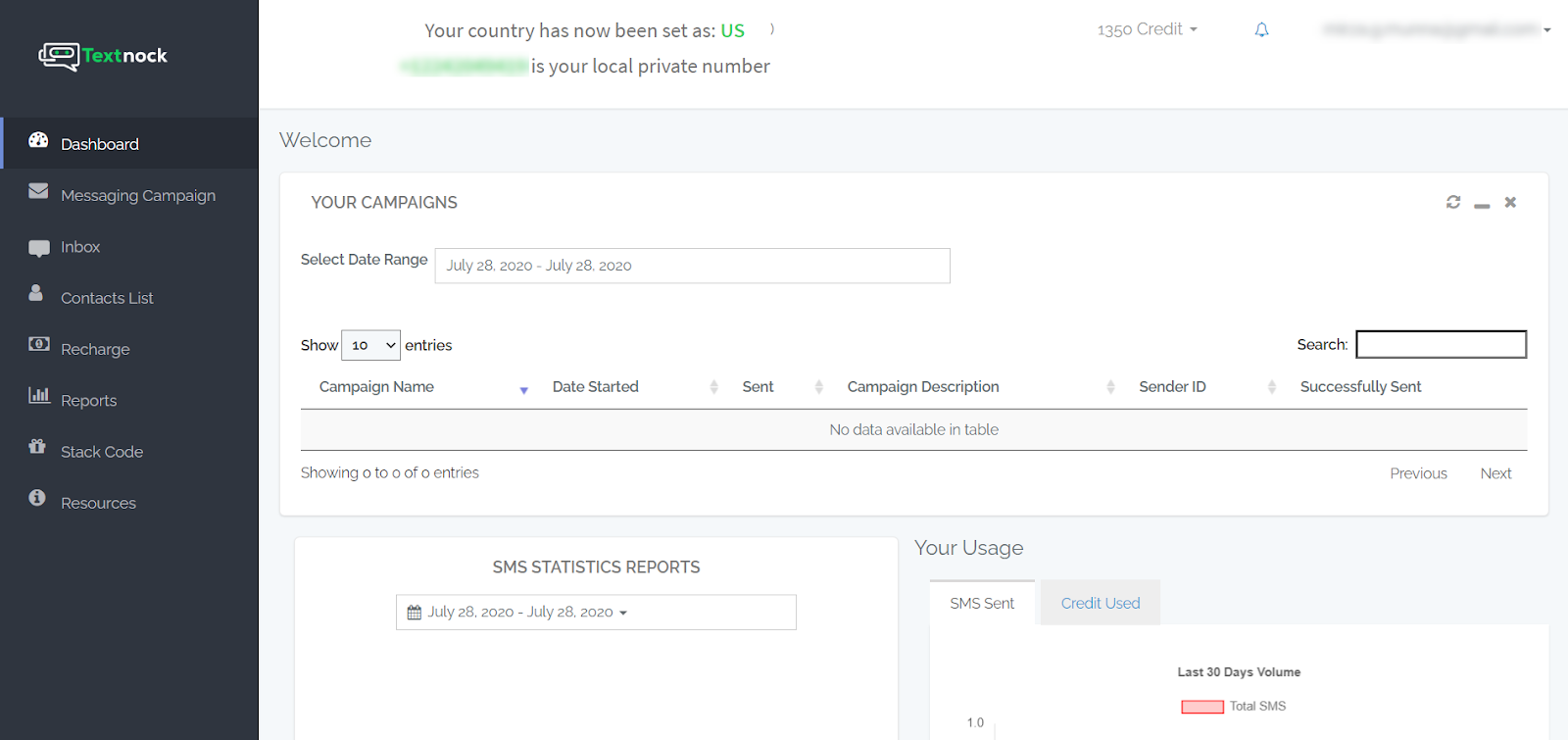 Stay on track with an overview of your campaigns and usage in the dashboard!
Communication is a two-way street. Thanks to Textnock, it's never been easier — or faster — to strike up a one-on-one conversation with customers, answer questions, or just stay connected.
The two-way messaging feature serves Local Number Supported countries: US, Canada, UK, Australia, Brazil, China, and Poland.
Send and receive real-time SMS/MMS texts right in the inbox.
Plus, set up tailored automated responses as part of your campaigns.
Send and receive SMS and MMS in a streamlined inbox so you can always stay connected.
Automation is key to working efficiently and Textnock's simple campaign setup helps you power up your marketing efforts.
Simply select the contact, compose your messaging and hit 'start' — it's as easy as 1-2-3!
Segment your contact list and target recipients with customized messaging.
Create, customize, and automate bulk SMS and MMS campaigns that reach a wide audience.
With the limited time, resources, and budget of most startups, you can't afford to waste precious hours waiting for the right time to send a message.
That's why Textnock lets you plan ahead and schedule your text messages in advance to go out at specific times.
Choose the date, time and recipients, then set it and forget it. Textnock takes care of the rest!
Schedule text messages to go out at any date or time and let future you can kick back and relax.
Textnock's contact directory lets you easily add new contacts or import your current list of contacts in minutes.
Store and manage contacts right in the directory, where you can organize them into category lists and use these categories to send targeted messages.
With superb subscriber data collection, you'll be able to reach the right audience every time based on the custom fields you set.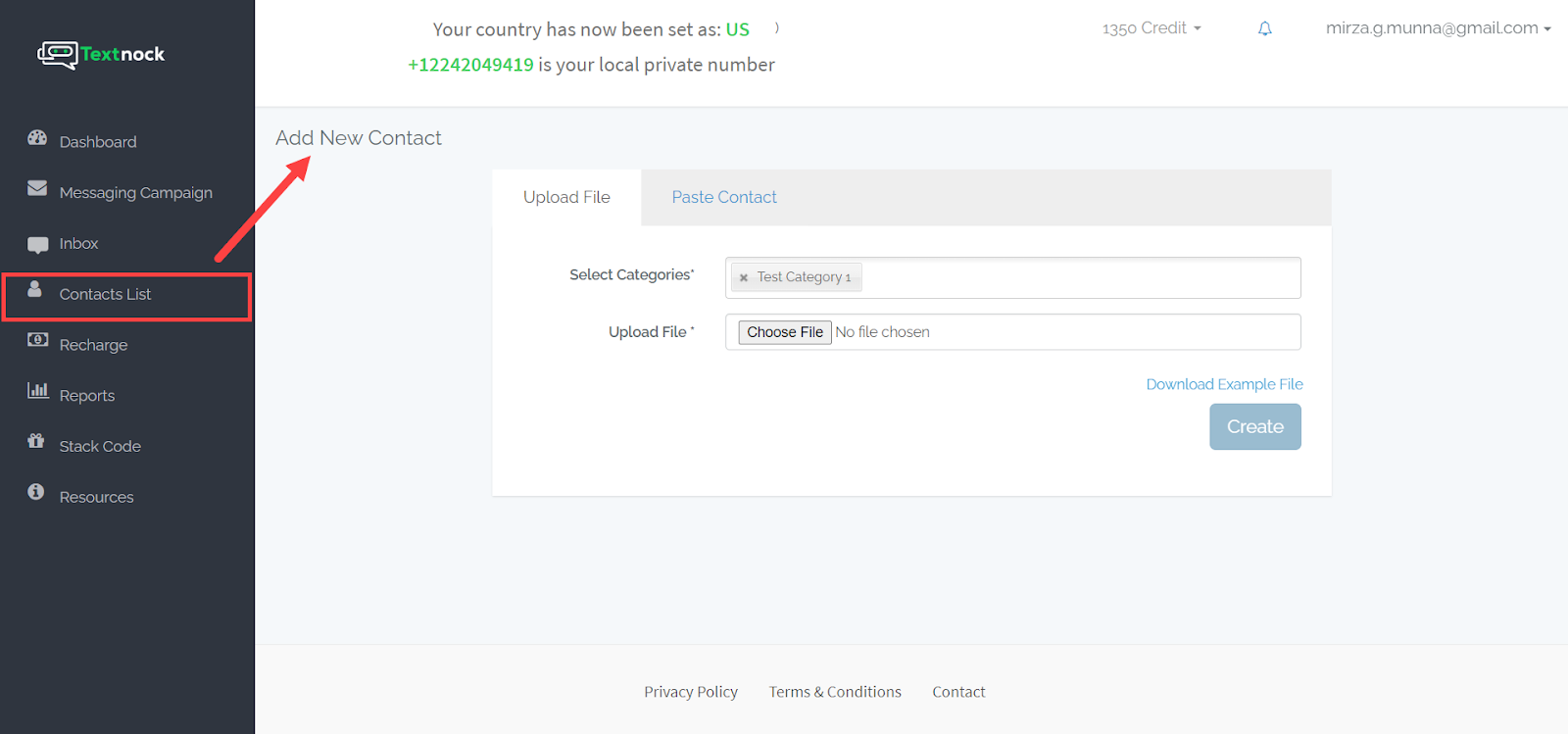 Import contacts and build custom audience lists that let you reach out to the right people.
Is wasting your money on expensive and ineffective email marketing solutions cramping your style?

The answer to engaging a widespread audience could be as simple as hitting send and hearing that satisfying text whoosh.

Reach your customers right where they are with an affordable, easy-to-use mass texting solution.

Get access to Textnock today!

P.S. Learn how to use Textnock like a pro by catching our training webinar replay here: Webinar Replay!

Additional Details:
The 7 Local Number Supported Countries consist of US, Canada, UK, Australia, Brazil, and Poland.
No credits will be charged for the issuance of Local Private Number(s) for US, Canada, and UK.
Local Private Number(s) for Australia, Brazil, and Poland are subject to a one-time credit charge upon registration, and a monthly charge from the 2nd month onward as shown here.
150+ countries supported via Alphanumeric ID