ContentBot is a personal AI writing assistant equipped with 25+ highly tuned tools that lets you generate blog posts, ad copy, email campaigns, and more in seconds.
With ContentBot, you can say goodbye to hours of combating writer's block and hello to AI-generated content, including blog posts, ad copy, and marketing campaigns.
You'll be able to generate content in under 30 seconds, literally—just insert a few input fields and you're on your way.
And because ContentBot is constantly adding new tools and features that make your life easier, your content is guaranteed to get better with minimal effort.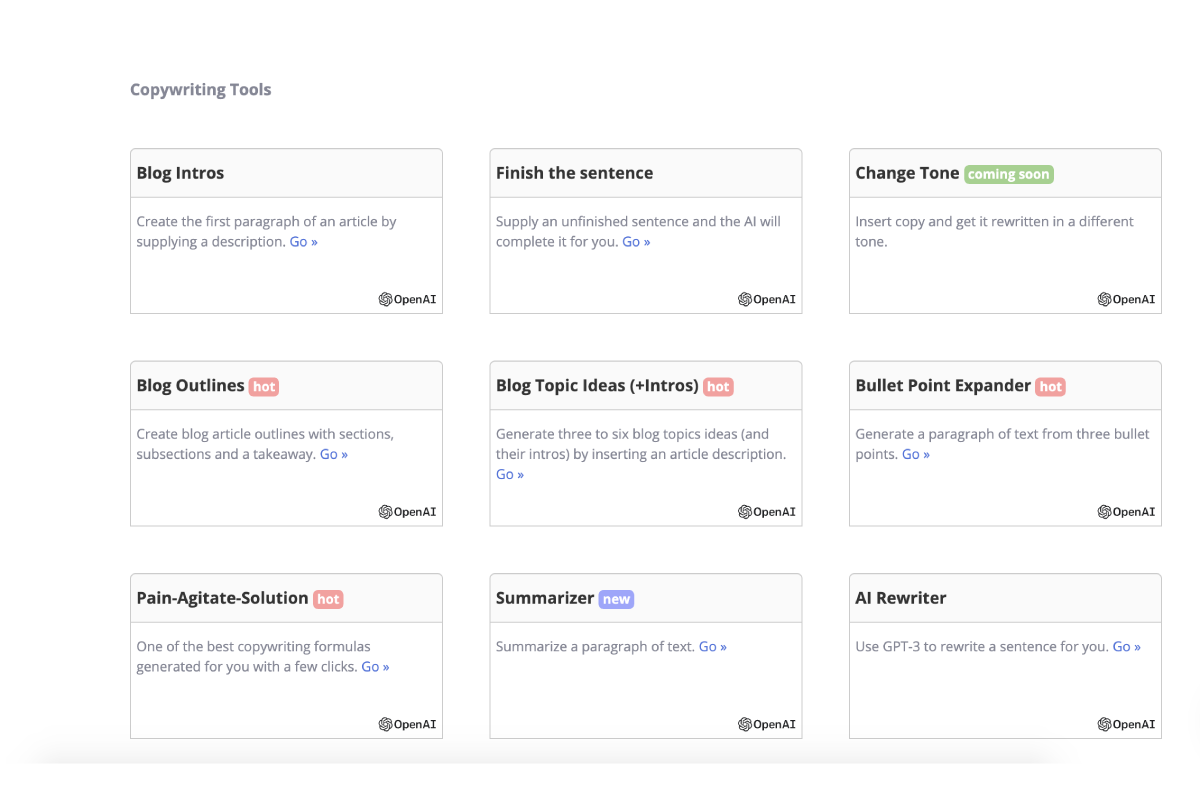 ContentBot adds new copywriting tools daily to make your life easier and let you generate content instantly.
Thanks to ContentBot's AI, you can generate both evergreen and fresh blog topic ideas to ensure that you're always on the forefront of the latest trends in your industry.
ContentBot also automatically writes your blog topic intros, so you don't need to waste hours trying to come up with a snappy first sentence. ("Once upon a time, I had a life.")
Plus, 95% of all the content generated by ContentBot is original, helping you stand out among competitors.
You'll also get a uniqueness score for longer form content, so you know all your content is authentic.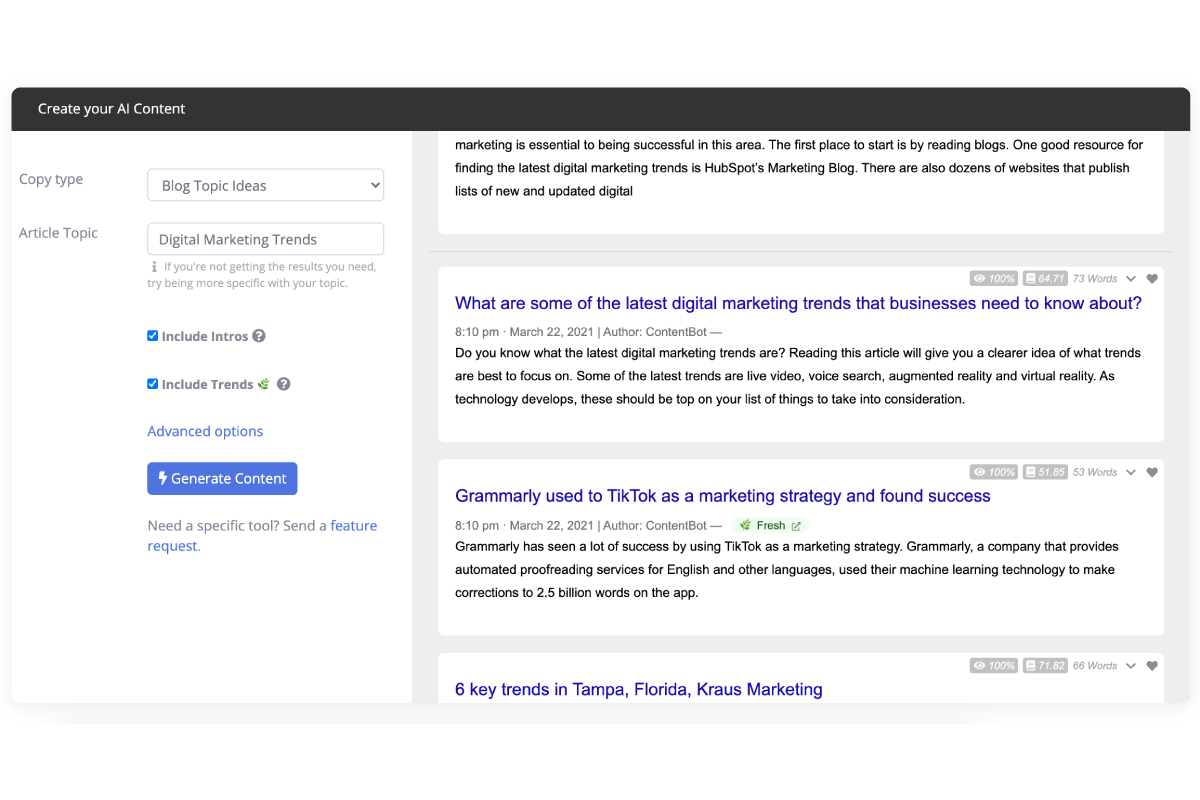 Use ContentBot to generate both evergreen and fresh blog topic ideas and intros.
With ContentBot's range of AI sales tools, you can close deals faster without breaking a sweat.
ContentBot also assists in generating strong sales emails on the fly.
All you have to do is insert basic details about your prospect and ContentBot will take care of the rest.
The AI software will automatically create powerful sales introduction emails—just keep clicking the "Generate" button until you find the perfect one. (It's like Tinder without the swiping or dead fish pics.)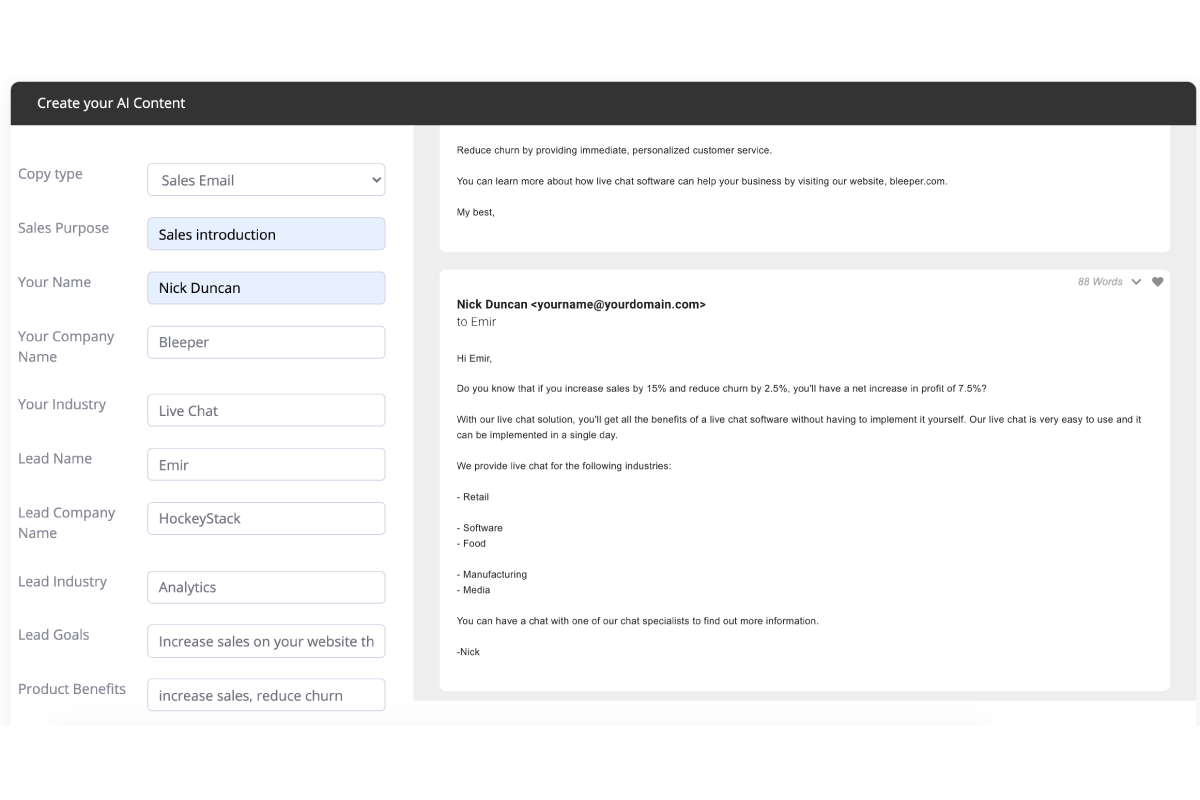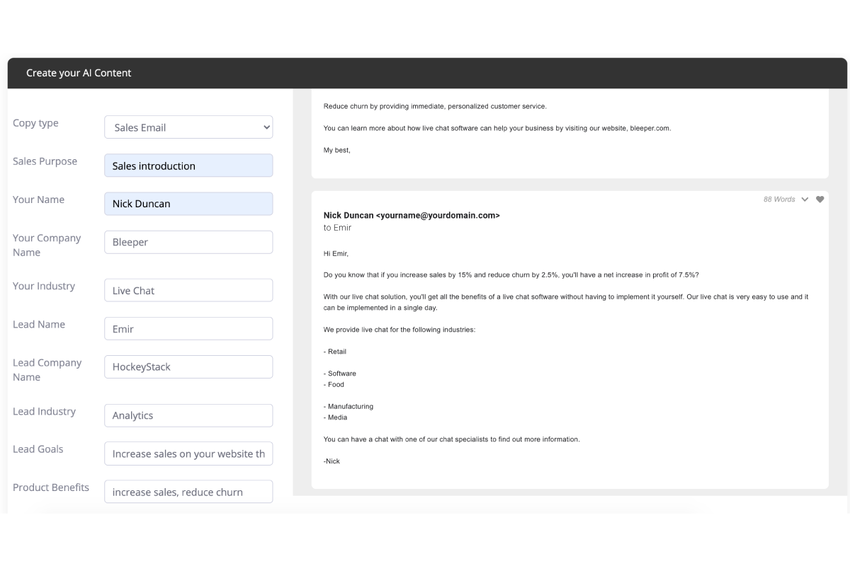 Easily create sales introduction emails in real time with automatically generated text.
Just like a game of jenga, structure is everything for your blog articles. ("No sudden movements, or my conclusion will completely tumble over.")
That's why ContentBot offers a Blog Outline tool, which lets you create a structured breakdown of your article including sections and subsections.
The end result? All your blog posts are organized in a way that makes the most of your SEO.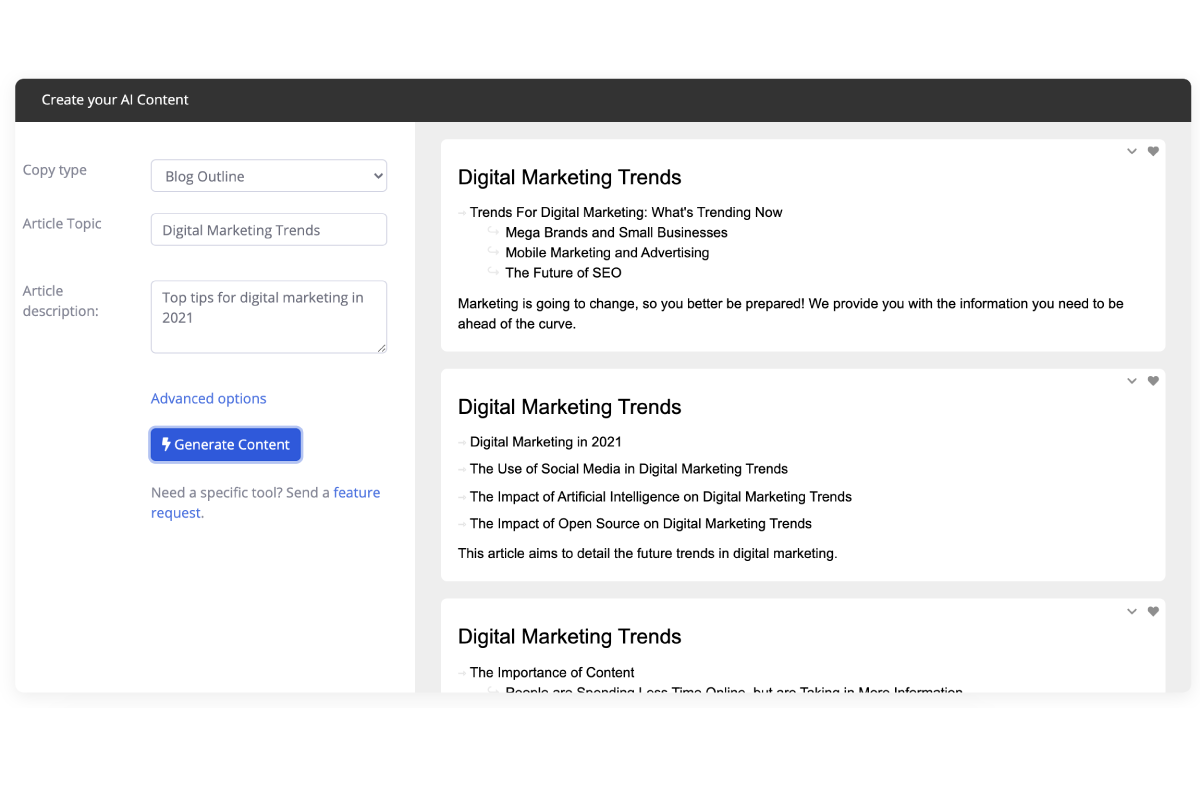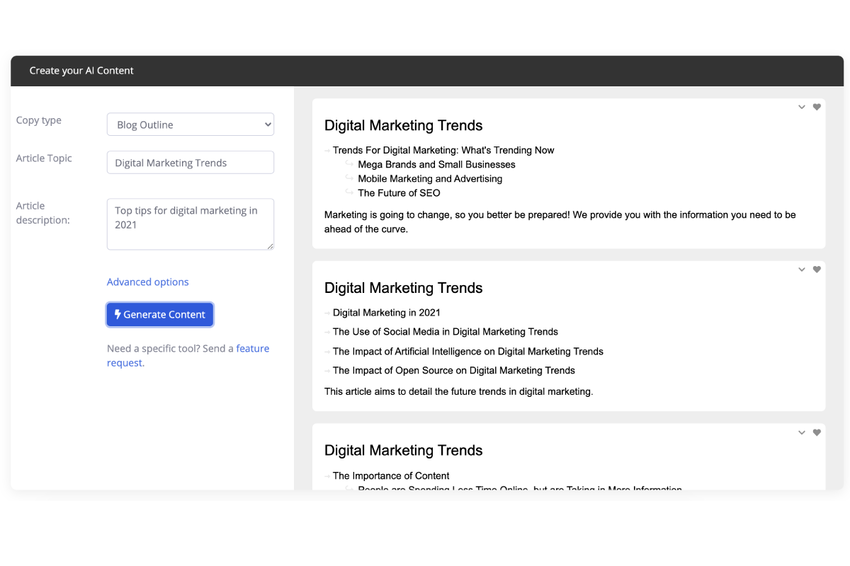 ContentBot also lets you create compelling and structured blog outlines to help you publish better blog content.
Just because ContentBot uses AI, doesn't mean your content will sound robotic. ("Conversational? Does not compute.")
Using OpenAI's GPT-3 state-of-the-art natural language processing system, ContentBot is equipped to produce human-like text.
And best of all, ContentBot is the first WordPress plugin that seamlessly integrates with Gutenberg to bring you high-quality content snippets at the click of a button.
Simply insert an AI Content Block, and boom—awesome content at your fingertips.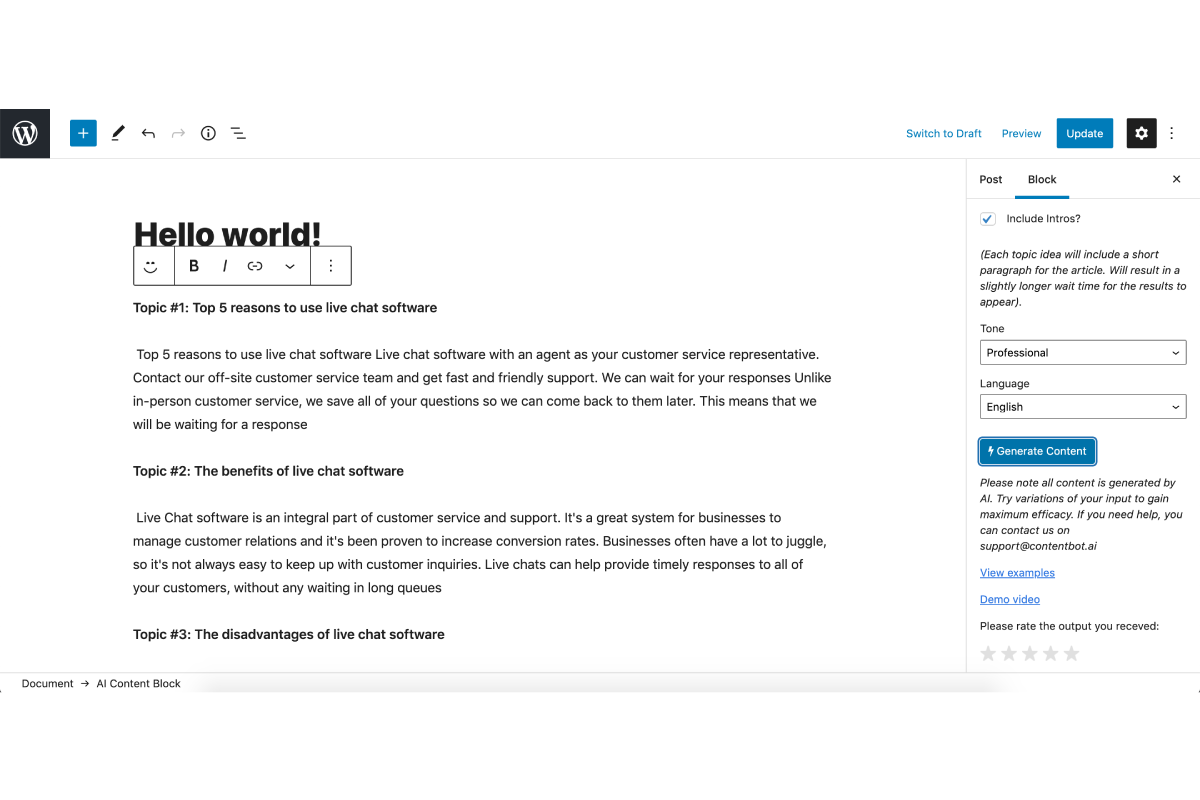 With ContentBot, you can even generate content from within WordPress with just a few clicks!
Whether you're dealing with writer's block, trying to schedule team brainstorming sessions, or nursing your carpal-tunnel wrist, you know that the writing process can be intense.
ContentBot gives you a personal AI assistant that fast-tracks your content creation process.
You'll spend less time stressing and more time building up your brand.
Get lifetime access to ContentBot today!